Believe it or not, you can make this diamond spools quilt with positive and negative Grecian patterns! I was so amazed at this idea by Brita Nelson the Questioning Quilter, so I wanted to share it with you. I had so much fun with this easy design. It's the perfect gift for anyone who loves to sew. Watch the video below for full instructions. Happy quilting.
Materials:
fat quarters or 18″ x 21″
background fabric
Instructions:
Step 1:
From your fat quarter, cut two strips measuring 2 3/4″ by 21″, one square measuring 11″ by 11″, and one square measuring 5″ by 5″.
Step 2:
Cut an 11″ by 11″ background fabric. Place it on top of the colored square measuring 11″ by 11″, right sides together. Draw a diagonal line in both directions on the wrong side of the fabric. Sew 1/4″ away from both sides of the two lines. Once done, cut the square into half two times to make 4 squares. After that, cut each piece on the drawn line. Now you have 8 half square triangles. Open then trim each one into squares.
Step 3:
Cut a 2 3/4″ strip WOF from the background fabric. Cut in half to make two strips that are 2 3/4″ by 21″.
Step 4:
Sew the colored and white 2 3/4″ strips together on one edge. Once done, open and press it . Cut 4 pieces of 5″ squares from the unit.
Step 5:
Arrange the blocks just as shown below. Sew them together and press flat. Repeat the same process and make another block but alternate the colors to make positive and negative Grecian squares.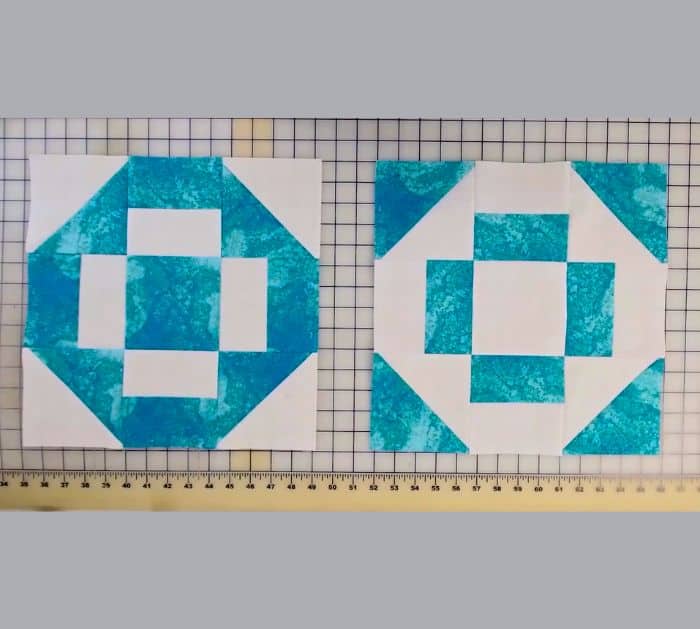 Step 6:
Cut both blocks in half twice to get four-quarter pieces on each one. Remove two pieces from the first block, the top right, and bottom left, and set them aside. Get the top left and bottom right from the second block, rotate them, and place them on the empty corners of the first block to make the spool. See the photo below for reference. Repeat for the other block. Sew them together to make a four-patch.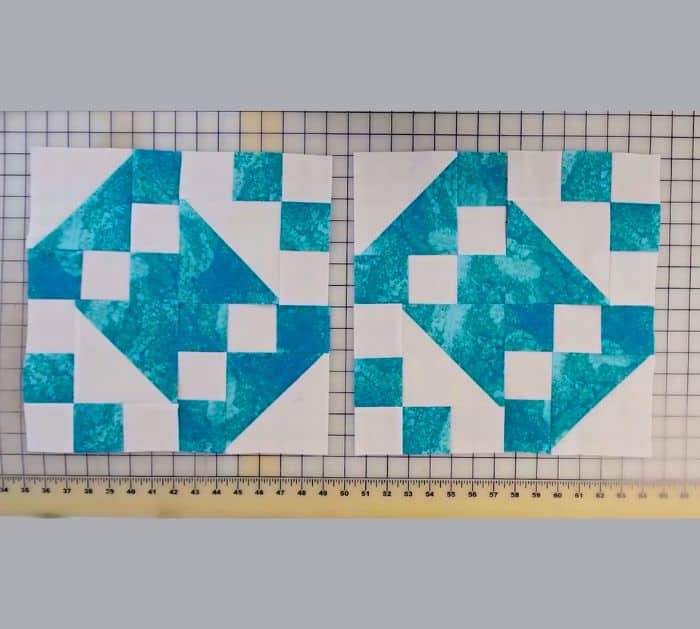 Diamond Spools Quilt