Make your dinner table extra special this Christmas by decorating it with holiday-themed vegetables. You won't be needing special tools or experience here, just be creative and have fun! Put your twist and design after learning the basics of this tutorial I found on the internet, then add this to your to-do list this holiday season. Thanks to How to Make yummy from YouTube for this incredible party food idea.
Ingredients:
Radish
Carrot
Cucumber
Bell pepper
Peppercorn
Toothpicks
Directions:
Step 1:
Cut a cucumber in half lengthwise, slice the cucumber but not all the way, you should leave the top part intact. Insert a stick close to the unsliced part, then slowly spread the cucumber open. Attach the bottom of the stick to a thick slice of cucumber for it to stand then a radish at the top of the stick.
Step 2:
Carve zigzags in the middle of the red bell pepper, separate the two pieces and it should have pointy edges. Cut a small cucumber in half lengthwise, slice but not all the way through. Fold some of the slices inwards and insert a stick through the center, attach the end to a thick cucumber stand and the other end with the carved bell pepper.
Step 3:
Peel thin carrot pieces and assemble them in the stick like a folded ribbon. Attach to a cucumber stand and put a cherry tomato on top of the stick.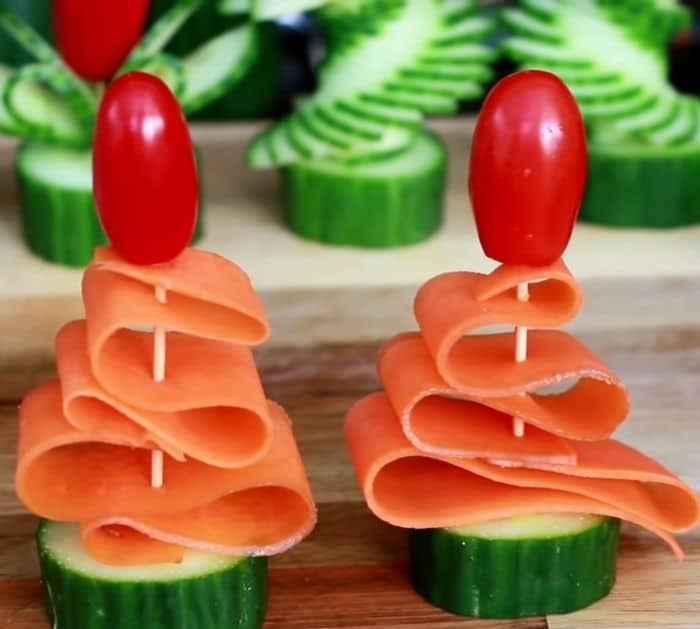 Step 4:
Cut the ends of radish and peel, attach the completely peeled radish in a stick, followed by an unpeeled one at the bottom. Put two peppercorns on the peeled radish for its eyes and a small carved carrot for the nose. Attach a hat and a scarf made of carrots to the top of the stick, then insert in a thick cucumber slice.
Step 5:
Cut a cucumber in half lengthwise then carve the sides and make pine tree shape, insert a stick then attach to cucumber slice. Carve a star on a carrot then attach at the top of the stick.
Step 6:
Carve a cute little robe on a carrot, peel the radish on one side, and put peppercorns for the eyes. Assemble the head and the robe on the stick then add a hat made out of carrots and a basket out of radish.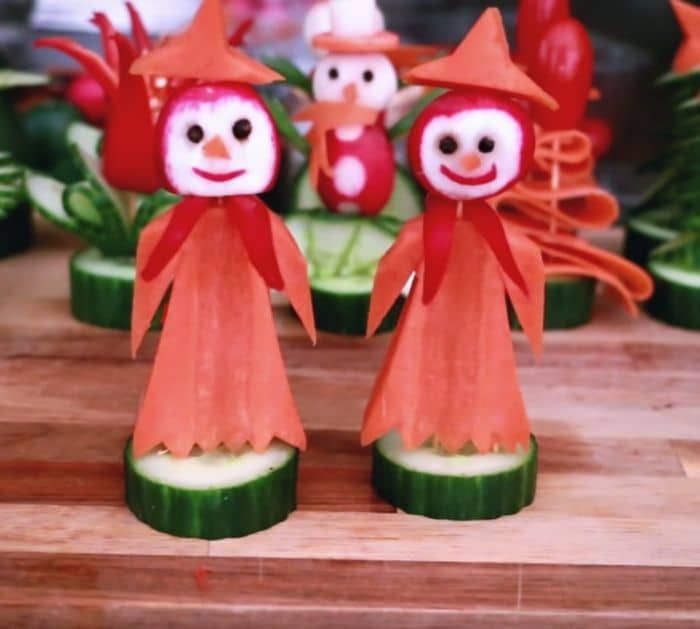 *Thank you to How to Make yummy on YouTube for these amazing images. Check out her other contents too if you loved this one.
Creative Christmas Party Food Ideas