A good old potato casserole recipe is always the answer if you don't know what to serve on a family brunch. There may be a lot of recipes on the internet, but this one from Views on the road on Youtube will surely leave everyone wanting more. It's creamy and cheesy, and the potatoes are so tender – it's literally everything you would want on a potato casserole. Make this today and see what I mean.
Ingredients:
10 – 12 potatoes
1 1/2 tbsp of all-purpose flour
2 tbsp butter
2 cups of milk
1 tbsp chicken bouillon (or 1 tsp salt)
1 tsp black pepper
1 1/2 cups of cheese, divided
2 tbsp oil
Directions:
Step 1
Preheat your oven to 350 degrees F. Next, rinse, peel, and slice your potatoes to about half an inch. After this, layer them in your baking dish. Cover them with a damp paper towel to avoid oxidation, and continue layering and covering as you go. Once you're done aligning your potatoes, drizzle some olive oil all over the top and season with salt. Place the damp paper towel over them again and put the baking dish into the microwave for eight minutes. While waiting, go ahead and make the bechamel sauce.
Step 2
Heat a pan over medium heat and add the butter. Once the butter has melted, add 1 1/2 tbsp of all-purpose flour and cook for ten to fifteen seconds. After this, add 2 cups of milk, 1 tbsp chicken bouillon, and 1 tsp black pepper. Mix well, ensuring everything is well combined (about five minutes). Once the sauce thickens, lower the heat to medium-low, then add 1/2 cup of cheese. Mix well, then turn off the heat.
Step 3
Now, pour the bechamel sauce all over the potatoes, making sure each slice is covered. Finish it by topping it off with the rest of the grated cheese. Cover the baking dish with aluminum foil, place it in the preheated oven, and bake for twenty minutes. After twenty minutes, remove the cover and continue to cook until all the cheese is melted nicely (about thirty minutes). After baking, garnish with some chives and bacon bits (optional).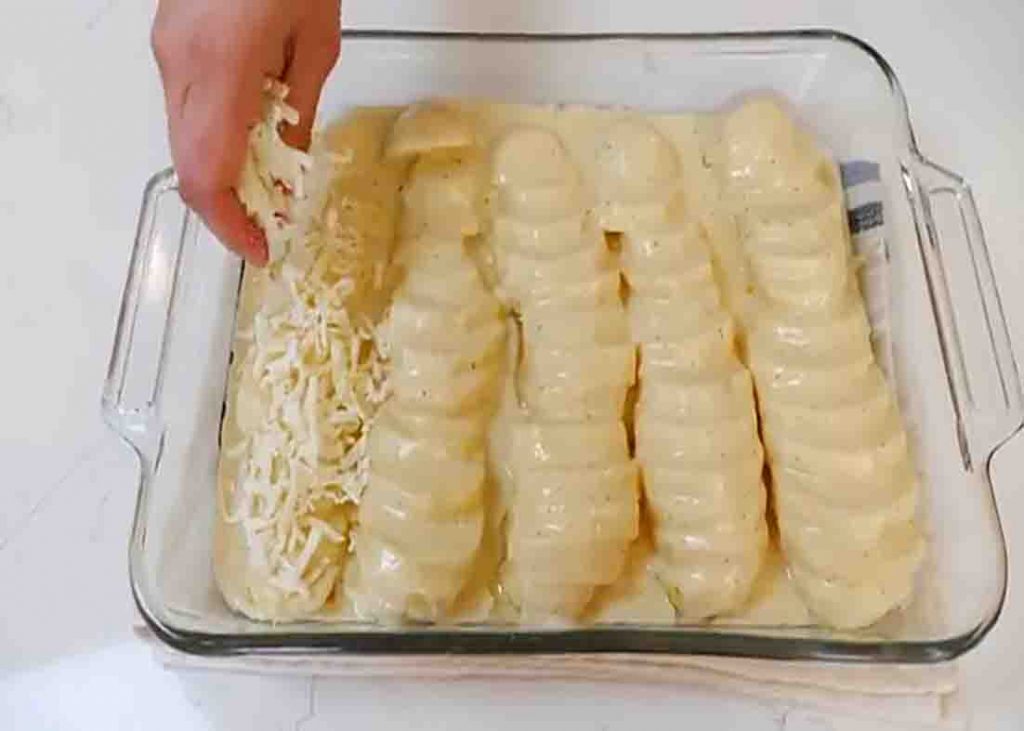 Creamy Cheesy Potatoes Casserole Recipe