This recipe by Cooking Con Claudia is definitely the best chile rellenos I have ever made at home. It's fast to make and healthy, as it's not fried. The flavors are amazing – perfect for breakfast. Make sure to try this at home if you love Mexican dishes!
Ingredients
7 peppers poblanos, hatch or Anaheim
6 eggs at room temperature
1/2 teaspoon of black pepper
3/4 to 1 teaspoon of salt
1/2 teaspoon of baking powder
1/3 cup of all-purpose flour
1/4 cup of milk or heavy cream
1/4 onion, 2 roma tomatoes, and 1 jalapeno or serrano, chopped and mixed together
shredded queso Oaxaca or any melting cheese
For the salsa:
4 Roma tomatoes
chile serranos or jalapenos
chile de arbol
1/8 0ni0n
1 garlic clove
1/2 teaspoon of oregano
1/2 teaspoon of black pepper
salt
Instructions
Step 1:
Roast the peppers and then transfer them to a plastic bag. Allow it to sweat for at least 10 minutes. After 10 minutes, peel and remove the stem and seeds.
Step 2:
Preheat the oven to 350 degrees F.
Step 3:
Separate the egg whites and yolks in two separate bowls, with the egg whites in a bigger one.
Step 4:
Add a teaspoon of black pepper and some salt to the egg whites, and beat until fluffy.
Step 5:
Add the egg yolks, baking powder, all-purpose flour, and milk. Mix at low speed until well combined.
Step 6:
Grease your baking dish, then add a little bit of the batter and spread it evenly.
Step 7:
Fill the pepper with cheese and chopped vegetables and place on top of the batter. Repeat 2 more times. After that, lay the remaining peppers. Spread the remaining batter on top. Cover with the rest of the cheese and chopped vegetables.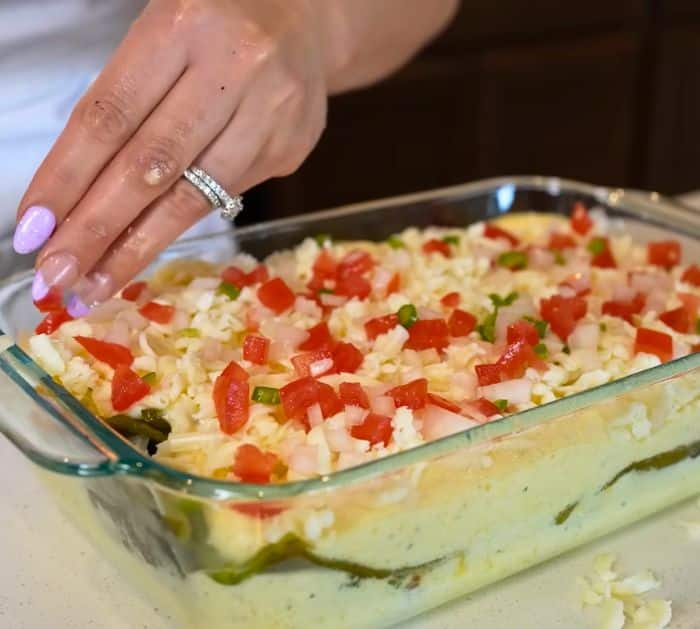 Step 8:
Bake it between 40 to 45 minutes at 350 degrees F.
Step 9:
While it's baking, make the salsa. In a pot, add Roma tomatoes, onion, chile serranos, and chile de arbol. Cover with water and set it on high heat. Bring it to a boil, then transfer to a blender. Add garlic cloves, salt, black pepper, oregano, and 1/4 cup of water. Blend until smooth.
Step 10:
Add a little bit of oil into a saucepan over heat. Add the salsa and bring it to a simmer. Taste and adjust seasonings if needed. Allow it to simmer for five more minutes.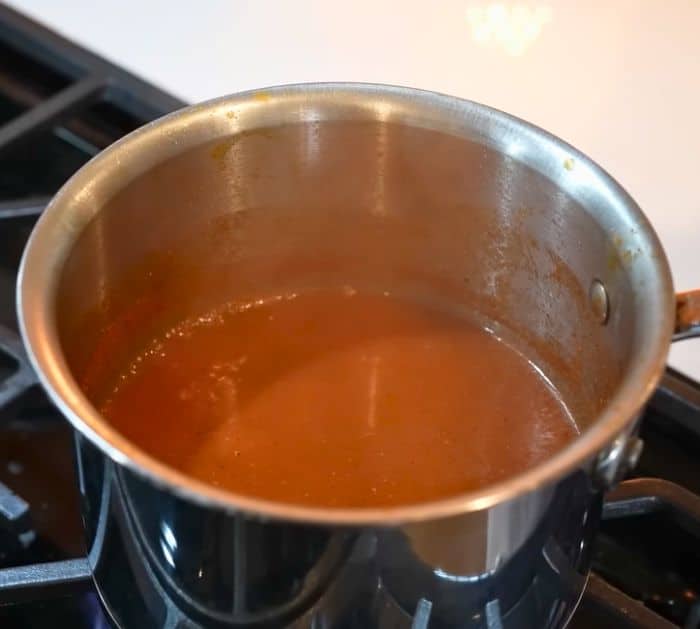 Step 11:
Once done baking, remove the casserole from the oven and allow it to sit for 20 to 25 minutes.
Step 12:
Slice, place on a plate, and top it with the salsa. Serve and enjoy!
Chile Rellenos Casserole Recipe