Ready for an amazing Halloween this year? I am super excited that one of my favorite holidays is only a few weeks away but realized I do not have enough decorations, and I simply love making DIY Halloween decor. Without a huge decorating budget or a lot of time, I scoured Pinterest for some of the fastest, least expensive options. I simply love what I found and think you will, too! From yard decor to table centerpieces, these fun projects are spooky and creative. Witches hats, skulls, broomsticks, pumpkin crafts and more are sure to delight your trick or treaters. Check out the easy to follow step by step tutorials to learn how to make these quick and cheap DIY Halloween ideas. My parties are always a resounding success when I used good old-fashioned know-how and consult all my DIY gurus on the web. There are so many great inexpensive, even free DIY craft ideas here, prepare to be amazed.
Ready for that Halloween party? If you still need some cool ideas for DIY Halloween costumes, so you have the perfect attire to match that amazing decor, we have you covered. Check out our last minute costume ideas and the super fun DIY costumes for couples, so many to choose from, deciding will be the only hard part.
DIY Halloween Party Decor Ideas
1. Floating Witch's Hat Luminaries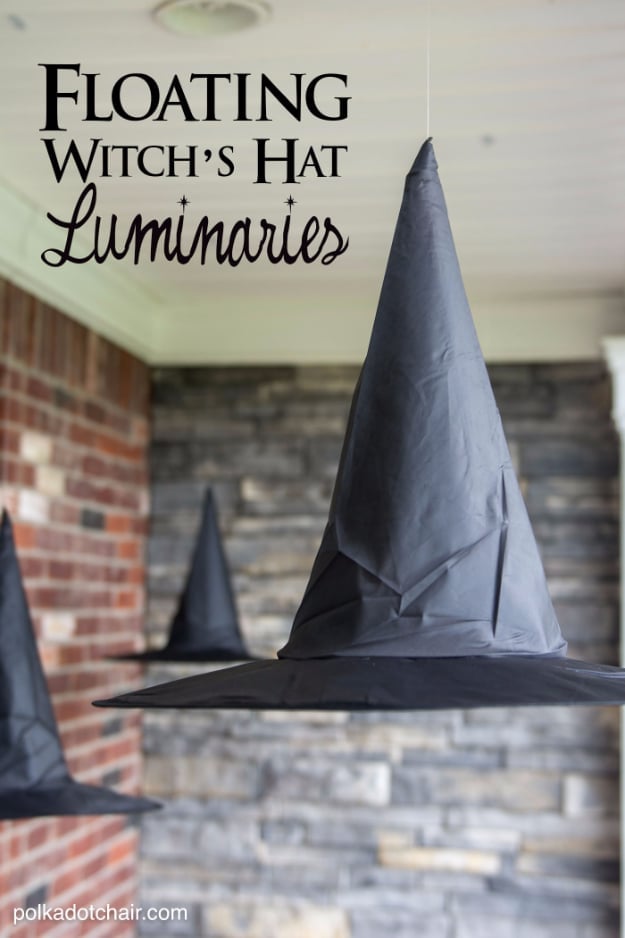 These witches hats were perfect for my daughter's Halloween goblin party. I found these witches hats at Michael's craft store and attached some glow sticks from our big Fourth Of July bash and attached them with fishing line. I always keep plenty of Command Hooks on hand, so stuck them on the ceiling of the porch and attached the Halloween luminaries. They really added to our spooky haunted display and all the party goers were very impressed, no one could have guessed it was so cheap and easy.
2. Dried Apple Shrunken Heads

I saw these apple shrunken heads on Pinterest and knew my kids were going to go crazy over them. I bought the kids a cheap bag of apples at HEB grocery store and we peeled them, cut eyes and a mouth then lightly baked them. We had so much fun doing this together, we use fake fur, feathers, and moss for their hair and staples for their teeth. Move over trolls, these shrunken heads win the prize for cheap easy fun.
3. DIY Floral Skull Centerpiece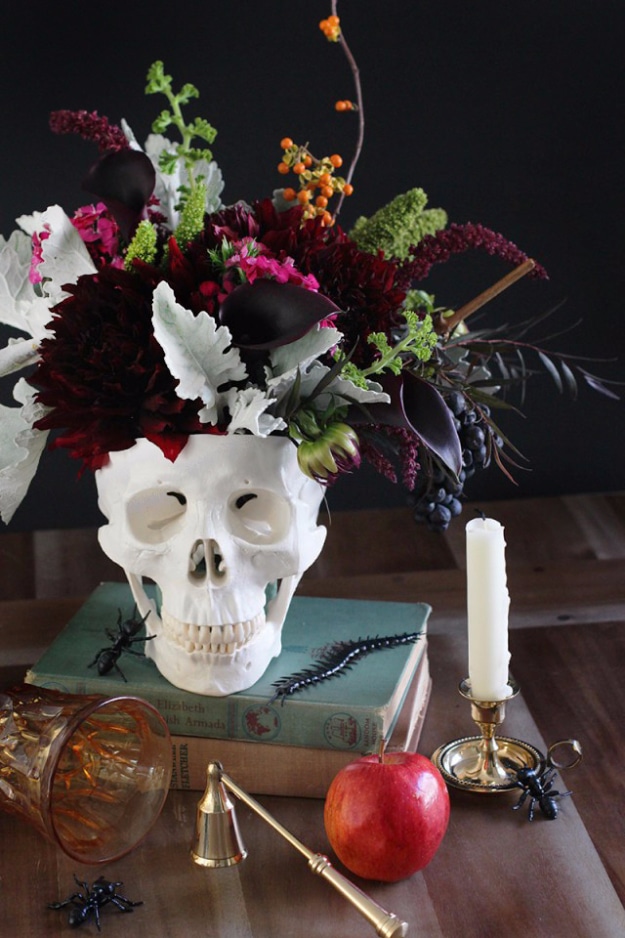 I love getting into the ghoulish spirit for Halloween as so many I love Halloween almost as much as Thanksgiving. We needed a centerpiece for my annual party table so I made an arrangement of my favorite Autumn flowers and leaves and fastened them into my skull, I got at Hobby Lobby with a removable top. I arranged the table with some gorgeous candles and Autumn harvest vegetables and the results were phenomenal. I could not make anyone believe it was a simple DIY craft, it looked so elegant in my Halloween melange.
4. Bleeding Halloween Candles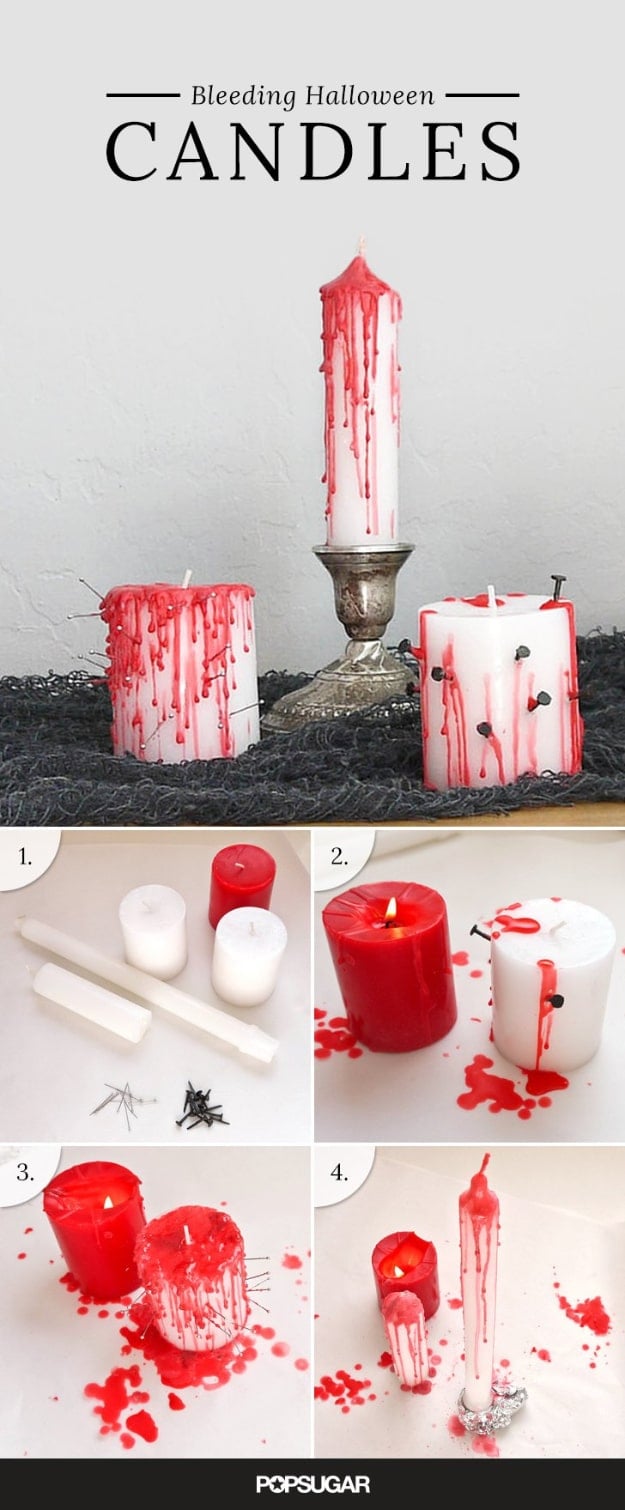 This is the easiest DIY craft project you can make for your Halloween table or porch to create a spooky ambiance at your holiday party. I used my leftover Christmas candles and some old nails and pins. I laid out some parchment paper and just got creative with melting, I dripped the red all over the white candles to make cool shapes. I added the nails and pins in a random fashion and arranged them by my candy table to spook my sweet trick or treaters.
5. DIY Painted Sugar Skull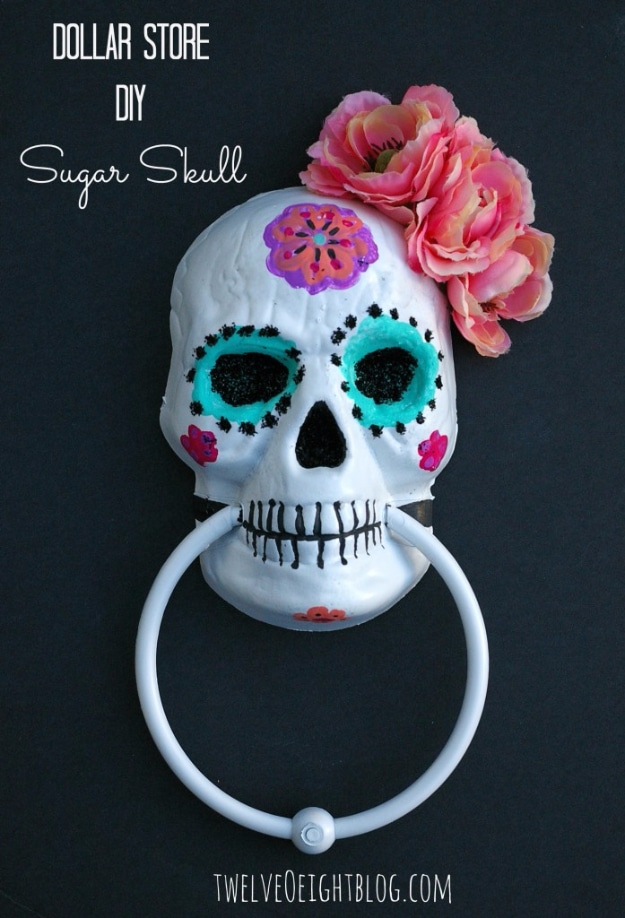 This looked so good on the front of my haunted porch in the backyard. I found it at the Dollar Store and threw a coat of white spray paint on it and decorated it with craft paint and covered my art with a coat of decoupage. It looked fantastic when I glued the flowers on top. On Halloween night when our guests came in, they loved their spooky knocker.
6. Wall Of Bats

My son's 3rd-grade teacher did this in her classroom so all the students got to lend a helping hand. They all drew their bats, ever so carefully and cut them out with their safety scissors. The teacher fastened them to the wall in a beautiful flying flock formation with some double-sided tape, single-sided works as well just make sure and do a neat loop on the back of the bat.
7. Halloween Yarn Pumpkin Garland

If its Halloween or Thanksgiving this DIY pumpkin garland craft project is cheap, easy and fabulous. I had plenty of orange yarn left from a University Of Texas sweater I made for my son, so started this project after breakfast and had it strung around the room by lunchtime. There was hardly any cutting involved and it looked great for all my holiday needs. We plan to leave these beauties up until Christmas.
8. DIY Skull Candle Holder

I saw this idea for DIY Halloween candlesticks on Pinterest and I knew they were perfect for the mini haunted house I made in my dining room. I got some mini plastic skulls from Michael's craft store and used some terracotta plant saucers as stabilizing pedestals at each end. I glued all of them together and used some grey metal colored spray paint I had from painting the railing on my new deck and it gave them a very rich polished look. I arranged them on what I called Dracula's dining table with some other Halloween decorations and lovely treats that thrilled and chilled my guests, all for under the ten dollar mark.
9. Glow Stick Broomsticks

I needed some cheap Halloween party favors and I had all these glow sticks left over from the Fourth Of July I wanted to use. I shredded a brown paper bag and glued the little bunches at the bottom of each stick, then tied a little Halloween greeting to them. The kids at the party were so happy to get these and could not put them down, best part they were free so I had enough funds left to buy pizza for everyone.
10. Halloween DIY Wreath

I had an Easter wreath that had been sitting around for months. I love wreath making but wanted something super quick and easy to hang on the door for Halloween. I took all the flowers off and found my most Autumn looking artificial plants I had laying around. I spray painted the whole thing black and attached my Fall flowers very sparsely on the side. You can add skulls, candy or any other miniatures to this and it is guaranteed to look fabulous to greet your guests. One hundred percent of this project was free, the only thing spent was creativity and old-fashioned ingenuity.
11. Spider Web Mason Jar

13. Paper Plate Holder Jack-o-Lantern Décor

14. Halloween Bunting Flags

15. DIY Bloody Handprint Window Clings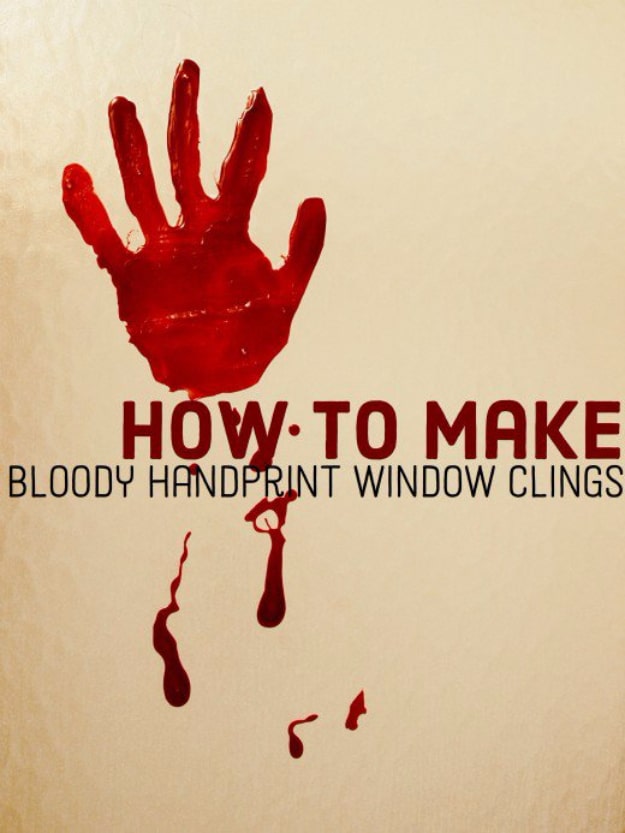 16. Fanged Pumpkins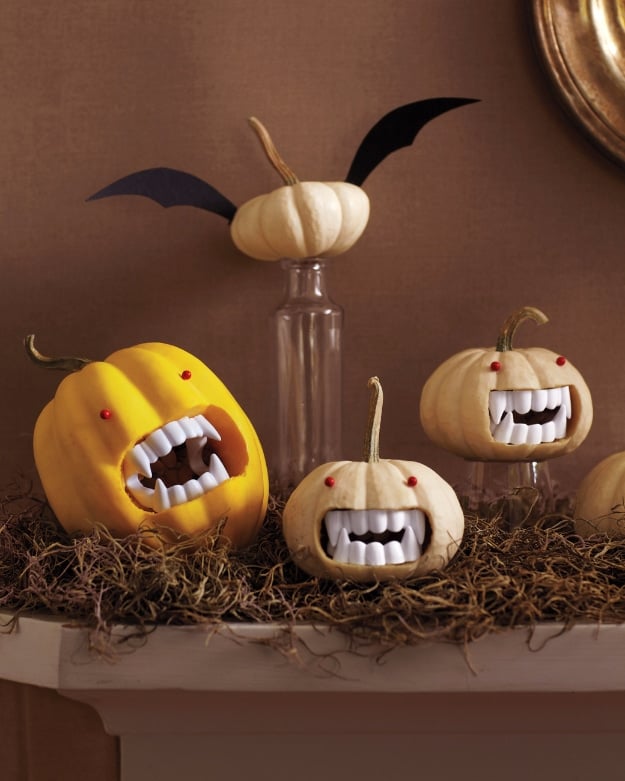 17. DIY Halloween Poison Bottles

18. Easy Black and White Halloween Topiary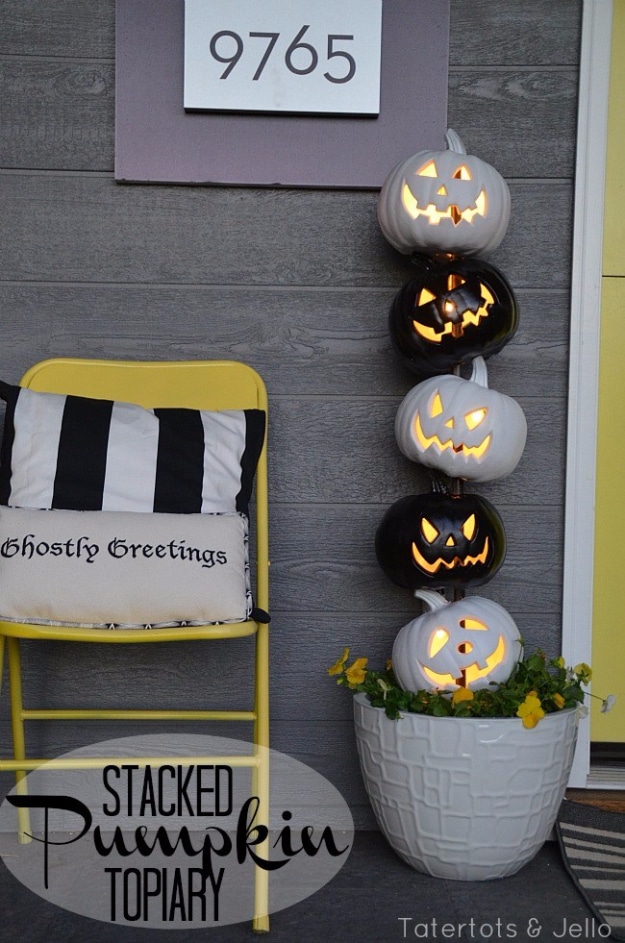 19. DIY Mason Jar Halloween Decorations

20. Halloween Mason Jar Mummy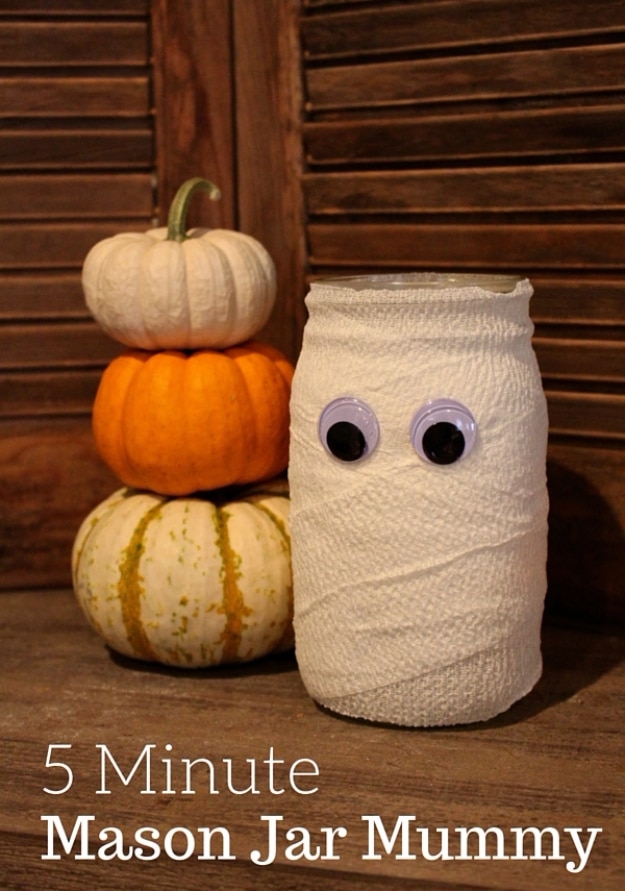 21. Recycled K-Cup Halloween Lights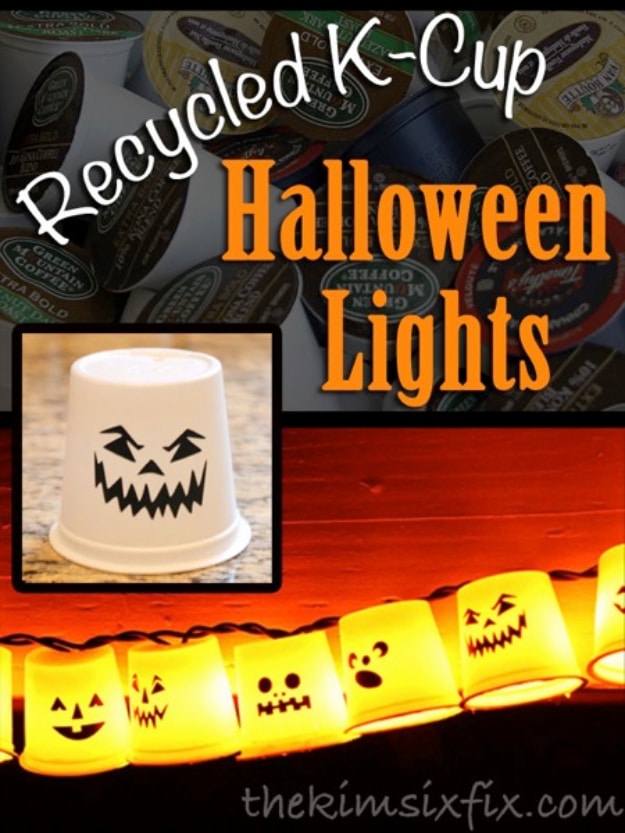 22. DIY Hanging Spider Balloons

23. Monstrous Tissue Pom Poms

24. DIY Skull Floral Arrangement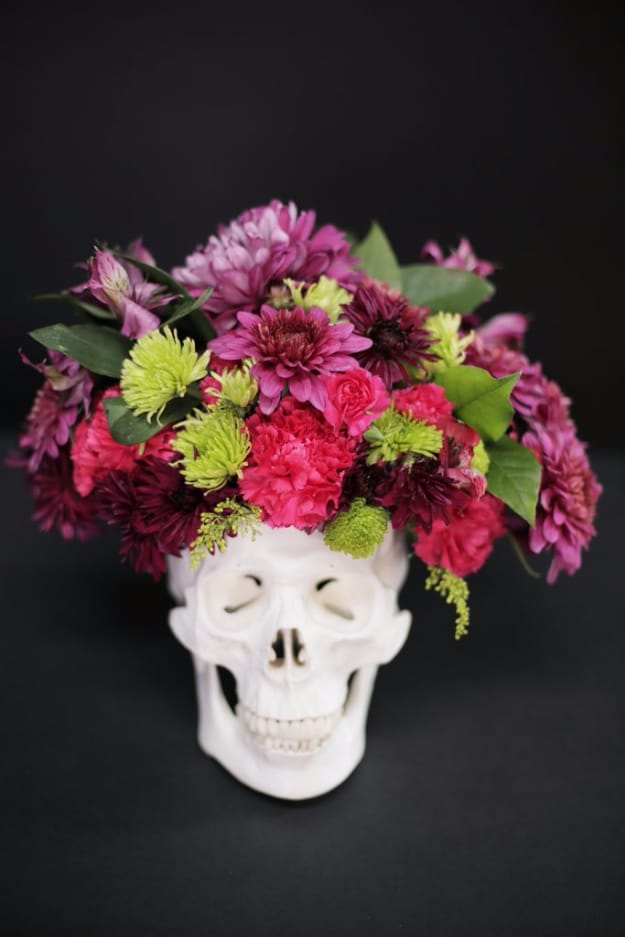 25. Jack Skellington Halloween String Garland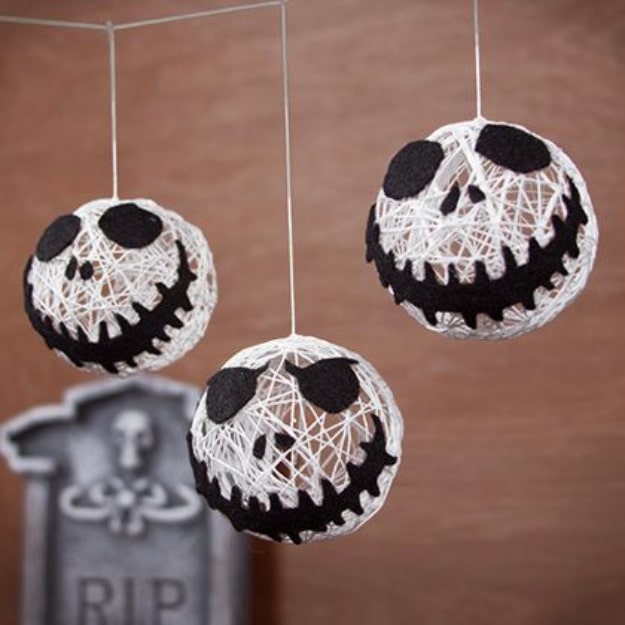 26. Spooky Floating Cheesecloth Ghost

27. Floating Head Hanging Ghosts

28. Spiderweb Wall Decorations

29. Spooky Eyeball Wreath

30. Trash Bag Spider Web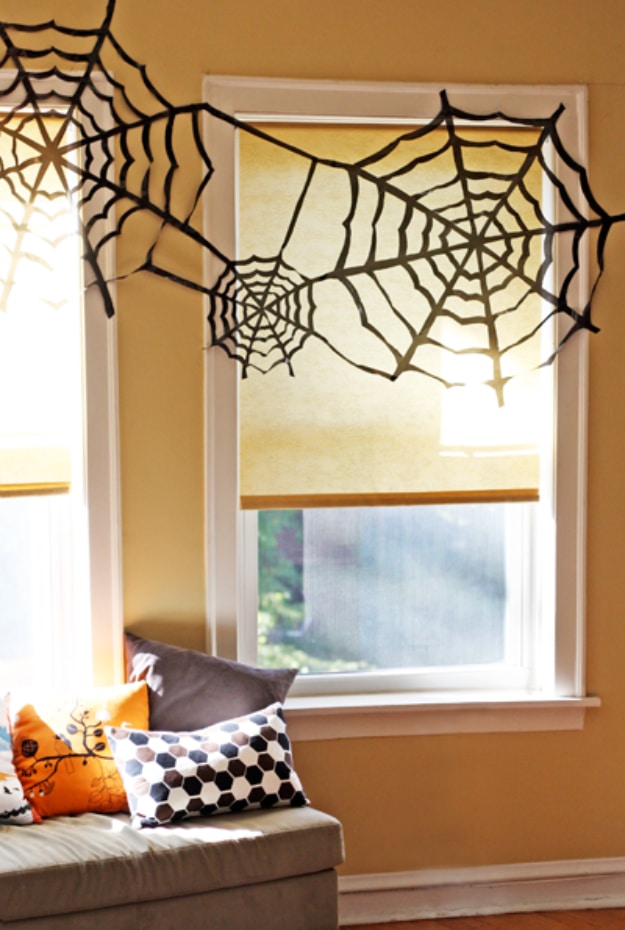 31. Bat Lantern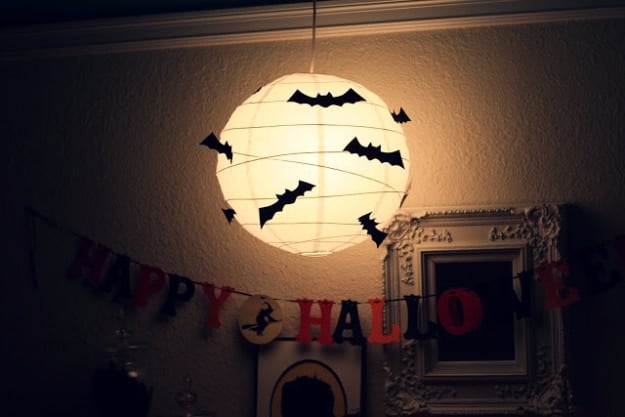 32. Blood Splattered Table Runner

33. Hair Raising Table Cloth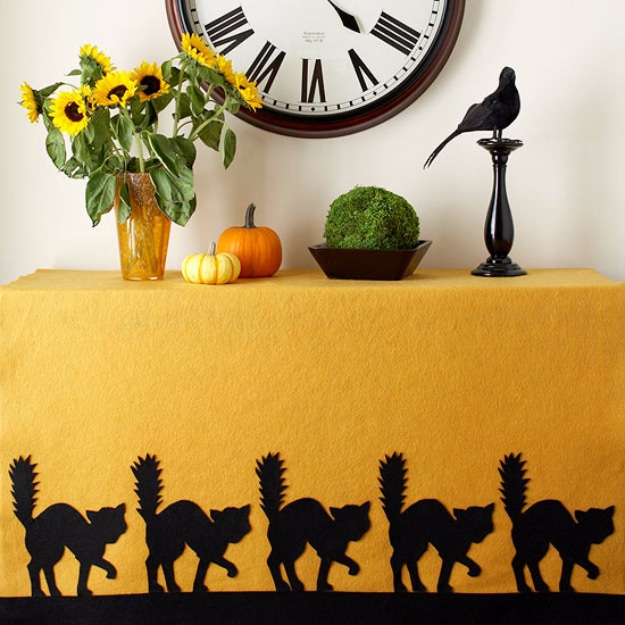 34. DIY Spooky Halloween Mirror