Need some new home decor and furniture ideas you can make yourself? Perhaps you have seen the popular trend for chalk paint furniture in designer stores, or you have seen some fabulous DIYs done with chalk paint. Chalk paint is one of my absolute products to use for furniture makeovers, as it is so forgiving and covers just about any type of surface. I have used in on old laminate pieces and beat up things from garage sales, and you would never ever know how they started out. So colorful, too, you can buy chalk paint in just about any color you wish. You can also make your own chalk paint – I found quite a few good recipes for chalk paint on Pinterest. You can then truly make any color you like, and also play with the thickness and finish a bit. My favorite version uses tile grout, but it is really personal preference. Annie Sloan and C. Lynn Harrison make great premixed versions in some really fabulous colors, and I also love keeping Websters Chalk Paint Powder in my garage so I can always mix up my own chalk paint with some existing color I have. You will want to also buy some creme wax finish to apply to your furniture, as this will allow you to take the important step of sealing your finished piece. There are brush on and rub on versions of thick cream wax made especially for your chalk paint DIY projects. Look for it in the paint store with the chalk paint or order it from the same company who makes your chalk paint ordered online.
Chalk Paint Furniture Ideas
1. Chalk Painted Nightstand Makeover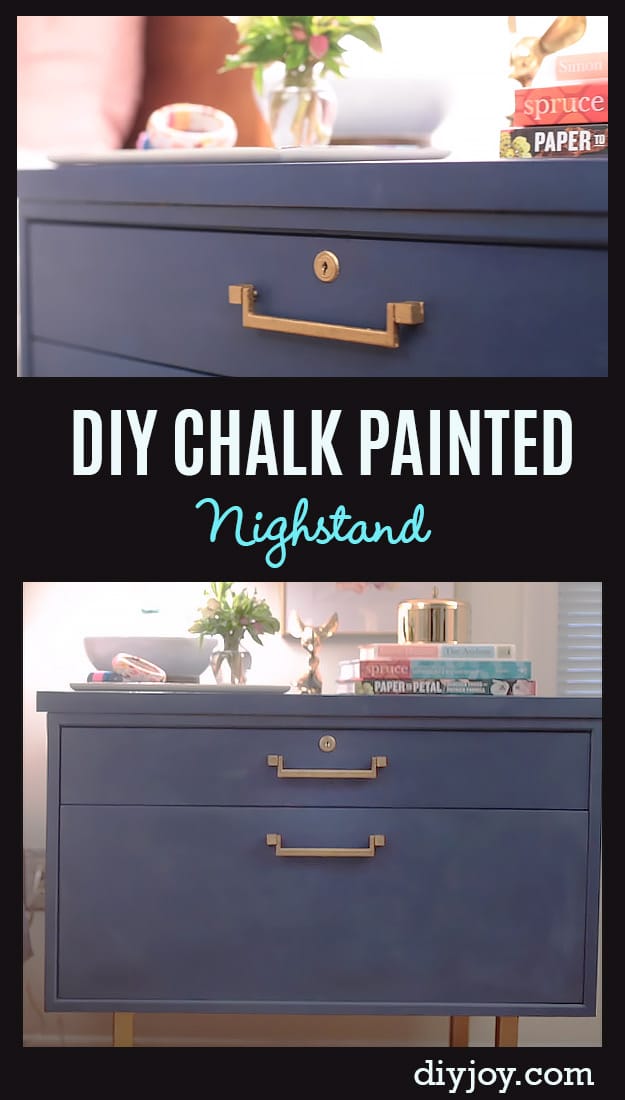 Check out this tutorial that shows you exactly how to use chalk paint to update an old nightstand. Really beautiful results and you do not need to be an expert crafter to try this yourself. Add some do it yourself furniture upgrades to your home by following the easy step by step tutorial.
2. Weathered Grey Cabinet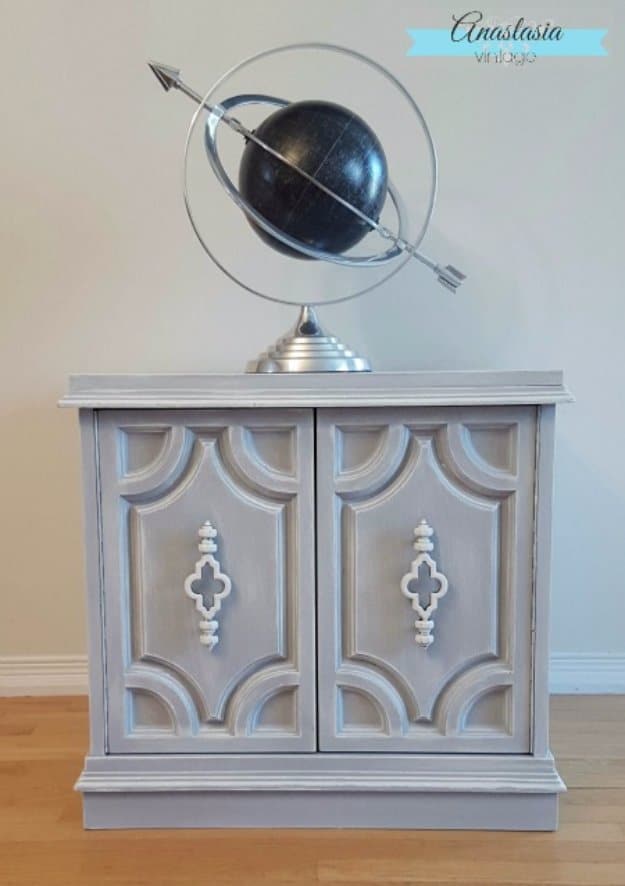 I just love the weathered look on this cabinet. Just by distressing them, you can add inject some cottage-style charm to any piece. This quick and easy project from Anastasia Vintage will surely give inspiration to any budding crafter like me.
3. Chalk Finish Paint Dresser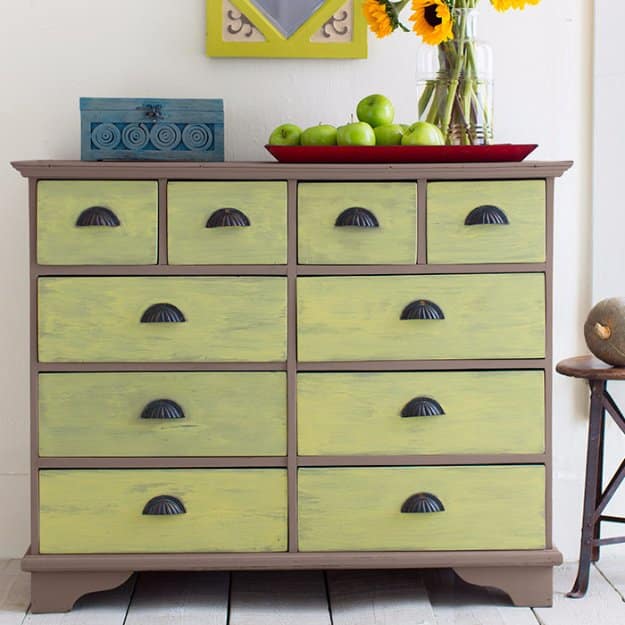 This DIY version of chalk-finish paint can be antiqued or distressed and tinted in your choice of colors. It has worked very well in this gorgeous cabinet. To paint this dresser, they used chalk-finish paint to give the entire piece one coat. After the drawer fronts dried, they added a surface coat of a contrasting color using a light brushstroke so the base color shows through. Lowe's has the complete details so you can replicate this DIY project.
4. Chalk Painted Fabric Chair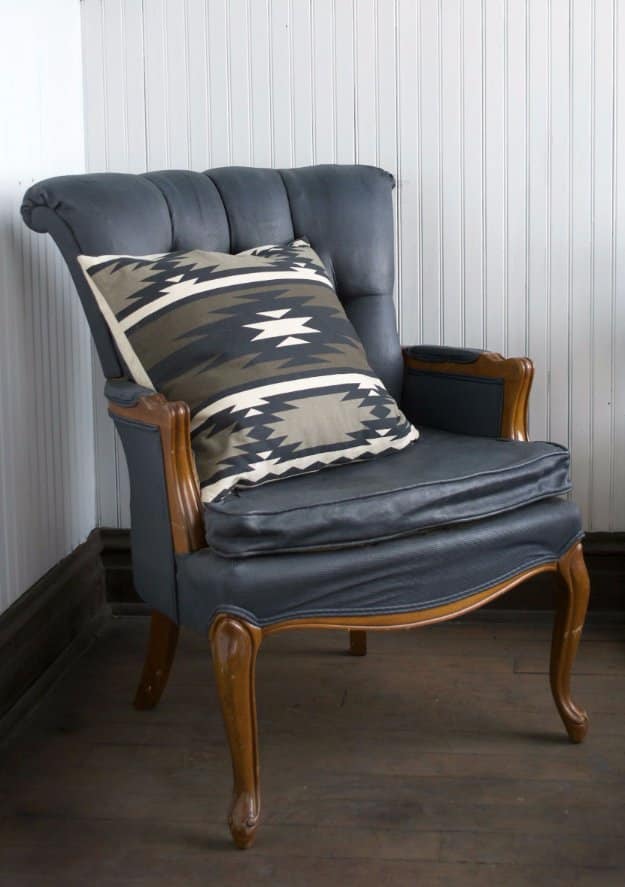 Using paint to makeover a chair is such an easy and quick way to personalize your furniture to match your unique style. Why spend hours shopping for the "perfect piece" only to end up settling, when you can create an original design that's exactly what you want? And with some chalk paint, you can definitely create some magic.
5. Modern Periwinkle Blue Dresser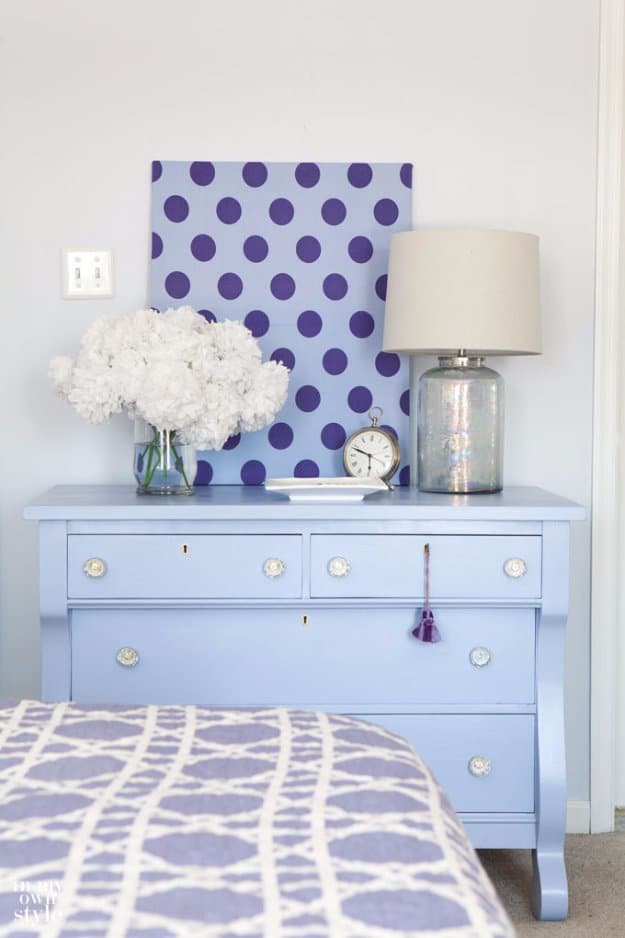 I love this dresser! This Modern Periwinkle Blue Dresser is so clever and I am so inspired. I have a worn out dresser in my garage I got at a 2nd hand store that I am going to chalk paint this weekend. Thanks to this DIY project tutorial, I can go ahead and get started.