Everything about this recipe by Island Vibe Cooking is incredibly delicious! The mashed potato, shrimp, and cheese, drizzled with spicy and creamy sauce blend well together. I am sure this cajun shrimp stuffed loaded baked potato will be an absolute hit at any dinner table.
Ingredients
2 russet potatoes
oil
salt
1 lb of shrimp (peeled and deveined)
1/2 cup of chopped bell peppers
1/2 cup of chopped onion
1 tablespoon of minced garlic
1 teaspoon of onion powder
1 teaspoon of garlic powder
1 teaspoon of paprika
1 teaspoon of chili powder
1 teaspoon of dried parsley
16 oz of four Mexican cheese (divided)
1/2 cup of heavy cream
6 tablespoons of butter (divided)
Instructions
Step 1:
Clean the skin of the potatoes very well to remove dirt, then dry them. Poke holes using a fork and rub them with oil. Sprinkle salt on all sides, then wrap with foil. Place inside the oven and bake at 400F for about 1 hour and 15 minutes.
Step 2:
Once done baking, remove the potatoes from the oven and take off the foil. Cut a little bit of the top just so you can scoop out the potato flesh. Place the potatoes you scooped in a bowl.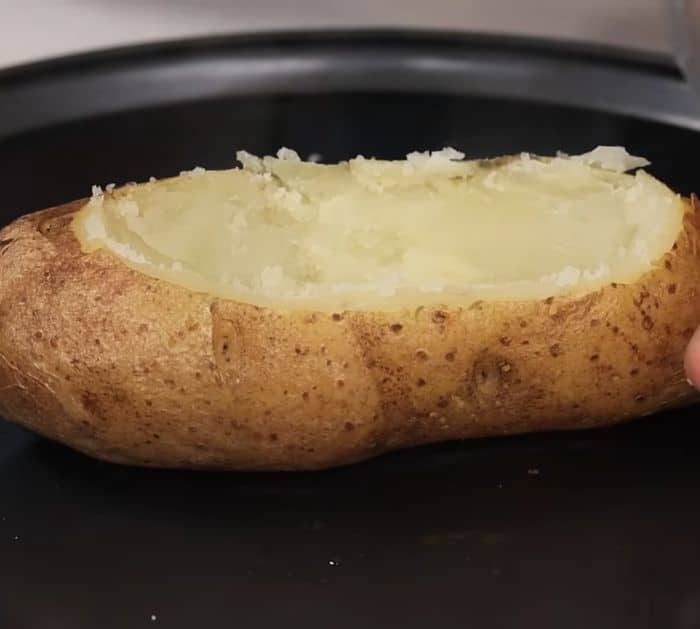 Step 3:
Melt 4 tablespoons of butter in a small microwavable bowl, then add 1 teaspoon of lemon pepper seasoning. Pour it over the potatoes you scooped, then mash them with a fork. Next, add the cheese and heavy cream, then mix again.
Step 4:
Add the shrimp to a bowl and drizzle with olive oil. Next, season with onion powder, garlic powder, paprika, chili powder, and dried parsley. Mix until shrimp is well coated.
Step 5:
Place a skillet over medium-high heat and drizzle some olive oil. Cook the shrimp for about 1-2 minutes per side. Transfer to a plate.
Step 6:
Add two tablespoons of unsalted butter to the same skillet. Once melted, add the onions, bell peppers, and creole seasoning. Saute until soft, then add the garlic. Cook until fragrant, then pour the heavy cream. Stir well.
Step 7:
Add some mashed potatoes to the potato shells, then top it with cheese. Add some of the sauce and another layer of mashed potatoes. Next, add the shrimp, sprinkle more cheese, and pour more sauce.
Step 8:
Place inside a baking dish and bake for about 15 minutes at 400 degrees Fahrenheit.
Cajun Shrimp Stuffed Loaded Baked Potato