Who doesn't like lovely quilt blocks – like this Betty quilt pattern from Cut and Create on YouTube? This quilt block pattern will surely look amazing on pastel-colored fabrics. I love doing this quilt whenever I need a personalized gift for a baby shower. It's easy, quick, and one of my favorite patterns to do. And even if you're a beginner, you'll find this quilt super easy and fun. Try making this today and see for yourself! Watch the video tutorial below to learn the step by step instructions. Thanks to Cut and Create for this gorgeous quilt block pattern!
Materials:
fabric A:
fabric B:
1 – 6″ square
2 – 3 1/2″ squares
fabric C:
2 – 3 1/2″ squares
4 – 3″ squares
Directions:
Step 1
To start, cut all your fabric requirements and set them aside. Next, grab the two 6″ squares and make two half-square triangles. Draw a line diagonally on one 6″ square, line the two fabrics, pin them, and then sew a 1/4″ seam on both sides of the line. After sewing, cut the square directly into the center line. Press them open, then trim them down.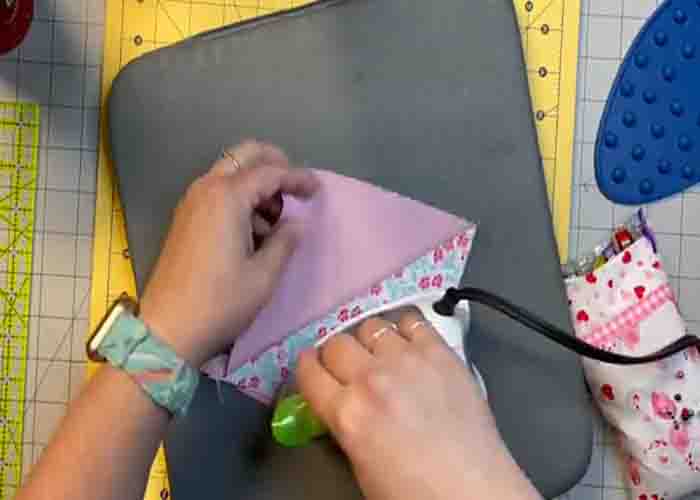 Step 2
Moving on to the second part, grab the 3 1/2″ squares and make them into half-square triangles too. Line up the solid-colored square, 1/4″ seam away from the center diagonally on both sides. Pin them down, then sew directly on the lines. Press them afterward, then trim them down to 3″ half-square triangles.
Step 3
Now, start laying down your block (refer to the image below for the placement of the pieces). Once done, sew them down like a four-patch. Finally, stitch the two half-square triangles together with your four-patch to complete the betty quilt block. Press it nicely and make as many as you need to create your desired quilt size.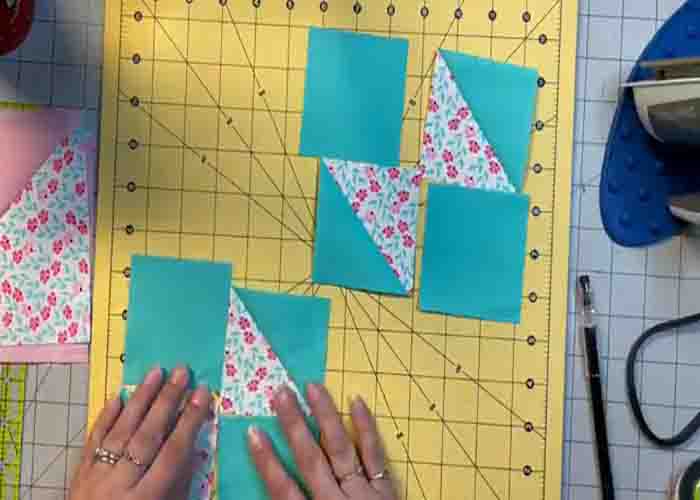 Betty Quilt Block Tutorial