New to keto and need some amazing recipe ideas to kickstart the new ketogenic diet? We put together 40 of the best recipes to try out for low carb eats. When we started the keto diet around here, it was really difficult at first to find things to eat. Making them seemed to be the only option, but even then, it proved to be challenging. Definitely different than most diets, going keto means you really have to know and understand just how low carb you need to be. High in fat and protein, low in sugar and carbohydrates, these recipe ideas will have you wanting for nothing. From easy and quick desserts to satisfy your sweets craving to crunchy snacks, cheesy rich casseroles and last minute lunches, you are sure to find some new favorites here.
1. Low Carb Chicken Enchilada Casserole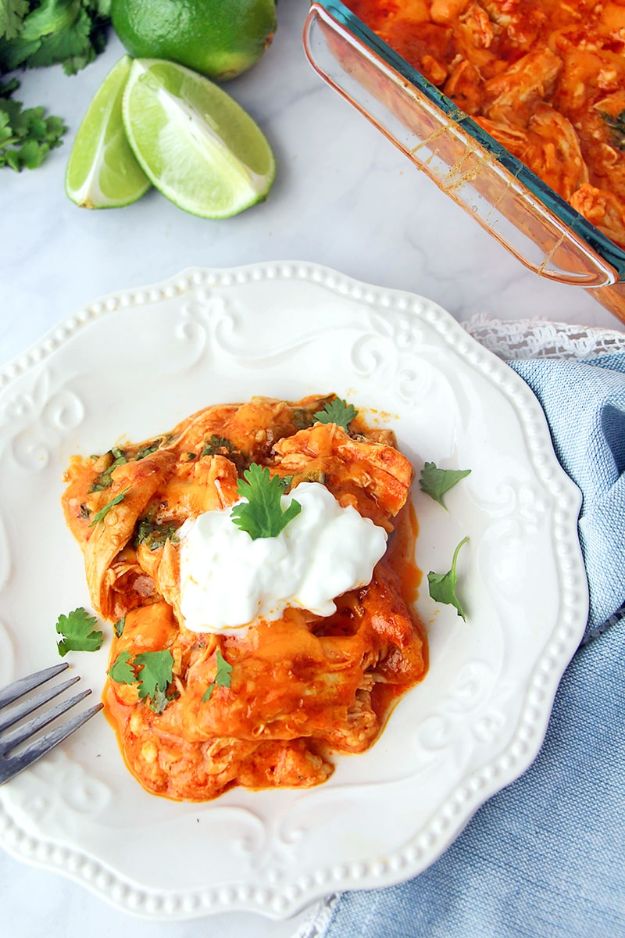 Think you had to go without Mexican food because you started the keto diet? Think again. Keep the ketones low while satisfying your craving for Mexican sdishes with this low carb chicken casserole.
2. Keto McMuffin Sausage and Egg Breakfast Sandwich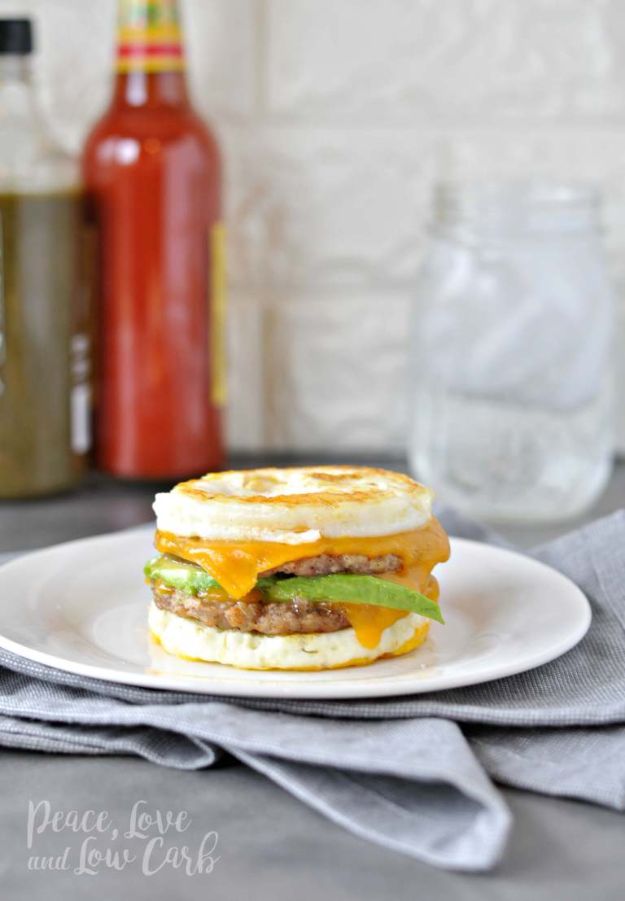 Think breakfast will never be the same on the ketogenic diet because you can't have quick meals, much less your favorite McDonalds Egg McMuffin? With this cool breakfast idea, you get both. Try this keto mcmuffin egg and sausage breakfast sandwich for an awesome way to start your morning. Cheese goodness which includes avocado. Yum!
3. Low Carb Keto Everything Bagels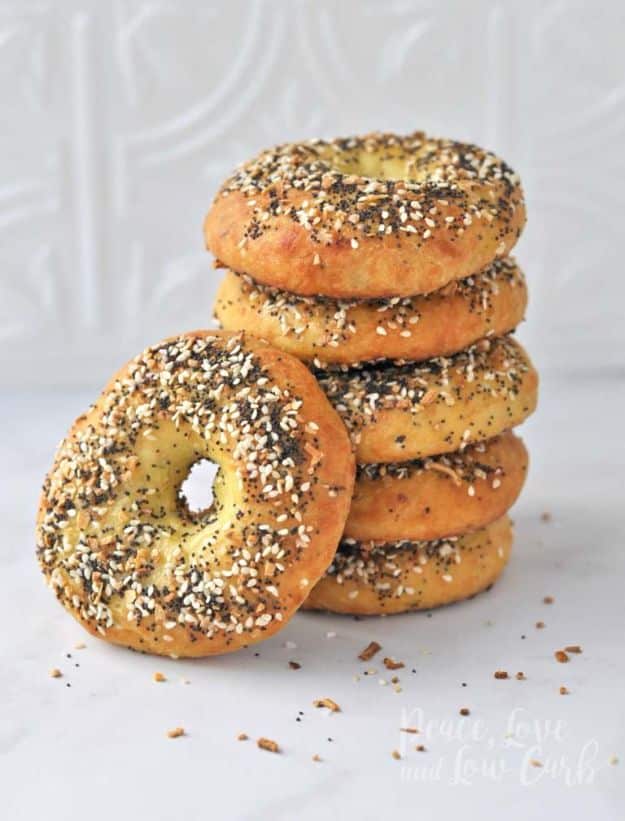 When I started the keto diet, I was really worried how I would survive without bread. Bagels, biscuits, pancakes, rolls and baked goods pretty much summed up my morning meals. Was I ever excited to find out I could make bagels at home with this delicious keto bagel recipe. Low in carbs, high in taste, these are one of my favorite breakfast ideas. I cover mine in butter or avocado to make it even yummier.
4. Easy Jalapeño Shrimp Veggie Bake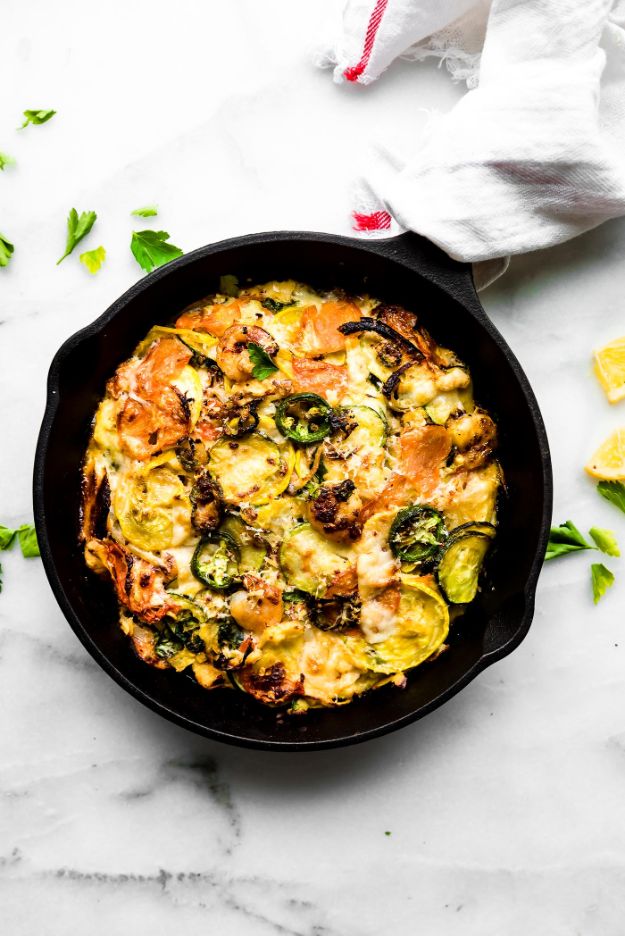 Making meals for the keto diet can be pretty simple, not nearly as complicated as I thought. This one pot keto skillet meal is a perfect example. Veggies, shrimp, cheese and few carbs, all cooked in your cast iron skillet in minutes. I love this for a quick keto lunch idea or easy dinner for one.
5. Keto Lemon Bars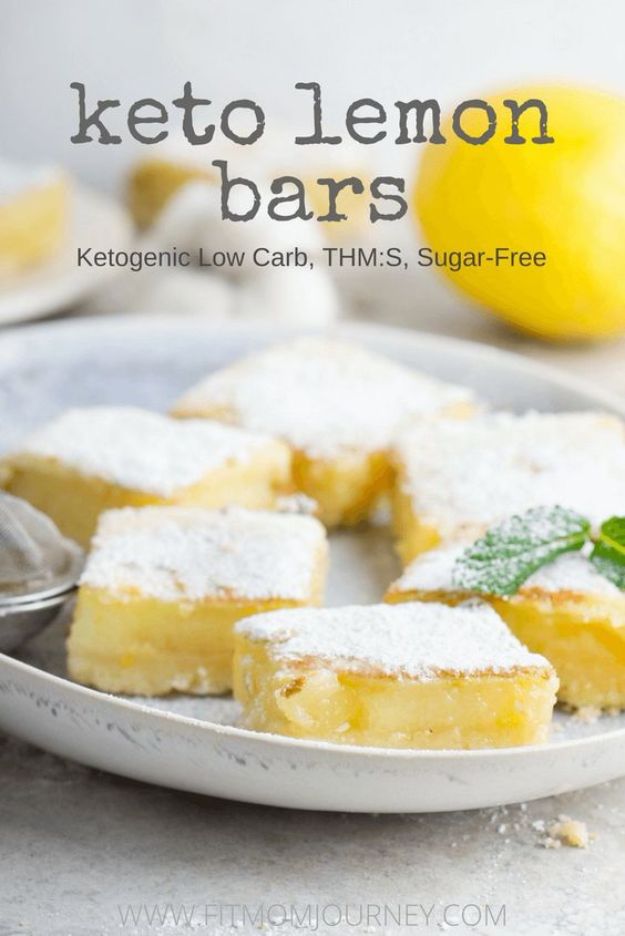 Did you really think you had to go without your favorite desserts on the keto diet? Well, I did, but then I searched Pinterest for my favorites. Turns out you can not only make chocolate mug cakes and some keto basics, but you can also make lemon bars. Be careful with these, though. Apparently even non keto diet people like to eat them up. Mine disappeared. I highly recommend you keep these out of sight 🙂 Low cab and easy to make, this quick keto dessert is my favorite late night snack.
6. Keto Avocado Brownies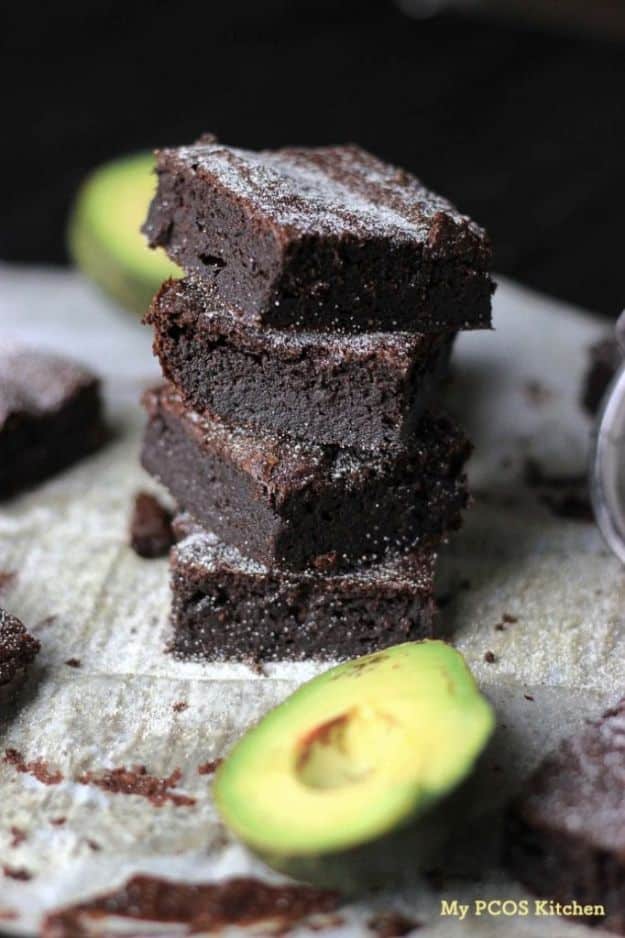 When I first started the ketogenic diet, the one thing I knew I could not give up was chocolate. Super worried about where and how I would be getting my chocolate fix when I went keto, I researched all the best chocolate keto recipes before I even started. These brownies were already at the top of my list, but when I made several chocolate dessert options, these took the cake, literally. Chocolate avocado brownies, who knew this combo could be so good? Loaded with healthy fats and low in carbs, these brownies must be hidden from both the keto and even the non keto folks at all times or they will disappear!
7. Cauliflower Hash Browns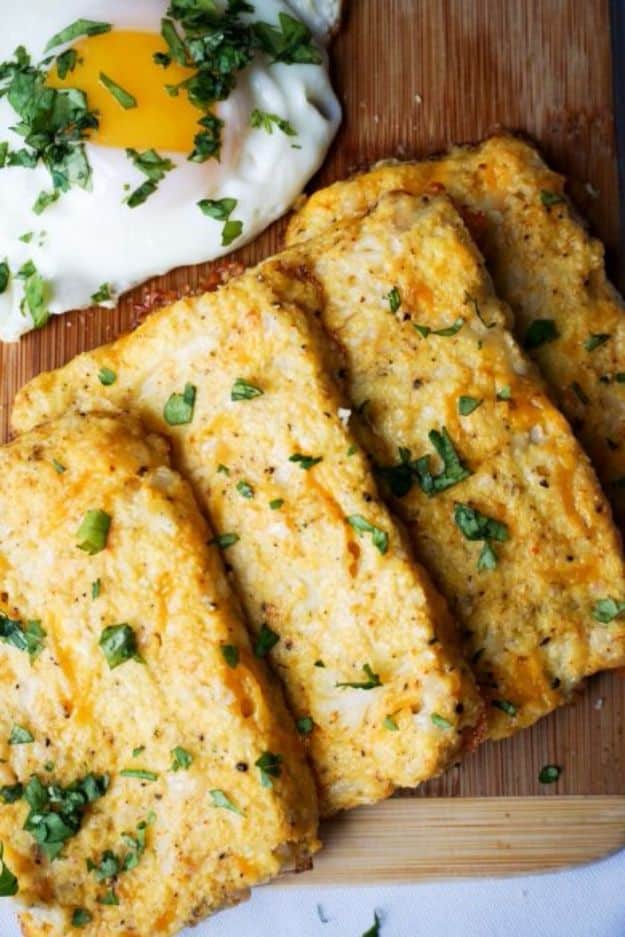 Looking for some low carb breakfast options for keto dieting? Think cauliflower instead of potato. Full of flavor and with super low carbohydrates, these keto hash browns are the perfect addition to your bacon and  eggs with cheese.
8. Chicken Bacon Caesar Casserole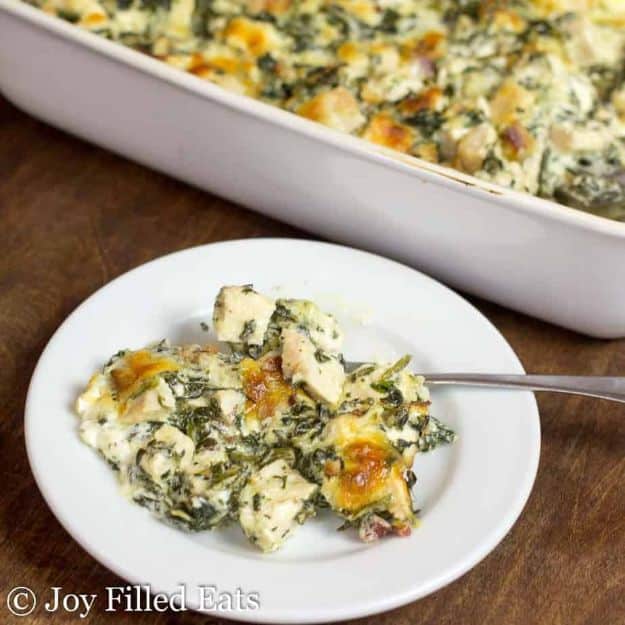 When I first started keto cooking, I ended up spending hours in the kitchen, and even then, at times, I often found myself with few foods I could eat. Soon, I realized I needed to prep more foods ahead, ie think meal prep for the week, but the keto friendly version. I found this chicken bacon caesar and knew it would be perfect to try for making ahead. Before I even I tried it, I knew it was a keeper. The cheesy smells coming from the oven when it bakes? Oh my!
9. Low-Carb Cauliflower Creamed Spinach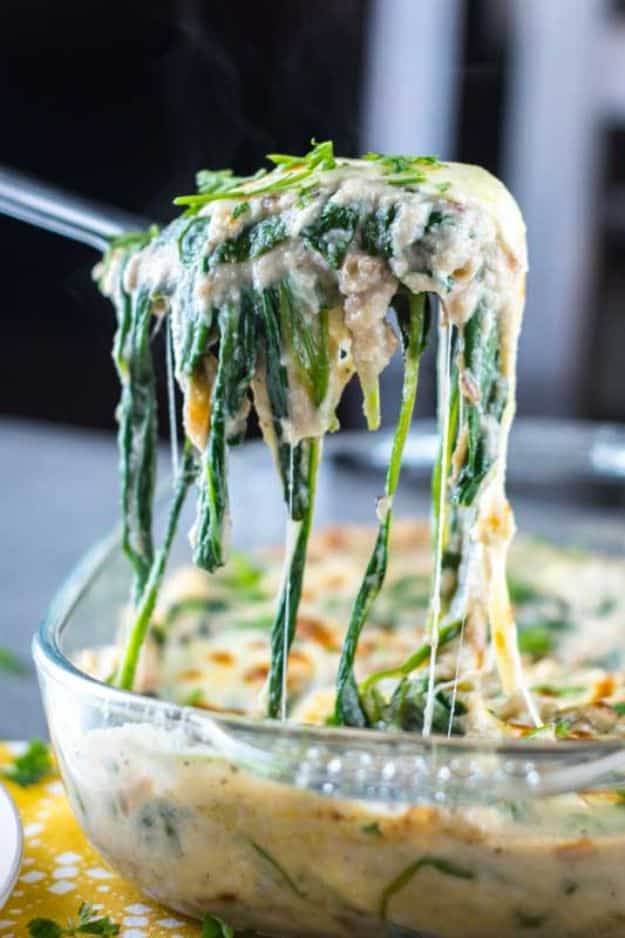 Low carb creamed spinach is possible! This revised version of a traditional creamed spinach recipe will leave you feeling super satisfied, just without unnecessary carbohydrates. Get your keto veggies here!
10. Keto Pork Chops