Halloween will be here soon. Do you have the most awesome couples costume idea ever for the party? If not, we have a list of the 50 best DIY costumes for couples in 2019, and you are sure to have a hard time deciding which one, as some of these are just amazing. Creative and unique, these costumes are perfect for you and your boyfriend, girlfriend, husband, wife or date. Complete with step by step tutorials, you will see exactly how easy these are to make. We have some of the best last-minute costume ideas, too, in case you wait until the last day before Halloween and run out of time. From celebrity couple costumes to comic book and Disney characters, to some just generally spooky but brilliant costume projects, you are sure to find ideas that will impress all and win the prize for best costume ever. Get busy making something crafty and awesome to wear this year at Halloween.
Ready for that Halloween party? If you still need some more cool ideas for DIY Halloween costumes, so you have the perfect attire to match that amazing decor, we have you covered. If you run out of time, we have some fun last minute DIY Halloween costumes. For your Halloween decor, don't skimp on this. Check out our inexpensive DIY Halloween party decor ideas for those on a budget and these quick and easy Halloween decor ideas for those pressed for time. So many to choose from, deciding will be the only hard part.
DIY Halloween Costumes for Couples
1. Suicide Squad's Joker + Harley Quinn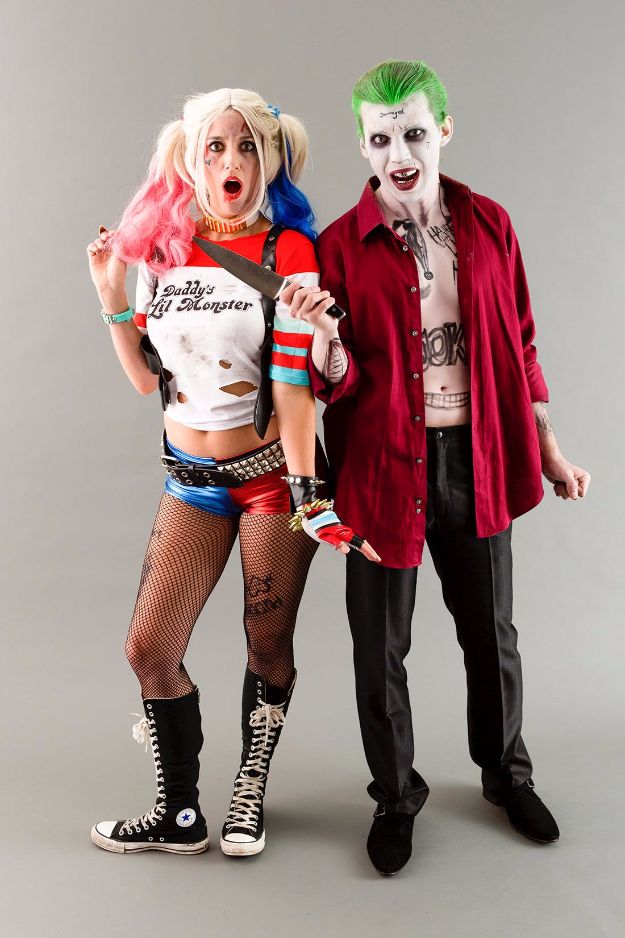 You and your man could seriously get the Oscar for the Suicide Squad's Joker and sweet little Harley Quinn. This is one Halloween costume that will get you spitting out your movie lines like a pro. Dangerous, wild and glamorous is how the partygoers will see you two in these iconic Hollywood rebel costumes. The best part of this is that if you are a fan of this movie, you probably own most of these clothes.
2. Mimes At The Circus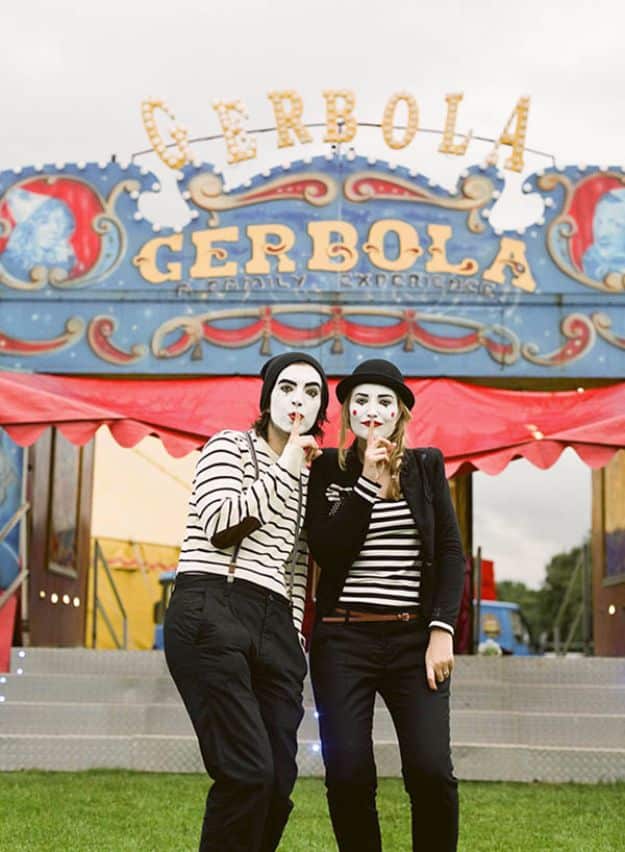 Every Halloween when I'm out with my boyfriend trick or treating I feel that cool northern nip in the air. The reasons I love this costume idea for taking my honey around on Halloween is that it keeps you fully covered and warm plus you've got your flats on for trekking through the neighborhood. The makeup is easy and minimal and you will both have the same red lips, so its ok to smooch a little. Most of all you and your beau will find you have acting skills you never knew about as everyone will be demanding nonstop entertainment from you guys.
DIY Couples Costumes
3. Popeye and Olive Oyl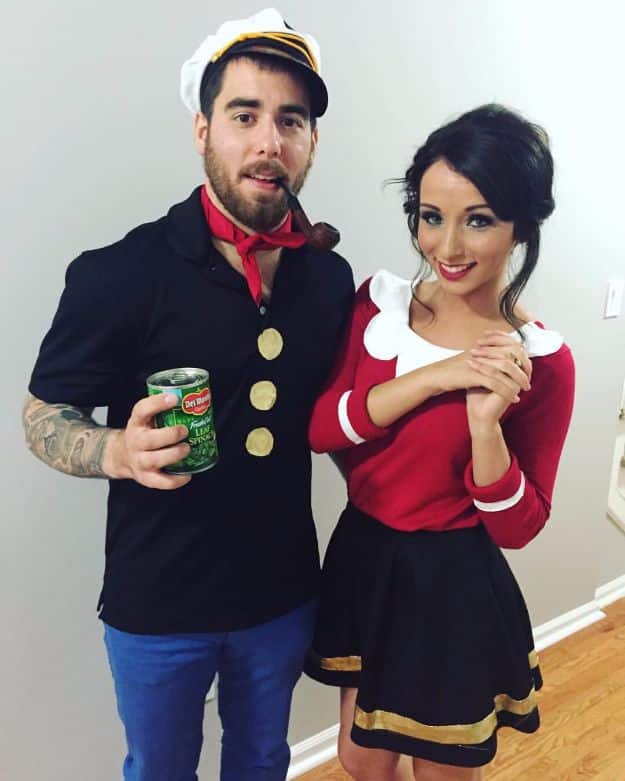 I love Popeye and Olive Oyl so much, my boyfriend and I could not wait to get our old school cartoon character Halloween costumes together. The most important part was the spinach of course and my baby already had a captain's hat, that I love on him. I just modified existing clothes we had by gluing on cut felt pieces and I tied a red scarf around that cutie's neck, he made the best Popeye, I find myself wanting to get him to dress up like that for me throughout the year, he says no, but I'm going to keep asking. I love me some Popeye! 😉
4. DIY Fro-yo Costume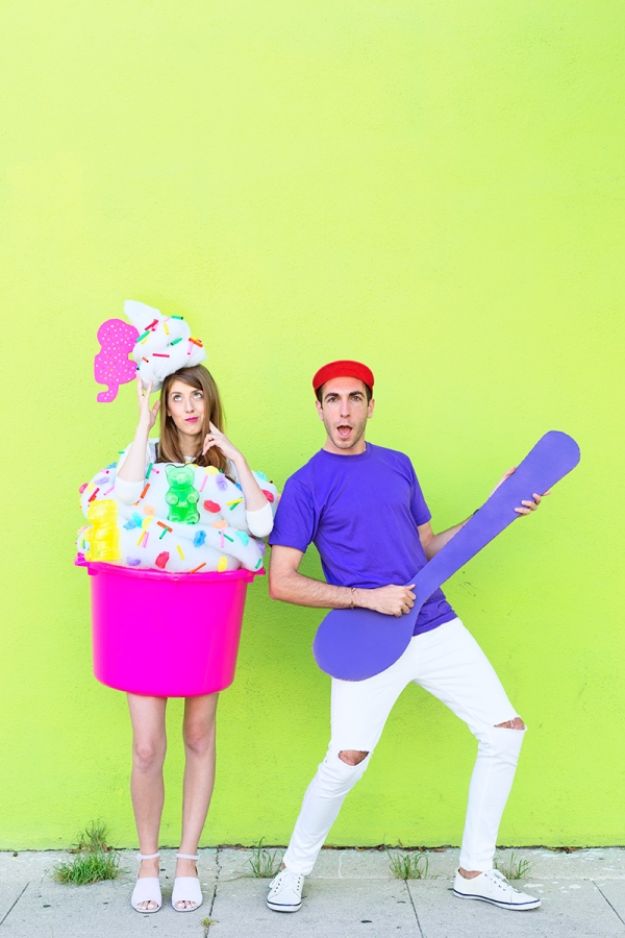 The cutest couples costume ever is the frozen yogurt and spoon. Frozen yogurt is everyone's favorite so what could be more darling than a cup of frozen yogurt and a spoon? I made my props with a few items I picked up at Hobby Lobby, like the dacron batting that was the ice cream. The rest is a personal choice depending on how you like your yogurt. But everyone will know one thing and that is, your Halloween mate likes his yogurt with a spoon.
5. Bank Robber Bandits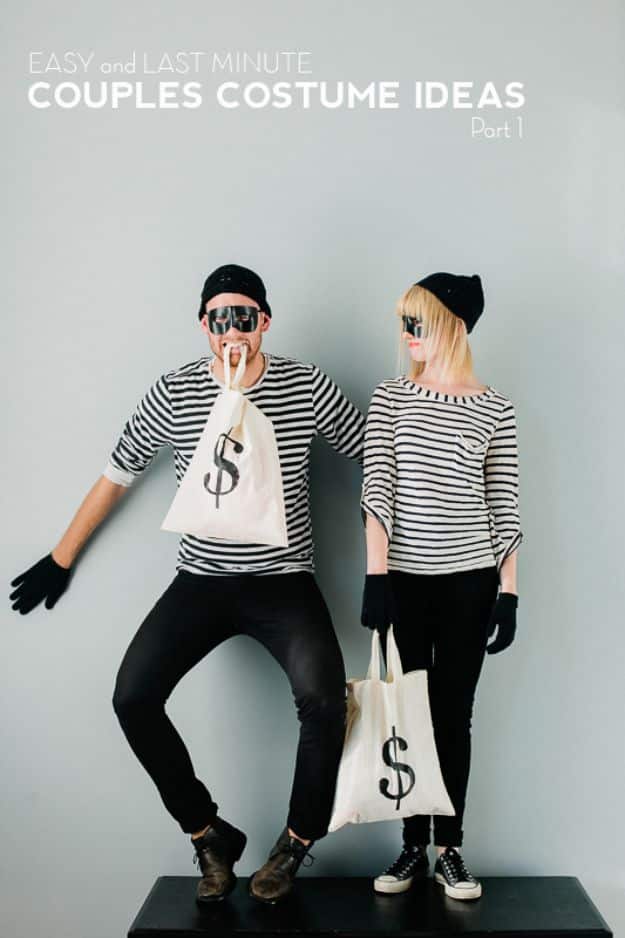 his is a super last minute costume for couples, the bandit's idea put excitement into everyone's evening. You guys get your black jeans and some quiet creeper sneakers stencil dollar signs on a couple of plain tot bags, two striped shirts, and don't forget your masks. The loot sacks make excellent trick or treat bags for the young and young at heart. This awesome costume is for all ages. For funny couple costumes, this last minute Halloween costume idea is sure to get yu lots of laughs.
We have the best party foods, too. Check out these cute Halloween cookies and snack ideas for Halloween, too. Check them all out and see why we love Halloween as much as Christmas!
6. Bob Ross and Happy Little Tree
creatingreallyawesomefunthings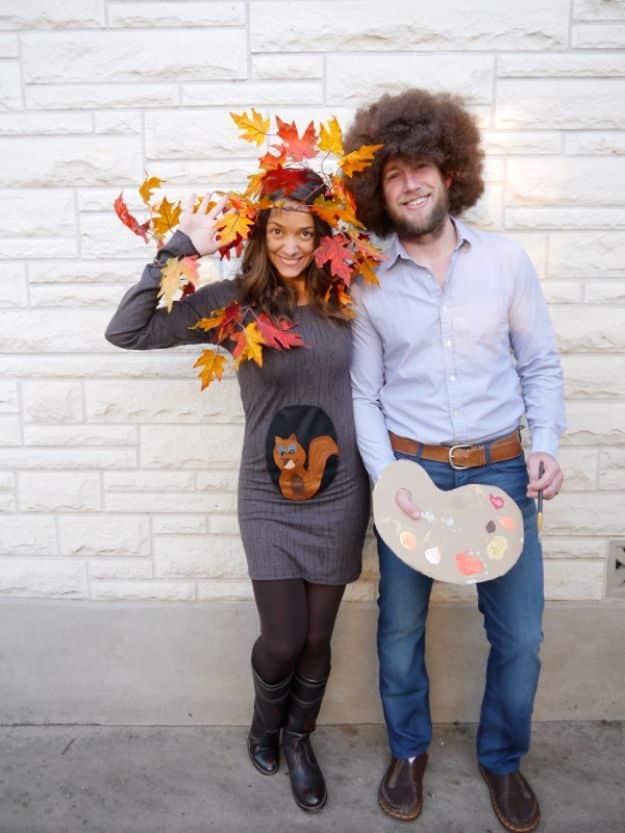 Bob Ross is so hilarious, I have watched him for years but I never thought of him as a costume idea, much less a couples costume idea, but when I saw this I felt like a bolt from the blue came to me. I could be his landscape, he could be my painter, how totally romantic. I bought very few materials to make this, fake leaves and felt for me and a wig for my man. I have to say, he looked so stylish and super foxy, I'm going to make him get a perm. He's just going to have to perm himself, he looks too darn good with one!
7. Buddy the ELF and Jovie Movie Character Couples Costume DIY
What happens when you love Christmas so much you have to bring it into Halloween? You and your man need to dress up like elves that's what. I call these my transitional costumes because we will have them on in December as well. They are both no-sew costumes that I made from felt held together with fabric glue, so easy and so cute. If we don't wear them again at Christmas, I will put them on my mannequins and stand them in the yard to bring my neighbors Christmas love.
8. Back To The Future Costume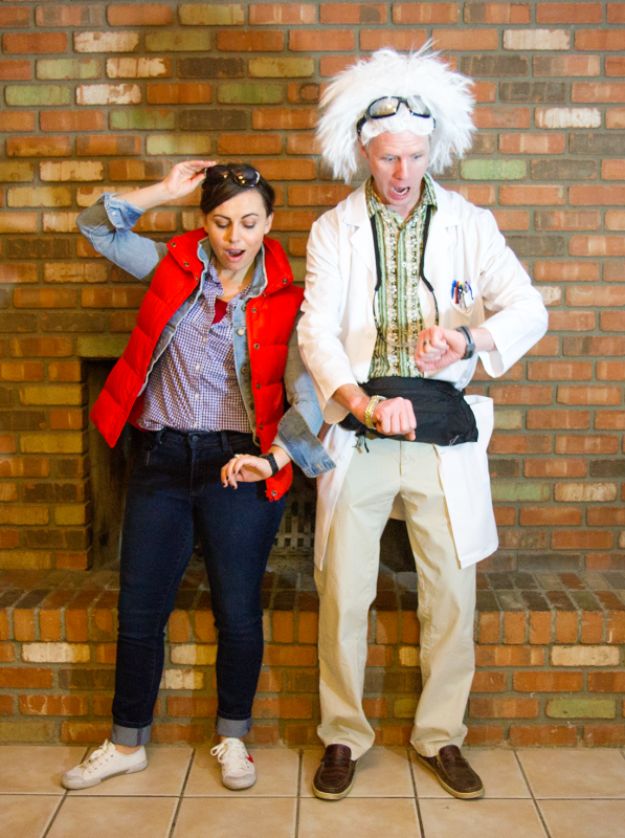 Back To The Future is one of the most loved, iconic movies of all time and makes one of the best couples costumes. Who could forget Doc Brown with his crazy hair, and innocent Michael J. Fox? Just be prepared to know a few lines from the script, because I guarantee you will be asked to put on a little show for your fellow party goers.
9. Forrest Gump And Jenny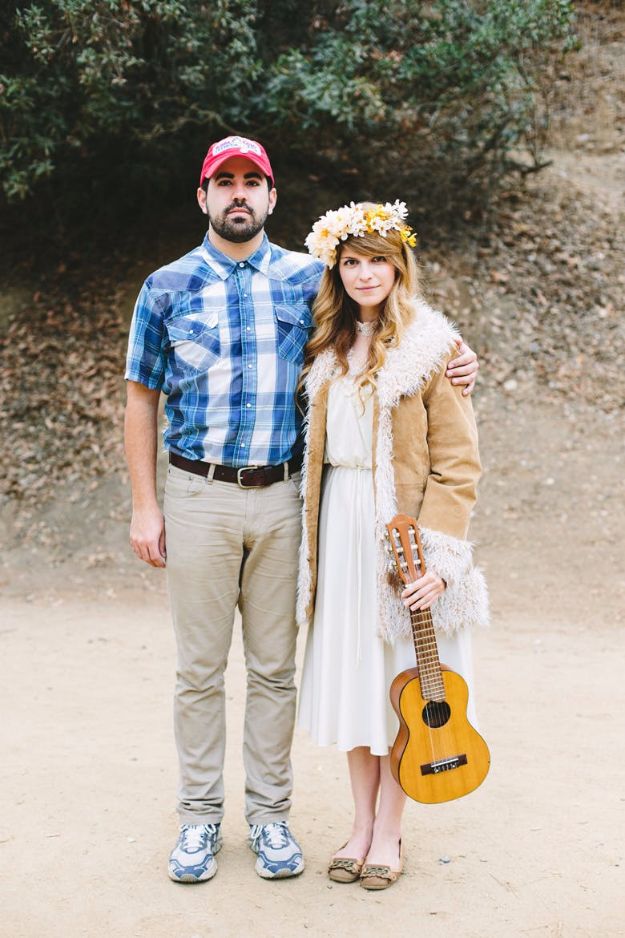 And just like that, it was Halloween! Forest Gump buffs out there are really going to love this Halloween couples costume. This is a really simple costume idea using your own clothing. Jenny can be the freewheeling cosmopolitan hippy chick and Forest is everything your man is, a big sweetie with a heart of gold. You will have so much fun together dressed as these star-crossed lovers.
10. Magic School Bus Halloween Costumes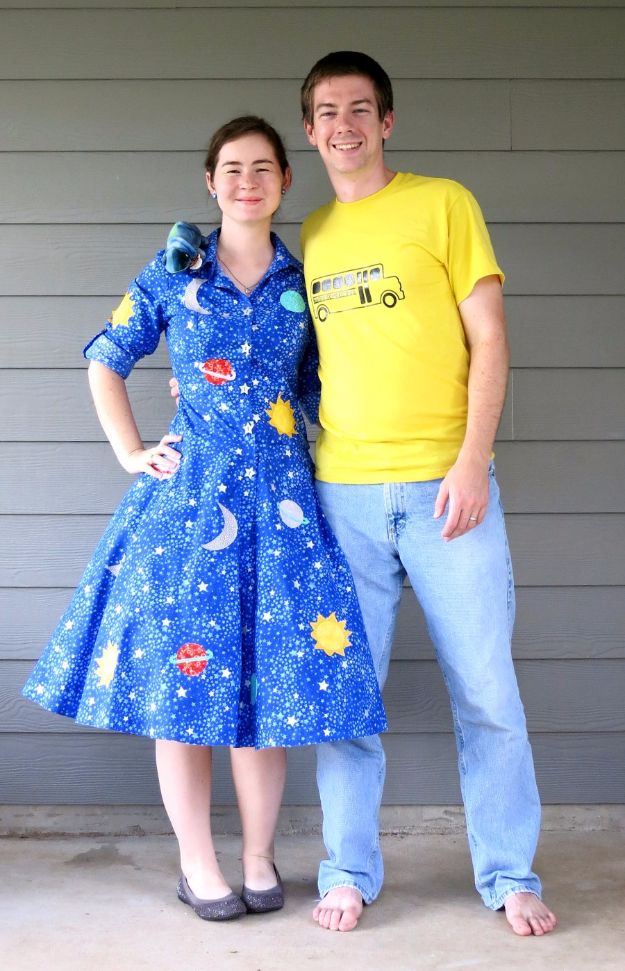 For Halloween this year, I had a grand plan for our little family to go as characters from the Magic School Bus – I would be Mrs. Frizzle, Eddie could be the school bus, but Eddie was not willing to wear a big cardboard school bus, so I only really went all out on my costume. But I love it, and since I ended up making the bigger stars/planets/suns removable, I think I will get some extra use out of it. Perfect couples costume or great to wear around town, you will love the versatility of this costume.
11. Safari Couple's Costume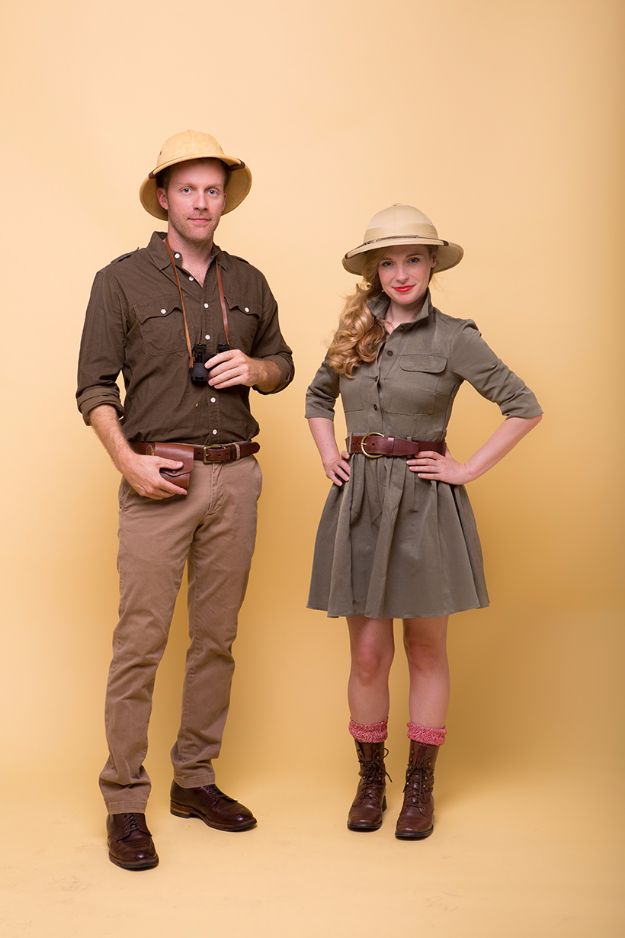 12. DIY French Chef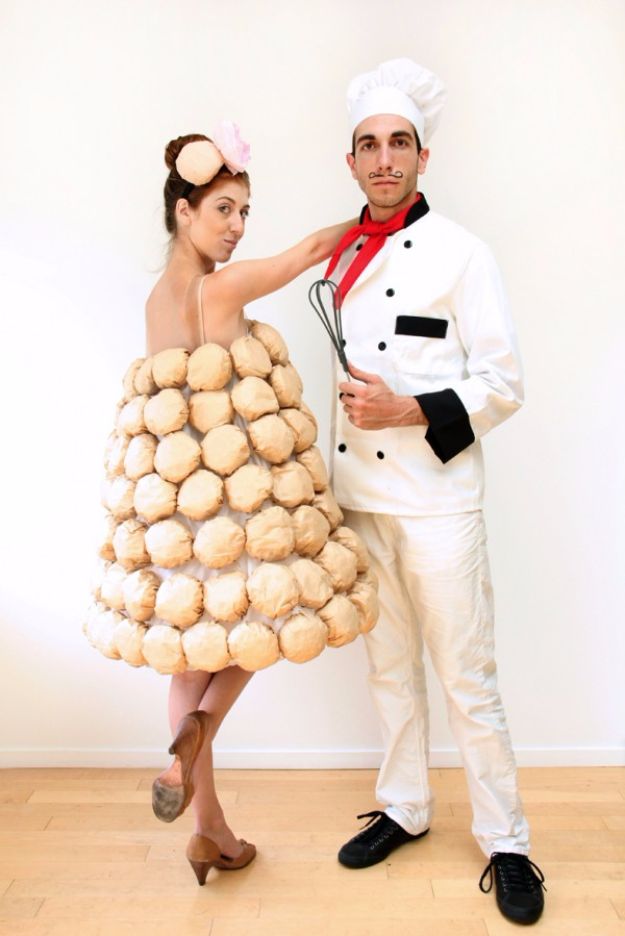 13. American Gothic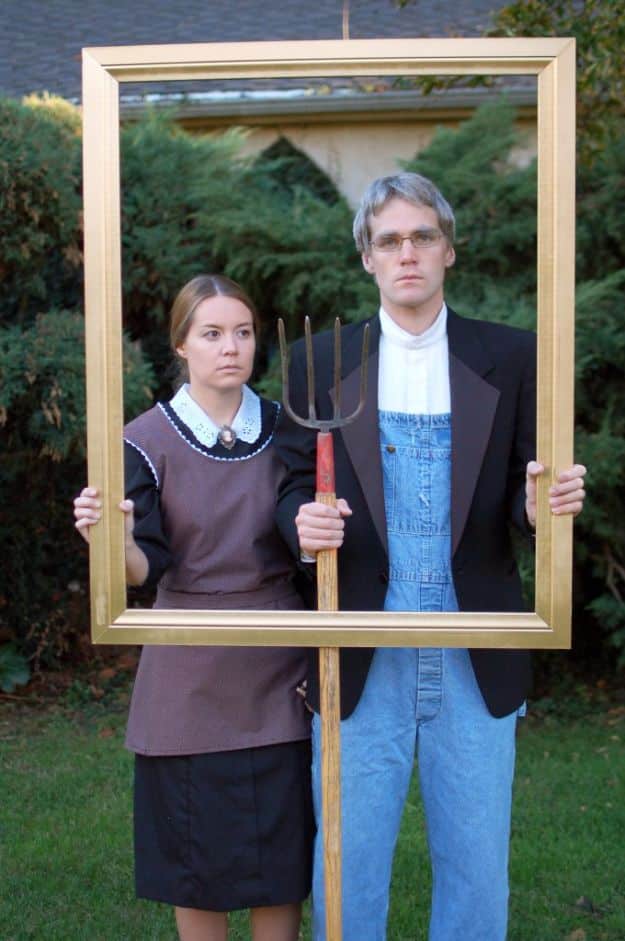 14. Peter Pan And Tinkerbell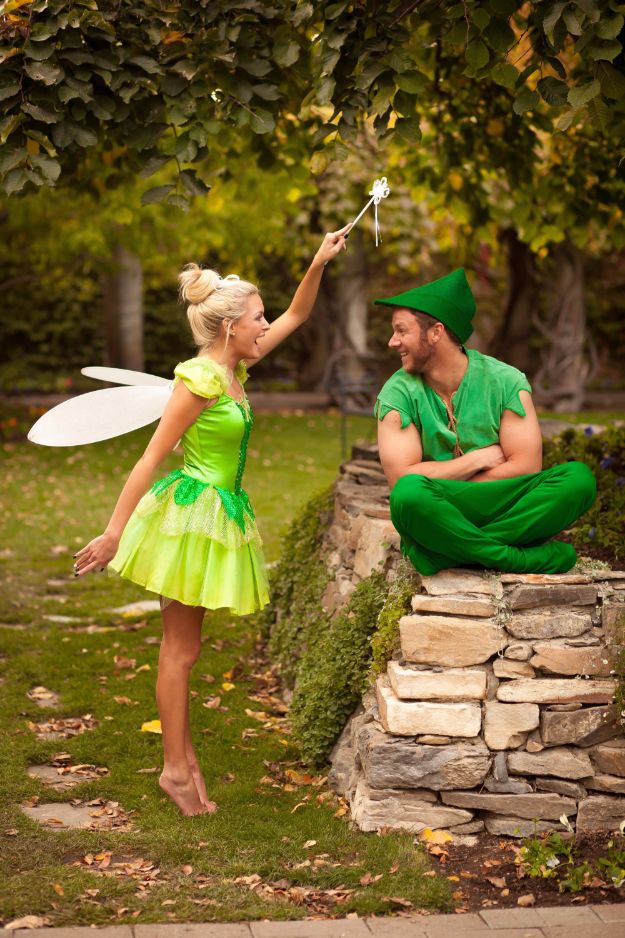 15. Princess Bride