Have you seen a bunch of easy kids crafts ideas that were anything but easy, and far from what your kids or you considered cool? When it comes to the best ideas for easy DIY projects for kids, you want something simple and fun that turns out right. A pretty picture on Pinterest does not necessarily a good project make. After trying lots of "easy DIY ideas for kids" on Pinterest, I saw how true this was and decided to make my own list of projects that were actually tried and tested by adults and kids alike. If you want something awesome to make with your young children, try these 40 best craft ideas for kids. Whether you are looking for something to make at home on a rainy day when the kids are bored or a nice little homemade something to give to Grandma for Christmas, these crafts for kids are our top picks. Complete with step by step tutorials, what you see is what you will get.
Easy Kids Crafts
1. Create Treasure Jewel Magnets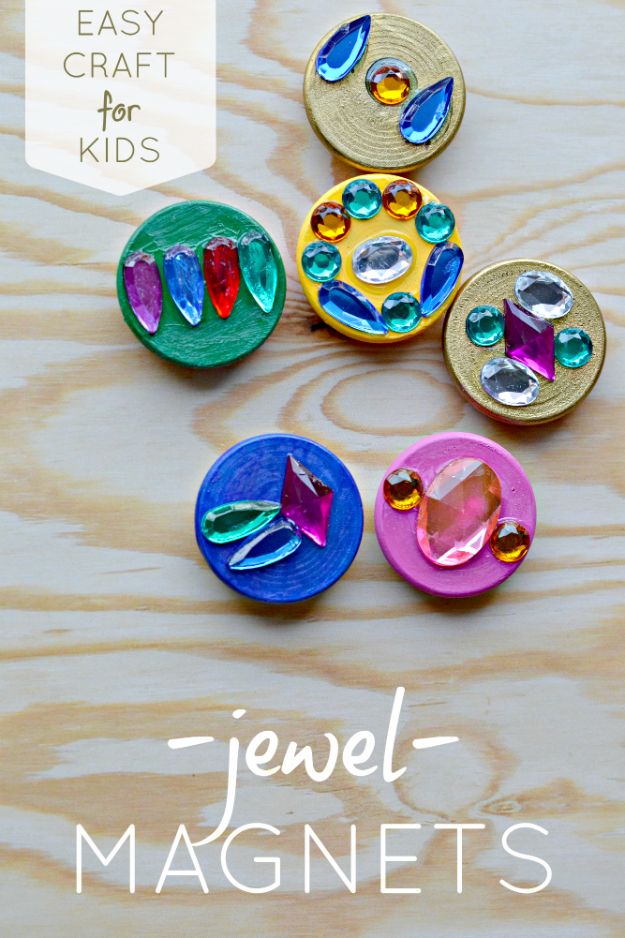 Create jeweled magnets using craft gems and splashes of rich jewel toned paints. Add more sparkle to their day by crafting this magical DIY with your kids. Use the sparkly creation as fridge magnets and as a bonus, you could also leave the magnets off and let your little ones use their tiny treasures for pretend play–imagining them as coins, princess jewels, or pirate treasure!
2. Egg Carton Flower Prints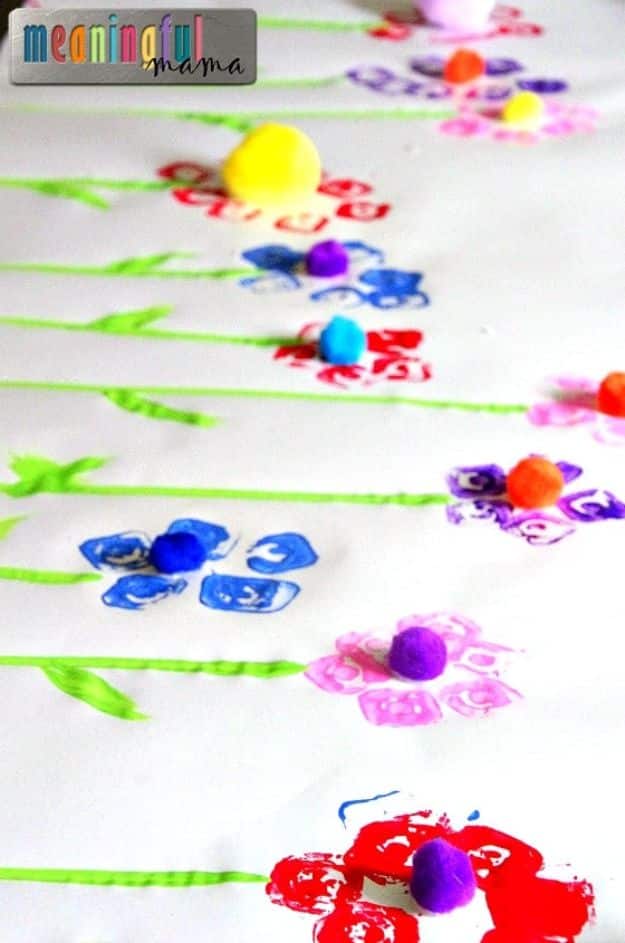 Make a beautiful egg carton flowers recycled art project with kids! Let your little Picasso get creative by following along this super easy DIY instructions from Meaningful Mama. Using recycled materials for craft projects is always a bonus. It makes the craft less inexpensive and stimulates creativity as kids see how they can create with things they have just laying around the house.
3. Birds Nest Craft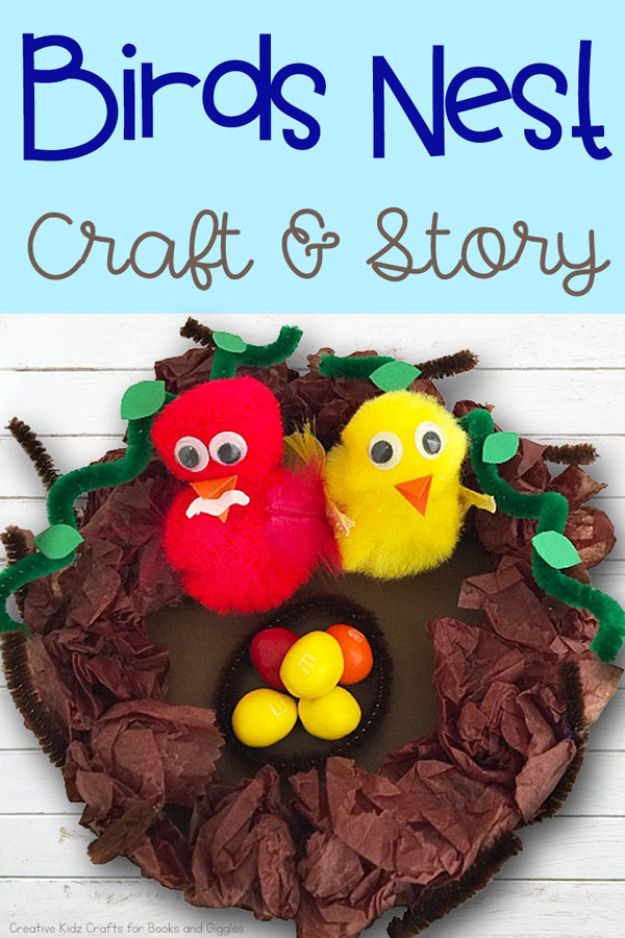 Bring spring indoors with an easy-to-craft decorative bird's nest you can whip up while watching your favorite show. A bird's nest craft kids can make out of colored tissue paper. This is an easy spring or Easter craft and decoration. Fill the realistic-looking nest with painted robin's eggs, dyed eggs or Easter candy.
4. Pet Cactus Rocks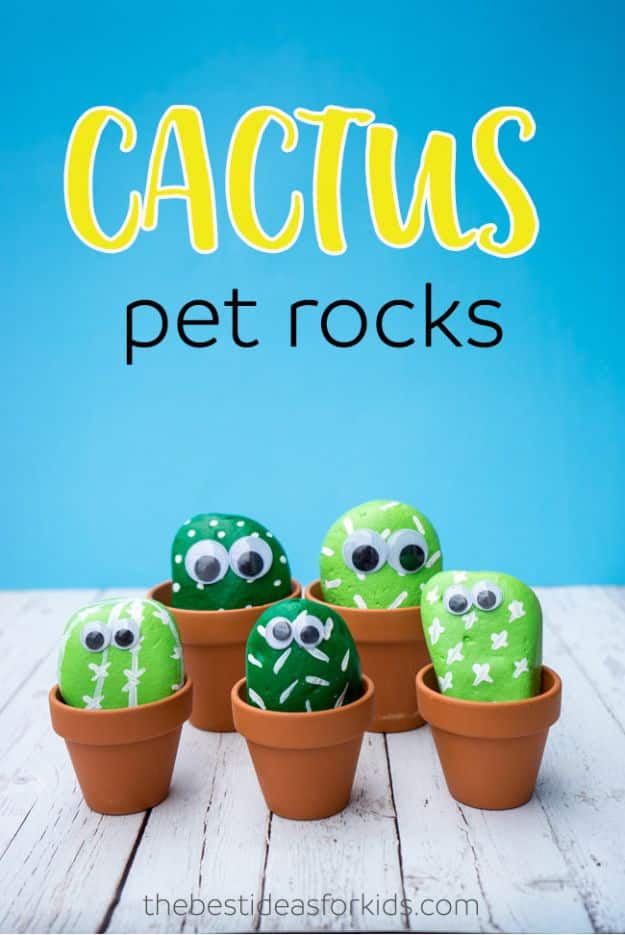 If you're one of those who can't keep a plant alive, then this DIY idea is perfect for you. Learn how to make these easy pet cactus rocks from the comprehensive tutorial of The Best Ideas For Kids. Kids will love to pick out their pet cactus rock for this easy craft project!
5. Ocean Glitter Bottles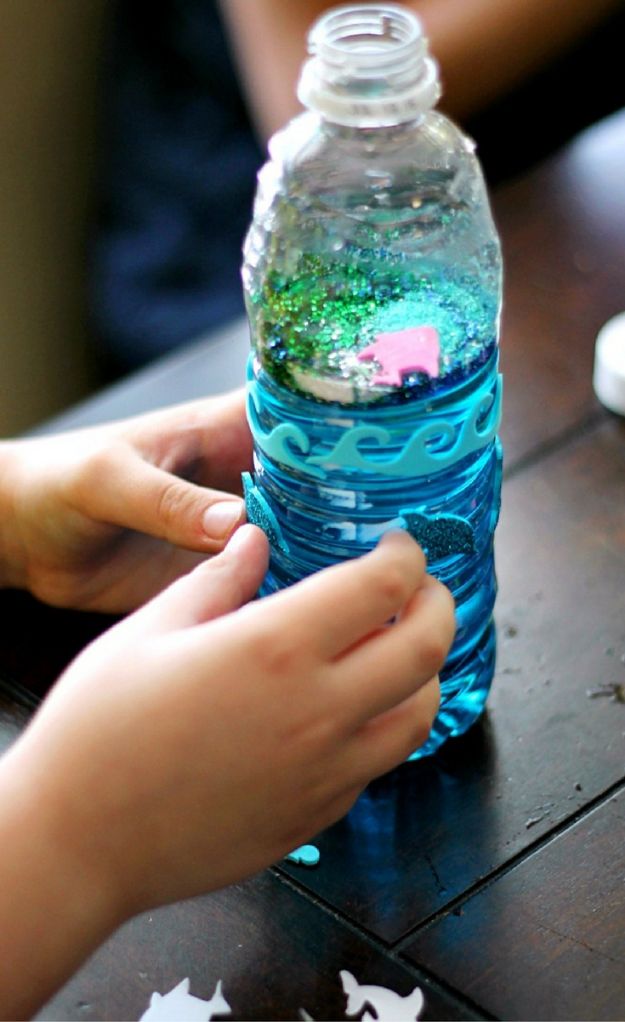 Create your very own ocean waves in a plastic soda bottle. So this is an easy craft to keep your kiddos busy while they are waiting for their yummy fun lunch! You could also add small shells, or fish shaped buttons.
6. DIY Fruit Fans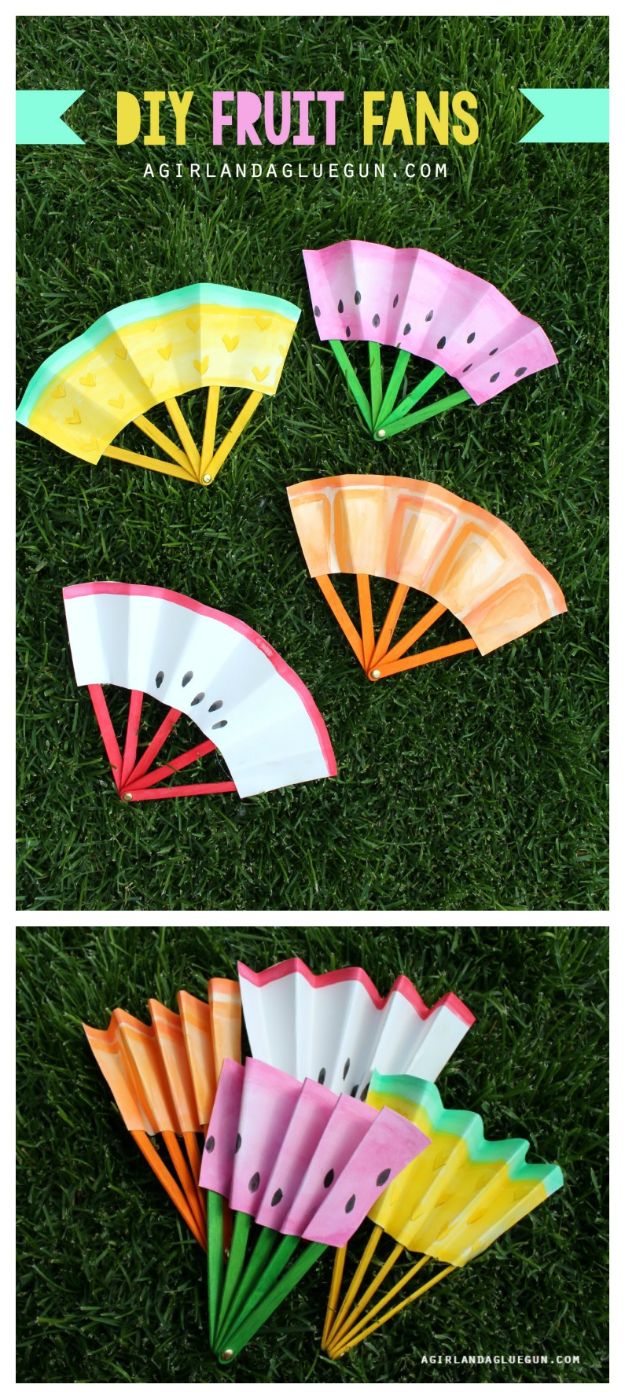 These Paper Fruit Fans are simple, quick and easy to make, useful and they look so cool. Create a fun DIY Fruit Fan with this adorable kid's craft which is perfect for summertime activities. They are the perfect accessory on a hot summer day. Have a blast with this fun DIY tutorial from A Girl and a Glue Gun.
7. Snazzy Jazzy Button Bracelets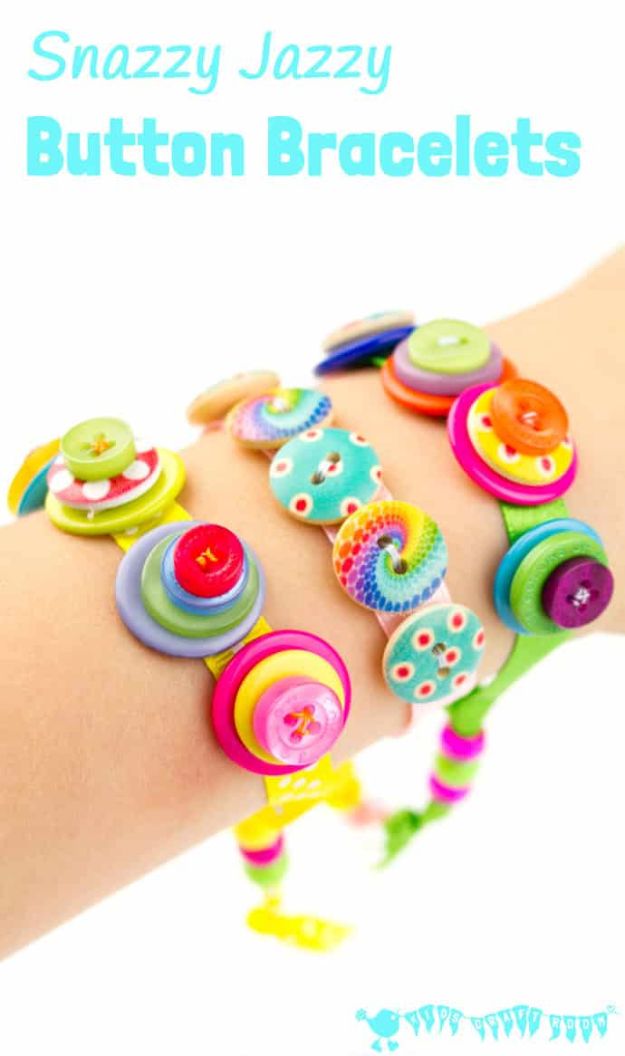 Are your kids a sucker for buttons? Here's a great craft for using up odd buttons that you have left over from other sewing projects. Button bracelets are a lovely first sewing project for kids and can be adapted to suit the age and abilities of your children. This is so adorable, and I cannot wait to make this with my daughter. She'll totally love this!
8. Printable Dragon Marionette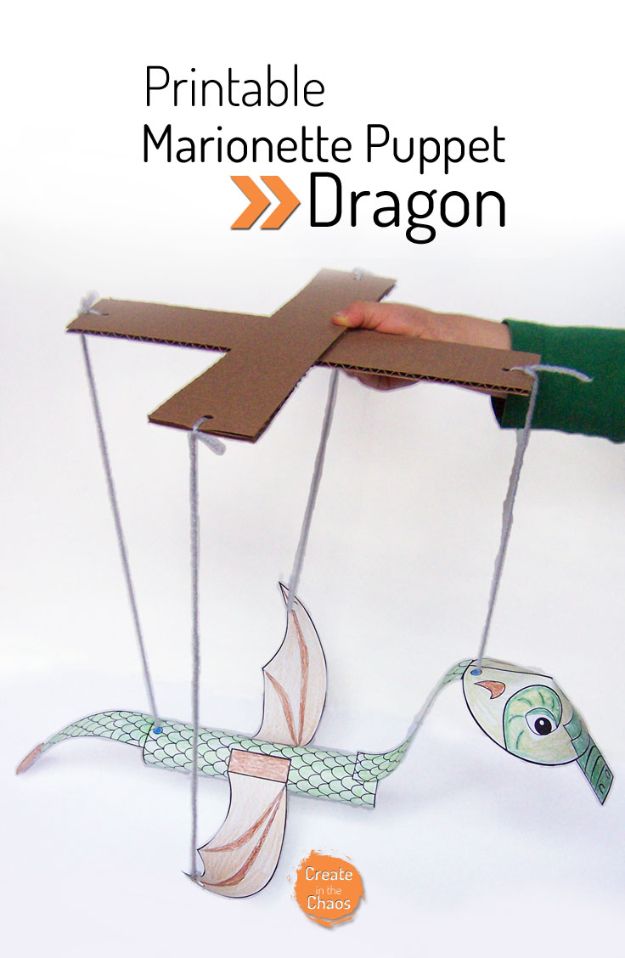 Do your kids love dragons as much as mine? If you have just a few items – printer, paper, cardboard and yarn- you can make your own marionette dragon with your kids. I'd never considered making a marionette before, but this looks super easy and fun! My kids would just love it. Follow along with this awesome tutorial from Create in the Chaos to learn more.
9. Adorable Polymer Clay Best Friends Necklaces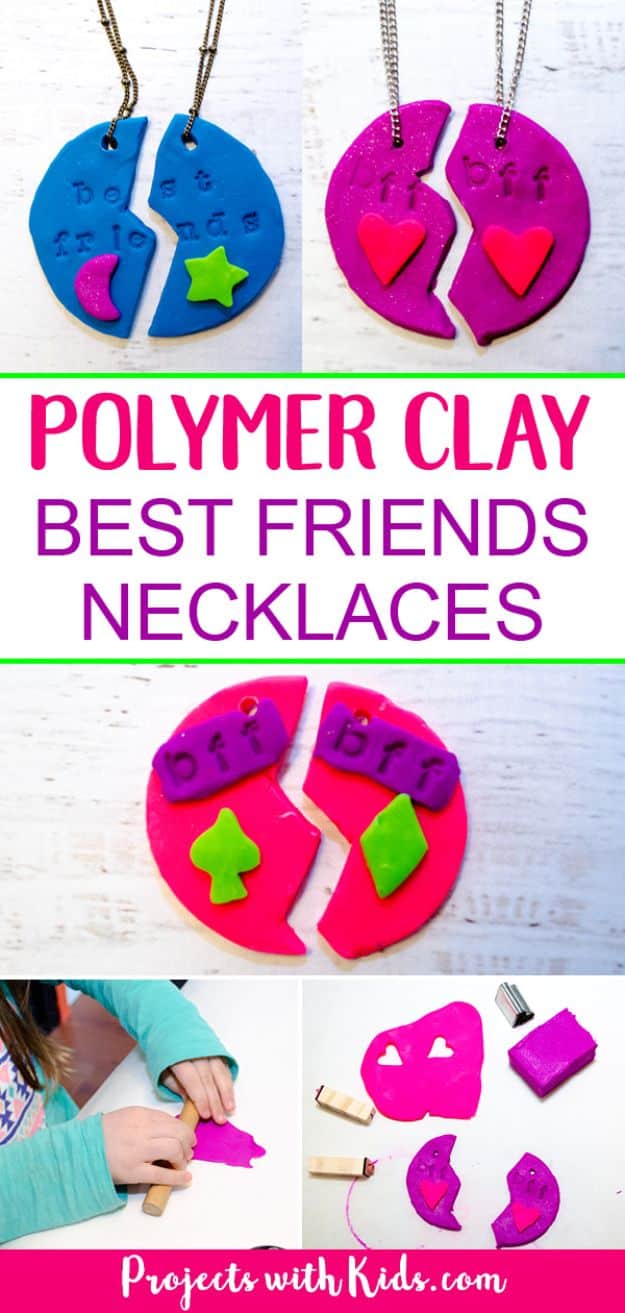 Polymer clay is great for younger kids. It would make for a great summer project indeed! Kids will love making and sharing these with their BFF's! Super simple and fun with endless design possibilities. Create your own polymer clay best friend's necklaces by following along with the simple and easy tutorial from Projects With Kids.
10. Craft Stick Bracelets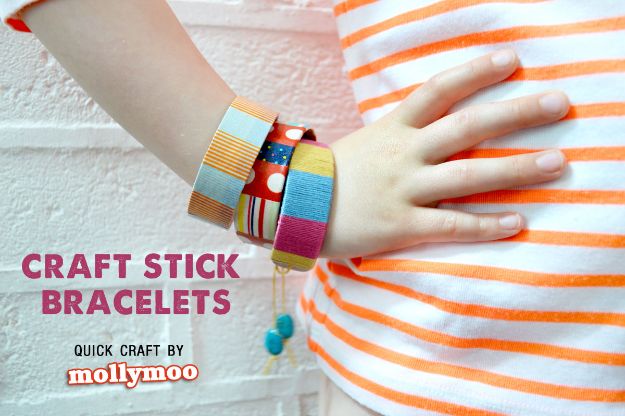 Craft stick bracelets are a fun and inexpensive craft for kids and teens. Learn how to make them and get ideas for different ways to embellish them! It is a perfect quick and simple craft to try at home, summer camps, brownie groups and playdates. The possibilities for decorating them are as endless as your imagination!