There are many ways to cook your pot roast, but this recipe from Simply Mama Cooks on Youtube is definitely the best you'll ever taste. This pot roast was slow-cooked to perfection, bringing you tender meat that falls apart. It's flavorful with all the right spices and will definitely make everyone's mouth water. Serve this delicious recipe today by learning it through the video below.
Ingredients:
2 & 1/2 beef chuck roast
3 tbsp all-purpose flour
1 & 1/2 tsp seasoned salt
1 tsp garlic powder
1 tsp onion powder
1/2 tsp coarse salt
1/2 tsp cracked black pepper
1 & 1/2 lb potatoes
2 large carrots
1 celery stick
For the gravy:
1/4 cup rendered fat or cooking oil
1/2 small onion, diced
1/4 cup all-purpose flour
14.5 fl oz low-sodium beef broth or stock
salt and pepper to taste
Directions:
Step 1
To start, combine 3 tbsp all-purpose flour, 1 & 1/2 tsp seasoned salt, 1/2 tsp sea salt, 1 tsp garlic powder, 1 tsp onion powder, and 1/2 tsp cracked black pepper. Mix well, then coat the chuck roast with this seasoned dredge. Next, heat a half cup of oil in a large pan, then place the chuck roast. Brown and sear on each side on medium to high heat for about 3 to 4 minutes. Set it aside. Next, for the gravy, in the same pan over medium heat (remove a lot of the excess oil first), saute onions, add the excess dredge, and create a roux. (If you're going to use plain flour, just season it.) After this, slowly add 1 can of beef broth. Continue mixing, let it thicken, then it's done.
Step 2
Place the chuck roast in the bottom of your roasting pan, then add the celery, chopped potatoes, and carrots all around. After this, pour over the gravy. Cover the roast pan with a lid and place it in a preheated oven at 275 degrees F for about three hours.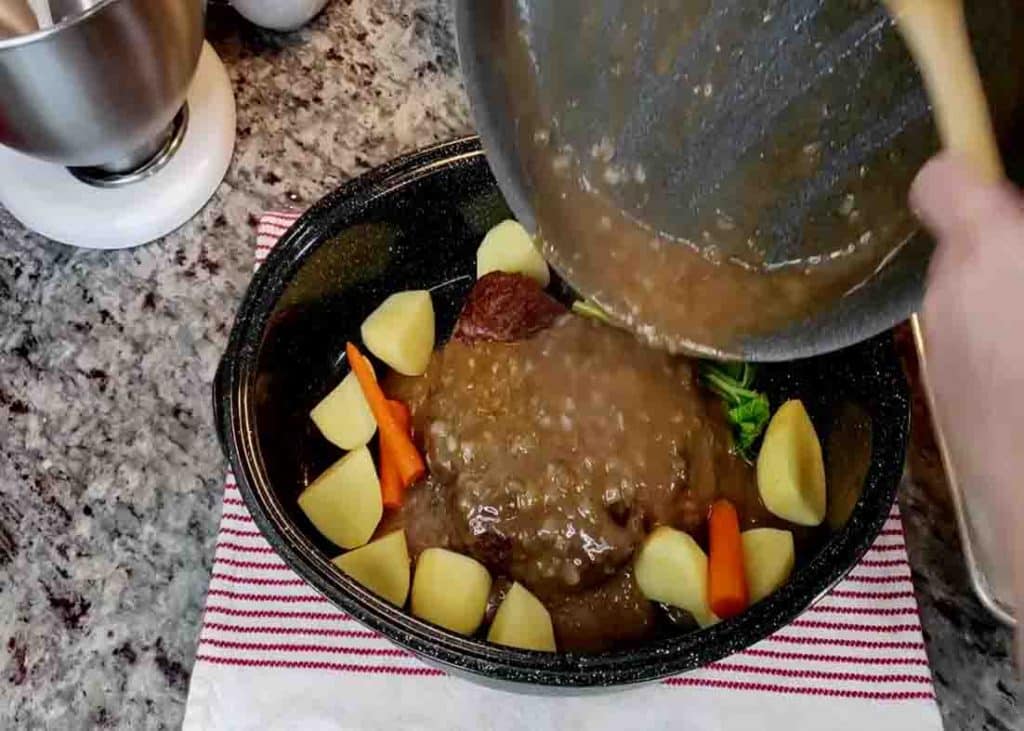 Slow-Cooked Pot Roast & Gravy Recipe