Quinoa is one of the best new ingredients I've just started cooking with. If you love quinoa or are looking for some healthy recipes ideas with it, try these awesome ideas for lunch, dinner, side dish or a quick snack.
Best Quinoa Recipes
1. 5 Ingredient Quinoa Superfood Breakfast Bowl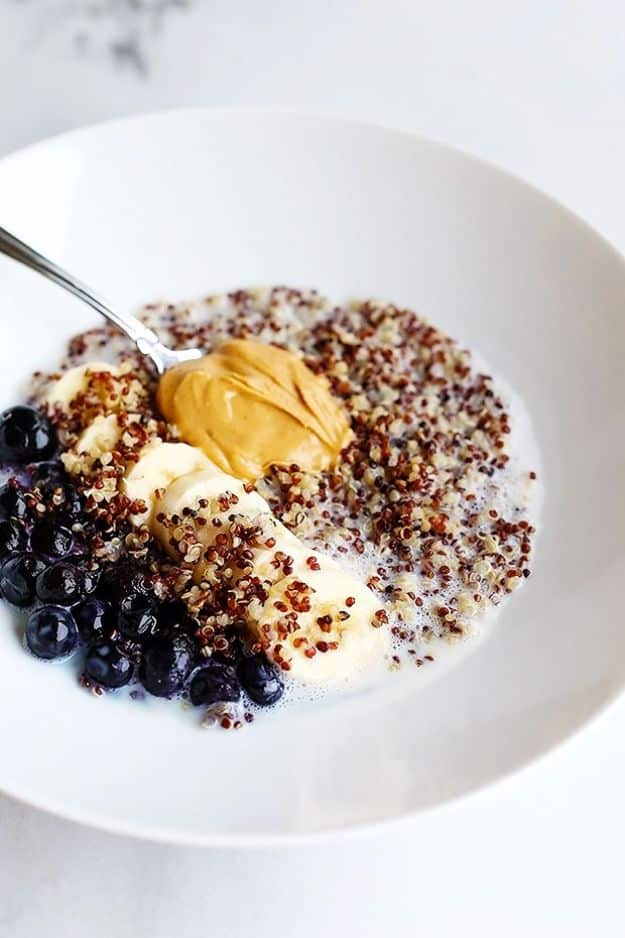 Do you want a super fast, super food breakfast or snack for the rest of the week? Well, cook quinoa, add your favorite fruits, add some peanut butter and top it off with almond milk. You are all set! This 5-ingredient quinoa super food breakfast is vegan and gluten-free, you will definitely stock up for the whole week.
2. Chicken Teriyaki Quinoa Bowl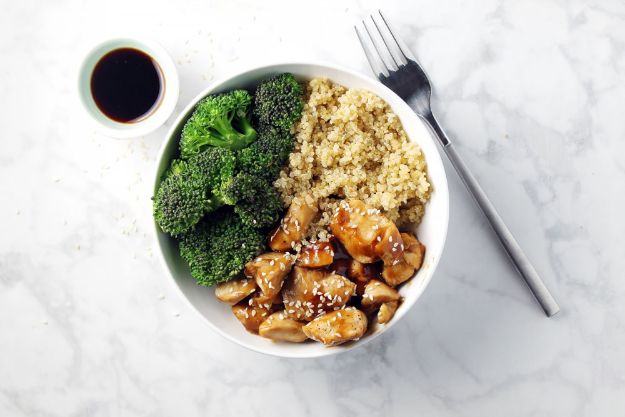 I super love chicken and I am certain I could eat them every day! So, I came across Spinach For Breakfast and they have this most amazing recipe on Chicken Teriyaki Quinoa. What I really liked a was the skinny version of the traditional teriyaki sauce. I tell you, the taste is just so divine!
3. Mediterranean Quinoa Salad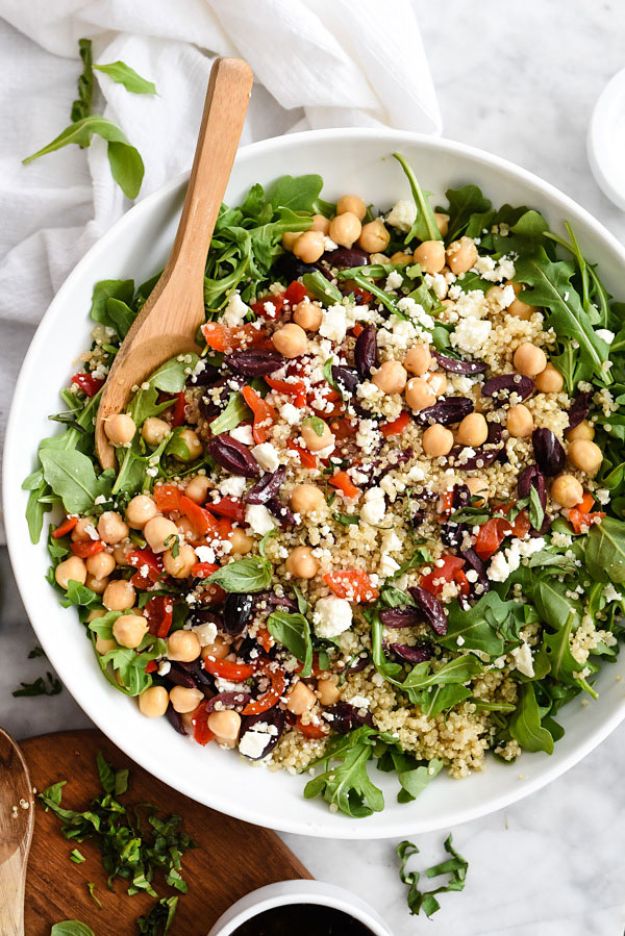 Even though I love my proteins, sometimes I like to indulge on vegetarian salad once in a while. What makes it more healthy is the addition of quinoa. Whether its lunch or dinner, you can make this salad a staple in your fridge.
4. One Pan Mexican Quinoa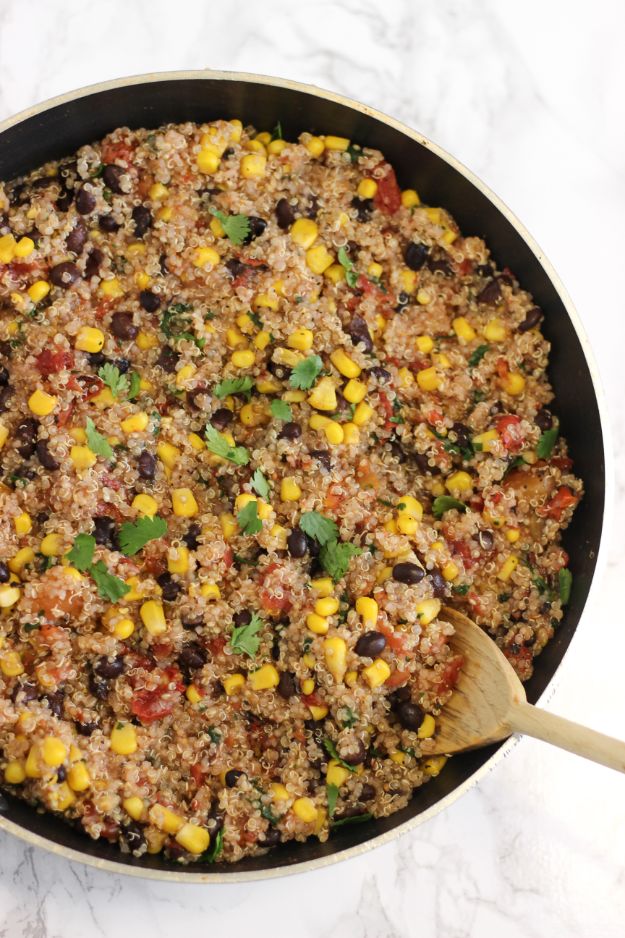 Quinoa is such a versatile ingredient and when I found out there's actually a recipe for Mexican Quinoa that does not involve chopping or sautéing, no cutting boards or mixing bowls to wash, I was super excited to try it for myself. This One Pan Mexican Quinoa lets you dump everything in a pan, leave it to cool and then enjoy! Head on over to Healthy Liv to learn more.
5. Chicken Broccoli Quinoa Skillet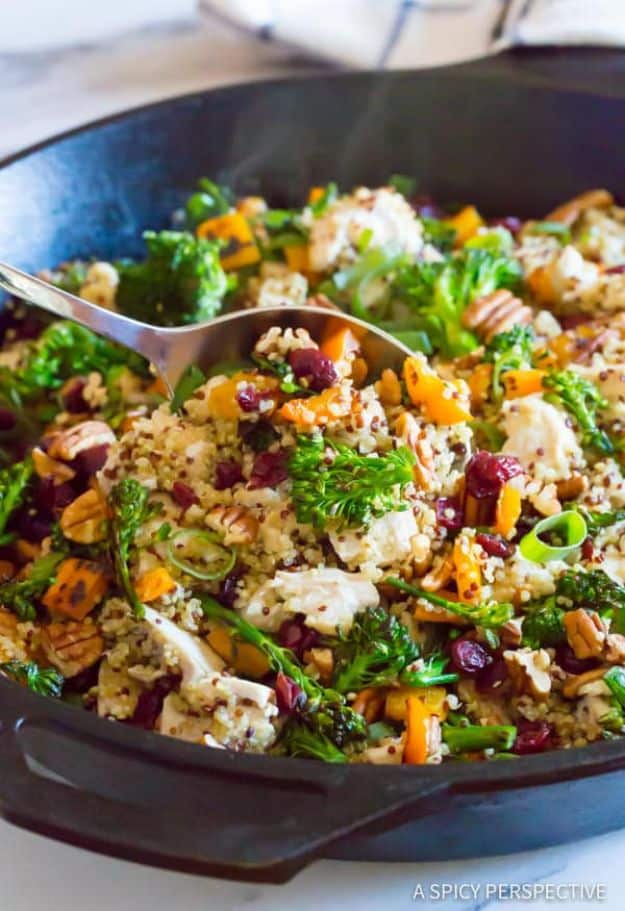 Here's a one-pot dinner that you and your family will surely love. If you have leftover chicken, all you have to do is add in veggies and of course, my new favorite superfood – quinoa and you will end up with a meal that's gluten-free, low fat, high protein, and perfect for clean-eating.
6. Detox Quinoa Salad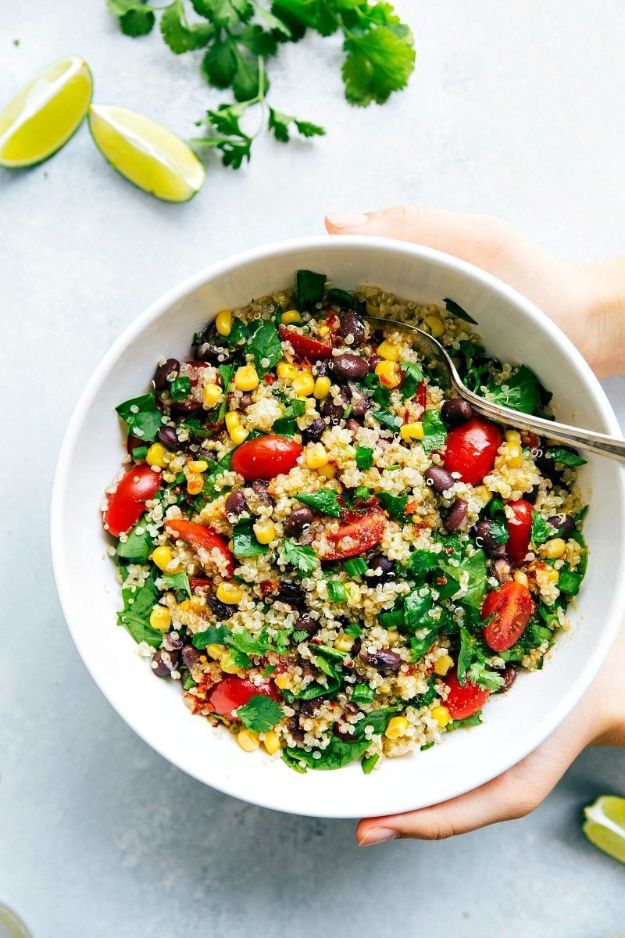 Another healthy recipe for detox week. We all know quinoa is exceptionally healthy and really good for you. Now, combine it with a veggie salad and other healthy ingredients. The result? A delicious and healthy quinoa recipe that's super easy to make, it will make you want to join the quinoa bandwagon.
7. Spinach and Mushroom Quinoa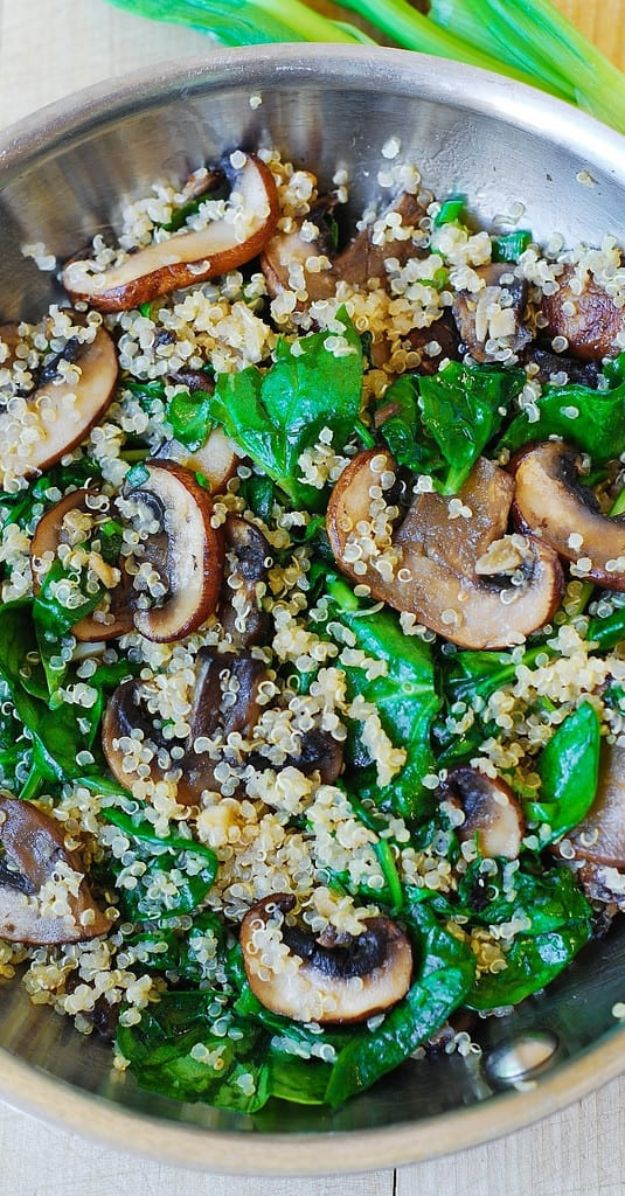 I love this recipe of quinoa and mushrooms simply because I love side dishes! And I have found the perfect one. The dish is actually Mediterranean and can also be a meatless entree. It's an easy side dish recipe made with spinach, mushrooms, quinoa and garlic. Just four ingredients but it's packed with flavor, you'll definitely ask for seconds.
8. Moroccan Quinoa Power Salad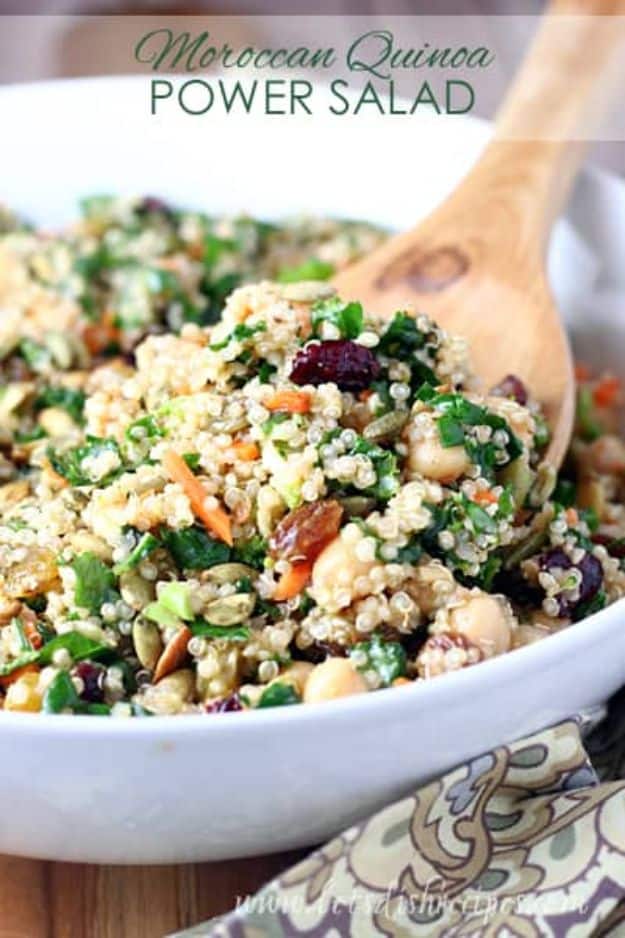 There's a lot of quinoa salad variations and this one from Let's Dish Recipes is actually one of my favorite in the list. It is a hearty grain salad packed with proteins, vegetables and sweet dried fruits. Indeed, a power salad that's a great side or light lunch any time of the week!
9. Curried Quinoa Vegetable Stew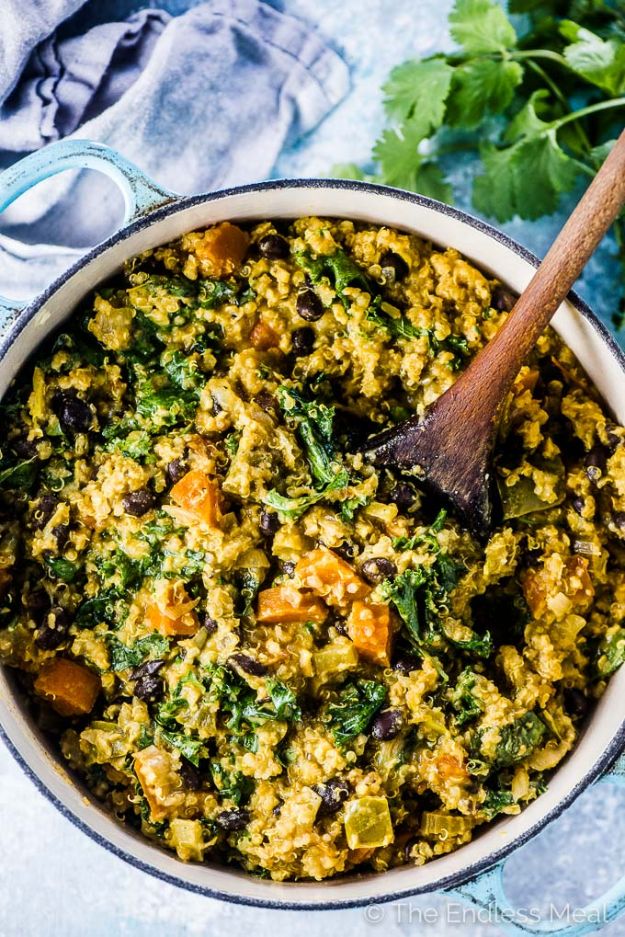 Craving for a vegan-stew recipe? I bet this curried vegetable stew with quinoa would taste divine. It is hearty and perfect for a cold winter day. Loaded with veggies, quinoa and black beans, this simple dish has tons of flavor. You would definitely add it to your regular dinner rotation.
10. Quinoa Veggie Burgers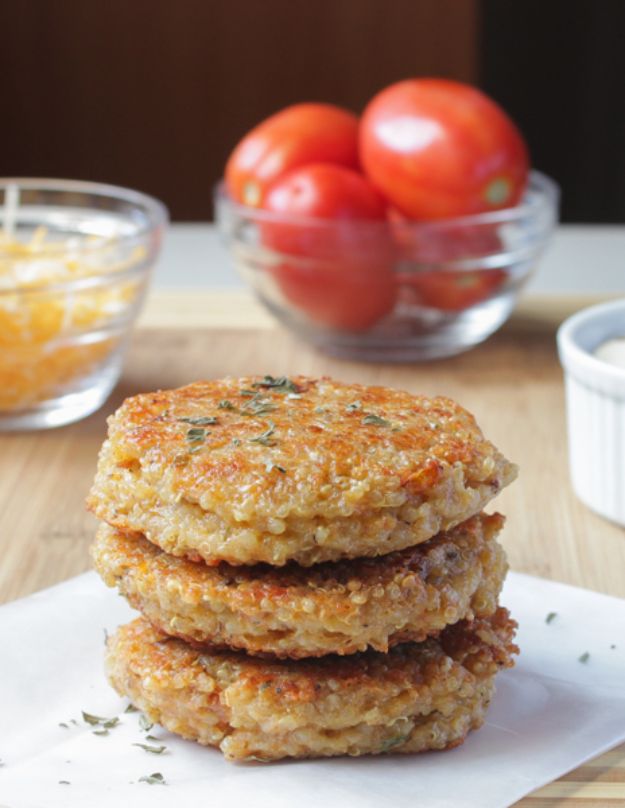 Want a burger minus the guilt? Well, if you answered yes, you better try this veggie burger from Jessica in the Kitchen called Sun-dried Tomato and Mozzarella Quinoa Veggie Burgers. She also did another technique with cooking quinoa. Instead of boiling it with water, she used broth and it made all the difference. Can't wait for the weekend to try these babies out!
11. Easy Quinoa Fried Rice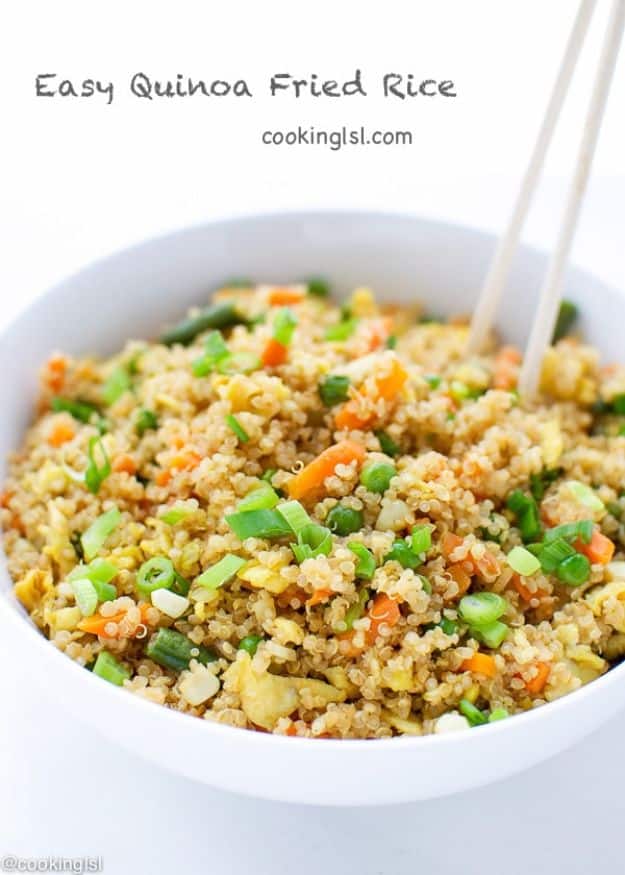 12. Risotto Quinoa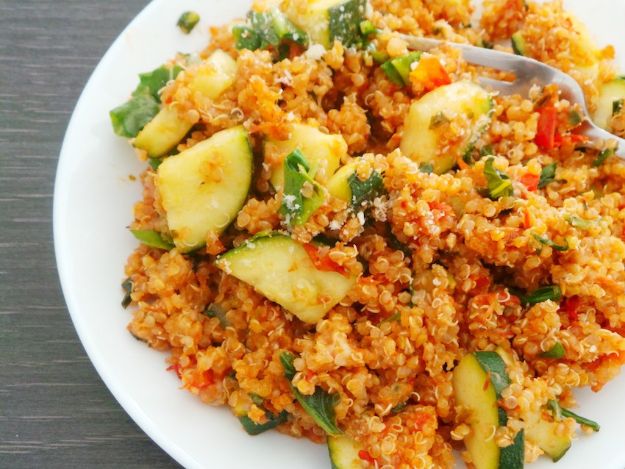 13. Cheesy Quinoa Sausage Broccoli Casserole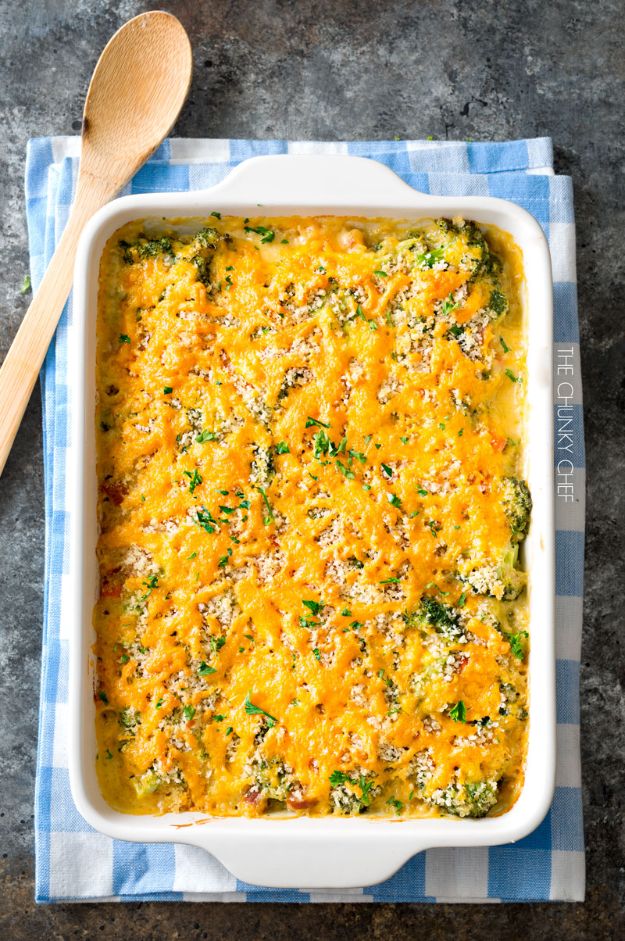 14. Quinoa Taco Salad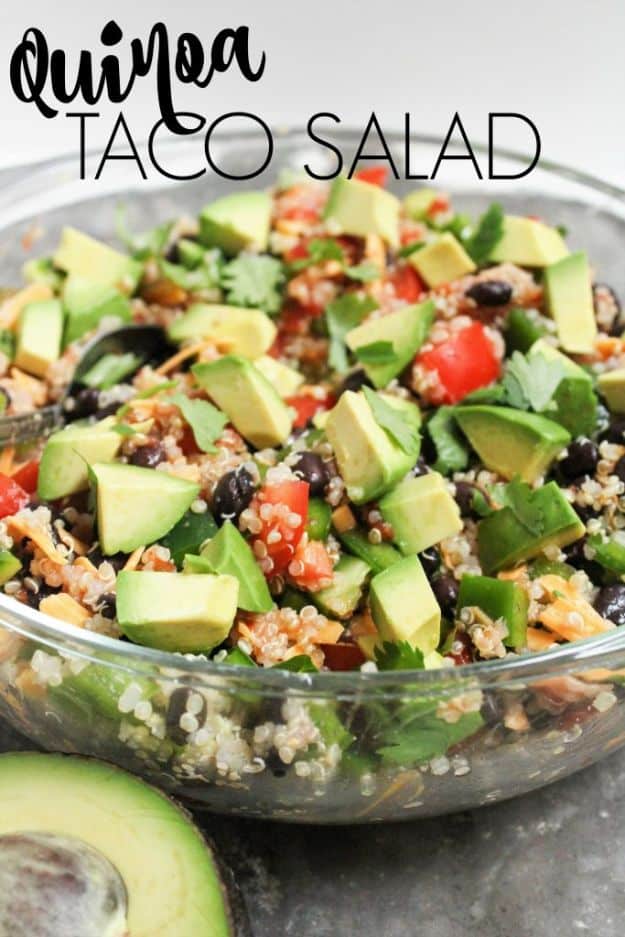 15. Quinoa Avocado Spinach Power Salad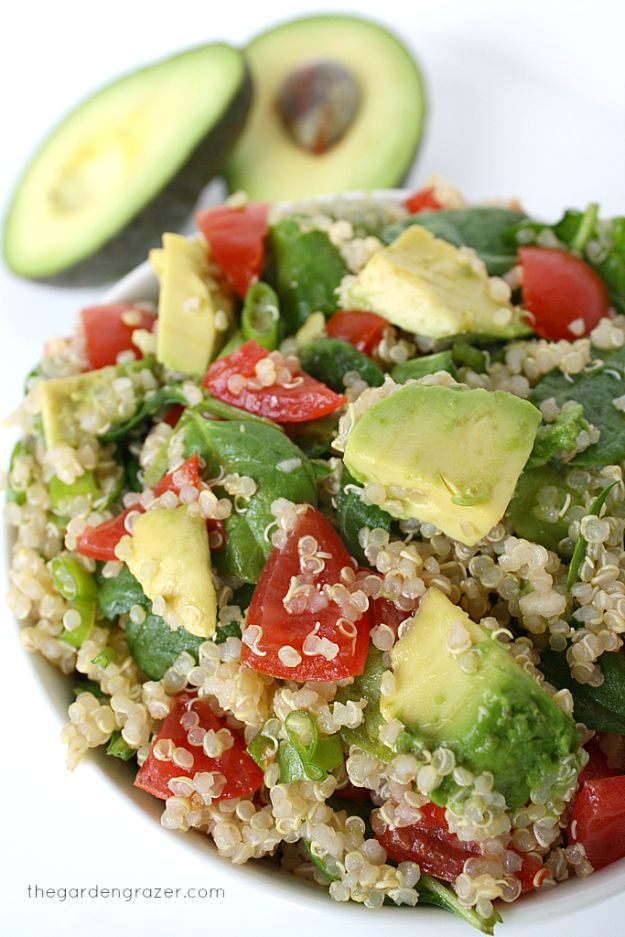 16. Cilantro Lime Quinoa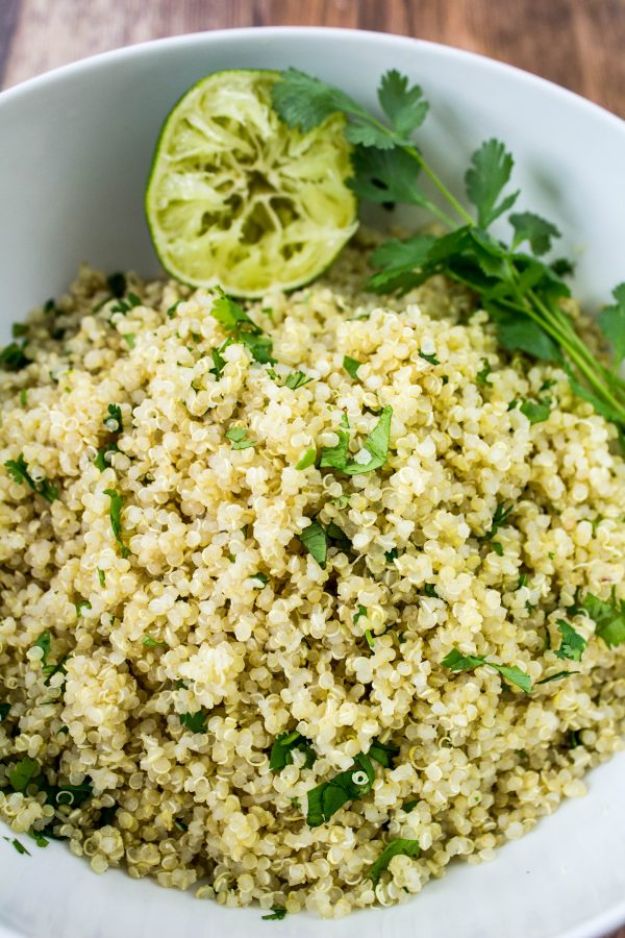 17. Vegetarian Lentil Quinoa Meatballs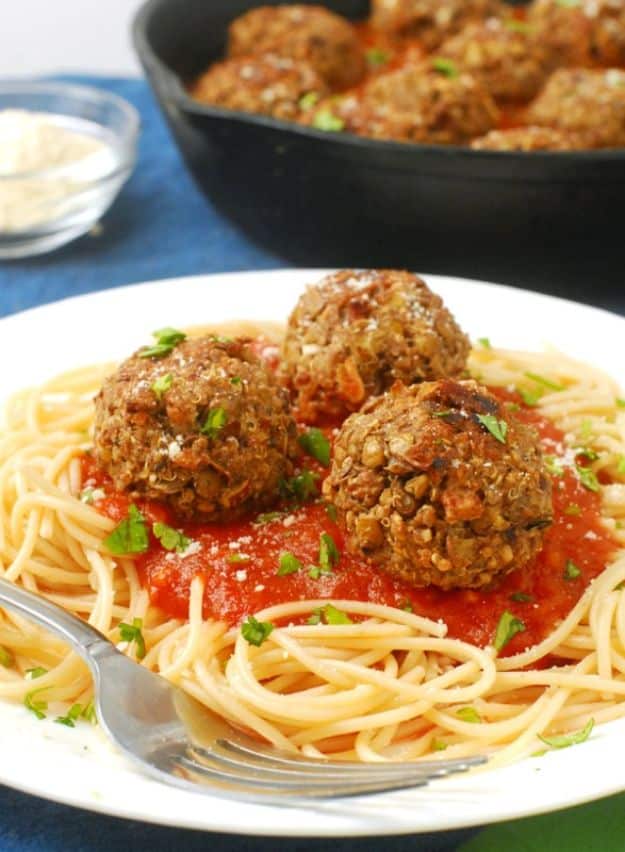 18. Black Bean and Quinoa Chili Bowl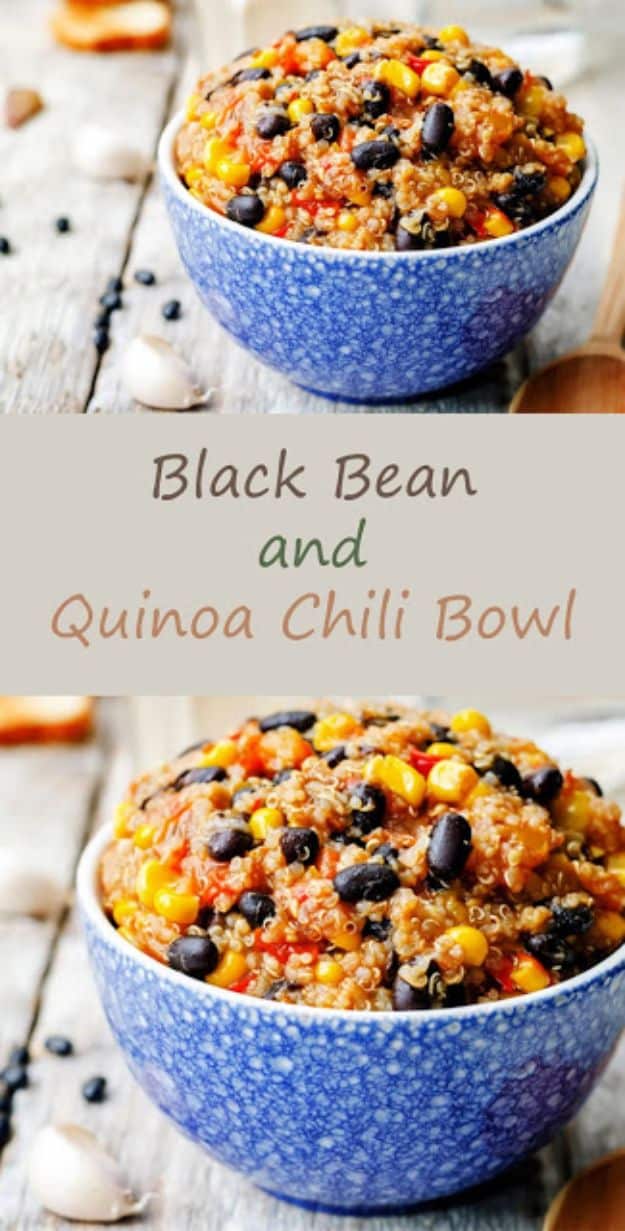 19. Cajun Shrimp Quinoa Casserole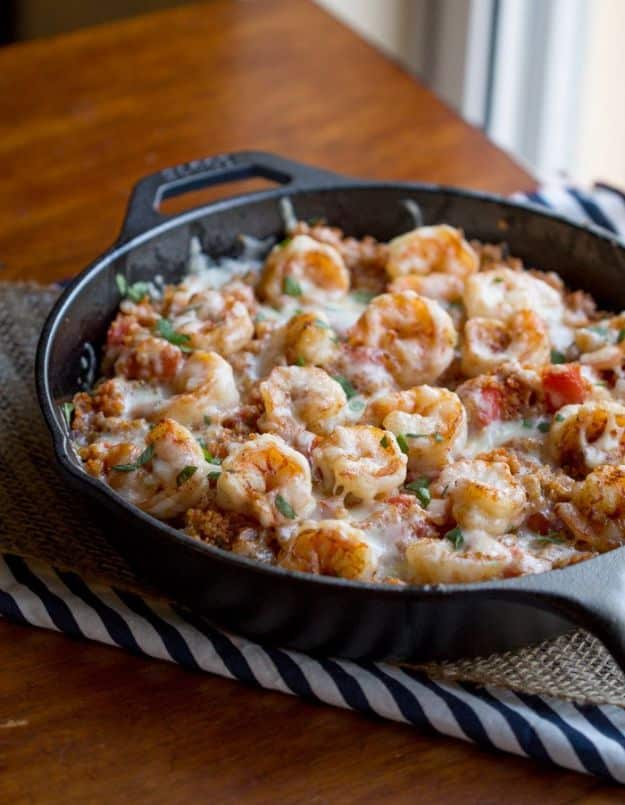 20. Quinoa with Roasted Vegetables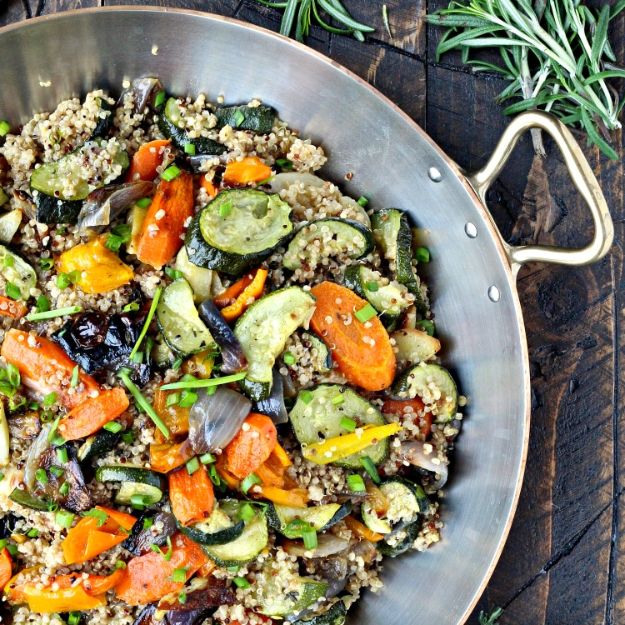 21. Tofu Mushroom Quinoa Scramble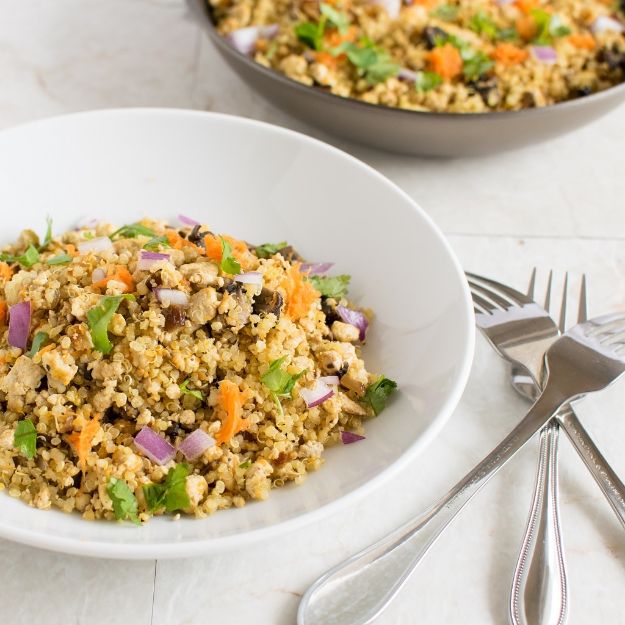 22. Coconut Turmeric Quinoa with Cashews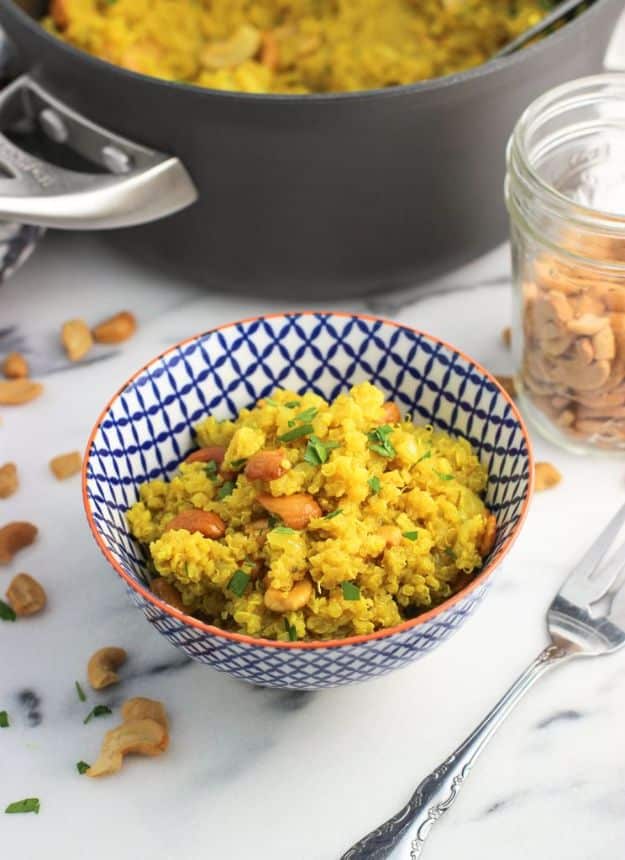 23. Healthy Quinoa Brownies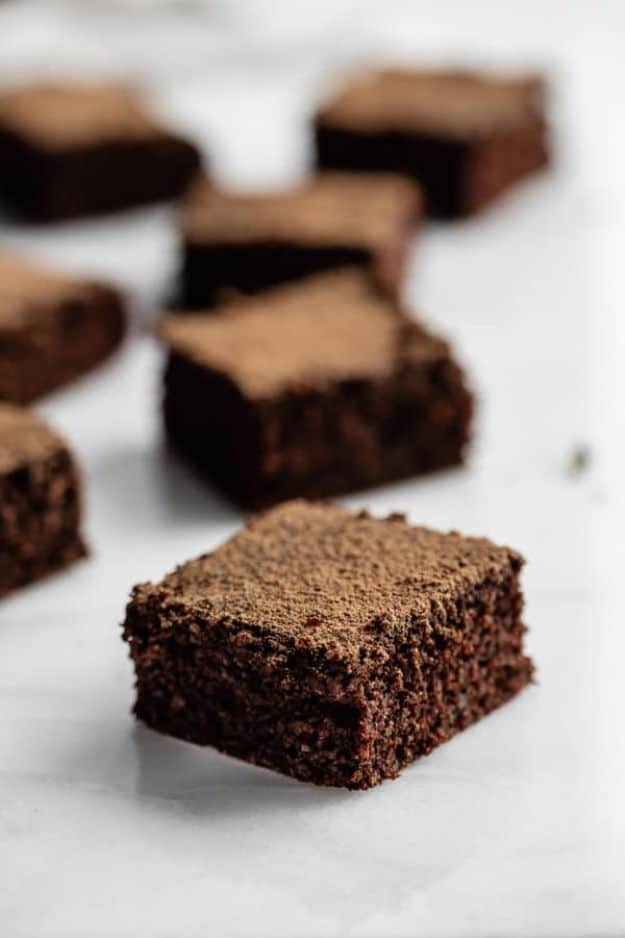 24. 5-ingredient Broccoli + Quinoa Mac and Cheese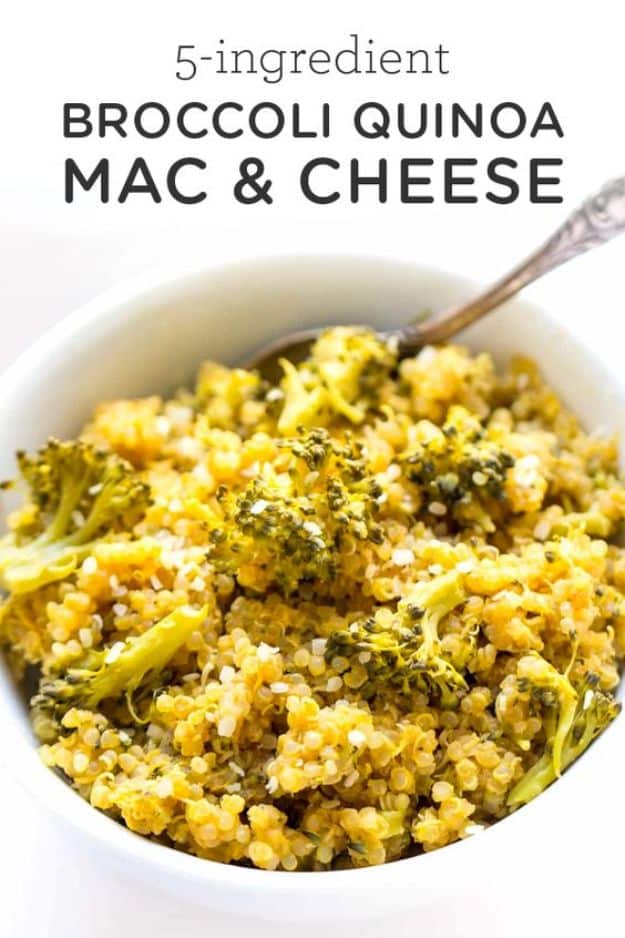 25. Roasted Butternut Squash Quinoa Salad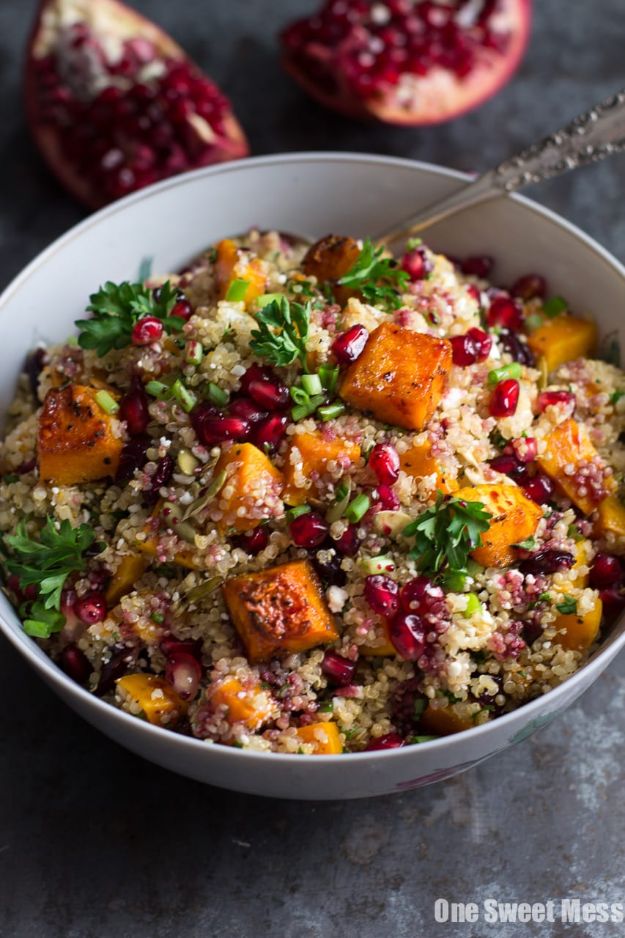 26. Salmon Quinoa Patties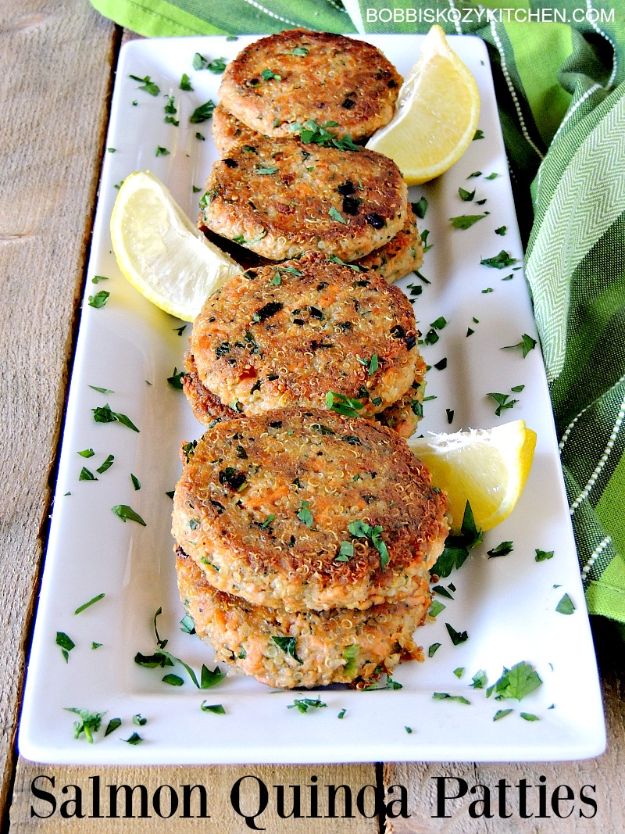 27. Vegetarian Quinoa Stuffed Poblano Peppers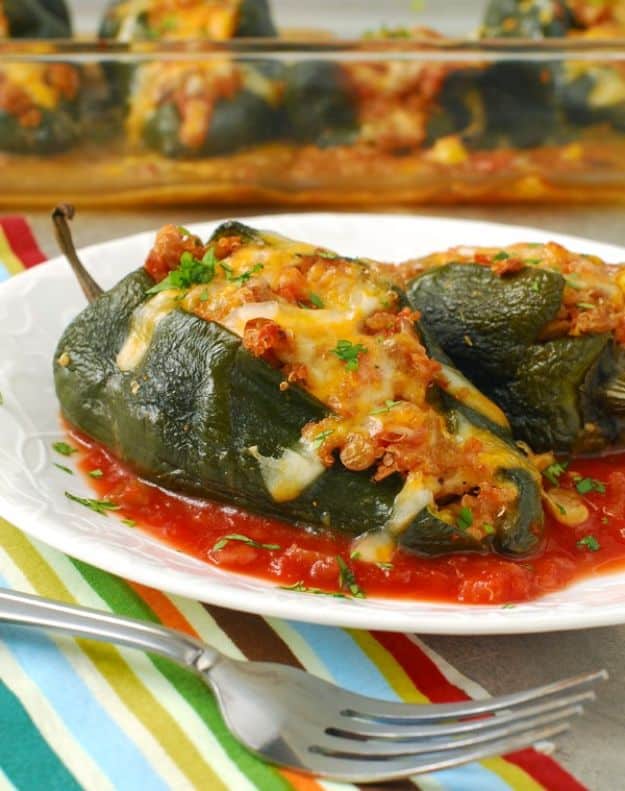 28. Sweet Potato Quinoa Muffins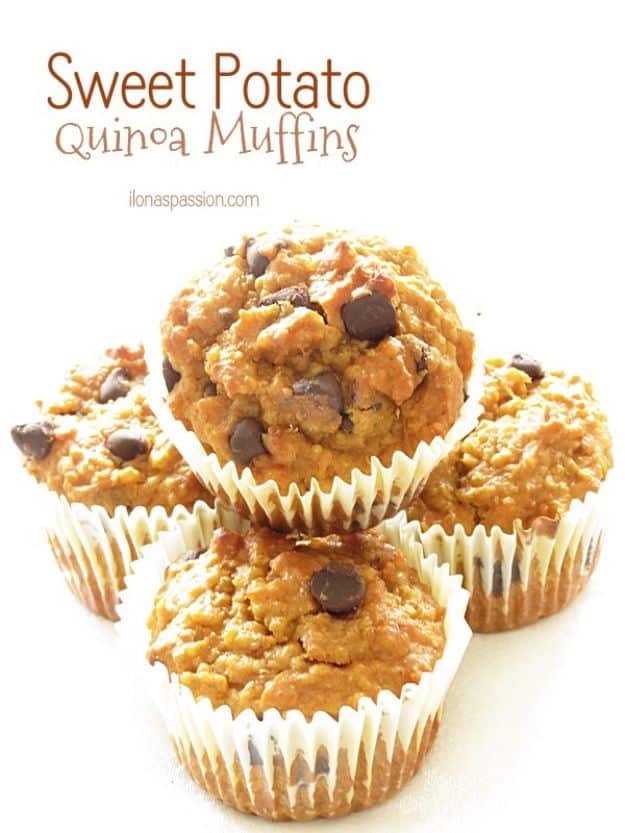 29. Herbed Quinoa & Chickpea Salad with Lemon-Tahini Dressing
30. Thin and Crispy Quinoa Crust Pizza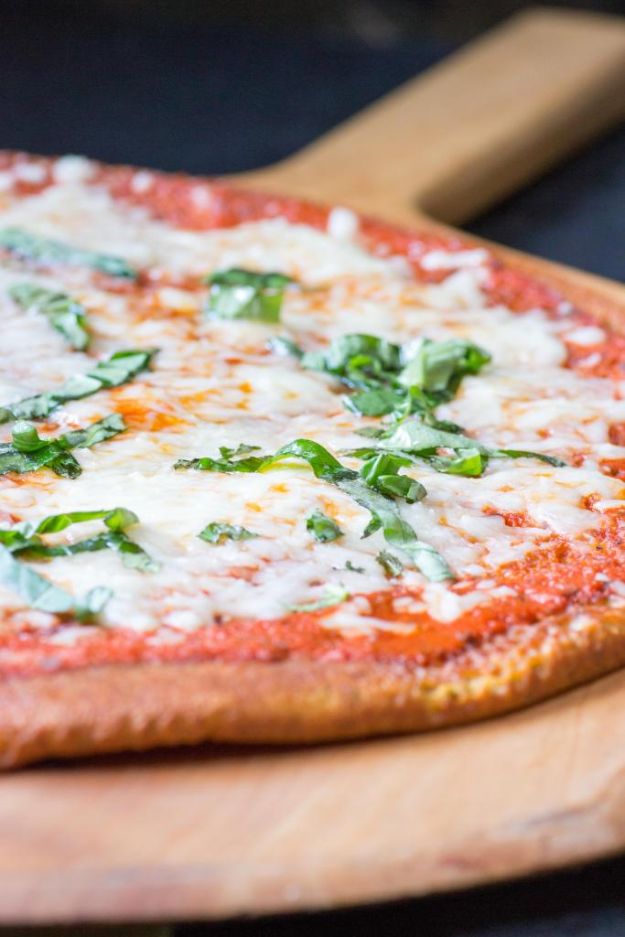 31. Mexican Black Bean Quinoa Soup
32. Taco Zucchini Quinoa Casserole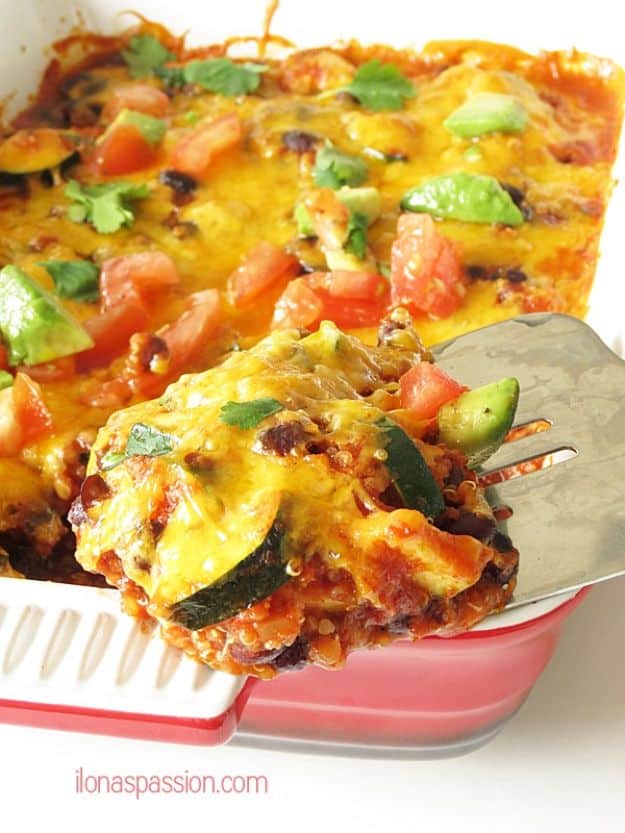 33. Loaded Greek Quinoa Salad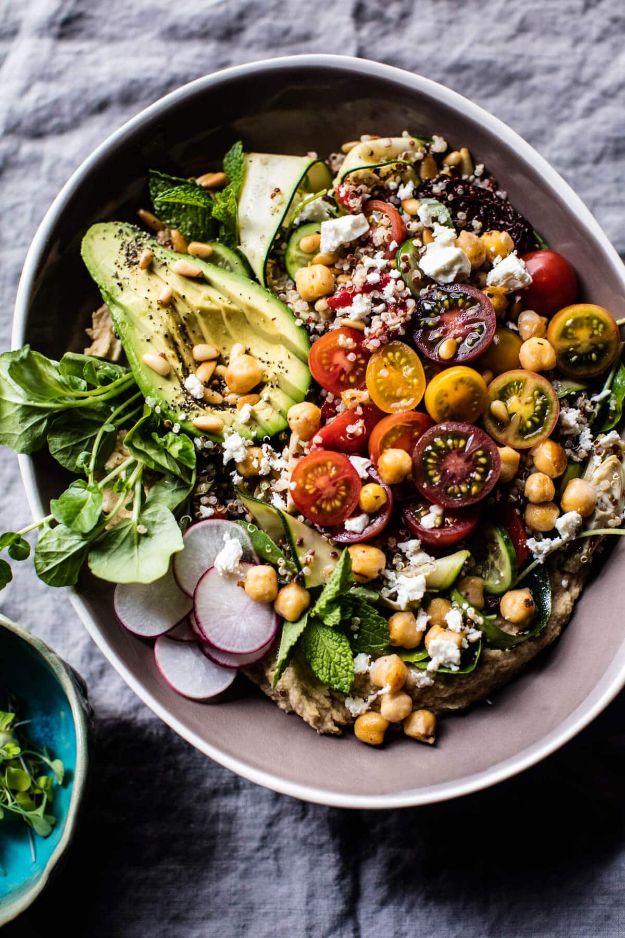 34. Sweet Pineapple Chicken Quinoa Salad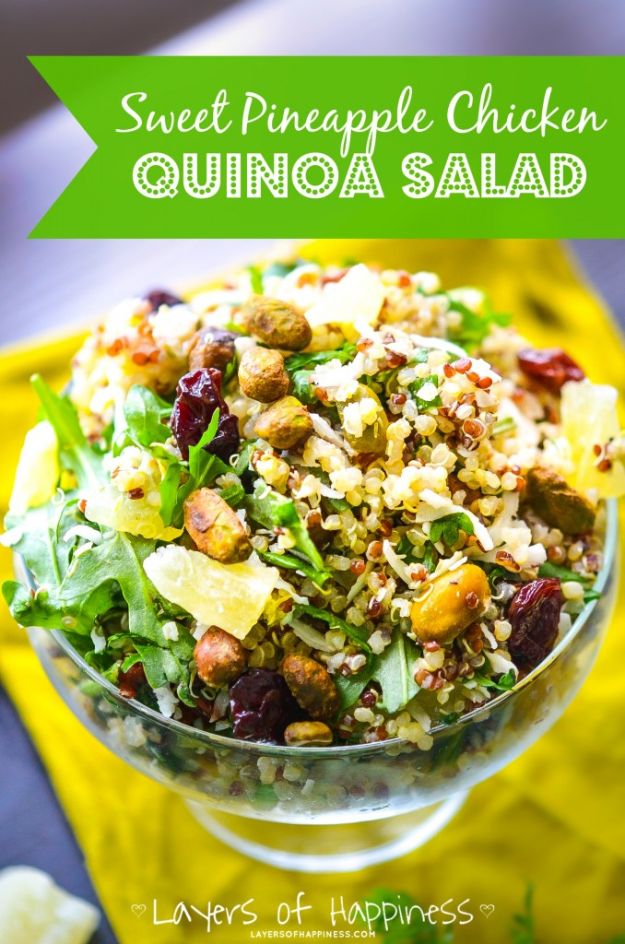 35. Chicken & Quinoa Burrito Bowls with Spicy Green Sauce