Lately, I've picked up a new hobby, which is quilting, and I'm searching for a fun pattern to do that is beginner-friendly. While browsing Youtube, I stumbled upon this gorgeous prairie flower quilt from Missouri Star. I hesitated at first because it looked complicated, but as I tried doing it, it was actually pretty easy – perfect for a beginner like me. I had such a great time making this quilt, and I'm impressed with myself for completing this. So if you're looking for a gorgeous and beginner-friendly pattern, try this quilt! Watch the video tutorial below to learn the step-by-step instructions.
Materials:
1 pack of 10″ print squares
3 1/2 yards of background fabric (includes sashing & inner border)
1/4 yard of cornerstone fabric
1 1/2 yards of outer border fabric
3/4 yard of binding fabric
5 1/2 yards of backing fabric
Directions:
Step 1
Take your background and cut a 5″ strip, then sub-cut into 5″ squares. You will also need sixteen 2 & 1/2″ squares. Next, take two contrasting 10″ print squares, line them up, and cut them into four squares. Choose which one will be the petal and which one is going to be the X block. Once you've decided, take two 2 1/2″ squares, and sew them diagonally right down from corner to corner on the X fabric. Repeat these steps and chain-piece all four of them. After sewing, trim them down to 1/4″ and press. Moving on to the petal block, take two 2 1/2″ squares, line them on one half of the fabric, then sew diagonally. Repeat these steps and chain-piece all four of them. After this, trim the edges, and press open.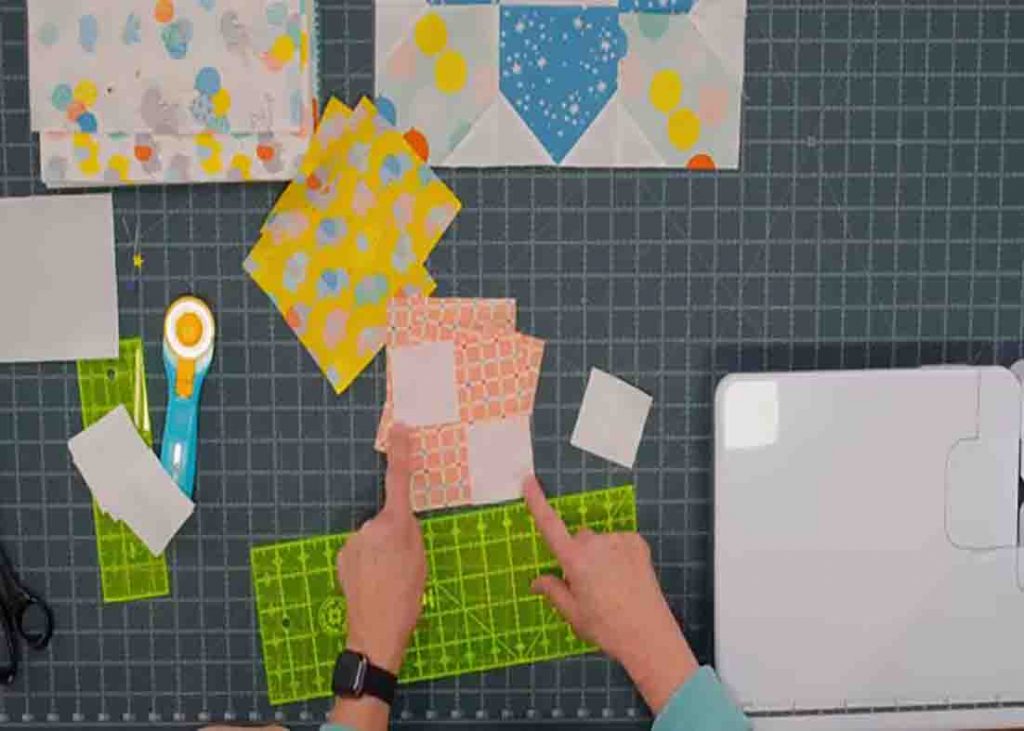 Step 2
For the center of the quilt, cut a 5″ background square. Now, to assemble the block, lay out the center square, then put the petal unit on all four sides with points to the outside. Then, place the X units in between with the color right into the middle. Sew to form rows, then sew those rows to complete the block. After sewing, press the block. Make 20 of these. To form the quilt top, lay four blocks with 2 & 1/2″ sashing in between.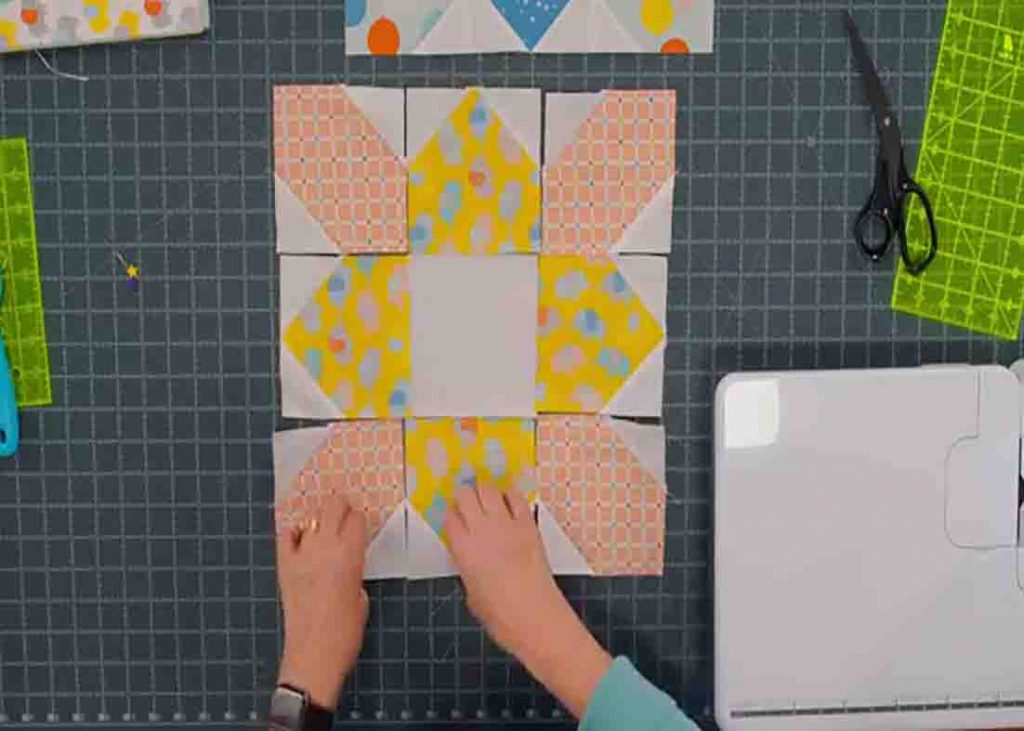 Prairie Flower Quilt Tutorial