If you don't know what to make for dinner, try this chicken kebab by Cook with Jina on YouTube. It is not only very easy and quick to prepare, but also budget-friendly and incredibly tasty! You can also tweak this recipe and substitute or add an ingredient you prefer, or maybe add a little kick and make it spicier than it is. I enjoyed making these chicken skewers but I enjoyed eating them even more. Hope you'll find this delicious too!
Ingredients:
1 pound (500 grams) Chicken Breast
Salt to taste
1 tsp Red chili
½ tsp Turmeric
¼ tsp Nutmeg
½ tsp Black pepper
½ tsp Garan masala
1 tsp Ginger/garlic
1 tsp Soy sauce
Food color, optional
Capsicums (bell pepper), red and green
1 large Onion
Skewers
Cooking oil
Directions:
Step 1
Get the chicken breast (you can use other chicken parts if you prefer, as long as it's boneless) and slice them into chunks or bite-size pieces. Place them in a large mixing bowl, then season them with salt to taste, red chili powder, turmeric powder, nutmeg, black pepper powder, garan masala, minced ginger/garlic, soy sauce, and food color. Mix it until all the chicken parts are fully coated and seasoned. Then, set it aside and let it marinate for about 30 minutes.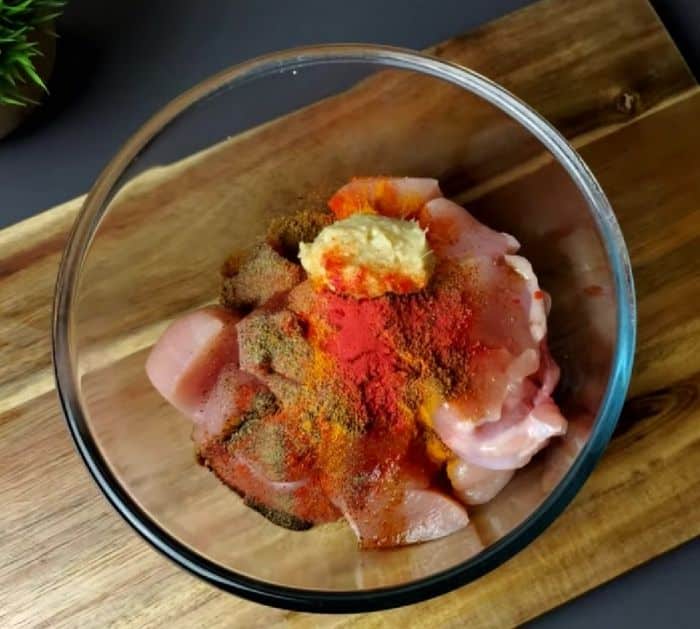 Step 2
Get the bell peppers washed and cleaned, then remove the top part, slice it in half, remove the seeds and membranes, and cut it into chunks. Peel the onion and cut it into chunks as well. Skewer the bell peppers, onion, and marinated chicken in an alternate manner or as you like. Heat the oil in a frying pan or grill pan, then fry them and cook for 8 to 10 minutes while turning occasionally until cooked through and the middle of the chicken is no longer pink.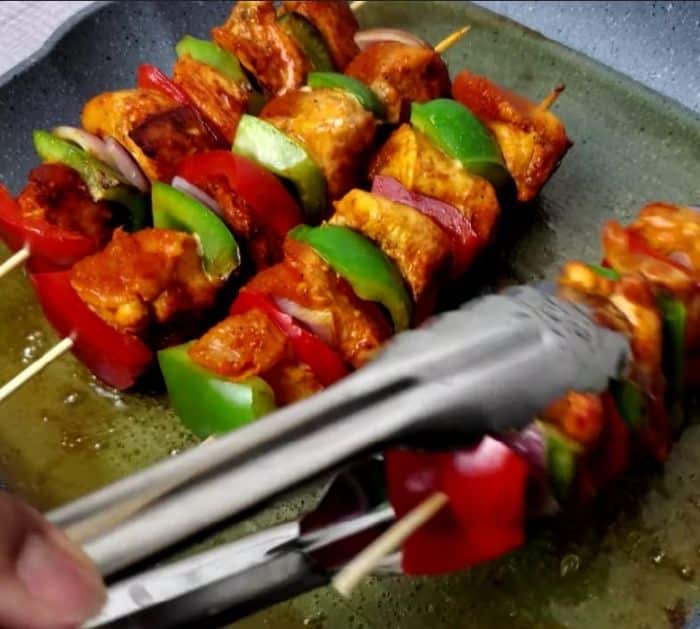 *All image credit belongs to Cook with Jina via YouTube. Follow and subscribe to her channel for more!
Pan-Fried Chicken Skewers Recipe