This beautiful outdoor solar chandelier by Rachel's Unique Crafts can be made with just Dollar Tree items! It's a beautiful lighting decor piece that you can hang in your garden or on your porch. What I love about this is that it no longer requires electricity. It's very simple to make and cheap too.
Materials:
From Dollar Tree:
wire basket with chain
4 pieces of solar lights (paint the caps white)
splatter pan (paint it white and remove the handle)
round wreath
2 pieces of garden fences
Others:
wire cutters
zip ties
white spray paint
knife
Instructions:
Step 1:
Remove the bottom tips from the garden fences using your wire cutters. Make sure to be careful when doing this. You can also paint it with your preferred color including the chain.
Step 2:
Place the splatter pan on the top side of the wreath. Take a knife and create a small hole on the splatter pan edge. Insert a zip tie and tie it on the second row of the wreath. Repeat all the way around.
Step 3:
Tie the bottom of the garden fences around the wreath using zip ties. On the ends of each one, snip the little edge that connects the two together. It will overlap a little bit. Zip-tie them together.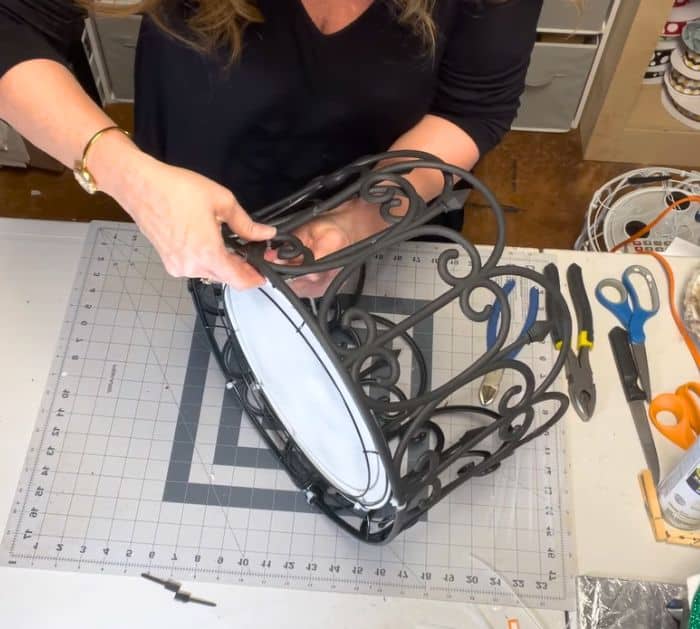 Step 4:
Grabe your knife and create a hole in your splatter pan the same size as the body of the solar panel. Add 3 more – make sure they are equally spaced. Once done, insert the solar lights into the holes.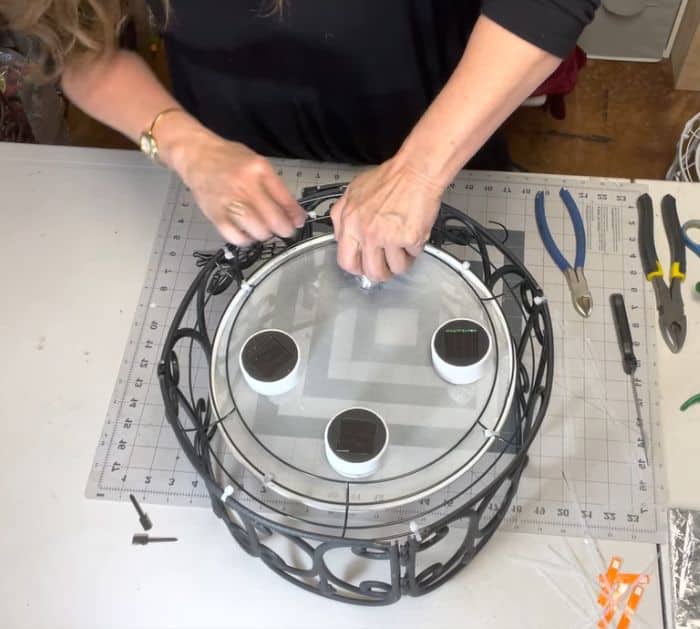 Step 5:
Get the chain and hook it into the wreath on three sides.
Note: you can also create in the shape of a box. Remove the tips with your wire cutters, then just fold each curve and form into a square. Tie them together with zipties. Attach a grill topper on top, cut into the same size as the box. After that, repeat the same steps as the round chandelier.
How to Make an Outdoor Solar Chandelier