Running out of breakfast recipes? Here's a very easy and delicious old-fashioned fireman's casserole recipe by Collard Valley Cooks. It consists of eggs, sausages, cheese, and mushrooms. What I love most about this dish is that it's both creamy and savory. So, if you are tired of your usual egg recipe every morning, definitely give this a try.
Ingredients:
12 eggs
1 cup of heavy cream or half and half (you can also use whole milk)
1 lb of pork breakfast sausage
16 oz of shredded cheddar cheese
1 small can of mushrooms (optional)
1/2 large onion (chopped)
1 green pepper (chopped)
salt and pepper
2 tablespoons of margarine or butter
Note: half and half consist of an equal amount of heavy whipping cream and whole milk
Instructions:
Step 1:
Grease a 9×13″ pan with cooking spray. Crack the eggs into the pan and poke each yolk with your fork or lightly scramble them.
Step 2:
Pour 1 cup of heavy cream over the eggs, then sprinkle half of the grated cheddar cheese on top.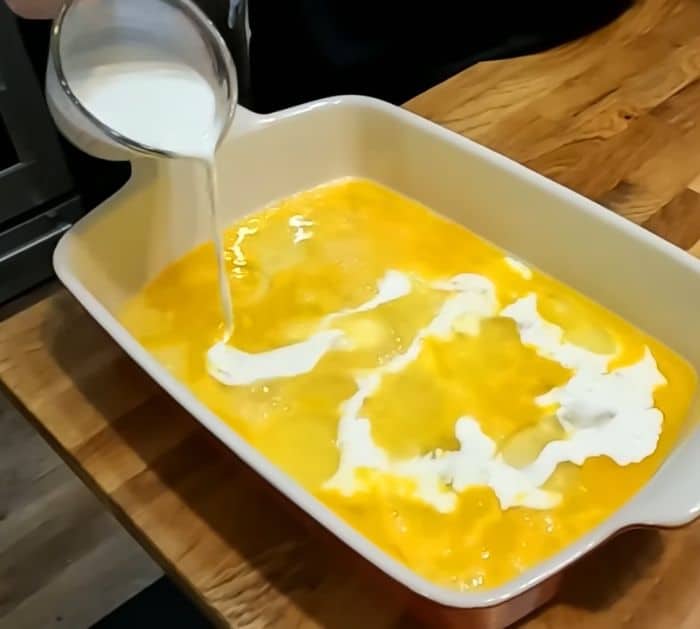 Step 3:
Place a pan over heat and add a little bit of oil. Add the sausage and cook until browned. Break it into pieces using your spatula. Add 2 tablespoons of butter or margarine, followed by the chopped onion, mushrooms, and chopped green pepper. Mix and let them cook for a few minutes until softened.
Step 4:
Once the sausage is cooked, transfer them to the pan and spread evenly.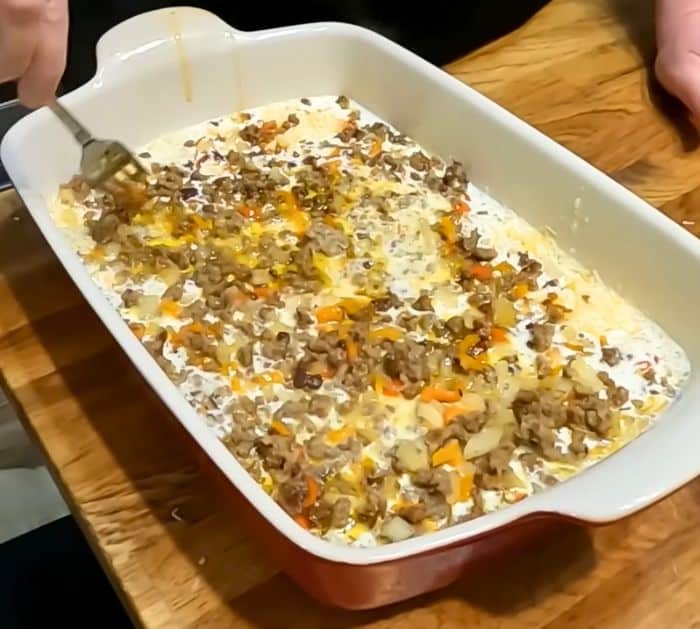 Step 5:
Season it with some salt and pepper. Take note that cheese is a little bit salty, so you don't have to add it if you don't want to.
Step 6:
Add the remaining cheese on top. Make sure to spread it well.
Step 7:
Place the pan inside the oven and bake at 350 degrees Fahrenheit for about 45 to 60 minutes until it becomes browned and bubbly.
Step 8:
Remove it from the oven and let it cool for a while. Slice, serve, and enjoy!
Old-Fashioned Fireman's Breakfast Casserole