Nothing beats an old-fashioned beef stew. The classic way of preparing this dish allows the ingredients to release all the flavors and give this amazing taste that we all crave. It's warm, comforting, and absolutely delicious. Make it at home with this delicious recipe by Rachel cooks with love.
Ingredients
2 1/2 lb of chuck pot roast (cut into 1 1/2 pieces)
3 bay leaves
4 medium or large garlic cloves (minced)
3 medium carrots (cut into 1-inch pieces)
3 celery ribs (cut into small pieces)
1 medium onion (cut into big chunks)
10 small/medium white button mushrooms (cut into four)
all-purpose flour
1 1/2 tablespoons of tomato paste
10 petite gold potatoes (cut in half)
salt
pepper
one 32 oz can low sodium beef broth plus one 14 oz can
1/4 cup of Worcestershire sauce
2 tablespoons of bacon grease
1/2 cup of crushed tomatoes
3/4 tablespoons of fresh thyme leaves
3/4 tablespoon of fresh rosemary
1 handful of frozen peas
1 tablespoon of chopped fresh Italian parsley
vegetable scraps
Instructions
Step 1:
Add all the beef broth to a deep saucepan over heat. You can also add your vegetable scraps if you want.
Step 2:
Season the meat with pepper and salt. Make sure not to overdo it. Thinly coat them with flour.
Step 3:
Lower the heat of the broth and bring it to a low simmer. Place a pan over medium-high heat and add some olive oil. Add the meat one at a time in a single layer. Make sure not to overcrowd the pan. Cook until browned on all sides. Set aside on a plate.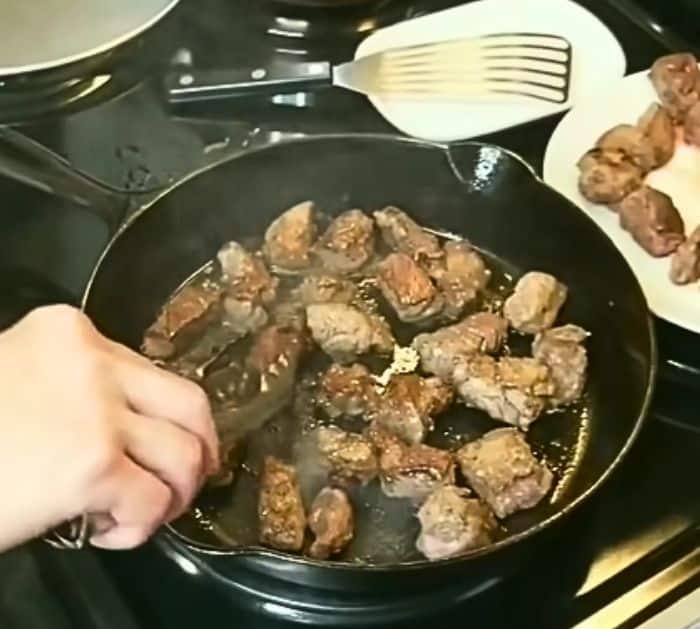 Step 4:
Add one ladle of the beef broth to the pan and deglaze it. Bring it to a light simmer.
Step 5:
Place a deep Dutch oven over medium heat. Add the bacon fat and let it melt. Add the onions and saute until translucent. Next, add the mushrooms and some salt. Keep stirring until a little bit browned. Add the minced garlic and stir for 30 seconds.
Step 6:
Add the broth to the Dutch oven. Make sure to remove the vegetable scraps. Mix and scrape the bottom. Next, add the cooked meat and all the juices.
Step 7:
Season with rosemary, thyme, three bay leaves, pepper, and Worcestershire sauce. Add tomato paste and crushed tomatoes. Mix until well combined. Let it come to a light bubble, then bring it to a simmer and cover. Cook for 2 1/2 hours.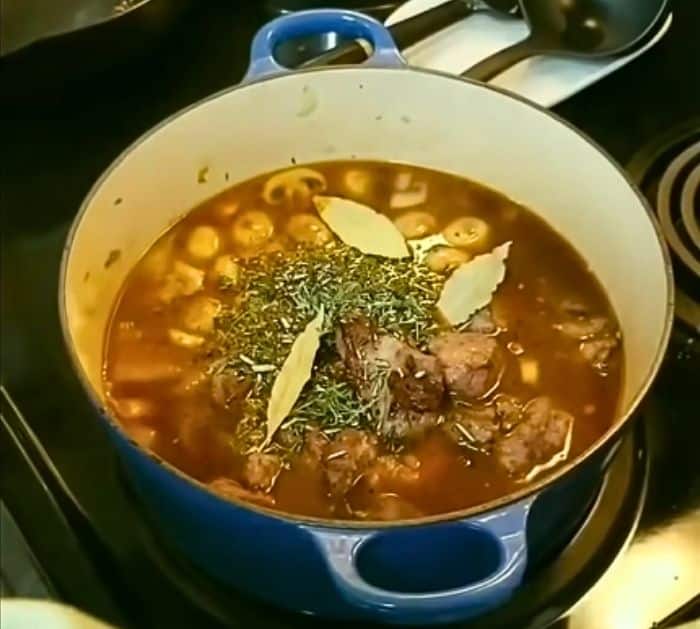 Step 8:
After the one-hour mark, add the carrots, potatoes, and celery. Mix everything and continue cooking for the remaining hours.
Step 9:
Turn off the heat. Add thawed peas and parsley, then remove bay leaves. Mix and serve in a bowl. Enjoy!
Old Fashioned Beef Stew Recipe