Love fabric crafts but prefer those that don't require serious sewing skills? No Sew is the way to go when it comes to customized, creative DIY decor that you can actually make. Check out these cool no sew DIY home decor ideas for some ideas that are sure to keep you busy this weekend and allow you to update your home in style. From cool wall art to furniture accents and pillows, you will find one or more must have crafts to make here. I am making the linen napkins for Mother's Day and already tried the no sew floor pillows, which are an amazing addition to my living room. Which is your favorite?
41 Best No Sew Home Decor Ideas
1. No-Sew DIY Embroidery Hoop Pocket Wreath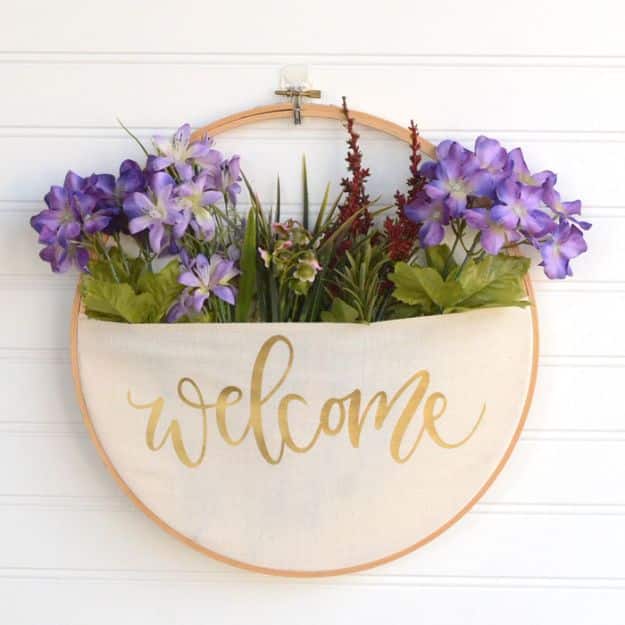 Whether you are looking for a cute gift idea, think hostess or housewarming, or you feel like making something creative for your own home, this cute welcome sign made from an embroidery hoop and fabric is too cute not to consider.
Easy Fabric Covered Pots
Quit saving those leftover fabric scraps waiting for the perfect project because we just found it. Make this crafty fabric covered decoupage pots in minutes. We love getting a group of friends together for this one and love seeing what everyone ends up with. Almost impossible to end of with a "Pinterest fail" here, this DIY idea is super easy and fun, too!
2. No-Sew Chair Back Covers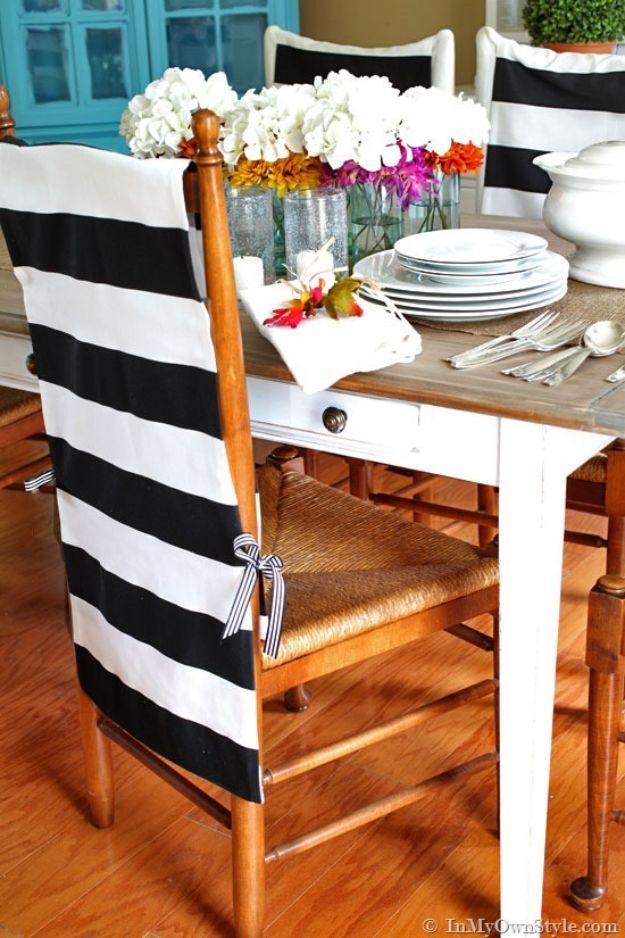 These fun chair back covers easy to make because they are a NO SEW project! Transform the look of a dining room chairs easily with fabric and an easy tutorial from In My Own Style. The instructions were spot on and just enough creativeness and easy. They are quick, easy, and affordable to make. Quick and easy no sew chair back covers add a lot of impact for little time and cost – my kind of project.
3. DIY No-Sew Linen Napkins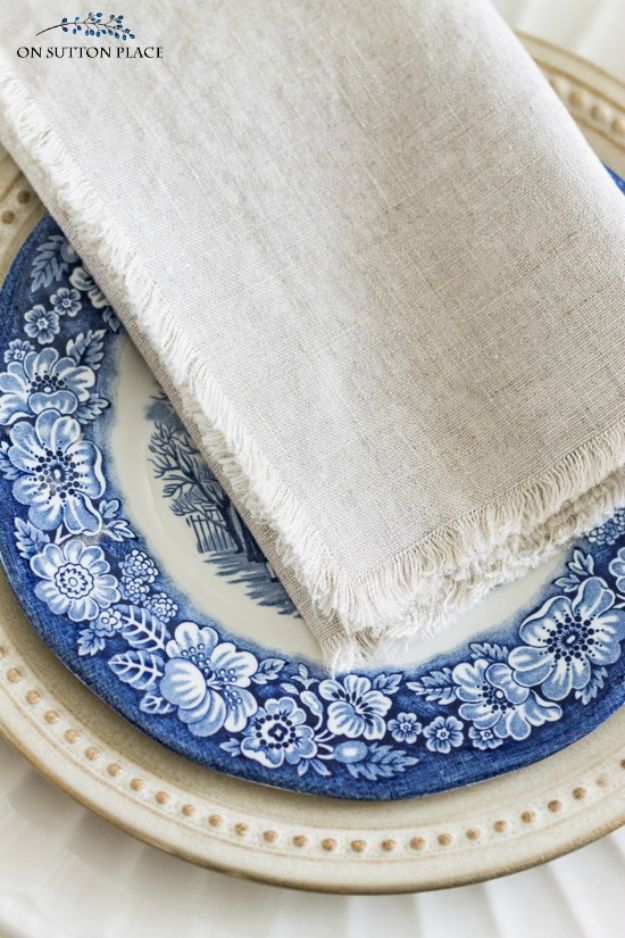 Here is a super simple tutorial to make No-Sew Linen Napkins. They are the perfect thing to DIY because the project is really easy. With the luxurious feel & quality of these homemade napkins, they will without doubt be a crowd pleaser for all occasions. I really think these napkins are timeless and will fit in many styles. Would love to add these to my collection of napkins.
4. Vintage Inspired No-Sew Ottoman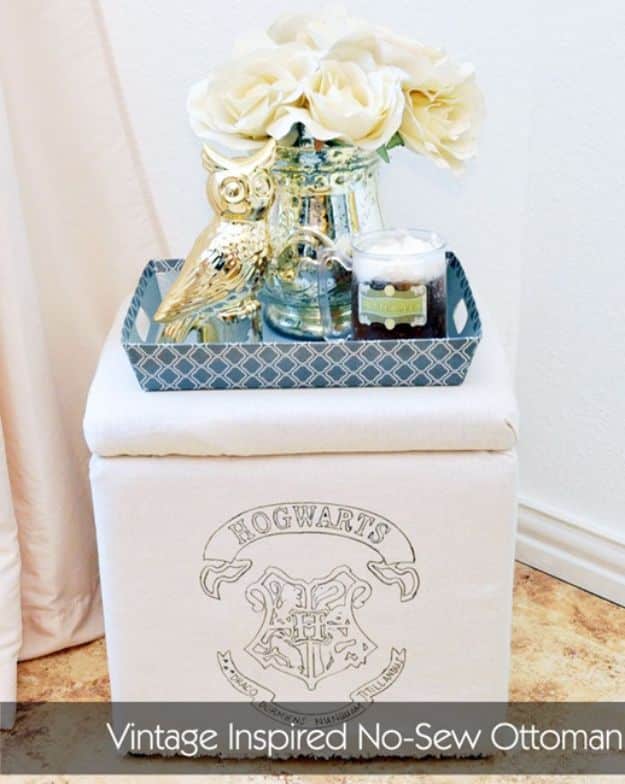 An easy, no-sew way to recover a storage ottoman! Especially because it looks like a classy ottoman and bam, the classy Hogwarts crest takes it over the top. This is just too perfect for all those die-hard Harry Potter fans. I love this idea and just might end up stealing it myself. Now, if you don't have a storage ottoman laying around, right now is the perfect time to buy one at Walmart or Target and re-create this masterpiece.
5. Pretty No-Sew Table Runner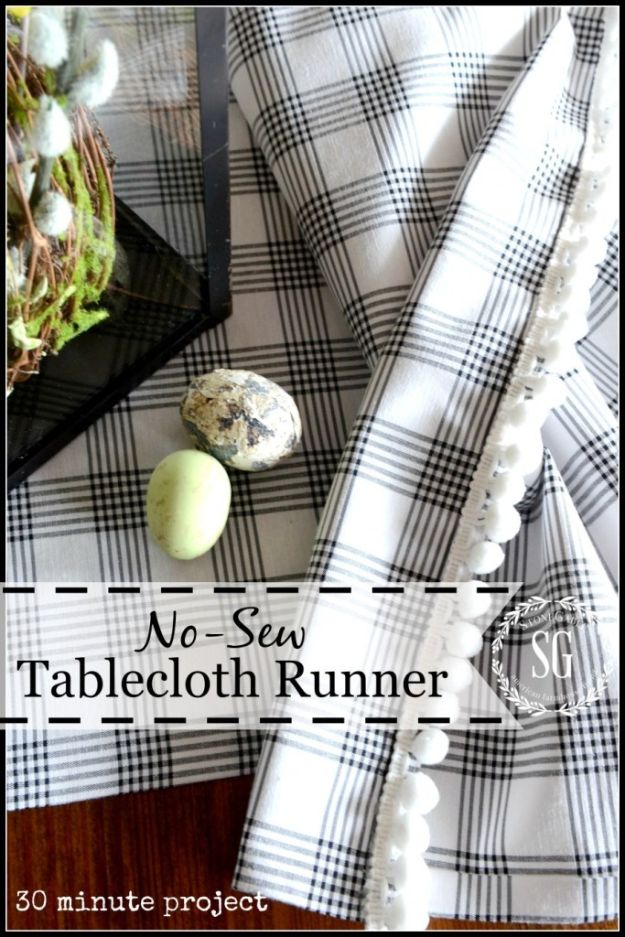 A no sew table runner is the perfect DIY project to get a start on your fall projects. And if you love homemaking and creating, you're probably always searching for new ways to add unique touches to your table. Enter the table runner. There may be no easier or more versatile way to upgrade your table settings, whether it's for a party, a holiday display, or a special dinner at home.
6. No-Sew DIY White Burlap Curtains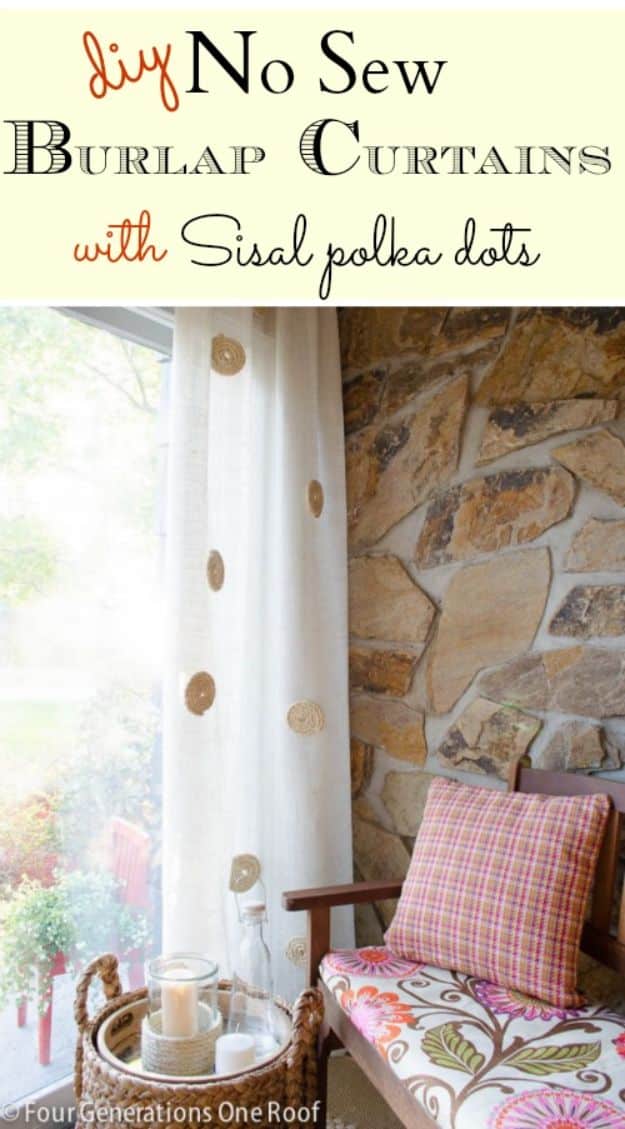 These No-Sew DIY White Burlap Curtains are so great. I love how simple they are! I'm looking for window dressing options for my craft room, so will have to keep these in mind. I love the sand colored burlap curtains so much – I think this would really look great in a beach-themed house. These burlap curtains were ridiculously easy and inexpensive to make. Eight dollars a panel to be exact, what a steal!
7. DIY Burlap Utensil Holder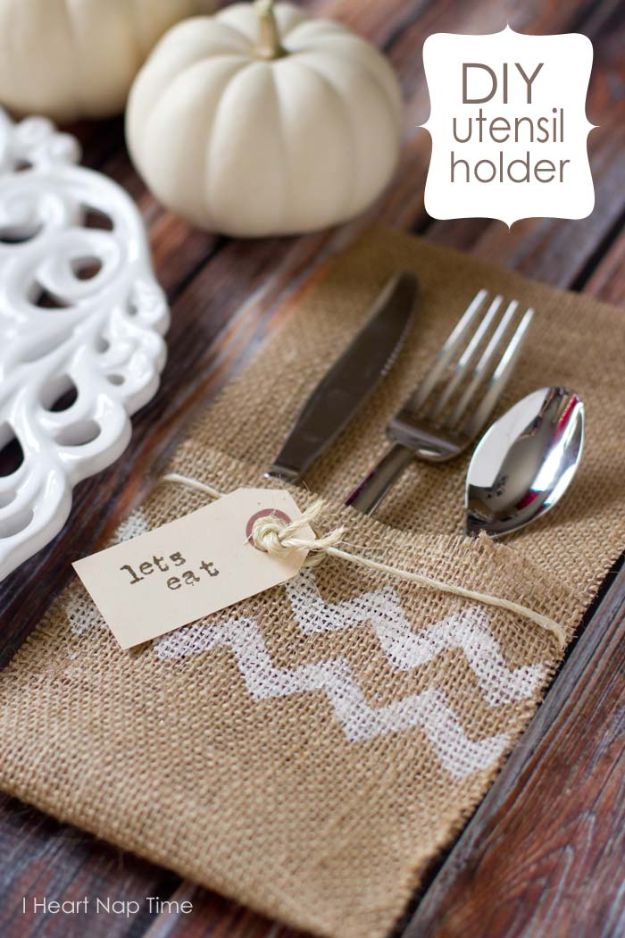 I love everything burlap these days and I especially love the silverware holders. I just completed a huge batch of them for gifts and have given some away already. My girlfriends absolutely love them. There are so many tutorials and different ideas of websites that I've come across. And this one from I Heart Nap Time might just be one of my favorites. They only took about 10 minutes to make and are NO-SEW.
8. No-Sew Floor Pillows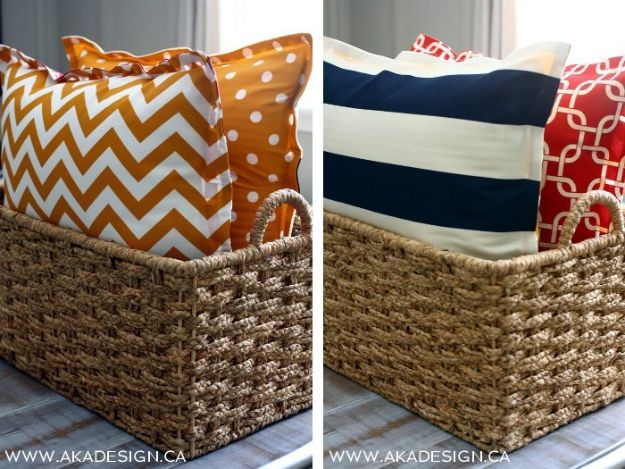 How about a super easy floor pillow that you don't have to sew? Here's a fabulous DIY project you will love to try. Easy no-sew floor pillows – perfect for watching movies or kids to read on the floor! Great for outside too! Make several in one afternoon.
9. DIY No-Sew Rope Coil Basket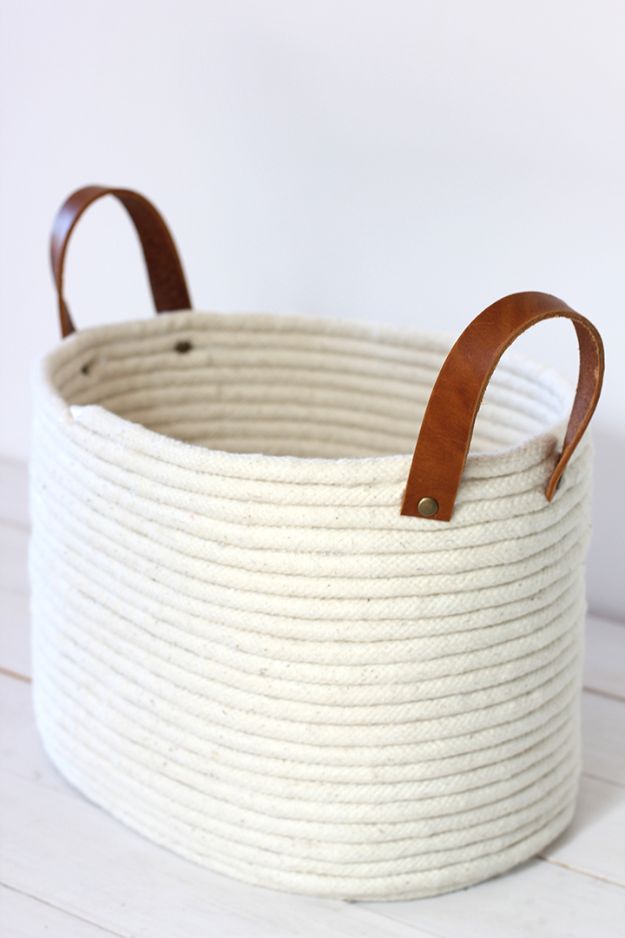 This basket looks fantastic, love the contrast between the light rope and the handles. I think I just just found a new favorite diy project to try! I can't wait to do this. I'm doing a beach theme remodel of the house we are moving into. Perfect to hold additional toilet paper in our guest bathroom.
10. No Sew Drop Cloth Curtains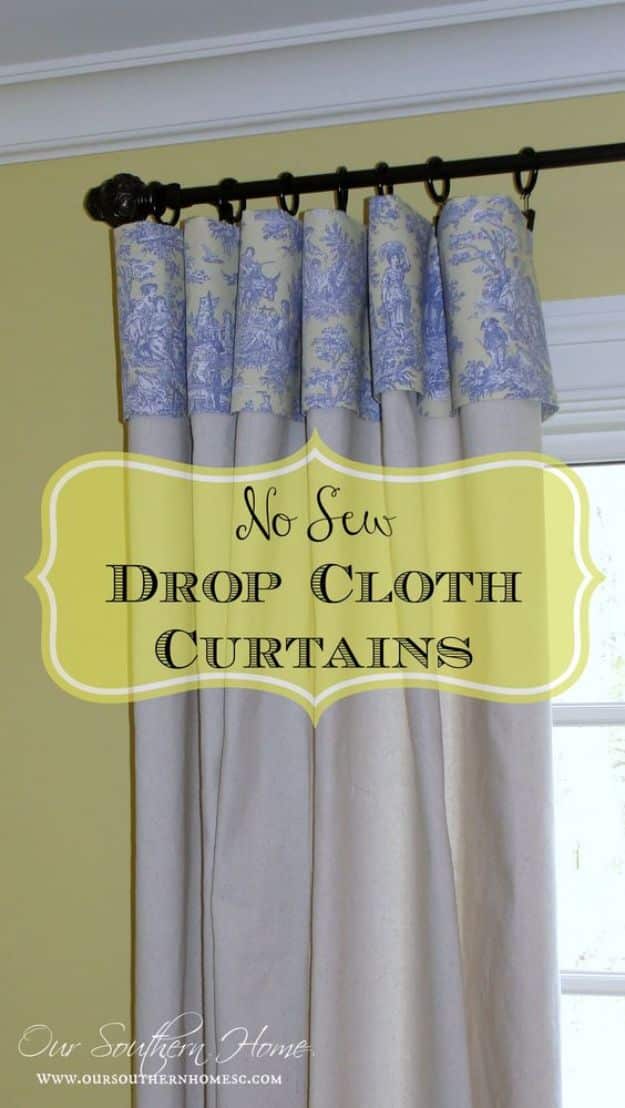 Drop cloth curtains are a very affordable way to dress your windows. It made the room so bright that what only matters are the curtains, and nothing comes next after it. Adding the toile to the top really gives your curtains a custom look. I've actually been thinking about doing something like this for our porch. I'll need A LOT of fabric so naturally thought of drop cloths and this great tutorial from Our Southern Homes will definitely be of great help.