6. Holiday Gift Wrapped 3 Ways
 
"One of my very favourite things about buying gifts, especially at this time of year is getting to wrap them up." as said by Sammy, the blogger who wrapped these insanely adorable packages along with about 100 others on her blog. I love paper crafting, too, but WOW. I prefer to spend my time on paper crafts that don't get destroyed and thrown away, but she has me rethinking this logic. After all, I spent hours on intricate gingerbread houses and carved pumpkins, why not add one more obsession to the mix. Who knew gift wrapping could be so, so pretty?
 7. Magazine RIbbon Gift Bows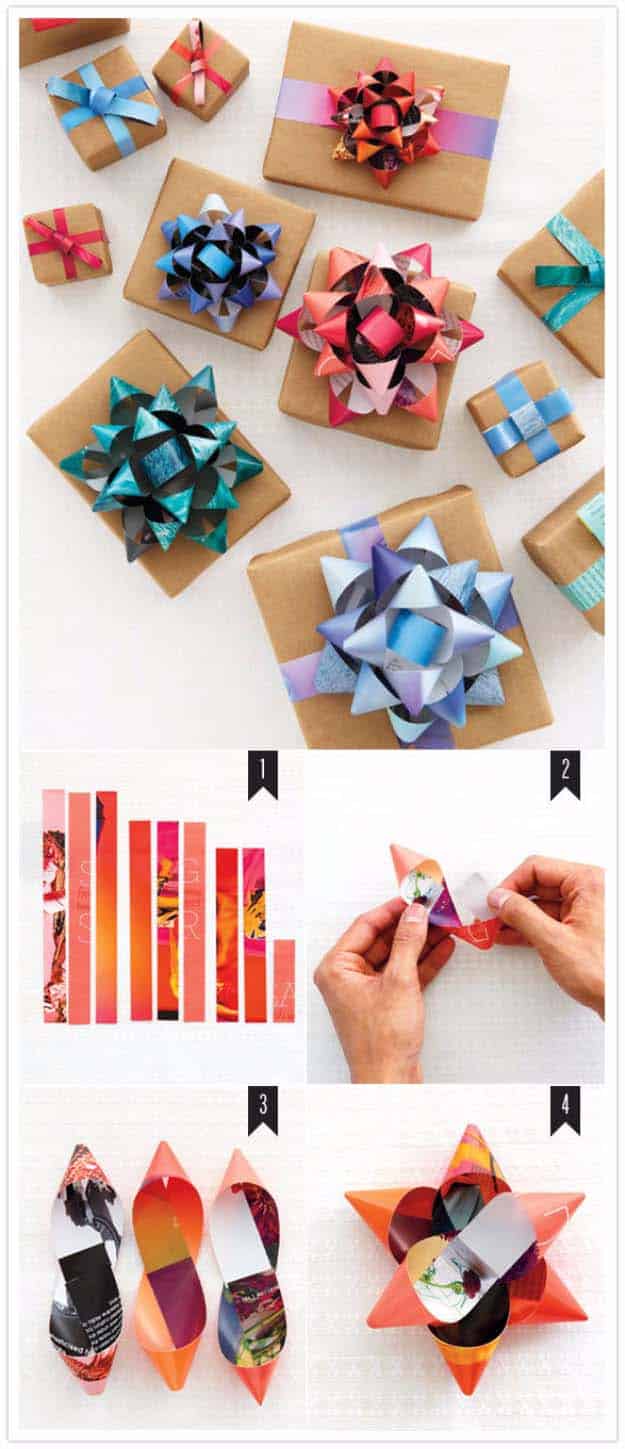 I love DIY bloggers. These are my people. Who else could come up with such brilliant uses of ordinary items and then make them actually not look terrifying to make? I did go and try making one of these bows myself, and they are just as easy as they look. If you ask me, this one it totally worth your time. I end up squashing any bow I buy and do not use immediately, so nice fresh, homemade bows made from magazine and scrapbook paper odds and ends are my favorite new thing this holiday season.
 8. Matchbox Suitcase Gift Wrap

I found the perfect DIY gift wrapping for someone going on a trip, a DIY tiny suitcase! I used a matchbox and plain paper, the tutorial was simple to follow. These DIY gift wrap suitcases are excellent for small items, such as jewelry, tickets, or money. They look great as dollhouse accessories as well. This DIY suitcase will not disappoint anyone on your gift list old or young.
9.  Polka Dot Gift Wrap

I love DIY gift wrap and I have never found one easier than this polka dot plain paper idea. I had plenty of brown paper, that i use for just about everything and simply followed the tutorial using a pencil eraser dipped in craft paint. It makes a great project for children, using nontoxic paint of course.
10. Origami Paper Pyramid Gift Boxes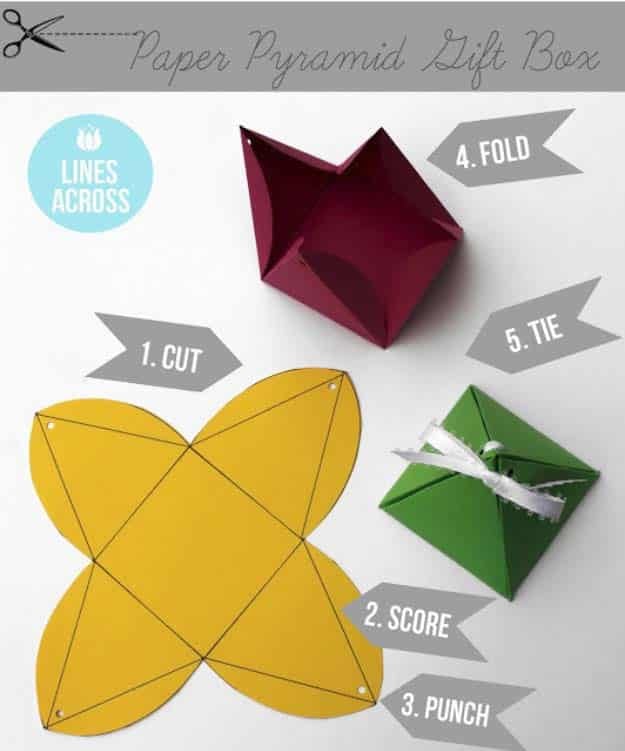 Love free printables? I am a huge fan of making clever 3-dimensional things out of paper, but I had never seen some of the fabulous box designs on this blog. This one is for a pyramid gift box, which you can make in any color or pattern in which you can find heavyweight paper, and in any size you like. Impress them all with these, and all you need is some good colored card stock and your handy Exacto knife and hole punch to do it. Oh, fine, use scissors if you insist. I say go ahead and have lots of these ready for last minute gift wrapping. (Thank yourself later.)