Decorate your door with this beautiful DIY flower hoop! This craft project is very easy to create, and you can even customize it based on your preferences. You can even change it to your favorite flowers. Learn how to make a magnolia winter bead wreath with this tutorial by Julie Campos on Youtube. Read on or watch the video below for full instructions.
Materials:
18-inch bead wreath
magnolia flowers
eucalyptus stems and berries
green zip ties
wire cutters
scissors
floral tape
Note: if you can't find a beaded wreath, you can buy a hoop and wooden beads to make it. Just cut the hoop, insert the beads, then glue it with E6000.
Instructions:
Step 1:
Cut five magnolias flowers on the stem 3 1/2″ – 4″ below the flower using wire cutters. Leave enough stem so you can bend it – that way the flower will stick up when you attach it to your base. Remove the leaves if there are any.
Step 2:
Get your eucalyptus and cut them into branches. Cut them if they're too long.
Step 3:
Get one eucalyptus stem and tie it on the bottom right using three zip ties to secure it in place. Cut the excess of the zip ties. Add another one on the bottom left – the leaves should be in the same direction as the first one. Rotate the wreath, so the leaves are all on the right side. Repeat the process on the left side with the leaves in the opposite direction. Make sure that the left and right leaves are at the same height. Next, add another layer of eucalyptus stems.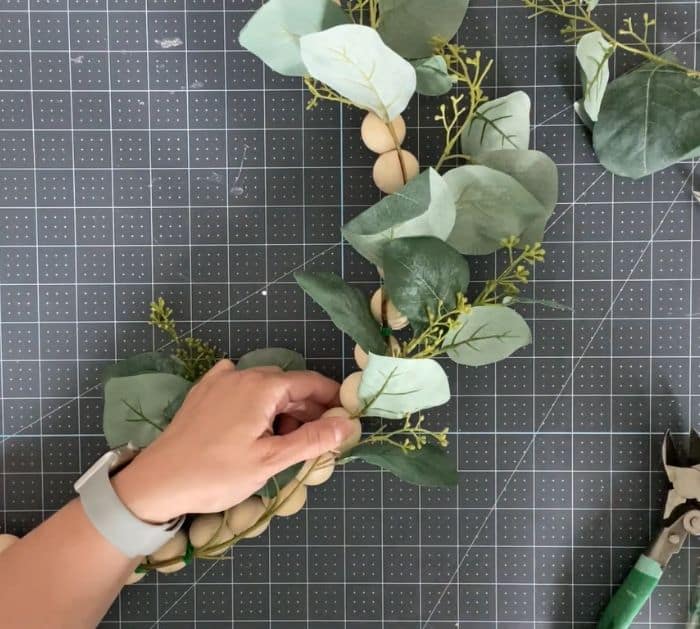 Step 4:
Layer the magnolias on top of the leaves and secure them with zip ties. Tie them on the grooves so they will not move.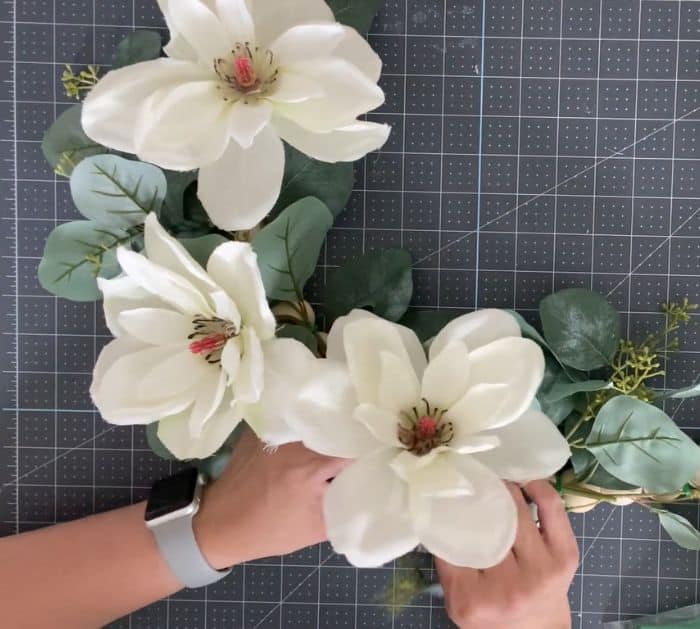 Step 5:
Turn it around and cover the zip ties with strips of floral tape.
How to Make a Magnolia Winter Bead Wreath