Here's an exciting and beautiful pattern by Missouri Star for your next project. This is called the flower chain quilt. As suggested by the name, it is made of chain and flower blocks that create this gorgeous design. Watch the video below for full instructions.
Materials:
3 packs of 5″ print squares
1 1/4 yards of accent fabric
4 1/2 yards of background fabric
1 1/2 yards of border
3/4 yards of binding
5 1/4 yards of backing
Instructions:
Step 1:
Make the Irish chain quilt. Just take a 4″ accent strip of fabric and sew two pieces of 2″ background strips on either side. Cut a 4″ from the strip unit for the center. Next, get a 4″ background strip and sew two pieces of 2″ accent strips on either side. Cut 2 pieces of 2″ from the strip unit. Next, cut 2 pieces of 7″ background strips. For the last one, get a 7″ background strip and sew 2″ accent strips on either side. Cut 2 pieces of 2″ strips from the unit. Arrange all the pieces together as shown below. You need 28 pieces of this block.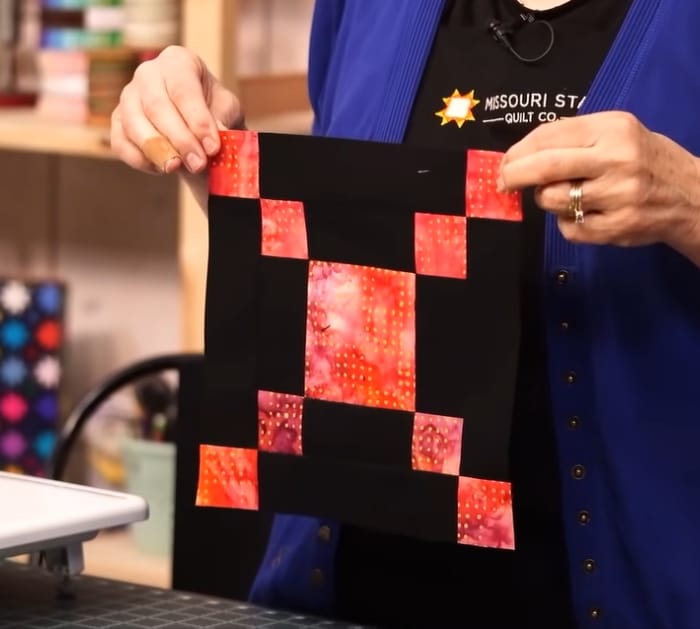 Step 2:
Get four charms (2 of the same dark fabric and 2 of the same light fabric). Take 1 light and 1 dark, and place them on top of each other. Sew all the way around the outside edge. Cut diagonally in both directions to make 4 pieces of half-square triangles. Trim them into 2 1/2″ squares and press them flat.
Step 3:
Make the half-square triangles into a pinwheel and sew with a quarter of an inch seam allowance. Press it open.
Step 4:
For the two remaining charms, stack them and cut them vertically and horizontally to make 2 1/2″ squares. Next, cut 1 3/4 squares from the background fabric. Snowball both sides of the 2 1/2″ squares by putting 1 3/4 inch squares on the top corners and sewing them diagonally. Trim both corners. Repeat with the other squares.
Step 5:
Arrange the pieces in a flower just as shown below and sew them together. Press them flat. Sew a 1 1/2″ border around the flower block, then square it up. Make a total of 28 pieces of the flower block.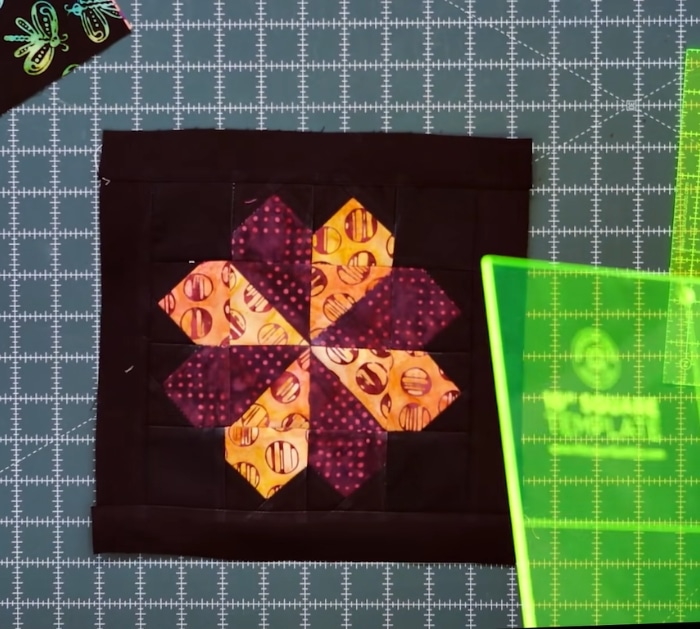 Step 6:
Sew the chain blocks and flower blocks together and make a 5″ border.
Flower Chain Quilt Tutorial