Baked spaghetti is a trend these days on TikTok and I am craving it for some time now, that's why I finally gave in and decided to cook it with the help of this recipe by Island Vibe Cooking on YouTube. This is a winner dinner idea that you can share with your family, plus, this is also very easy to prepare, perfect for a last-minute weeknight mealtime.
Ingredients:
Pasta
8-ounce of spaghetti
4 cups of water
1 tbsp of chicken bouillon
½ tbsp of seasoning salt
Meat Sauce
24 ounces of pasta sauce
1½ pounds of ground beef
1 tbsp of minced garlic
½ tbsp of Italian seasoning
1 tsp of pepper flakes
1 tsp of seasoned salt
1 tsp of pepper
1 tbsp of creole seasoning
1 tbsp of chicken bouillon
Olive oil
Fresh parsley
Alfredo Sauce
1 small onion, diced
2 cups of heavy cream
4 ounces of cream cheese
8 ounces of parmesan cheese
32 ounces of mozzarella cheese
1 tbsp of olive oil
2 tbsp of butter
Directions:
Step 1
Place a pot on a stove over medium-high heat, then add water, chicken bouillon, and seasoning salt, and give them a good stir until dissolved. Cover the pot with the lid, then bring it to a boil, add the pasta, and allow it to cook for about 7 minutes. Once done cooking, remove the pasta, then drain off all the water, and set it aside. Place a pan on a stove over medium-high heat, then drizzle some olive oil before adding the beef, break it apart, and cook until nice and brown.
Step 2
Add the onion and garlic, then give them a good stir, and season them with Italian seasoning, pepper flakes, seasoned salt, black pepper, creole seasoning, chicken bouillon, and fresh parsley. Mix them all together until well combined, then add the pasta sauce, and mix well. Cover and bring it to a simmer for about 10 minutes, then remove it from the heat and set it aside. Place a clean skillet pan on a stove over medium-high heat, then melt the butter, and add the minced garlic. Toss and cook them for about 30 seconds, then add the heavy cream, cream cheese, and parmesan cheese, and give them a good stir until melted, turn your heat to medium-low at this point, too.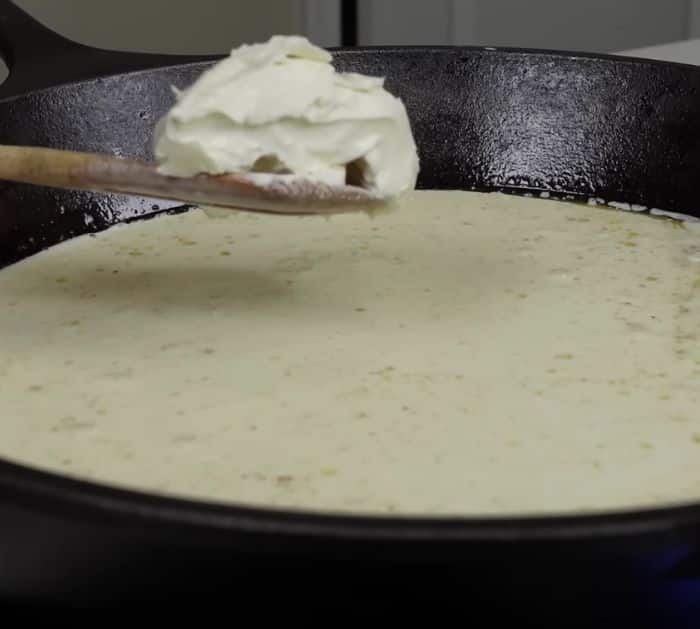 Step 3
Once the sauce has thickened, add the cooked spaghetti, then mix them together until covered, and then spread some mozzarella cheese. Turn your heat to low, then give them a good mix, and transfer it to a baking dish spreading it evenly. Pour the meat sauce all over the top, then spread it nicely, and sprinkle the remaining mozzarella cheese on top. Sprinkle some more parsley on top, then bake it in a preheated oven uncovered at 350°F for about 20 minutes, and broil it for 5 more minutes or until the top is nice and golden brown.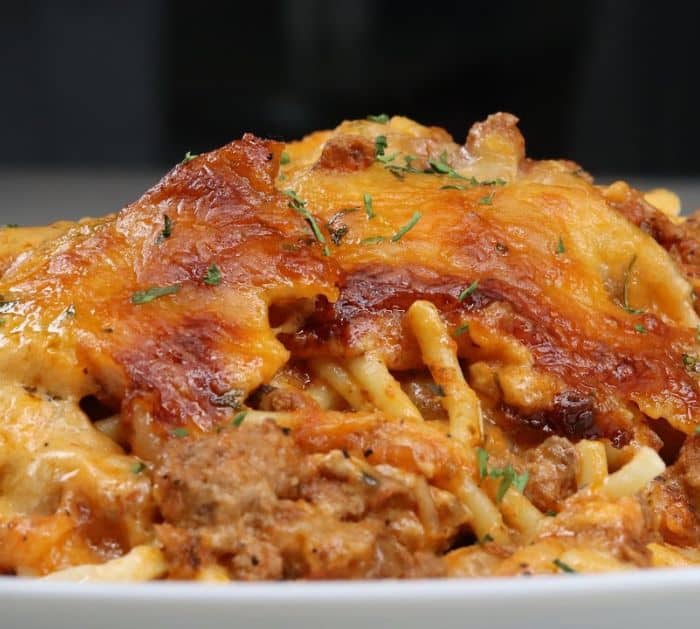 *All these images are credited to Island Vibe Cooking via YouTube. Give her channel a visit and subscribe for more!
How to Make the Viral TikTok Baked Spaghetti