Is it almost a family member or loved one's birthday and you don't know which cake to bake yet? Then, you'd surely love this fun and festive cake recipe idea by The Stay At Home Chef on YouTube! This cake is so fluffy, and delicious, plus, it also looks so colorful, perfect for your birthday party. You can easily make this cake with the help of the written instructions down below that are already made easy to follow for you, and while you're at it, watch the video tutorial for more details.
Ingredients:
Cake Batter
1 cup salted butter, softened
1½ cups sugar
2 tsp vanilla extract
3½ cups flour
4 tsp of baking powder
½ tsp salt
3 large eggs
1½ cups buttermilk
1 cup sprinkles
Frosting
1½ cups softened butter
8 ounces of cream cheese
3 tsp vanilla extract
6 cups powdered sugar
2 tbsp milk
2 cups sprinkle, for decorating
Directions:
Step 1
Preheat your oven to 350°F, then grease three 9-inch pans with butter on the sides and bottom and line them each with parchment paper. In a large mixing bowl, add the butter and sugar, then beat them together over medium speed for about a minute and a half until light and creamy, and then beat in the vanilla extract for about 2 seconds just until combined. In a separate bowl or large measuring cup, add the buttermilk and eggs, then stir them together with a fork until incorporated and combined, and set it aside. In another mixing bowl, add the flour, baking powder, and salt, then stir them together until uniform, and add 1/3 of the flour mixture into the butter mixture. Give them a good mix until just combined, then pour half of the milk mixture, and continue to mix until well combined.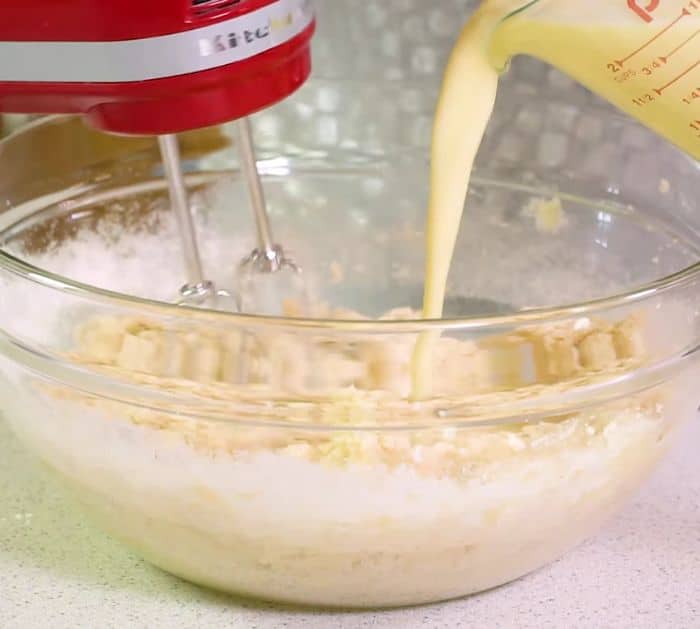 Step 2
Repeat alternating the wet milk mixture and flour mixture, then continue to mix them together until just combined, and gently stir in the sprinkles making sure not to overmix to avoid the colors from bleeding. Divide the batter among the three prepared pans, then put them in the preheated oven, and let them bake for about 25 to 30 minutes or until a toothpick inserted at the center comes out clean. Let them sit in their pan for about 5 minutes, then unmold and transfer to a wire cooling rack to cool completely, and prepare the frosting. To make the frosting, simply beat together the cream cheese, vanilla extract, and powdered sugar (add 1 cup at a time) until light and fluffy, then use some of the frostings to layer the cake, and cover them with the rest. Add some more sprinkles all over the cake until completely covered, then serve, and enjoy!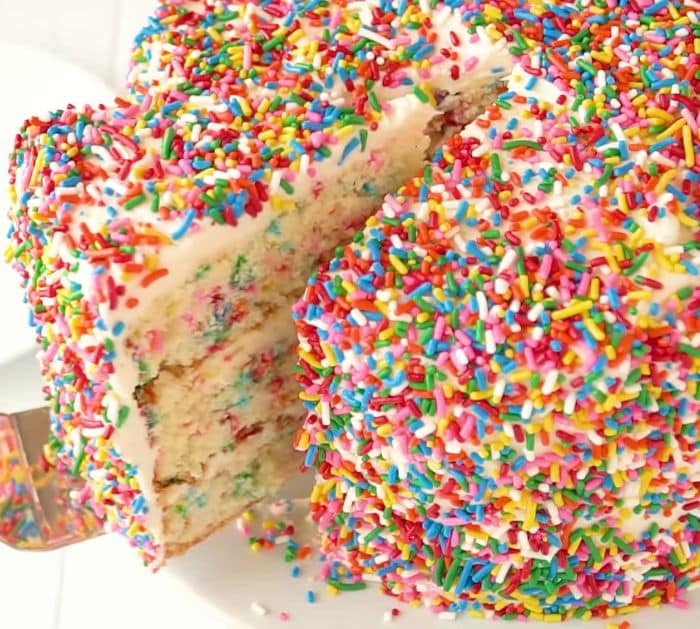 *All image credit belongs to The Stay At Home Chef via YouTube. Follow and subscribe to their channel for more!
Easy-To-Make Funfetti Birthday Cake