This project idea by Coral on YouTube is a great and effective solution to make your kitchen clean and clutter-free. Instead of storing your pots and pans in drawers or shelves, you can hang them and free up some space at the same time. Plus, this also adds a nice rustic touch to your kitchen, not only were you able to organize your pots and pans, but you also managed to add decor to your ceiling.
Materials:
2 lumbers, cut at 24 inches long, mitered
2 lumbers, cut at 15 inches long, mitered
2 lumbers, cut at 12 inches long
4 pieces of hooks @ 4⅛ inches, for the top
12 pieces of hooks @ 3⅜ inches, for the bottom
Corner brackets
Screws
Drill and drill bits
Chains @ 10 inches long
Miter saw
Wood stain
Wood glue
Directions:
Step 1
Cut the lumbers, then miter the edges of the 15 and 24 inches pieces for a nice clean look, and glue their edges together to form the frame as shown in the video. Clamp the lumbers together so that they stay in place while waiting for them to dry completely, then once dry, install the ribs inside the frame, and make sure to space them evenly. Drill screws in them so that they stay adhered together.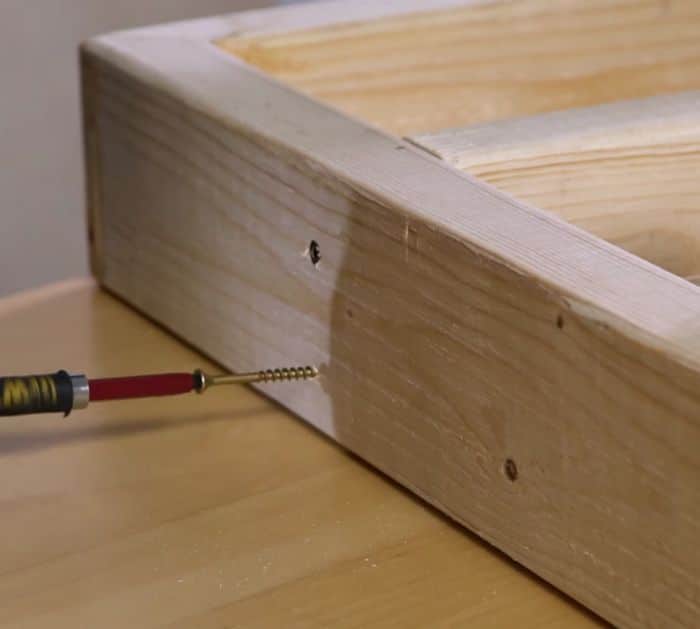 Step 2
Next, stain them nicely using either a paintbrush or cloth and wait for them to dry before proceeding to the next step. Now, pre-drill the holes along the frame for the hooks, then install the corner brackets, and start screwing in the bottom hooks. Flip the frame over, then install the top hooks, and add the chains. Install another hook in your ceiling, then hang your pot hanger, and organize your pots and pans.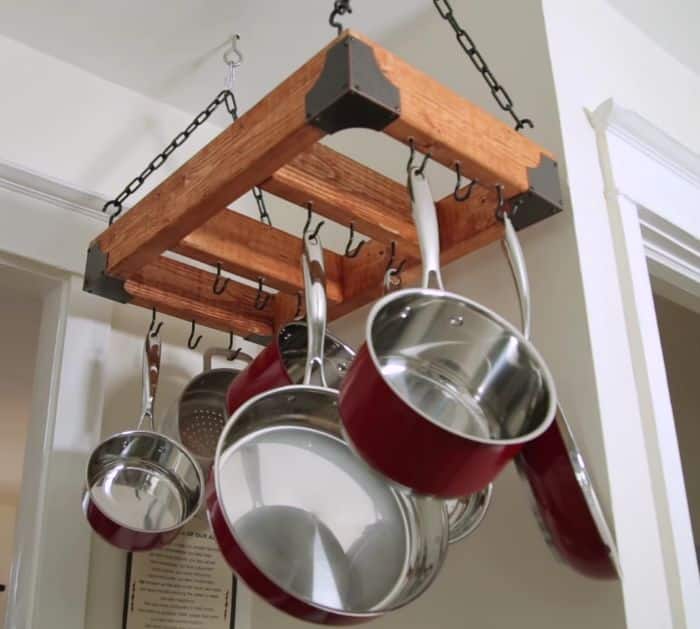 *All image credit belongs to Coral via YouTube. Follow and subscribe to their channel for more!
How to Build a Simple DIY Hanging Pan & Pot Rack