With Halloween nearing, you might be already looking for some decoration ideas that you can try for your house. Here are some easy, simple, and inexpensive spooky decorations you might want to consider. All thanks to Cleverly on YouTube for all these fun and creative DIY decor ideas!
Materials:
Plastic wrap
Large clear tape
Black spray paint
White cloth
Scissors
Paper lantern
Black felt fabric
Pumpkins
Squash
Zucchini
Mod podge
Gauze pad
LED lights
Marking pen
Small wires or steel
Directions:
DIY Decor #1
You can use a mannequin or you can just call a friend to help you. Wrap the plastic cling wrap all over each section of the body, then wrap the tape around to hold the shape, and cut them open through the sides. Once the plastic mold was removed, rejoin the pieces together using clear tape, then hang or display it anywhere, and you're done.
DIY Decor #2
This one is quite simple, all you have to do is to gather random dolls or figurines, then spray paint them black, and paint their eyes red. Let them dry completely, then use them to build a spooky altar along with some creepy candles.
DIY Decor #3
Place a piece of tape at the center of your white cloth, then cut a small hole at the center of the tape, attach a small led light inside a paper lantern, and cover it with the cloth making sure to insert the handle through the hole that you cut. Lastly, cut out some black felt fabric with two ghost eyes shape and 1 ghost mouth shape, then adhere them to the front of the table cloth, and light it up.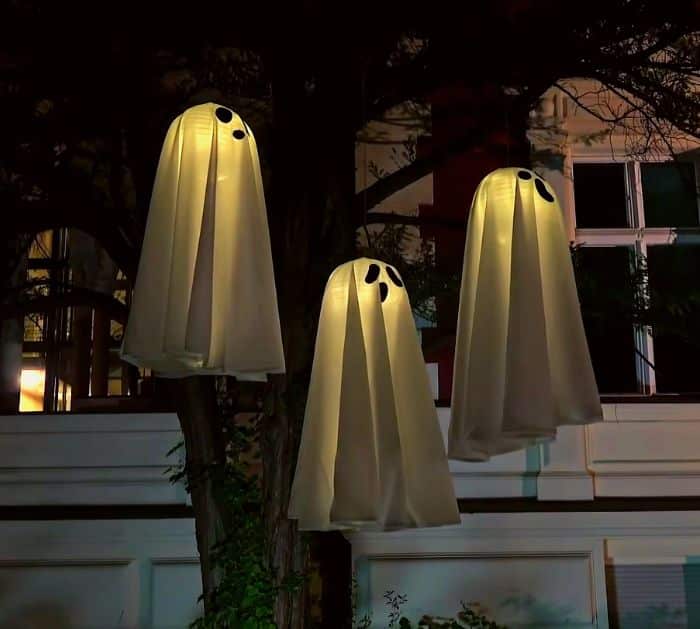 DIY Decor #4
Gather 1 large pumpkin, 4 small ones, and 1 large squash, then spray paint them black and let dry completely. Cut off the bottom of the large pumpkin, then scrape everything inside, and carve 2 cat eyes on whichever side you choose. Insert 4 small wires or steel on top of the squash, then place the tealight at the center, and place the pumpkin on top to cover it. Assemble the pieces into a cat as shown in the video and light the candle up.
DIY Decor #5
Poke a small hole through the bottom of a ping pong ball, then coat the top with a mod podge, add a small piece of gauze, then apply more mod podge, add another layer of gauze, and then a final layer of mod podge. Once completely dry, draw ghost eyes and mouth on it, then pull the bottom edges of the gauze to fray them a bit, and insert them on led lights. Wrap the led lights along some tree branches.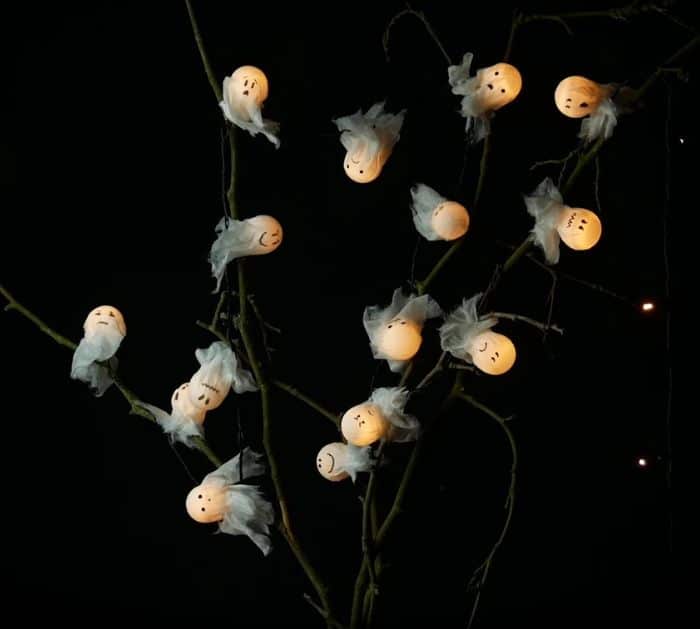 *All image credit belongs to Cleverly via YouTube. Follow and subscribe to their channel for more!
5 Easy & Inexpensive Spooky Halloween Decoration Ideas