Fruit cocktail isn't only great with salads but they taste absolutely delicious in cakes, too! This yummy recipe by The Country Cook on YouTube will surely be a hit at parties, family gatherings, or even on a holiday. It's so easy to prepare and can be ready in just a few minutes, perfect for last-minute preparations.
Ingredients:
Cake batter
2 cups self-rising flour
15-ounce can fruit cocktail in a heavy syrup, undrained
2 large eggs
1 tsp vanilla extract
1½ cups granulated sugar
Cake topping
½ cup or 1 stick unsalted butter
1 cup sweetened coconut flakes
1 cup sugar
1 tsp vanilla extract
1 cup evaporated milk
1 cup chopped pecans
Directions:
Step 1
Preheat your oven to 350°F, then grease a 9×13-inch baking dish with nonstick cooking spray, and set it aside. In a medium-sized mixing bowl, add the flour, eggs, fruit cocktail, vanilla extract, and sugar, then beat them together using an electric hand mixer over low speed until fully combined and incorporated, and then pour the batter into the prepared baking dish spreading it nicely and evenly. Put the cake in the preheated oven, then let it bake for about 30 to 35 minutes or until springy and a toothpick inserted at the center comes out clean.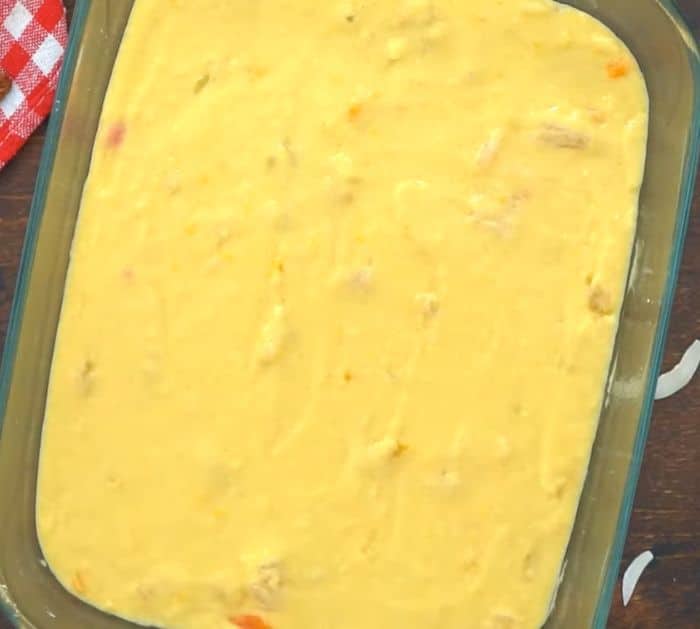 Step 2
Now, prepare the sauce or topping of the cake, simply add the butter, coconut flakes, sugar, vanilla extract, evaporated milk, and chopped pecans in a medium-sized saucepan, then mix them all together until well combined and place it on a stove over medium-high or high heat. Let it boil for about 1 minute, then using a fork, poke several holes all over the cake, and pour the warm sauce or topping all over the warm cake. Spread the coconut flakes and nuts evenly on top, then serve it while still warm or cool it down to room temperature, and enjoy!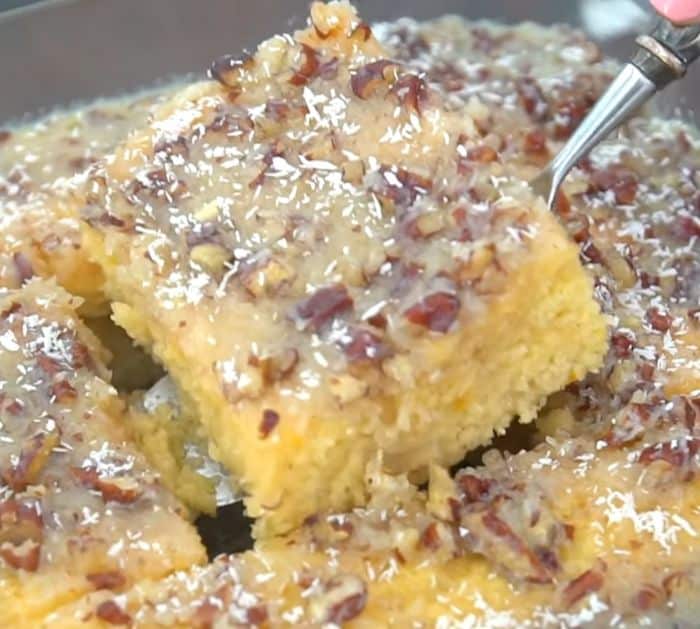 *These amazing images are all credited to The Country Cook via YouTube. Check her other content and follow for more!
Easy Southern Fruit Cocktail Cake Recipe