Old and used plastic bottles can still be recycled in a lot of ways that will surely surprise you, one of the best projects that you can try with them is by making this simple but lovely planter by DIY Garden Ideas on YouTube. It's super easy and fun to make, and it will surely look good in your garden whether it's big or small. Learn how now by reading the written instructions down below and while you're at it watch the video tutorial as well to see how it's done.
Materials:
Plastic bowl or plastic bowl strainer
Plastic bottles
Cutter
Scissors
Hot glue gun and glue sticks
Soldering iron, optional
PVC pipe and cap
Thick wire
Drill
Hacksaw
Sanding paper
Spray paint
Directions:
Step 1
Cut off the top of the plastic bottles about 2 inches in size or more, then trim the edges straight and clean, and then set them aside. Place a large plastic bowl upside down, then make holes all over the bottom using either a soldering iron or drill, but if you're using a strainer bowl, then you can skip this step entirely. Place the lid on each of the cut bottle tops, then dab a generous amount of hot glue on top of the cap, and stick it to the side of the bowl.
Step 2
Continue to do the same process all around the bowl, then dab more glue all over the top of the lid to secure them, and then add another layer above the first one making sure to offset them slightly so that they are sitting right in between the spaces of the first layer. Keep adding layers until you've covered the whole bowl but make sure to leave the very bottom center empty because that will be the drain of the excess water.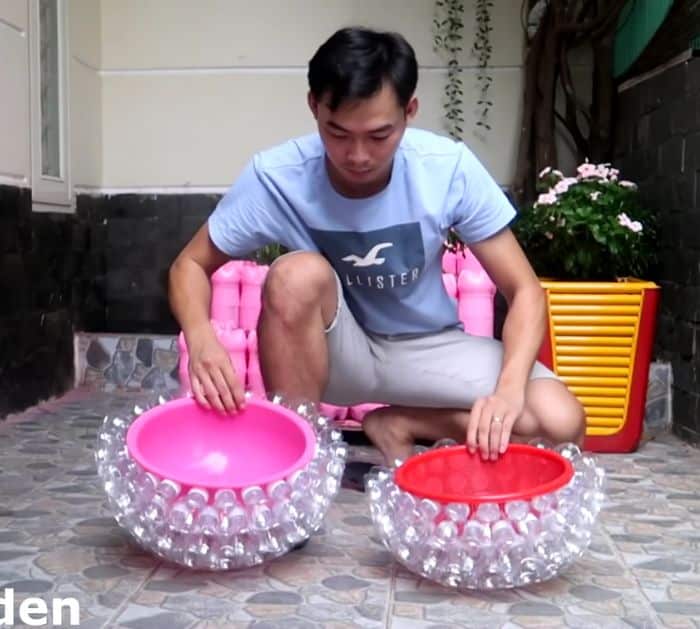 Step 3
Cut 3 PVC pipes to the height that you want for the legs of the planter, then cut one side slanted, and place the caps on the other side. Dab some hot glue on the cap, then insert them into one of the bottles making sure they are nicely and evenly centered as shown in the video. Drill holes on the sides of each pipe, then insert the wire and twist them to secure. Spray paint the whole planter with whatever color you want and let it dry completely before transferring your plants.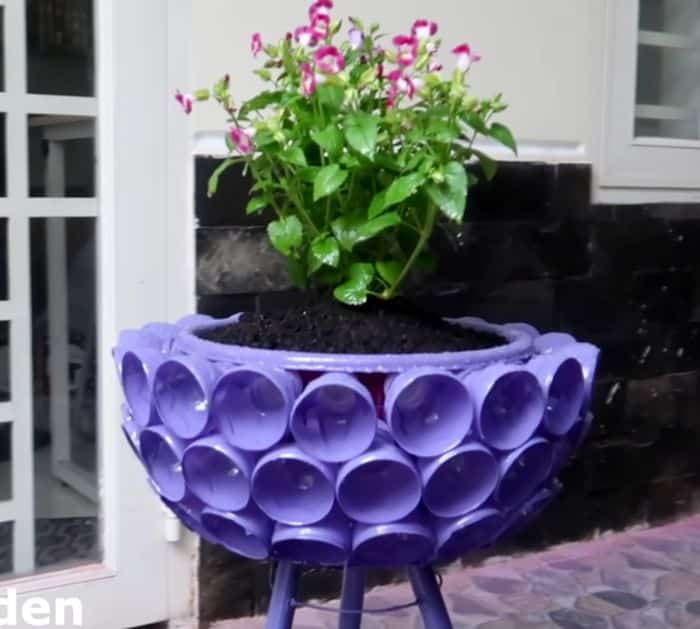 *All image credit belongs to DIY Garden Ideas via YouTube. Follow and subscribe to his channel for more!
How to Recycle Plastic Bottles Into a Planter