Fall is finally here, and what's a better way to welcome it than this easy pumpkin cake roll with a creamy filling? This recipe by Natashas Kitchen is the best autumn dessert I have ever made. The flavors are insane! Serve it with coffee, and you have a delicious treat at home.
Ingredients
1/4 cup of powdered sugar
3/4 cup of all-purpose flour
1/2 teaspoon of baking soda
1/2 teaspoon of baking powder
1 teaspoon of cinnamon
1 teaspoon of pumpkin pie spice
1/4 teaspoon of fine sea salt
3 large eggs (room temperature)
1 cup of granulated sugar
3/4 cup of pumpkin puree
For the filling:
8 oz of cream cheese (room temperature)
6 tablespoons of unsalted butter (room temperature)
1 1/2 cups of powdered sugar
1 teaspoon of vanilla extract
Instructions
Step 1:
Start by preheating your oven to 375F, then grease a rimmed cookie sheet with butter and line it with a large sheet of parchment paper. Make sure that it gets up the sides of the pan, and that you grease it and flour it as well. Lay a clean thin kitchen towel on your work surface, then generously dust the top with 1/4 cup of powdered sugar.
Step 2:
Add flour, baking soda, powder, cinnamon, pumpkin spice, and salt to a medium mixing bowl. Sift until well combined, then set aside.
Step 3:
Get a large mixing bowl and add eggs and sugar. Beat together for 5 minutes at high speed with an electric mixer until fluffy, thickened, and light in color. Turn the mixer on low speed, then transfer the pumpkin puree. Mix until well incorporated. Next, add the flour mixture and mix until just combined. Scrape the sides and fold a few times using a spatula.
Step 4:
Transfer the batter to the prepared cake pan and spread evenly. Bake for 12 to 14 minutes or until the top springs back when touched. Once done, immediately turn the cake onto the prepared towel then remove the parchment paper. Gently roll the cake and towel from the short end into a log. Set it seam-side down and place it in a wire rack to cool completely for about 1 1/2 hours.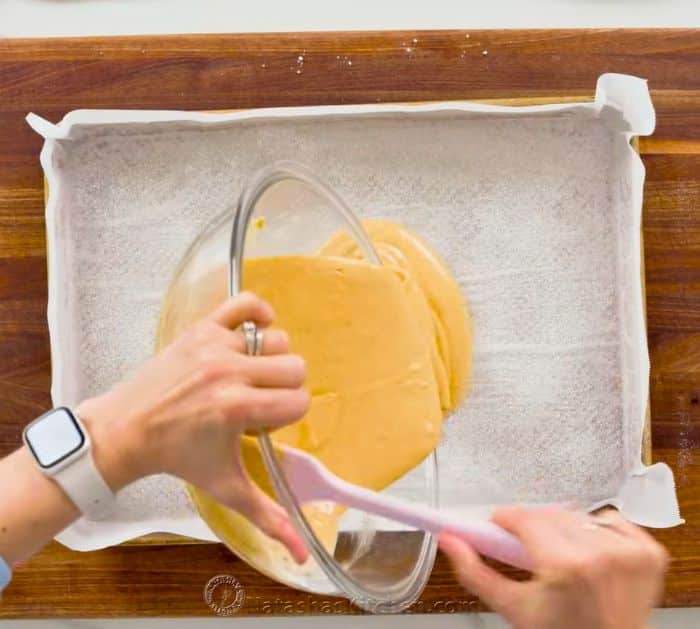 Step 5:
Time to make the filling. Add cream cheese, butter, powdered sugar, and vanilla extract to a mixing bowl and beat on medium-low speed until just combined. Increase to high speed and beat for 2 to 3 minutes until fluffy. Make sure to scrape the sides as needed.
Step 6:
Once the cake is cooled, assemble the cake. Unroll the cake and spread the cream cheese frosting using an offset spatula. Carefully re-roll the cake using the towel. Dust the top and sides with powdered sugar.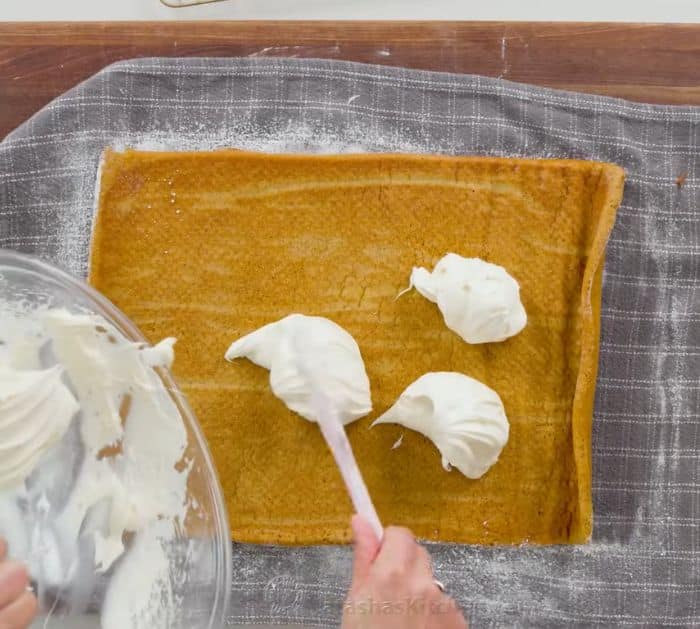 Easy Pumpkin Cake Roll With Creamy Filling