Put your fabric scraps into good use by making these easy large fabric butterfly hair clips DIY. You can also use this as decorations on bags, hats, or other craft projects. It's also a cute and easy-to-make gift for your friends on special occasions. Read on or watch the video below to learn how to make these with this tutorial by Red Blossom Designs on Youtube.
Materials:
4.72″ x 4.72″ square pattern
4.72″ diameter circle pattern
the fabric of your choice
pair of scissors
marker or pencil
thread and needle
hot glue
hair tie or clip
Instructions:
Step 1:
Fold your fabric with the right sides together on the inside. Trace the square and round pattern on the back of your fabric. Secure it with pins in the middle then sew. Once done, cut them using your scissors.
Step 2:
Cut a cross in the middle on the square and round fabrics. Once done, pull them right side out. Press them with an iron on both sides.
Step 3:
Fold the circle in half then press. Next, fold the square diagonally to make a triangle then press.
Step 4:
Align them together then place the circle a few inches on top of the square fabric. Get your thread and needle. Make sure to tie a knot at the end of the thread. Make a running stitch on the folded line. Once done, pull it until the end of the knot, so the middle of the two fabrics is tightly together. Next, roll the thread in the middle a few times then pass the thread in the middle. Do not cut the thread yet.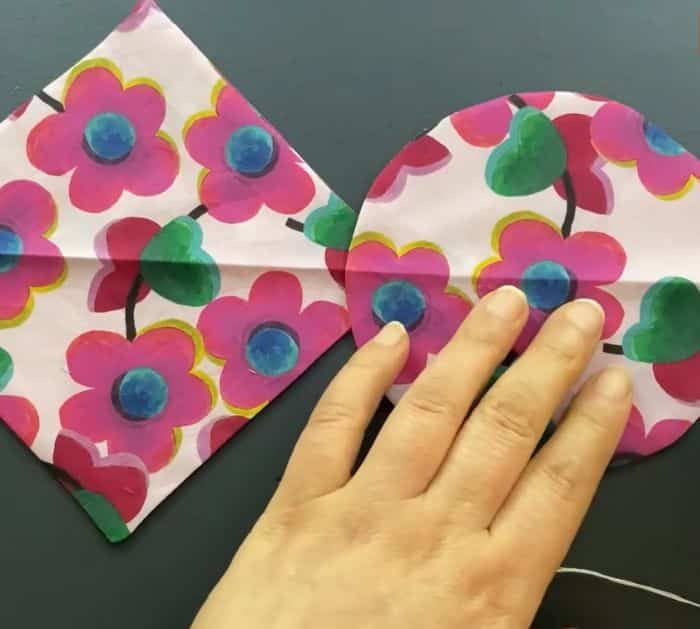 Step 5:
Cut a 3.15″ by 1.97″ on the fabric then fold it in half lengthwise. Open it and fold each side meeting in the middle. Fold it again in half and press with an iron. Place it in the center of the fabrics and secure the front with hot glue. For the back, add hot glue and put the hair tie or clip. Cut the excess fabric on one end and put more hot glue to fold the other end. Sew the ends and you are done.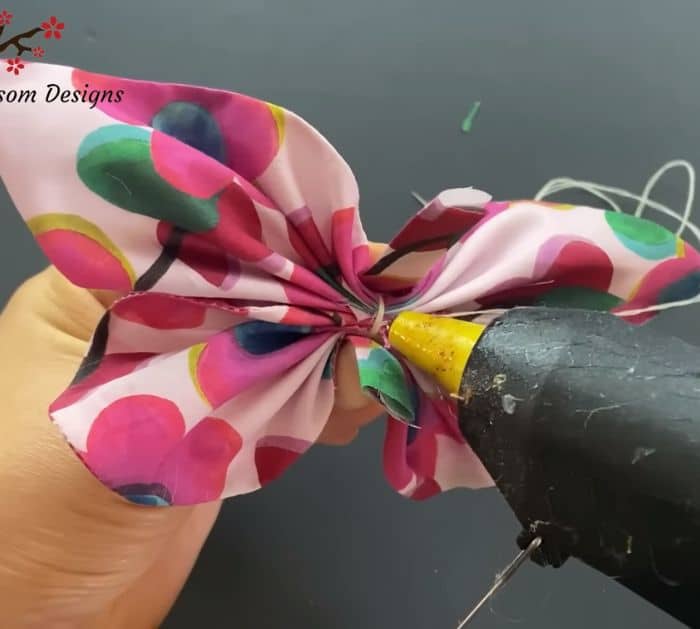 Easy Large Fabric Butterfly Hair Clips DIY