This recipe by Pressure Luck Cooking will take your ordinary pretzel bread to the next level and turn it into something delicious! Using your instant pot, you can cook this incredibly scrumptious bread that you can share with the whole family in just a few easy steps. Once you've tried this pudding recipe, you'll never try any other version because this is the only way you'll ever want them to be served, trust me, it's that good.
Ingredients:
Bread Pudding
2 tbsp or ¼ stick of salted butter
2 cups of whole milk
3 tbsp of white sugar
3 tbsp of light brown sugar
1½ tsp of vanilla extract
3 large eggs, beaten
¼ tsp of ground cinnamon
1 pound of pretzel bread, ripped up into chunks about 1-inch
2-4 tbsp of caramel sauce, plus more for topping
Sea salt, for topping
Glaze
1 cup of confectioners or powdered sugar
½ to 1 cup of heavy cream, half-and-half, or whole milk
½ tsp of vanilla extract
Directions:
Step 1
Press the saute button on your instant pot before adjusting it to a normal or medium setting, then melt the butter, and add the milk, white sugar, brown sugar, and vanilla. Stir them all together until well combined, then once the milk is warm, turn off the pot, remove the liner pot, and allow the milk mixture to cool for about 15 to 20 minutes or until lukewarm. Once cooled, add the beaten eggs and cinnamon, then whisk to combine, and pour it into a large mixing bowl filled with cubed pretzel bread. Add the caramel sauce, then using clean hands, mix them all together until combined, and then cover the bowl.
Step 2
Place it in the fridge, then allow it to chill for about 1 hour until firm, and once ready, pour it into a bundt pan greased with nonstick cooking spray. Spread the bread mixture evenly, then cover the bundt pan with foil, and poke a hole at the center to allow the steam to come through. Place in a silicone sling, then rinse the liner pot out and add 1½ cups of water before returning the liner pot. Now, lower the sling with the bundt pan into the pot, then secure the lid, and move the valve to the sealing position.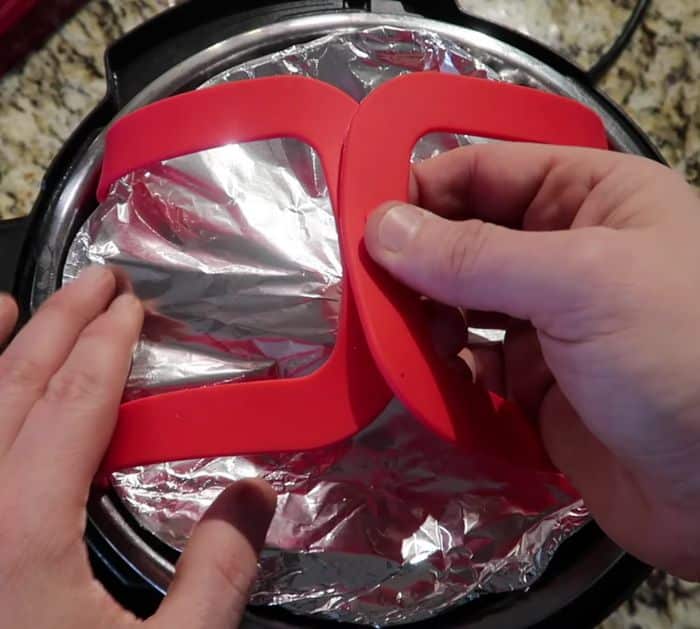 Step 3
Press the pressure cook or manual for 30 minutes at high pressure, then once done cooking, press the quick release button, and remove the sling. Place the bundt pan on the counter and allow it to cool for about 10 to 15 minutes with the foil removed. While waiting for the bread to cool, mix together the powdered sugar, heavy cream, and vanilla extract until combined and uniform, then once the bread is ready, gently flip and unmold it upside down on a plate, and generously drizzle the glaze all over the top. Serve immediately or when ready and enjoy!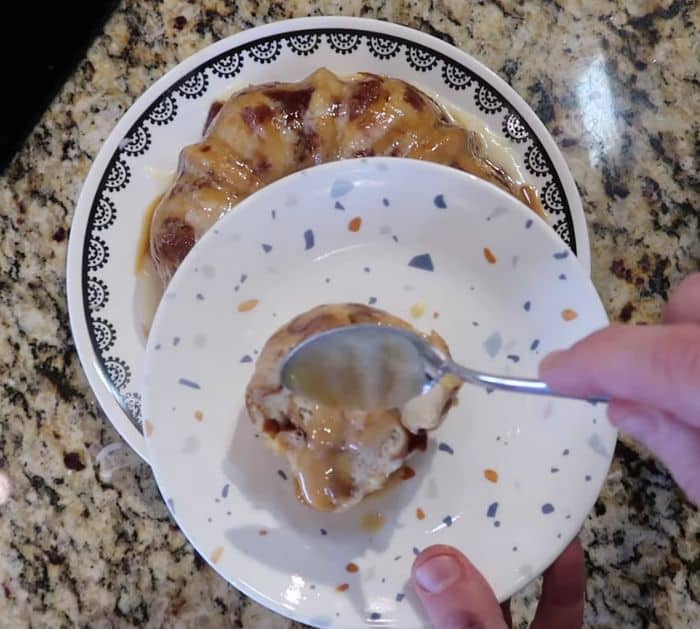 *All image credit belongs to Pressure Luck Cooking via YouTube. Follow and subscribe to his channel for more!
Easy Instant Pot Caramel Pretzel Bread Pudding Recipe