This beautiful decor piece idea by Shabby Fabrics is so easy to make that even beginners can give it a try. You can place this lovely patchwork anywhere in your house or give it as a gift to a loved one. Either way, you'll love this project for sure because of its beautiful color and unique shape.
Materials:
16 by 32 inches of red dot fabric
14 by 14 inches of cream fabric
Various red and pink fabrics, for applique
Lightweight fusible webbing
16 by 16 inches of fusible fleece
Needle
Red and pink thread
Cream thread
Variegated green thread
Red seed beads
Marking pencil, pen, or chalk
Scissors or rotary cutter and a cutting mat
Iron, for pressing
Sewing machine
Directions:
Step 1
Print the pattern, then cut it out and trace them onto fabric pieces. Cut all of the pieces that you will need, then set them aside, and start working on your outer fabric first. Lay the red fabric on a flat surface with the right side facing up, then place the fleece on top, trace, and sew along the lines. Trim around the edges leaving about ¼ inch seam allowance from the stitching line, then pinch the fleece and red fabric, and pull them apart.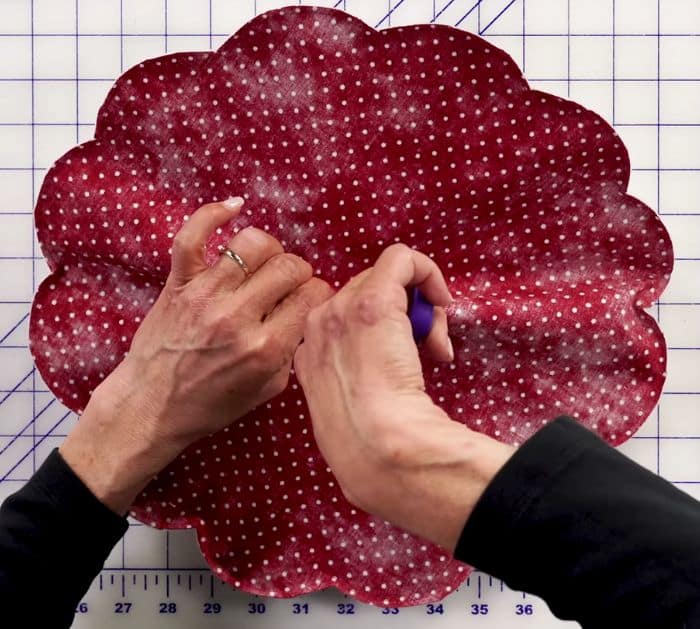 Step 2
Snip the center of the red fabric, then turn the piece right side out, and push the edges nicely. Give it a good press, then set it aside, and prepare the cream fabric along with the heart appliques. Fuse the hearts and one circle into the cream fabric, then place the cream fabric on top of the red fabric and stitch around the heart and circle. Embroider the vines around the circle, then sew some beads on the vines, and stitch around the edges of the inner and outer scallops.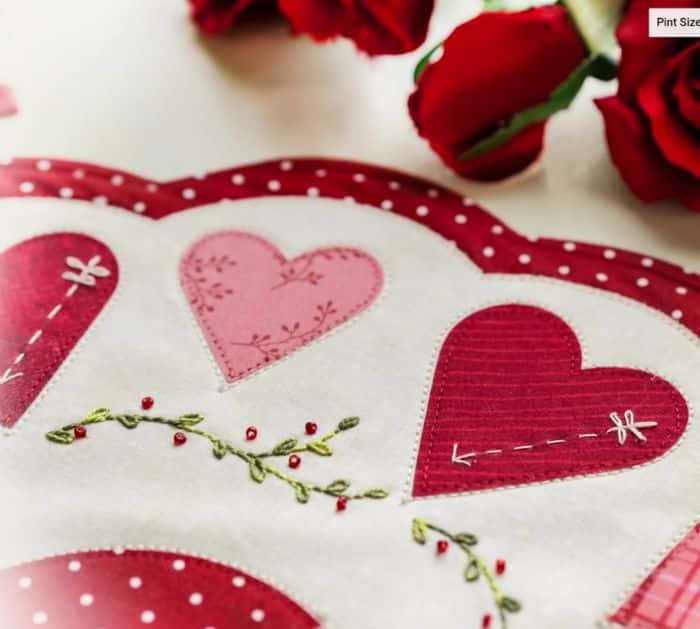 *All these images are credited to Shabby Fabrics via YouTube. Give her channel a visit and subscribe for more!
Simply Sweet Table Topper Sewing Tutorial