This recipe by Island Vibe Cooking on YouTube is one of my all-time favorite go-to dishes when I'm in a hurry to prepare a meal after a long and tiring day. It's so simple to cook and most of the ingredients required are very easy to find if not already available in my kitchen. This dish also tastes good with a bowl of hot rice or mashed potatoes and can be shared with the whole family, too.
Ingredients:
32 ounces or 2 pounds of ground beef, 80/20
1 large onion, half sliced and half grated
2 cups of beef broth
½ cup of seasoned panko breadcrumbs
1 egg
4 tbsp of unsalted butter, divided
4 tbsp of Dijon mustard, divided
Baby mushrooms, sliced
2 tbsp of Worcestershire sauce
3 to 4 tbsp of flour
1 tbsp of minced garlic
1 tbsp of Italian seasoning
4 tbsp of ketchup, divided
2 tbsp of seasoned salt, divided
Ground black pepper, to taste
Directions:
Step 1
In a large mixing bowl, add the ground beef, seasoned pank bread, Italian seasoning, Dijon mustard, Worcestershire sauce, seasoned salt, ketchup, and egg, then mix them all together until well combined, and form them into patties of desired thickness. Place a skillet on a stove over medium-high heat, then add the olive oil, and melt the butter. Put the patties and sear them until both sides are golden brown, then set them aside, and remove the excess grease from the pan.
Step 2
Add the remaining butter into the same pan allowing it to melt, then add the chopped onion, and saute them for about 30 seconds or until translucent before adding the sliced mushrooms. Add the minced garlic, then stir and cook them for about 10 seconds before adding the flour, and continue to stir and cook them for about 30 seconds to remove the flour taste.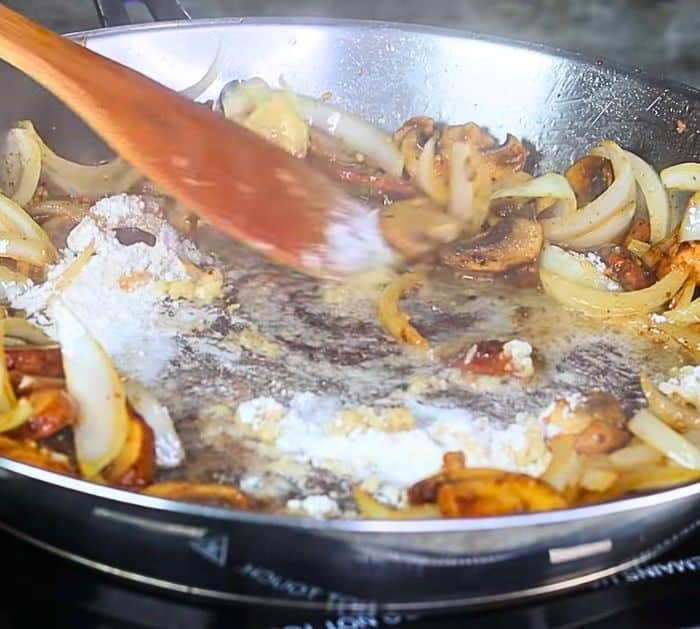 Step 3
Slowly pour in the broth, then stir them consistently scraping the bottom of the pan to deglaze it, and add the ketchup, Dijon mustard, Worcestershire sauce, seasoned salt, and ground black pepper. Give them a good mix to combine, then put the cooked patties back into the pan, and bring it to a simmer. Cover the pan, then let it continue to simmer for about 30 minutes, and turn off the heat. Serve and enjoy!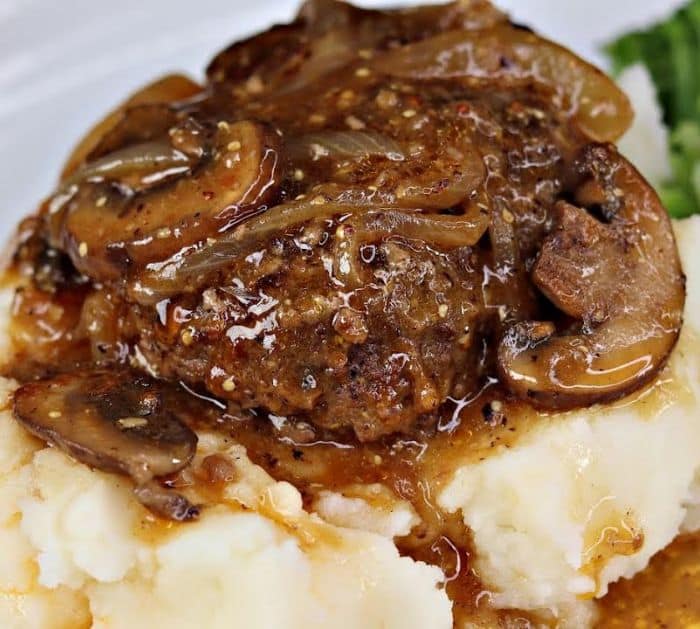 *All image credit belongs to Island Vibe Cooking via YouTube and _mustlovegarlic_ via Instagram. Follow and subscribe to her channel for more!
Easy Hamburger Steak with Onion Gravy Recipe