Make your family gatherings, parties, or mealtimes special by serving this delicious cake to the table. This cake recipe by Vallery Lomas on YouTube is so good and satisfying that you'd want to eat it every day and you won't get tired of it. It is also quite easy to follow because the instructions are clear and detailed, so you don't have to worry about messing this cake up, I'm sure you can perfect this even on the first try. Try it now and see for yourself!
Ingredients:
Pineapple Filling
1 (20-21-ounce) can of crushed pineapple, in heavy syrup
¼ cup of granulated sugar
Cake
3 cups of all-purpose flour
1 tbsp of baking powder
1 tsp of kosher salt
1 cup or 2 sticks of unsalted butter, at room temperature
2 cups of granulated sugar
4 large eggs, at room temperature
1 tsp of vanilla extract
1 tsp of almond extract
1 cup of whole milk
Cream Cheese Frosting
1 (8-ounce) package of cream cheese, at room temperature
½ cup or 1 stick of unsalted butter, at room temperature
4 cups of powdered sugar
1 tsp of vanilla extract
Directions:
Step 1
In a food processor or blender, blend the crushed pineapple until smooth consistency, then transfer it to a saucepan, add the sugar, and cook it for about minutes or until the sugar has dissolved making sure to stir it every now and then. In a mixing bowl, whisk together the flour, baking powder, and salt until evenly distributed, then in the bowl of a stand mixer, beat the butter over medium speed for about 30 seconds until smooth and creamy. While still beating, add the sugar gradually and continue to beat for a few more minutes until incorporated, light, and fluffy, then add in the eggs one at a time, and scrape the sides of the bowl clean.
Step 2
Continue mixing, then add the vanilla and almond extract, and alternate incorporating the flour mixture and milk over low speed making sure they are well combined in between every addition. Once smooth, divide the batter into 3 cake pans sprayed with nonstick baking spray with flour, then spread them evenly, and place them in the center rack of a preheated oven at 350°F. Allow them to bake for about 25 minutes or until nice and golden brown and a toothpick inserted at the center comes out clean, it should also be spongy and bouncy, then make sure to rotate the cakes halfway through so that they all cook evenly.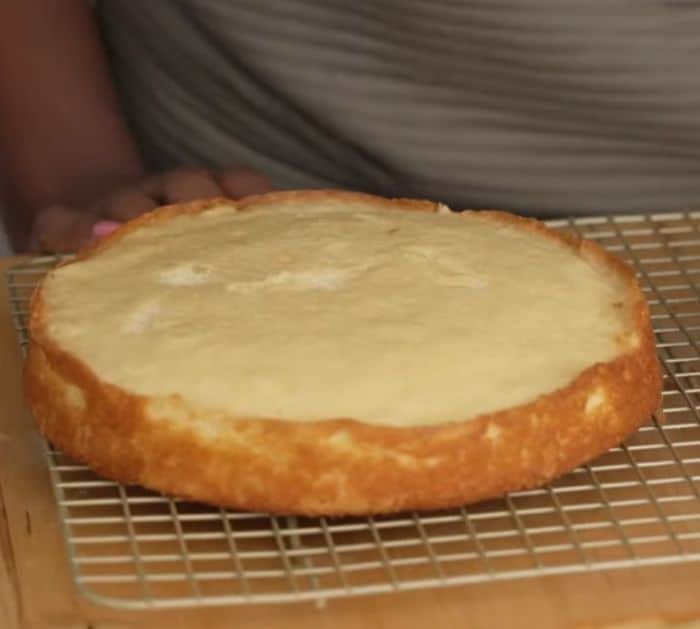 Step 3
In a clean bowl of a stand mixer, add the cream cheese, butter, powdered sugar, and vanilla extract, then beat them all together with a paddle attachment until well combined and smooth, make sure to start at low speed and then gradually increase your speed. Once the cake is done baking, leave it in the pan for about 10 minutes, then unmold, it and transfer it to a cooling rack. While the cakes are still warm, spread the pineapple filling on top of 2 cake layers, then stack them together, and place the final layer on top with its flat side facing up. Spread the frosting on top and work your way down the sides until completely covered, then serve, and enjoy!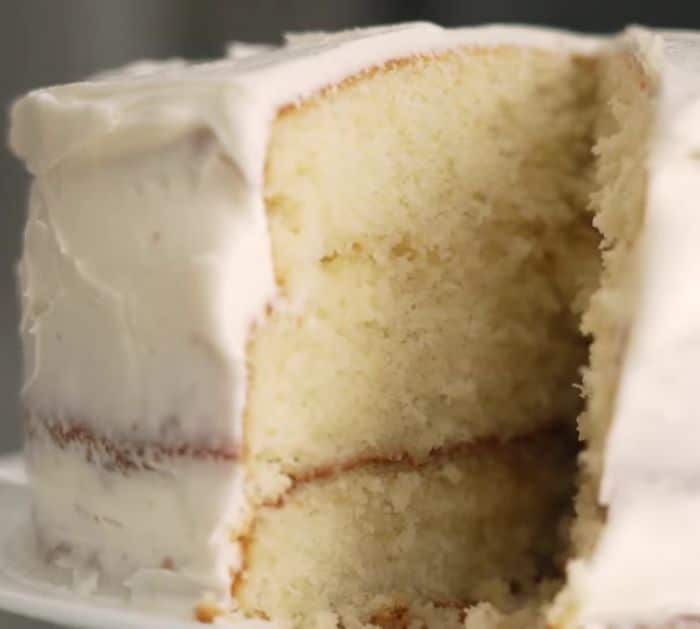 *All image credit belongs to Vallery Lomas via YouTube. Follow and subscribe to her channel for more!
Easy Grandma's Million-Dollar Cake Recipe