A few weeks ago, I saw a pretty laundry basket online and I really wanted to buy it but I thought that it was too expensive, so I tried to find an alternative, and that's when I stumbled upon this video tutorial by Christine Nore #Teamforever20 on YouTube! Using a plastic stool and a couple of ropes, I can make a DIY version that is similar to the one I saw online at a cheaper price, plus, it doesn't take much effort and time to make, the process is actually pretty fun and relaxing. You should definitely give this a try, too.
Materials:
Ropes, 1 black and 2 white
Plastic stool
Laundry bag
Hot glue gun and glue sticks
Scissors
Leather straps
Leather screws or pins
Paint, optional, if you don't have black
Directions:
Step 1
In a bucket, mix together paint with some water, then soak the rope until fully covered and no more white parts are visible and let it dry. Once dry and you're ready to start, grab the plastic stool, then lay it upside down, dab some glue at the bottom end of the stool, and adhere the end of the black rope to it. Pull the rope all the way around and make sure to dab hot glue as you go, then continue to wrap and adhere it around the stool until you've reached the end of the rope, and make sure to dab glue along the top of the rope to keep each layer adhered together. Now, grab the end of the white rope, then adhere it to the end of the black rope, and continue the process until you've used all sets of rope.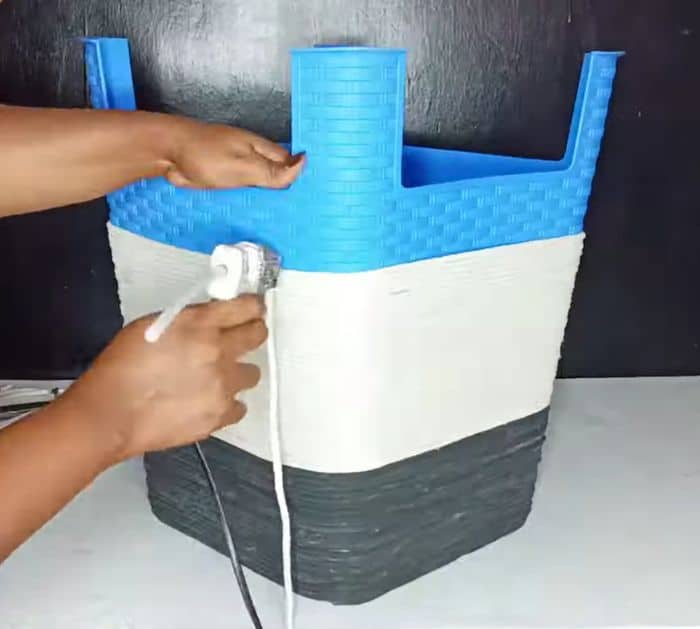 Step 2
Once you're about 2 inches away from the edges of the leg, stop wrapping the rope, then cut the excess, and seal them with hot glue to prevent them from unwrapping. Next, cut 2 leather straps for the handle, then adhere them on each side of the basket using hot glue making sure to align them, and to make them more secure, attach leather screws or pins. Lastly, insert the laundry bag and fold the edges over the exposed legs of the stool, then adhere the edges with hot glue or you can leave them as is so you can change and wash the laundry bag.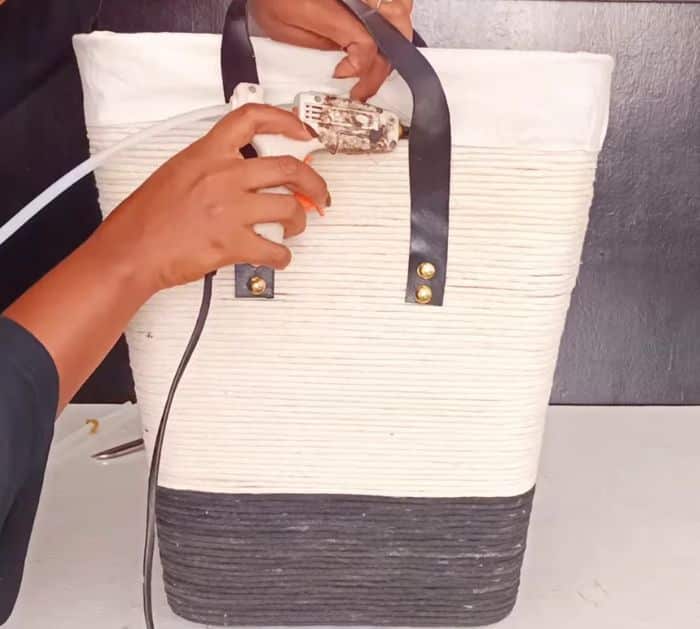 *All image credit belongs to Christine Nore #Teamforever20 via YouTube. Follow and subscribe to her channel for more!
How to Transform a Plastic Stool into a Laundry Basket