This Easter, don't hold back and go all out with your decor by making a large topiary decor using items from the Dollar store! This video tutorial by Rose Lumare DIY on YouTube will show you how to easily put them together using only simple craft supplies. You can be creative and decorate your topiary however you want or you can also do it exactly as shown in the video.
Materials:
2 large plastic pots
Cement
2 long wooden rods
2 small wooden rods
Painter's tape
Styrofoam
Cutter or X-Acto knife
Hot glue gun and glue sticks
Soldering gun, optional
Large plastic eggs, Dollar Tree
Plastic bowls, Dollar Tree
2 old Christmas ornaments
Grass sheet
Primer paint
Different colors of paint
Paintbrushes
Directions:
Step 1
Mix together equal parts of cement and water, then pour them evenly at the bottom of each plastic pot, and insert the long wooden rods at the center of each pot. Lay painter's tape around to hold them down at the center, then insert down a piece of styrofoam slightly overlapping the edges of the pots, and allow the cement to dry completely. Melt the bottom center of each blue bowl around the same size as the width of the rod, then insert the first bowl right side up all the way down the rod, and place another bowl on top upside down making sure that their edges are matching.
Step 2
Make holes at the bottom and top center of each plastic egg the same size as the wooden rod's width, then insert a plastic egg down the rod and place it right on top of the bowl. Next, trim the edges of the styrofoam so that it fits the inside of the pot's rim, and push them down lightly so that they're laying nicely and flatly on top as shown in the video. Fold the grass sheet into four, then snip off the folded corner, and open the grass sheet.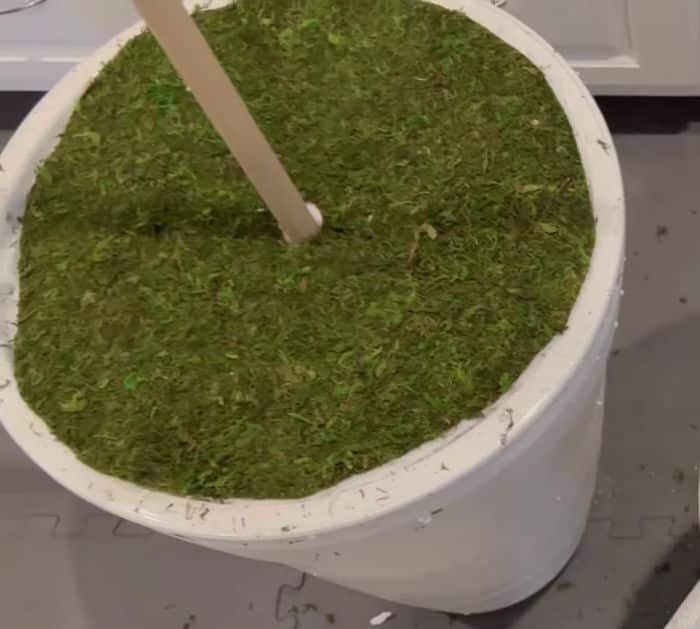 Step 3
Remove the bowls and eggs first, then insert the grass sheet nicely, and trim the sheet round to fit the width of the pot's rim before putting back the bowls and eggs on. Now, continue layering the bowls and eggs alternately, then piece together the small rod and ornament, and place it at the very top. Make sure that everything is secured with hot glue, then spray them with primer paint, and let them dry before painting them with different colors and patterns.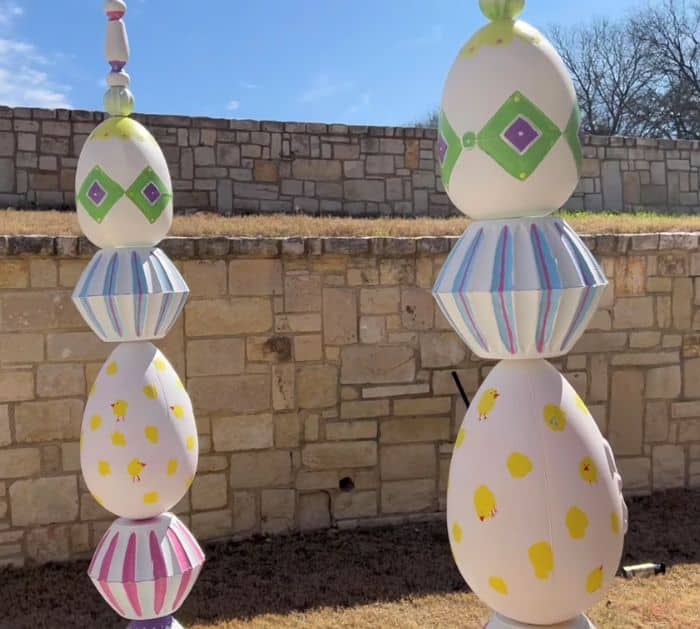 *All image credit belongs to Rose Lumare DIY via YouTube. Follow and subscribe to her channel for more!
Large DIY Outdoor Easter Egg Topiary Décor Tutorial