Ordering take-outs is one of the best things to do when you have no time to prepare your own food or you're too hungry to do so. Personally, my all-time favorite is a crispy and freshly cooked sesame chicken that I always order from my favorite restaurant and this recipe by Souped Up Recipes on YouTube is my go-to version whenever I try to recreate it at home. It tastes just as good as the original, if not better, trust me, it's so good that you'd want to eat it every day.
Ingredients:
Marinated Chicken
1 pound of chicken breast or boneless chicken thigh
2 cloves of garlic, grated
Black pepper, to taste
1½ tsp of soy sauce
½ tsp of salt
3/8 tsp of baking soda
1 egg
3 tbsp of sweet potato starch
Sauce
2 tbsp of Honey
3 tbsp of brown sugar
2½ tbsp of Soy sauce
2½ tbsp of ketchup
1 tbsp of vinegar
2 tsp of starch
3½ tbsp of water
Others
1 cup of sweet potato starch
Cooking oil
1 tbsp of sesame oil
1½ tbsp of toasted sesame seeds
Diced scallion, for garnish
Directions:
Step 1
Cut the chicken into small bite-sized pieces, then place it in a large mixing bowl, and add the garlic, soy sauce, salt, black pepper, baking soda, egg white, and ½ tablespoon of sweet potato starch. Mix them all together until well combined, then set them aside, and allow them to rest for about 40 minutes. Prepare the starch as shown in the video, coat the marinated chicken, shake off the excess, and allow them to rest for about 15 minutes before frying.
Step 2
Place a deep pan on a stove over medium-high heat, then allow the oil to heat up to 380°F, then fry the coated chicken in 2 batches for a few minutes until lightly golden, and remove them from the oil. Set the cooked chicken aside and allow them to rest for about 15 minutes, then fry them again for about 2 to 3 minutes or until golden brown, and set them aside to rest.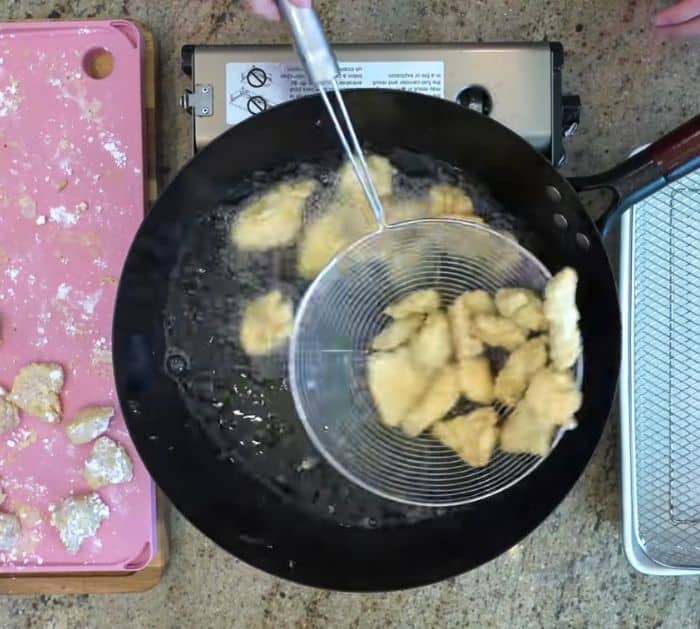 Step 3
In a large mixing bowl, add the brown sugar, honey, soy sauce, ketchup, water, vinegar, and cornstarch, then mix them all together until combined and uniform, and pour it into a large wok on a stove over medium heat. Stir it around until it has thickened, then put the cooked chicken in the wok, and drizzle some sesame oil along with 1½ tablespoons of toasted sesame seeds. Toss them all together until the chicken is nicely coated, then sprinkle some diced scallion, and serve. Enjoy!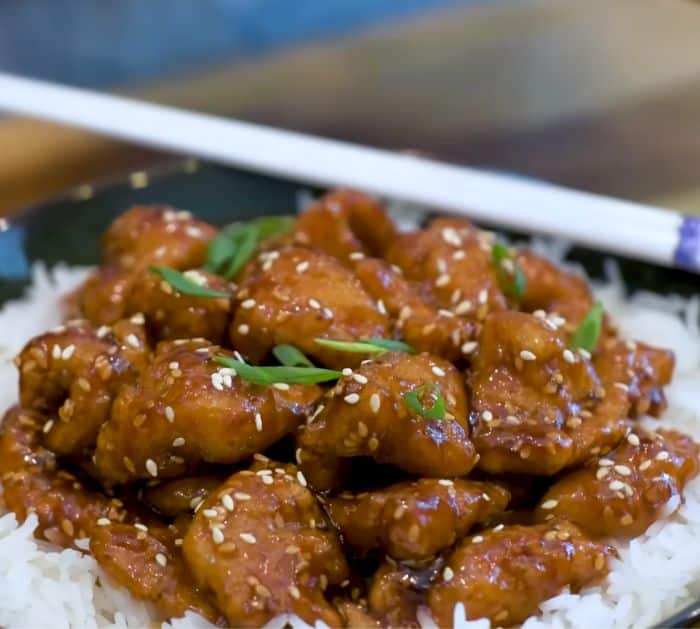 *All image credit belongs to Souped Up Recipes via YouTube. Follow and subscribe to her channel for more!
Easy Better Than Take-Out Sesame Chicken Recipe