DIY Vintage Iron Wedding Invitation Template
Looking for the perfect DIY wedding invitation ideas for a rustic wedding? If you are looking for an inexpensive handmade invitation that has vintage charm without breaking the bank, this DIY tutorial is definitely one to check out. How about quick DIY wedding invitation ideas? I have to admit I did not think quick as a good idea for wedding invitations, but this particular project has proven that belief to be wrong. Turns out your DIY wedding invitations need not to be a time consuming task that takes you months to complete. You can learn how to make wedding invitations in no time at all with this super creative and easy to follow tutorial.
The secret to the beauty of this invitation is the faux vintage iron look, which is easily accomplished with spray paint! Make your own homemade vintage iron wedding invites with this simple idea. All you need is are printed copies of your wedding invitation text, some square doilies, spray paint, and some ribbon to finish off your lovely do it yourself creations. You can either seal your invites with a custom design as shown here or use a silver or gold foil seal. The effect is quite impressive – your wedding guests are certain to admire your creativity as well as the beauty of your keepsake DIY wedding invitations.
DIY Vintage Iron Wedding Invitations
Supplies You Will Need:
Square doilies
Spray paint for paper (matte black)
Paper cutter
Double-sided tape
Ribbon
Printed Invitations (you can make your own or purchase a template of this design)
Step by Step Tutorial:
Step 1
Dust the doilies across back and forth using spray paint. For better results, don't paint it solid black. It would look better if it's a little muddled to resemble an aged iron. Flip the doilies over and do the back portion. Let it dry for 5-10 mins.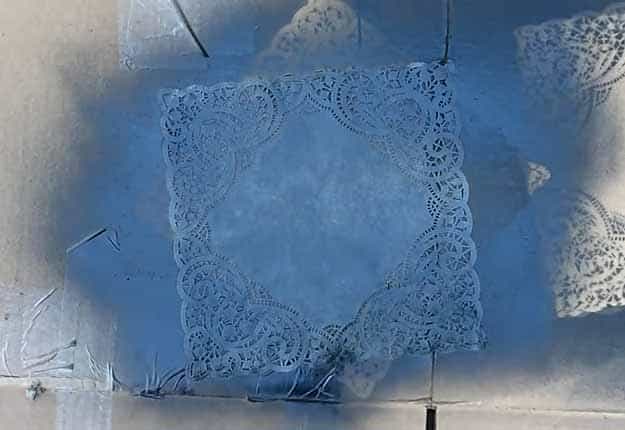 Step 2
Get your invitation and RSVP template (print it out from MS Word) and cut it using paper cutter.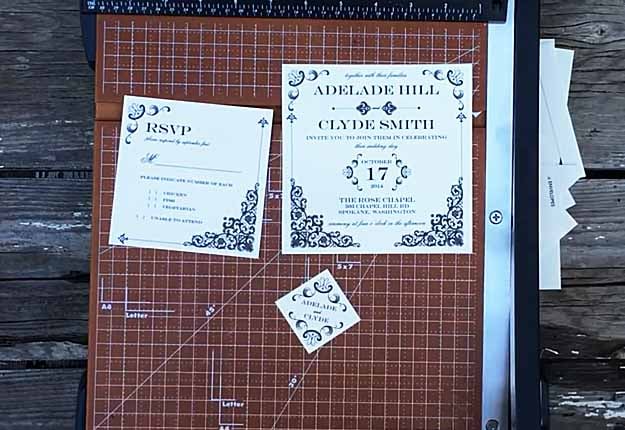 Step 3
Mount the invitation onto your doily using double-sided tape together with the RSVP card. After which, you can start folding the doily to cover your cards like an envelope. Finish off by sticking a ribbon at the middle and placing the name plate over the ribbon.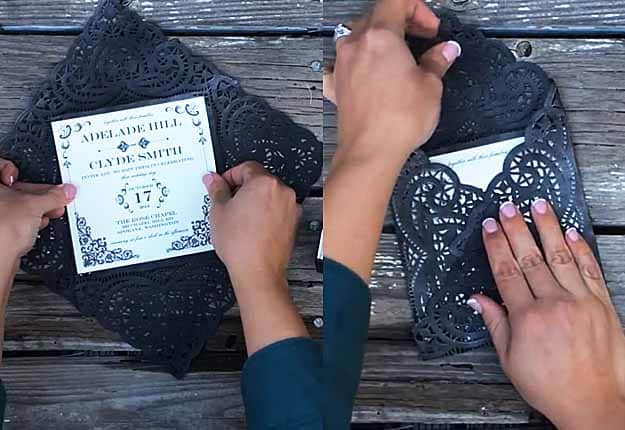 And your Vintage Iron invitation is done!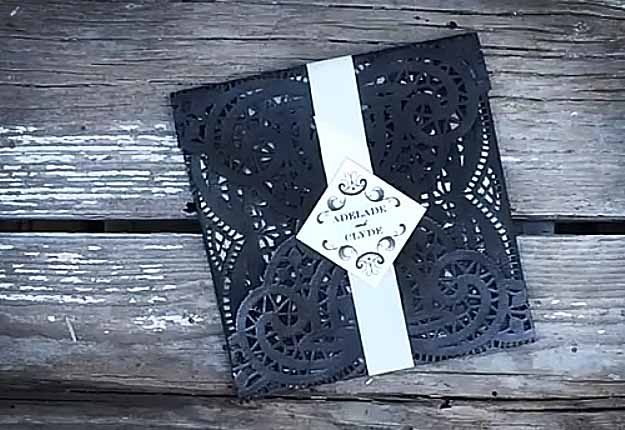 Love this DIY idea for your rustic country wedding? Pin it to save and share on Pinterest.


Don't Miss Out! Sign up for the Latest Updates