I just love to sew but honestly, sometimes I think if I make one more thing for my house, it may just be too much. Ever felt that way when you walk in your kitchen? All my family and friends envy the homemade decor and crafts I have all over the place, though. So this year, I decided I would make DIY gifts for friends and family when I sat down to sew. I went on a hunt for the best sewing gift ideas and put together a pretty awesome list of tutorials. From gift bags, lunch accessories and things you can take to work to adorable items you can make for kids and babies, there are some incredibly easy sewing projects you can whip up in under an hour.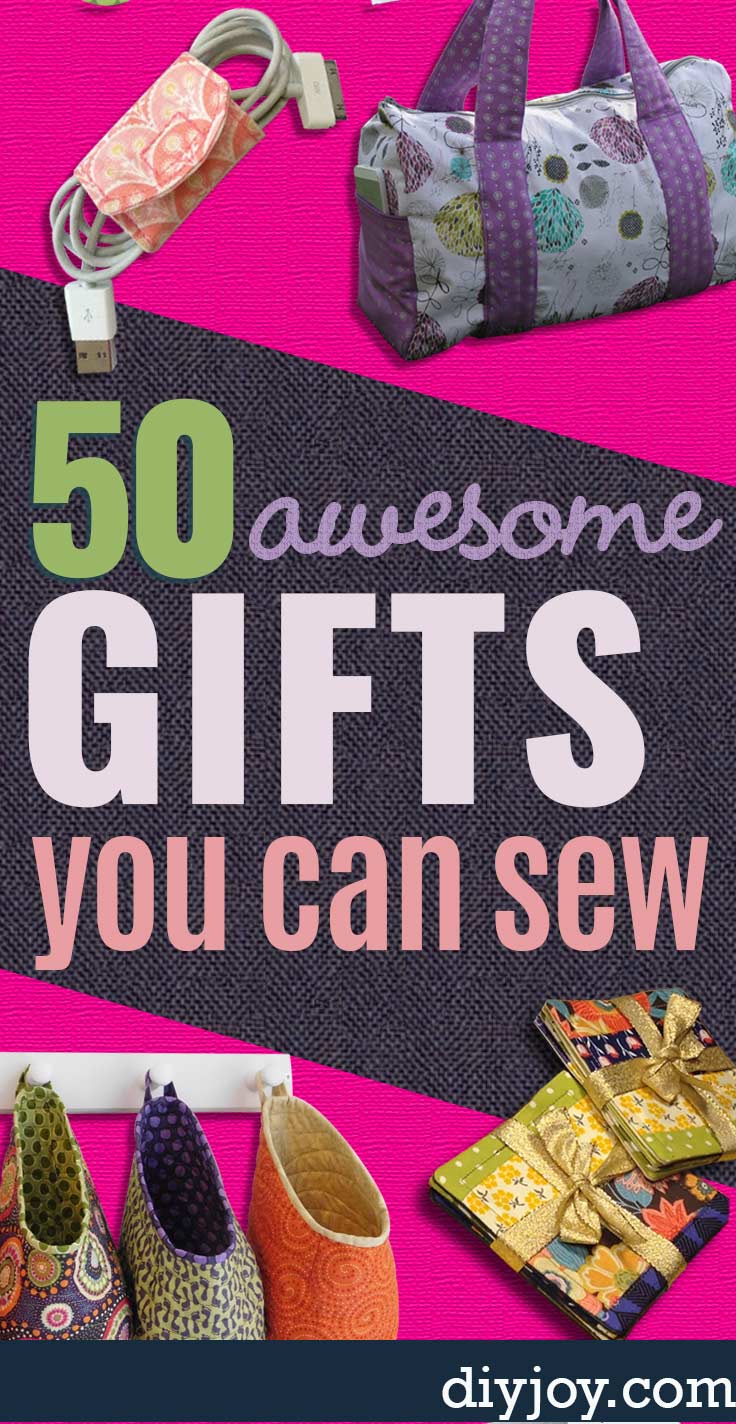 DIY Sewing Gift Ideas
1. Fabric Gift Pouch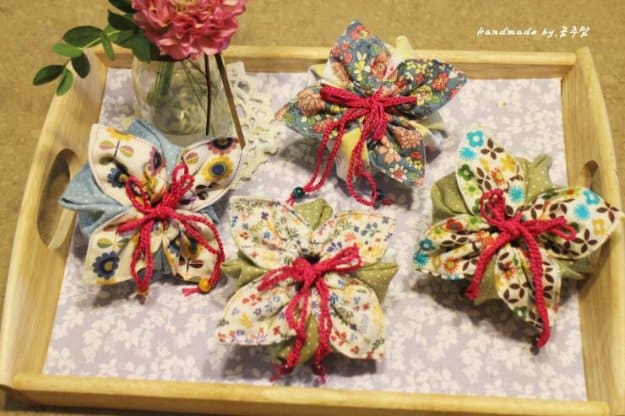 My daughter makes jewelry and made some lovely shell earring sets for her best friends this Christmas. I shared a great idea with her to make gift bags for these beautiful creations, like having two gifts in one. Mere words can't describe how cute they turned out. I had the best time teaching her this simple gift bag making technique. My youngest Son did an excellent job making the braided embroidery thread strings and the final product was breathtaking. When it comes to cute DIY Christmas gifts, these handmade gift pouches are one of my favorite presents.
2. DIY Fabric Coasters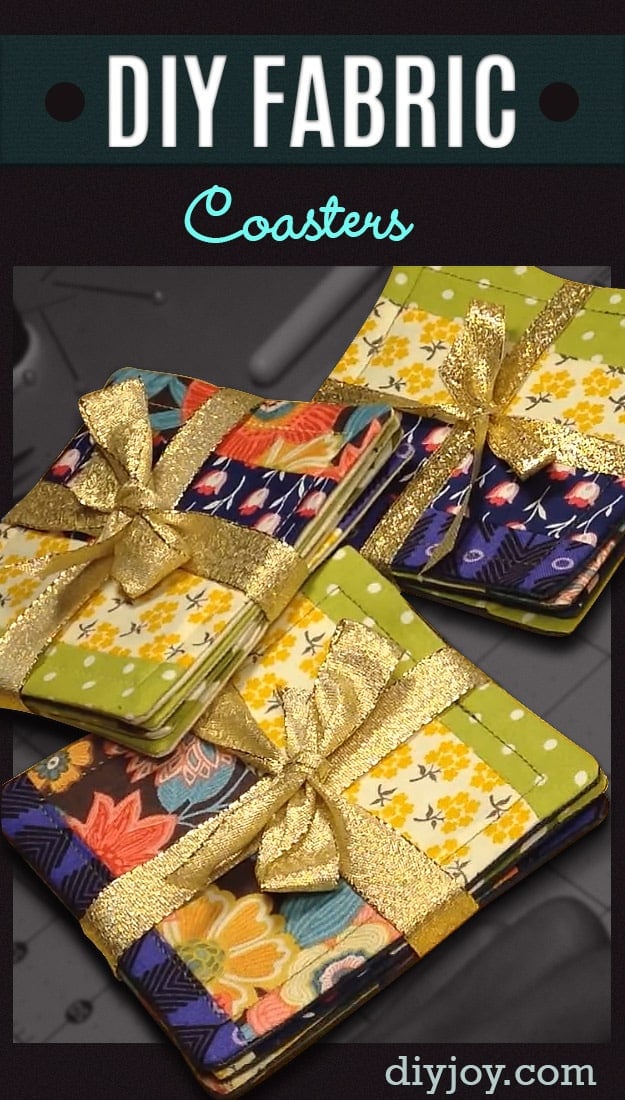 I needed an awesome gift idea and was looking for an easy DIY project I could sew. I found a coaster idea on Pinterest that was so quick and easy. I had made more than one set so I can keep them on hand for last minute birthday, hostess or housewarming gifts. I made them from fabric scraps, this may just be that special project you have been dreaming to find. Put those fabric scraps you have been saving to good use and make gifts for friends and family. At my house, these incredibly cool coasters are almost always a topic of conversation at parties. Check out the easy step by step tutorial in the link to learn how to make these creative DIY coasters. If you are looking for cute DIY gifts to give to friends for Christmas, or home birthday present ideas, these coasters are a cute choice.
3. DIY Bohemian Style iPhone Case

I love making DIY leather crafts and because I mainly make clothes, I always have small pieces of leather scraps laying around waiting to find a home inside a new creation. I needed a new phone case, so as a gift to myself I decided to make a rustic, boho simple leather pouch with a snap fastener. I use a lot of leather glue making my DIY leather creations because it holds beautifully without sewing and you can always add hand whip stitching to the seam once it is secure. So my advice is to try this project because if you can cut 2 rectangles and glue them together, you got this one. 😉 If you need a pretty, elegant idea for a homemade Christmas gift for her, try making this cool pouch. It is an easy sewing project to make as a gift.
Check out all of these gift ideas to sew in one place in this YouTube video, then come back to hit the links here to the step by step tutorials by some of our the best sewing blogs.
4. Zipper Pouch Tutorial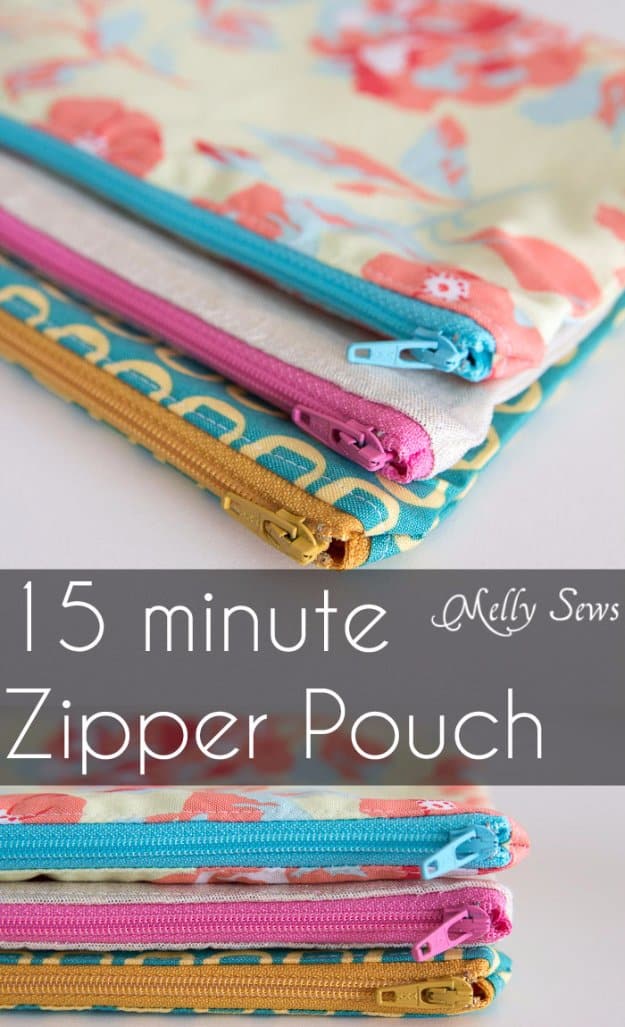 These zipper pouches are so cute and functional, we just can't have enough of them in our lives. I like to use them for change, makeup, jewelry, keys, a phone, or even love letters from my honey. They are so simple to sew, this one involves a zipper and requires an intermediate level of sewing skill. Once you get this one down though, you can pump them out all day long and they make great gifts for everyone. A cute but easy DIY sewing gift you can give to almost anyone. Perfect for a Christmas gift idea, but great for year round gift giving.
5. Overnight Duffel Bag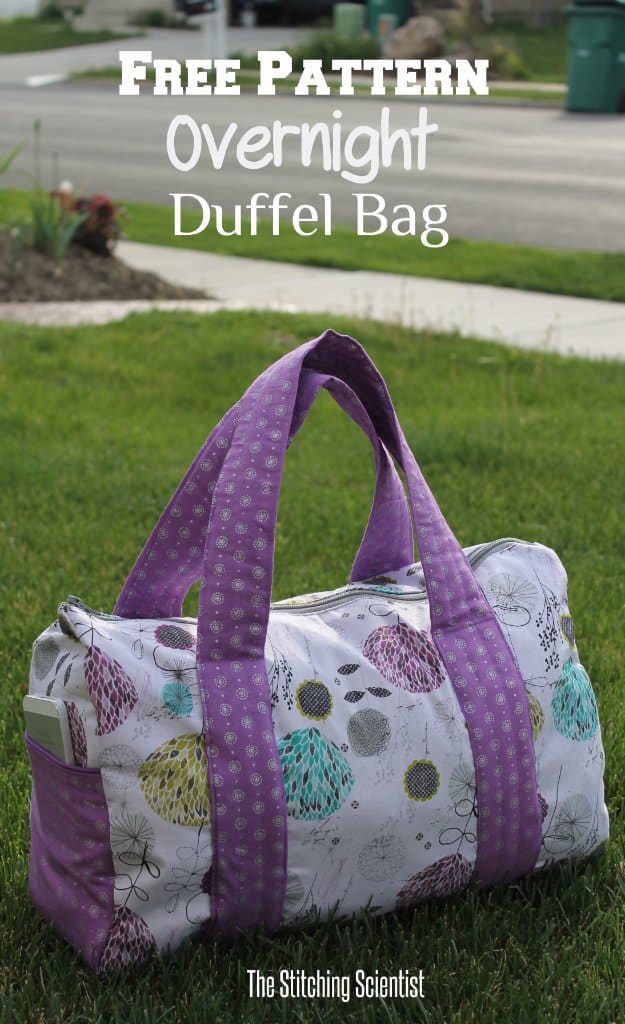 This morning, I decided to make a DIY craft overnight duffel bag as a gift for my daughter's best friend. This is a simple duffel pattern that has oval sides with pockets accented with wraparound straps. The cool thing about this pattern is that you don't have to line the bag or cover seams with binding! The tutorial is written so that when you are done, your bag will look stunning inside and out without the trouble of adding a lining. This fabric is from Joann's Fabric Store, where you can always use your app coupons. I found these coordinating quilting fabrics that looked awesome. The bag measures about 20″ x 10″ which makes it the perfect size for an overnight stays. This is an adorable DIY Christmas gift for teens, also a birthday present you can sew. Make a few of these darling overnight bags, they are sure to be adored.
6. Fabric Bins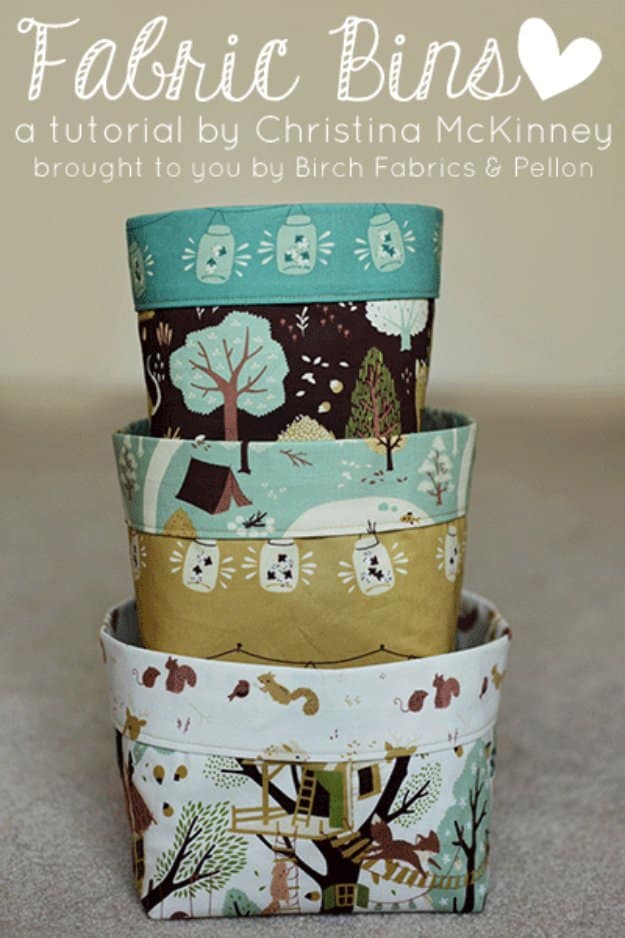 These cloth bins are such a cute DIY Christmas gift. They are simple to make and they are perfect to store just about anything, hair tools to kitchen items. I made about 6 of these simple DIY crafts for my kid's teachers and they used them on the spot, thanking me for giving them the opportunity to get organized. If you love to sew, this cute sewing project needs to be on your DIY Christmas gifts list. Free step by step tutorial shows you exactly how to make these cute homemade fabric bins.
7. Easy Flannel Throw Blankets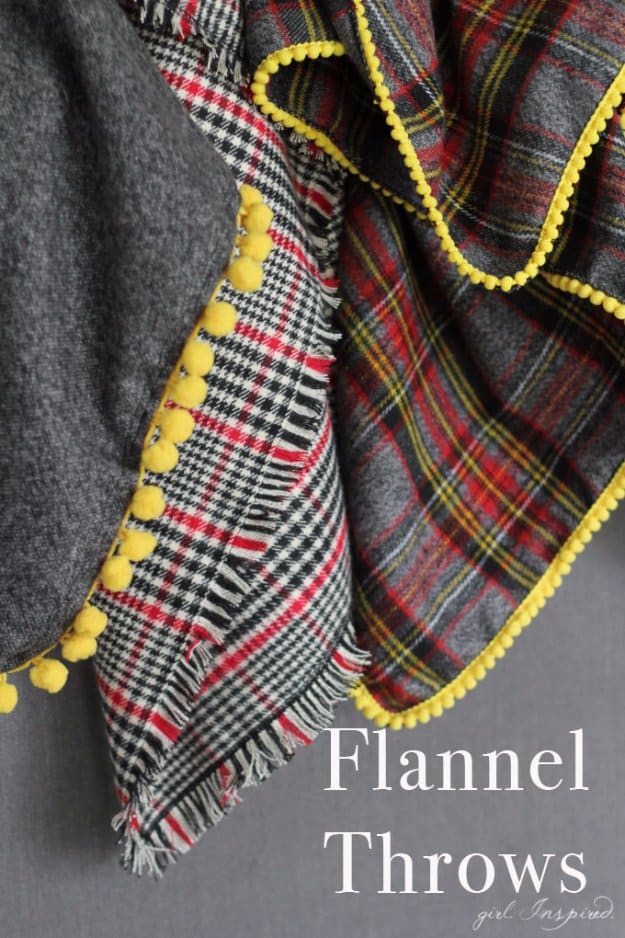 Do you love getting flannel gifts at Christmas? I know I am and I want all the people on my gift list to have a flannel Christmas too. Last winter, I made a simple flannel fringe blanket and we've used it throughout the year. This year I wised up to this and made a fresh stack of easy flannel throw blankets as the perfect DIY created Christmas gift, one for every member of the family! They are soft and cozy and the cheery patterns and trims make the stack look great even when they're not in use! Everyone in your family will love cuddling up with one.
8. Sew a Quilted Tablet Cover With Zippered Pocket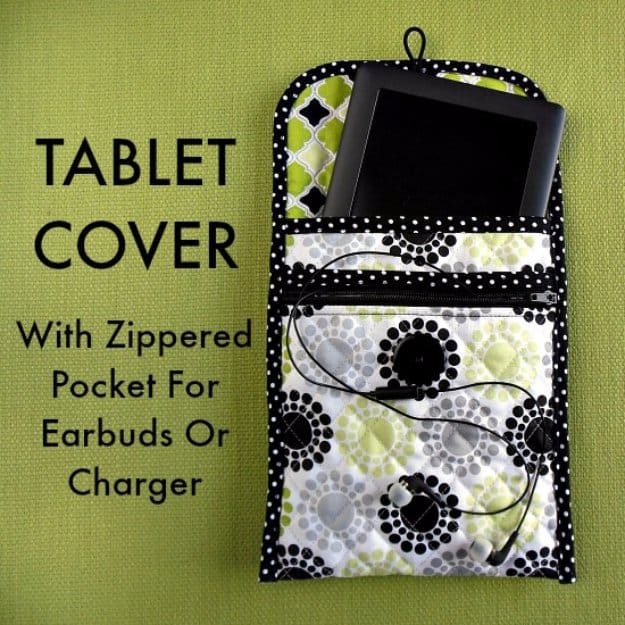 Tablets or readers have become a necessary item for the educational advancement of your children. I got my Daughter an Ipad as a Christmas gift but most of them don't come with a cover to protect them. This DIY craft is I love my Ipad and I decided that I wanted to create a cover to protect it, and wanted to add a zippered pocket for my earbuds. I found some quilted fabric at JoAnn's, where I always use my 40% off coupon on the JoAnn's app and that provided a really nice cushion protection for the Ipad. I put it under the tree Christmas morning with a bow and tag saying, Santa loves you. She is so thrilled that her DIY craft cover stands out from the rest. One of the most loved and requested sewing gifts to make for Christmas, I now make at least 4 of these every year.
9. Kimono Top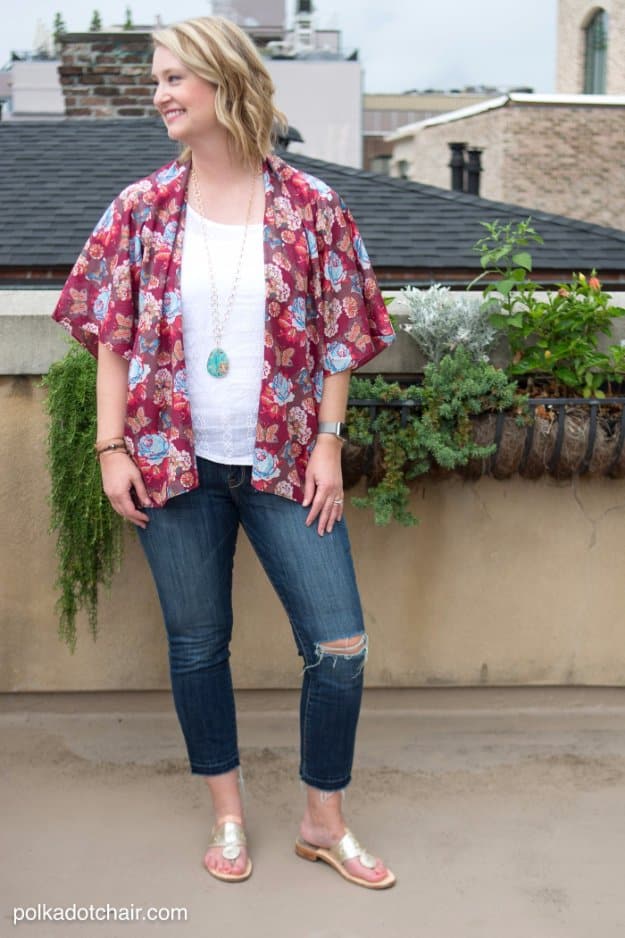 I love the old world romance of a kimono and they go with everything and are practically one size fits all. I was really feeling sorry for my Mom and Sister running around the house in worn-out hose coats. They were in much need of an upgrade and no better, or a more subtle way of facilitating this upgrade than through giving a gift. A DIY sewing craft made with personal care from their loving Daughter and Sister. On Christmas morning they threw off those old rag dressing gowns and wore them all morning. That afternoon they wore them over jeans which made them look like 1970s Fleetwood Mac rockstars. If you have a fashion diva on your gift giving list this Christmas or you need a special birthday gift idea to sew, try making this cool kimono top. Complete with step by step tutorial, you get what you see.
10. Hidden Pocket Scarf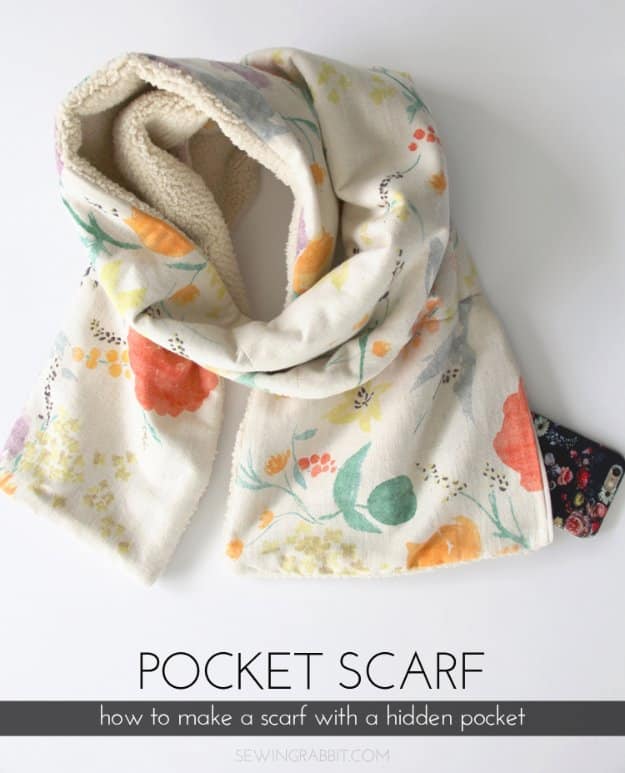 It's going to be Christmas again soon and I am planning all my DIY sewing gift ideas for family and friends. My cousin needs an extra pocket for her phone, credit cards, or even keys. Especially when she doesn't feel like carrying around her bulky purse. Any vest, jacket, or accessory that has zippered pockets and shes game. So when she recently went to The Live Stock Show and Rodeo here in Houston and found herself without a proper pocket to hold her accessories… I came up with the DIY pocket scarf. Because sometimes the back jean pocket just won't do. The pocket scarf is perfect for holding your phone, a hot / cold pack, credit cards, or even a light pair of keys! Great for keeping your necessities safe, when you don't want to carry a lot with you.
11. DIY Cord Keeper From Fabric Scraps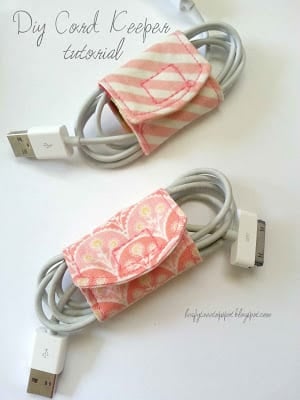 12. Wool iPad Case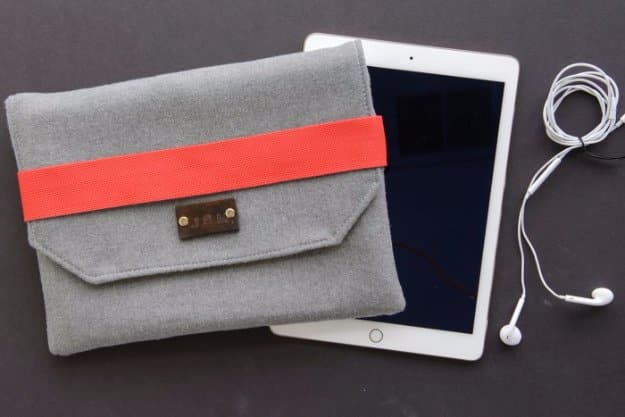 13. Simple Drawstring Tote

14. Study Pillow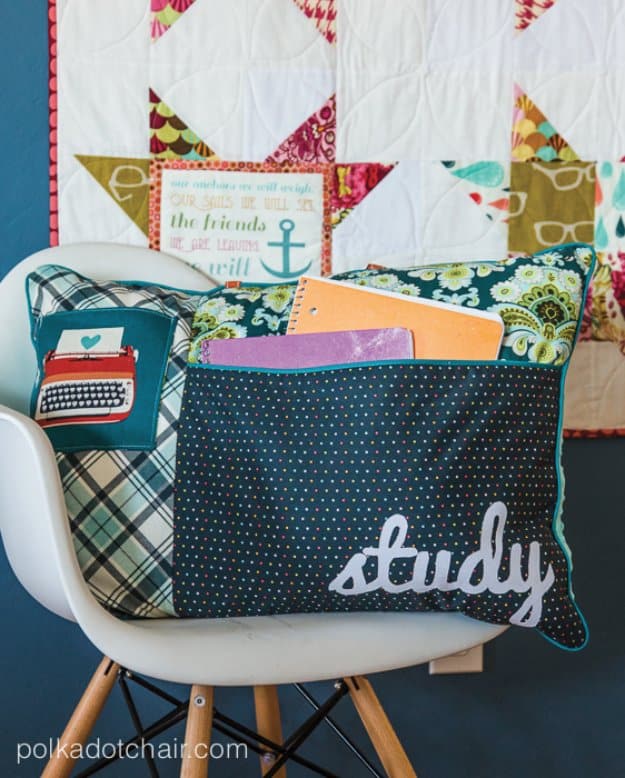 15. DIY Infinity Scarf