With Valentine's Day almost upon us, various recipes and crafts are showing up on the internet. However, you can't just pick one randomly, because you have to think of the visual of the output, the cost of the materials, and the difficulty level of it. But there are gems out there that are worth trying, especially those that repurpose old materials. This easy DIY hanging heart wall décor by NS Creative Collections is made out of recyclable cloth bags, this is also a great gift idea for loved ones.
Materials:
3 or more pieces of red cloth bags
Cardboard or hard paper
Pencil or marker
Scissors
Matching thread
Needle
Poly-fil stuffing
Glue gun and glue sticks
Directions:
Step 1
Make a 1.4-inch circle on a cardboard and cut it out, then use this as a template. Place the round template on top of the cloth bag and cut several pieces. Fold a piece in half and crease with your fingers, spread it open, then apply a line of hot glue on the center crease line. Then, fold it back and set it aside, this will be a single petal. Repeat the process with the other pieces. To create a double petal, overlap one round piece to the end of another about ¼ inch, then attach it with hot glue. Fold them in half lengthwise, then apply hot glue on the creased line, and fold it back. Repeat the process with the other portion. Do not turn all of the round pieces into petals instantly so that you can estimate and adjust what you'll need later when you're assembling the rose.
Step 2
Take a single petal, then apply a line of hot glue in the middle, and fold in half to make a small triangle-like shape, apply hot glue to the pointed area on the folded side, then fold each flap back, apply hot glue on top of those folds, then fold the flap over again. Make several pieces of this rosebud. Attach the rosebud at the center of a double petal, then fold the right flap over, as well as the left side, and secure with hot glue. Attach a single petal outside and around the rose using hot glue, repeat 3 more times or until you've reached the desired volume.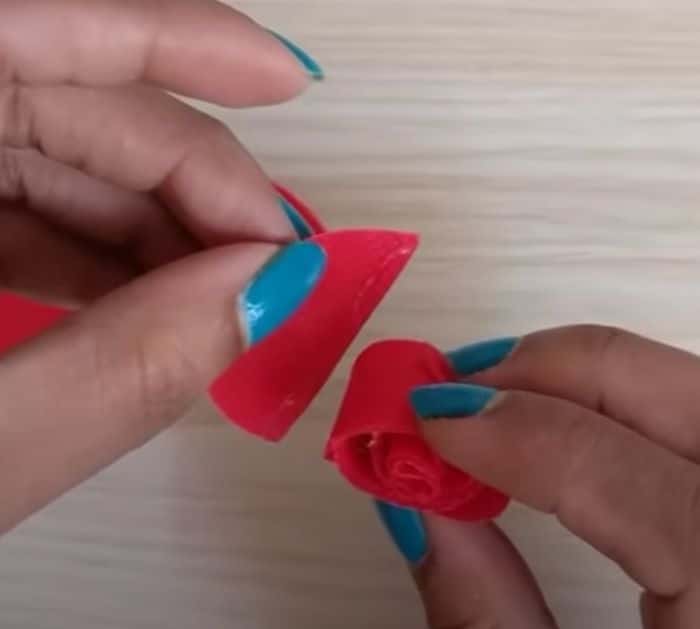 Step 3
Draw a large heart template on a cardboard and cut it out. Then, place it on top of another red cloth bag, trace around and cut out, then sew the two cloth hearts together using a thread of the same color, leave a gap, and insert with poly-fil stuffing. Poke and push the stuffing to the corners with a pencil, then stitch the gap close. Fill the stuffed heart with all the roses using hot glue, then cut a strip of a cloth bag with a size of about ½ inch wide and 6 inches long, fold it over in half, then join the ends together with hot glue. Attach this cloth loop at the back of the heart so you can hang it on the wall.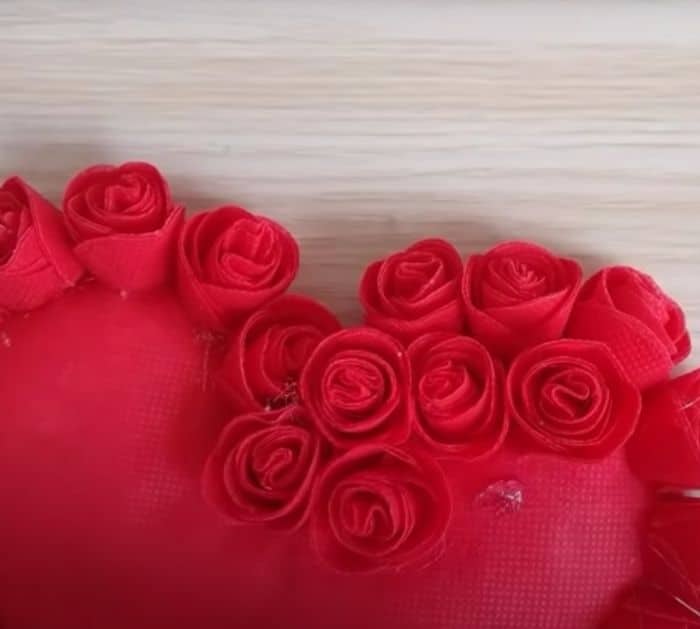 *All these images are credited to NS Creative Collections via YouTube. Give her channel a visit and subscribe for more!
DIY Roses Heart Using A Cloth Bag