Do you work from home, or maybe you just spend enough time in your home office that you might as well work from home? Well, if you find yourself in or even in need of a home office, then you need to make sure the environment is one that makes you happy and is also geared for being creative and productive. How, you might ask? Well, we definitely say DIY everything, of course. DIY office furniture pretty much speaks of creativity and often fun, so what better way to make a livable and usable workspace than to create your own furnishings? From chairs and desks to storage carts and printer stands, we have the best of the best when it comes to DIY office decor. Choose from these 34 ideas we handpicked for you, including ones that are easy, foolproof and inexpensive. No matter what kind of work you do in that home office of yours, you will find the perfect pieces here to assist you with the hard work you do. Get that workspace in shape with these DIY home office decorating ideas.
DIY Home Office Furniture Ideas
1. Office Chair Makeover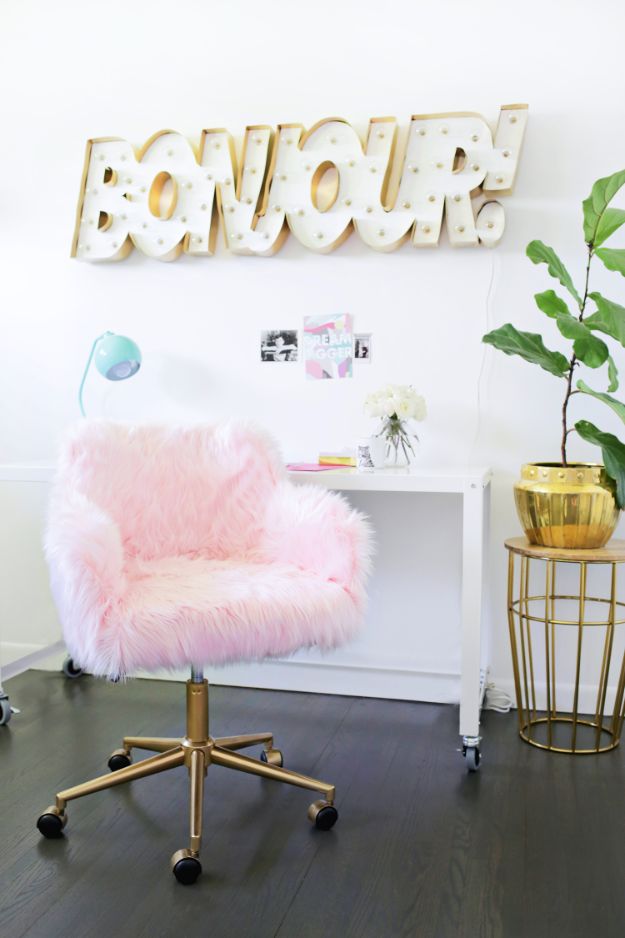 Looking for a cute idea for making a plain office chair look ridiculously cute? Look no more! This is exactly what I needed right now – cozy, fluffy and ah-mazing! Such a perfect addition to a home office. The craftsmanship is incredible you have to read along the tutorial to know what I am talking about. When it comes to DIY office furniture ideas, I saw creative is the way to go, and this chair is on my "must make next" list.
2. Make a Perpetual Block Calendar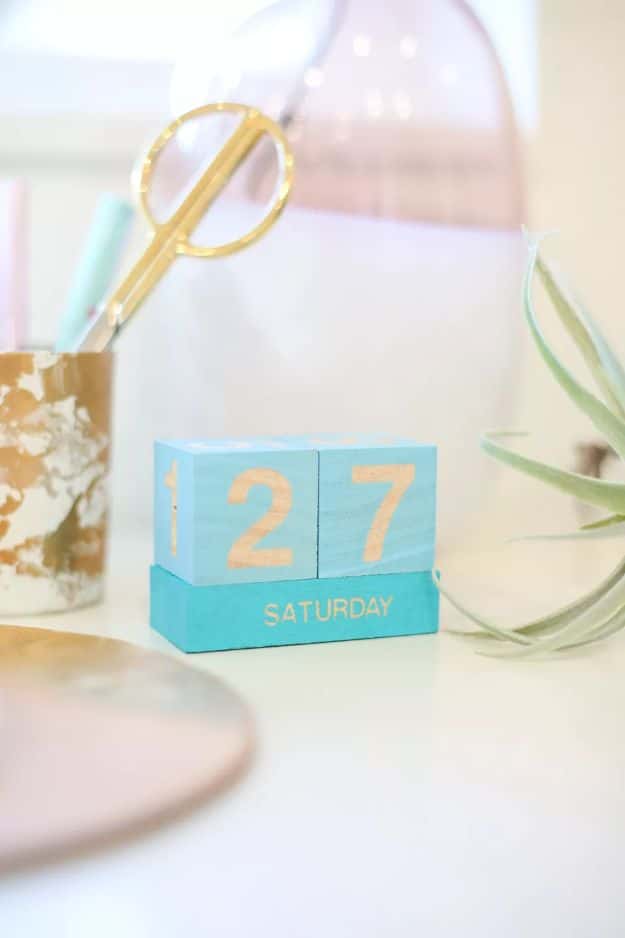 Add a fun pop of color to your desk that will keep track of the day with this beautiful Perpetual Block Calendar. You can even customize with different colors and sizes. I think it will make a great gift to give your officemates too. And one of the benefits of a perpetual calendar is that you can use it year after year. What a brilliant idea!
DIY Desk Organization Ideas
3. Magnetic Desktop Set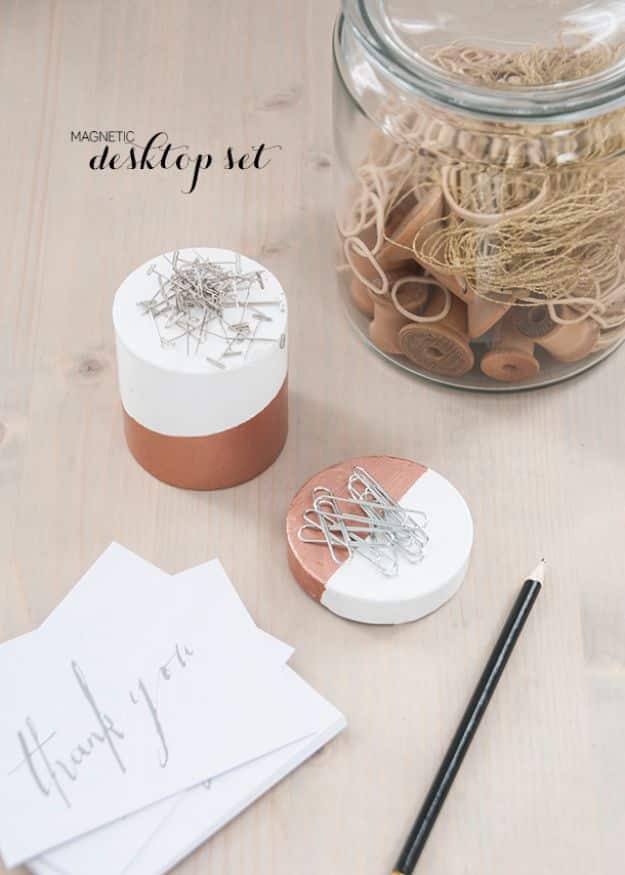 Corral your pins, clips, and tacks with this simple yet cute solution from Earnest Home Co. This is so unbelievably clever that I may just have to make some for my desk. Plus the fact that I really love anything copper looking. Love this!
4. Fun File Folders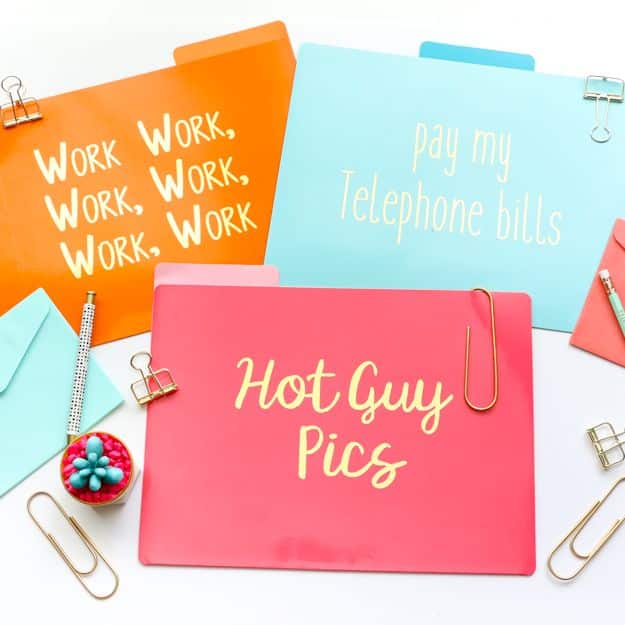 Itching to give your desk a little refresh? Craft these fun file folders to get you inspired to some work. DIY fun folders are easy to make and you can design them any way you'd like and even color code to your heart's desire. Get inspired with the complete tutorial from A Kailo Chic Life.
5. Chalk Paint Mason Jar Office Organization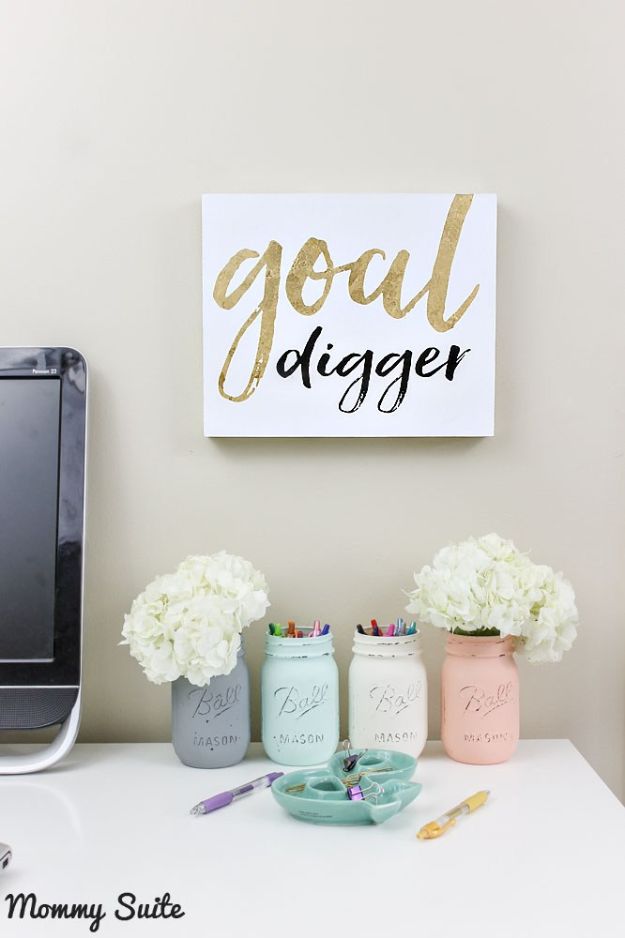 I love this gorgeous and feminine office space. Give your desk the adorable and rustic look by crafting these Chalk Paint Mason Jars. The best part is that they are super inexpensive and you'll find that perfect balance between decorative yet functional pieces.
DYI Office Furniture Projects
6. DIY Wood and White Desk Organizers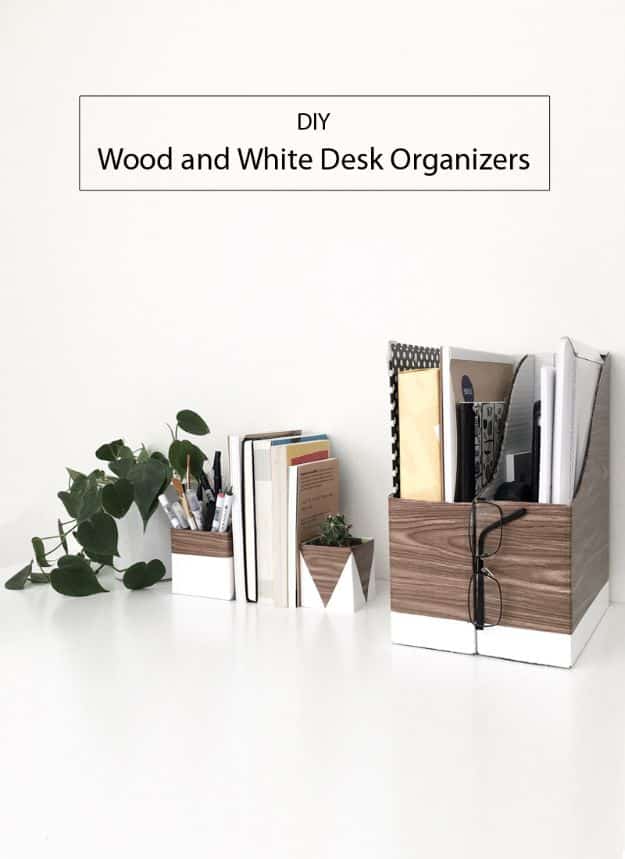 If you are the minimalist type, then this wood and white desk organizers are perfect for you. I just love how this ties up the look of this office. Simple yet chic – definitely one in the books! Putting this on my list of "to-do's" this weekend.
7. Monogram Cork Board Wall Tiles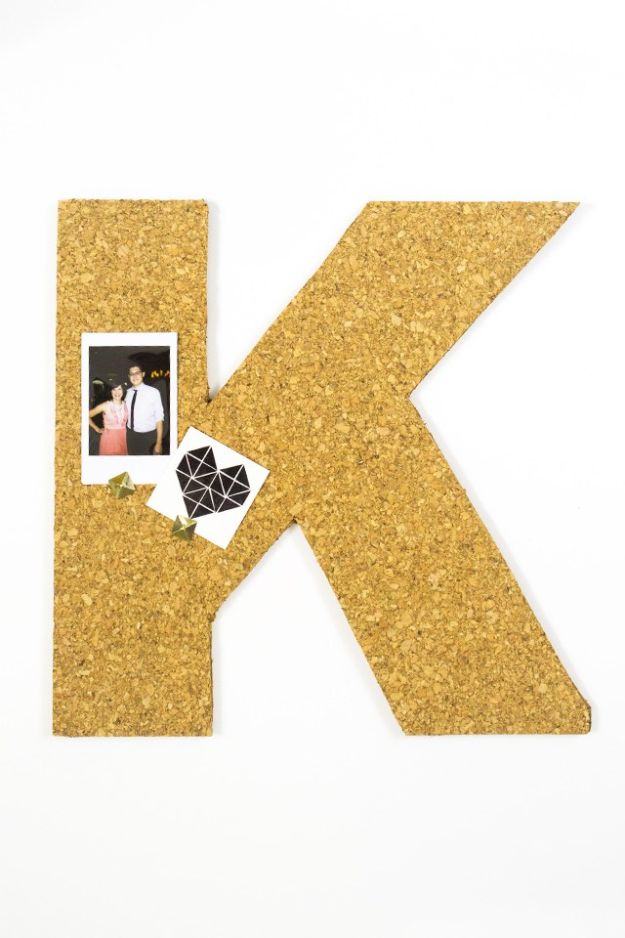 What a fun project! I'd love to hit the thrift store and DIY this right now. This monogram cork board tile is a simple, yet beautiful and creative idea to hang in your home office. Even if you are not super crafty, this is something that you can easily pull off.
8. Wooden Business Card Holder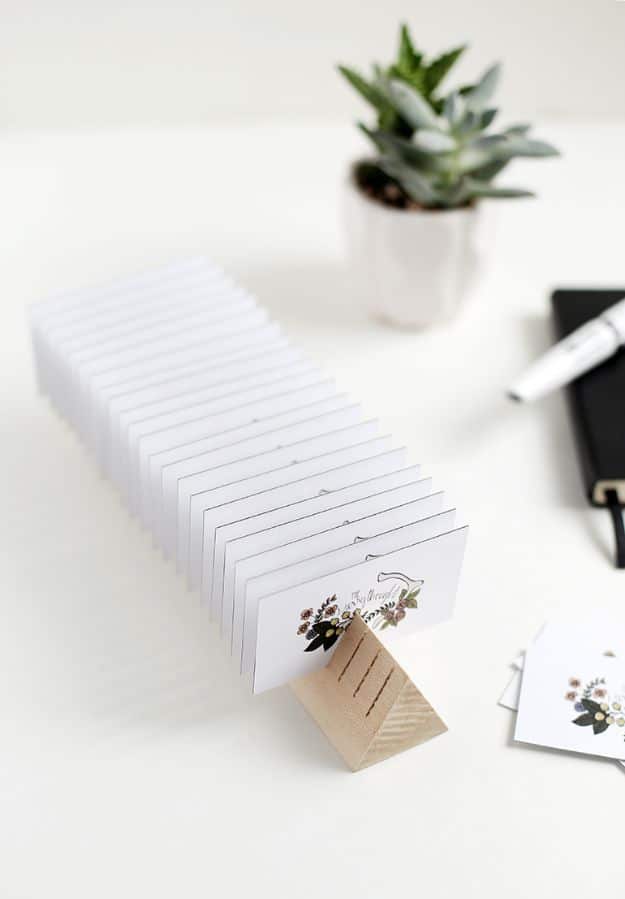 Display your business cards in this clever wooden holder. Made with just plain wood and a little creativity, this storage solution would look great in your desk. The Merry Thought has the complete list of instructions to get you started so what are you waiting for?
9. Giant Cork Board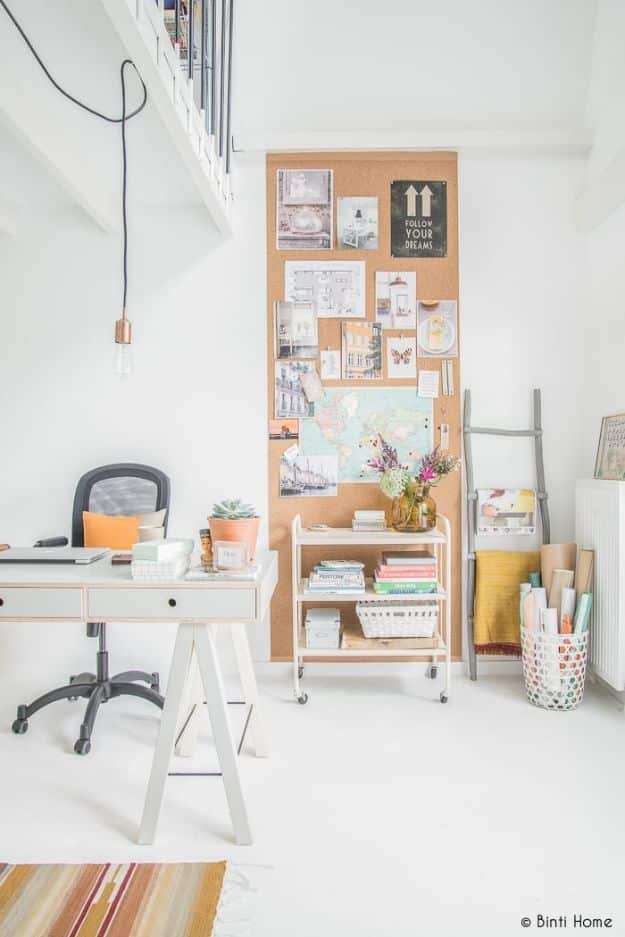 Make your office a place that is full of fun and inspiration by re-creating this giant cork board from Binti Home Blog. Never worry about lost notes since you can pin them all in this brilliant cork board. You can also create theme mood boards or simply hang up personal photos and inspiring images. You will never run out of ideas with this DIY, really.
10. DIY Desktop Dry-Erase Board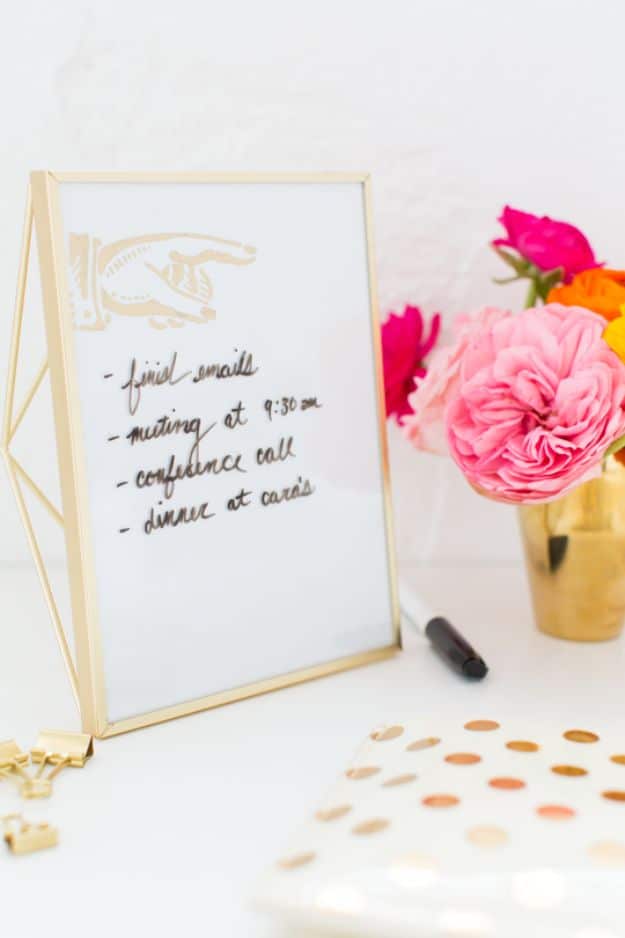 I have been really trying to be organized lately and since I stumbled upon this post from Sugar and Cloth, I have been obsessing about this DIY Desktop Dry-Erase Board. It's so easy to make and it's the perfect decor to the office. I super love the gold stencil that was incorporated in the frame. Such a fun touch! It would also make a fabulous gift to welcome new hires.
11. Pegboard and Rolling Cart For Home Office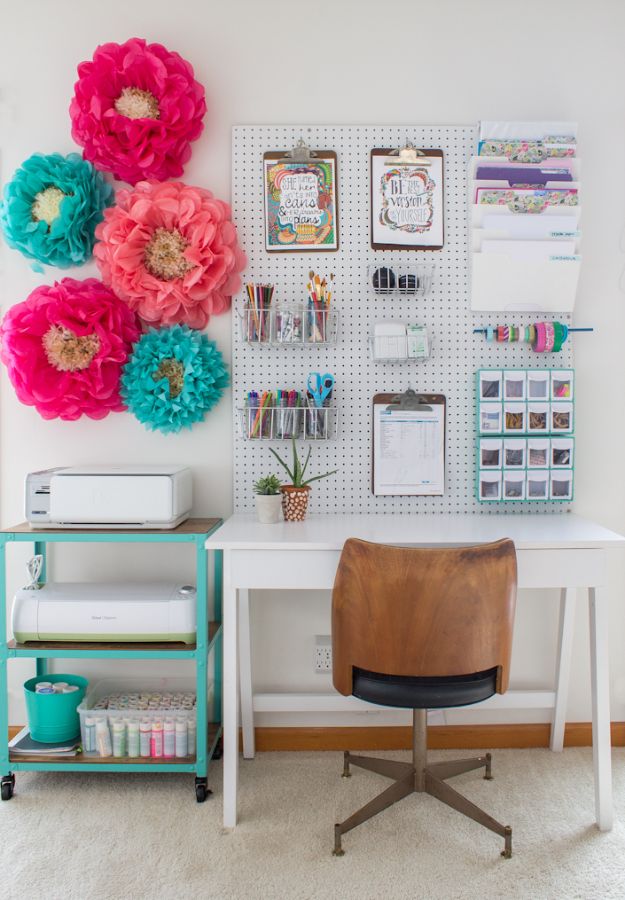 12. Drop Down Hutch Desk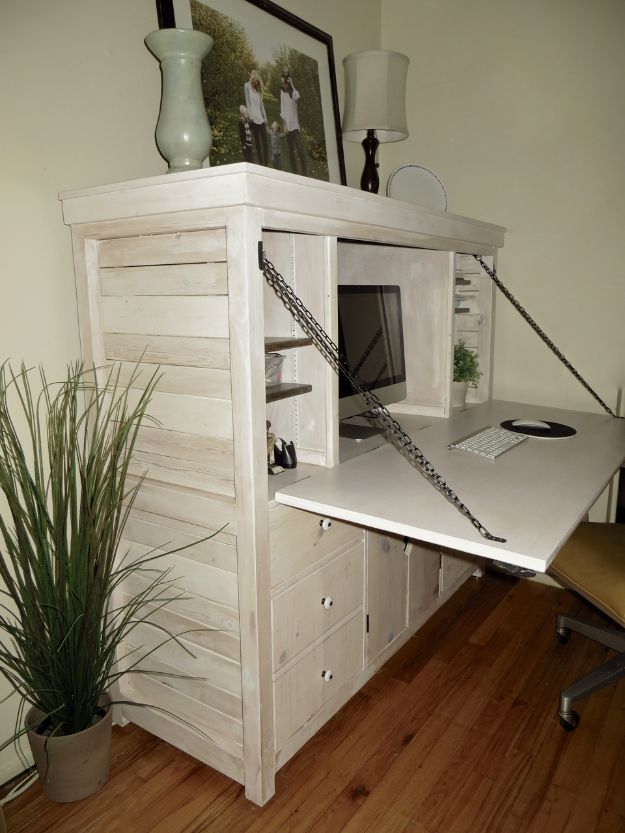 13. Office In A Chest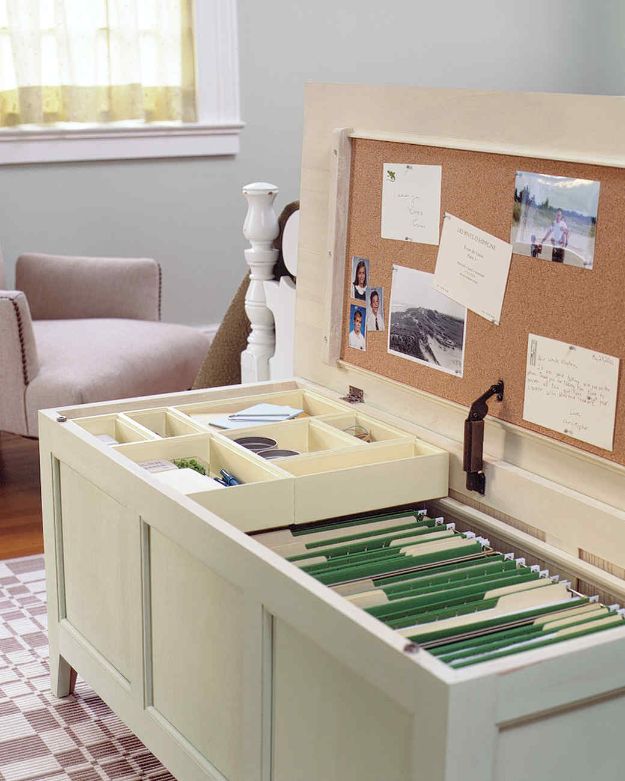 14. DIY Modern Hanging Desk Organizers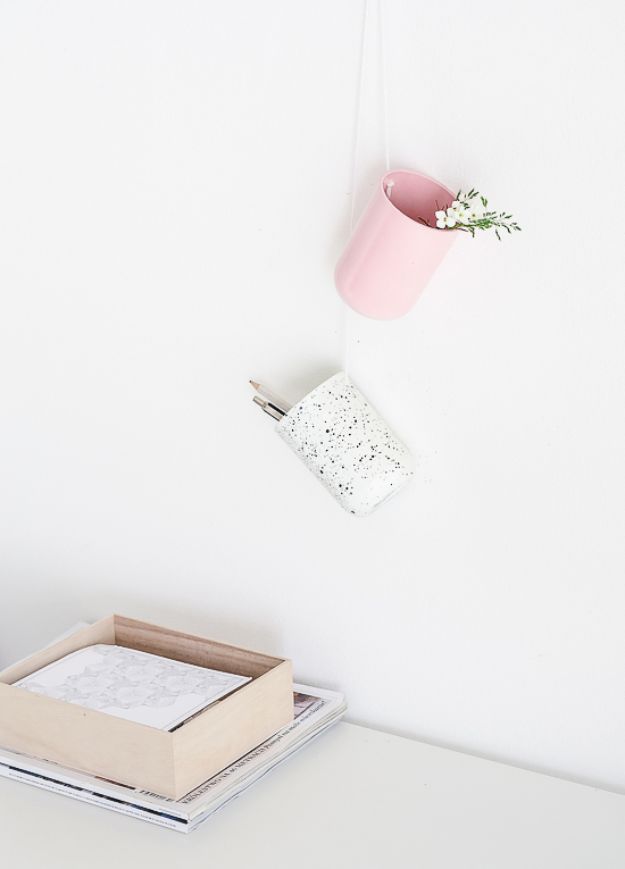 15. DIY Modern Couch That Also Doubles As A Desk