DIY Lip Scrub | Homemade Lush Lip Scrub Recipe & Tutorial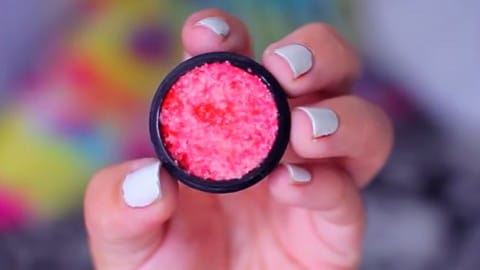 Looking for an awesome DIY beauty idea that is fun to make as well as use? My favorite thing to make right now when it comes to homemade beauty recipes is DIY lip scrub. If you have not tried any of this fabulous product yet, you are missing out.
What is lip scrub, anyway?
Basically, it is a sweet and satisfying way to sand your lips, gently removing the dead skin cells off to make your lips softer and smoother. Usually, this involves a recipe with oil and sugar, perhaps a little of your favorite flavor and coloring. Sounds simple enough, right? Well, if you walk into a Lush store and try to buy some, you might think otherwise. These cost 12 dollars and up in the US. Make your own DIY lip scrub at home instead, and it will cost you less than a dollar.
Make Homemade Lip Scrub Like Lush


If you have not yet tried DIY sugar scrub for your lips, you absolutely have to – it is surprisingly simple to make, yet it feels and smells amazing, plus nets your smooth lips. The sugar acts as an exfoliant to smooth chapped, dry lips, while also tasting great.Putting on lipstick is so easy right after you use this, no lines and dry skin. The olive oil, is a super moisturizer that helps the sugar work. Your homemade lip scrub can be flavored to your specifications, and it is so easy to make at home, you will probably want to make several flavors like I did. This recipe is for vanilla flavor but you can also buy other flavors of extract in the baking section of the grocery to make flavors like bubblegum, peppermint and chocolate.
DIY Lip Scrub Recipe
Supplies and Ingredients You Will Need:
Vanilla extract
Food coloring
Granulated sugar
Olive oil
Empty container
DIY Lush Lip Scrub Recipe – Tutorial:
Step 1
Mix ½ teaspoon of olive oil and ½ teaspoon of granulated sugar in a bowl.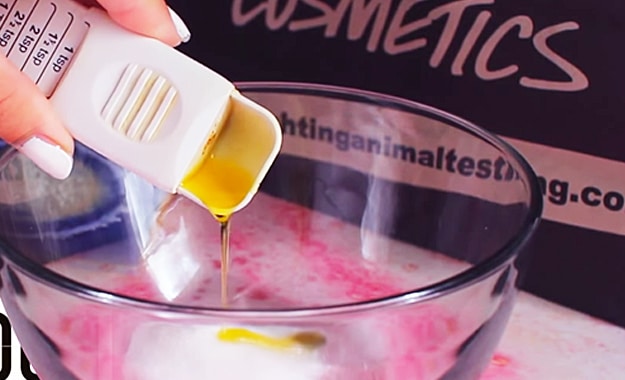 This is how to make your own homemade sugar lip scrub. Just add oil to the sugar, so simple to make.
Step 2
Add in a drop of vanilla extract and mix it with the sugar and the oil.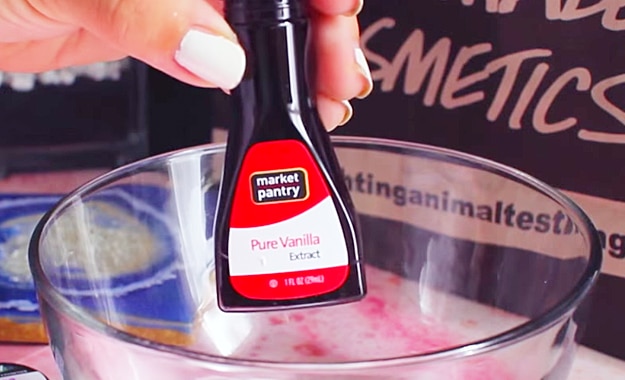 Step 3
Add 1-2 drops of food coloring into the mixture. It is recommended to stay light on the food coloring since it might temporarily stain your lips and pick a practical color (i.e. pink shade). If you want to add a little color to your lips, however, you can add a drop of red and a drop of pink. Strangely, mixing blue into this is also nice, you get a pinkish lavender, which I think is really pretty on your lips. DIY lipstain and lip smoother in one!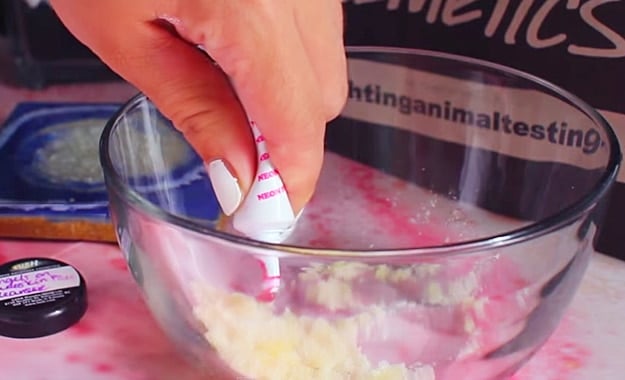 Step 4
Put the lip balm scrub mixture into the container.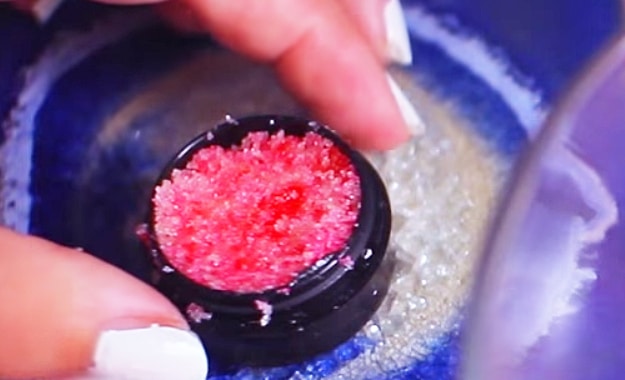 And your DIY Lush Lip Scrub is done! So cute and fabulous, you can give these cool little jars as DIY gifts, but be sure to keep one for yourself! When I was looking for DIY Christmas presents for my friends last year, this was my go to item. Oh, did they love it. Appears I may be making more lip scrub to give out this holiday season.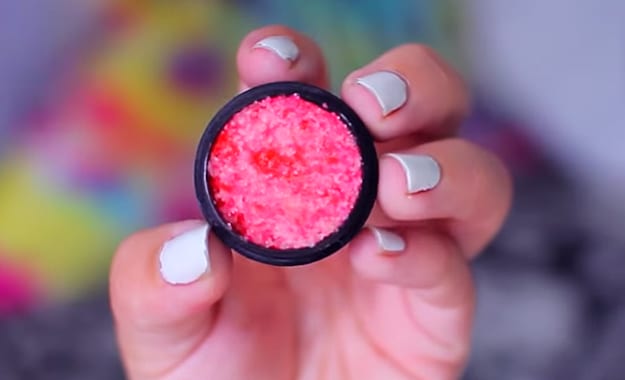 Don't Miss Out! Sign up for the Latest Updates