If you're looking for a project to recycle your old tire, try turning it into this DIY light-up table from Leira can do it! on Youtube. This recycling project is one of my favorite DIY to date, and until now, I still use my own version of this project. This project may look complicated, but it's actually pretty easy. All you need is to gather all your materials first, so it's easier for you when you start. Then, make it your own by adding some personal touches. (I put some flowers inside to make it more appealing.) The options are limitless, and you can go simple or wild with your design. Try making one today by watching the video tutorial below for the step by step instructions.
Materials:
old tire
wood
market
tape measure
electric saw
drill
screws
spray paint, in black
strip light
hot glue gun
table stand
glass, for the tabletop
frosted glass spray
Directions:
Step 1
To start, wash your tire thoroughly and let it dry. Next, cut the wood according to the inner circumference of your tire, then place it in one of the holes to cover it. Once placed, drill a hole on four opposing corners across the wood, then put a screw on each hole to secure the wood in place. Next, spray paint the whole thing in black and let it dry completely.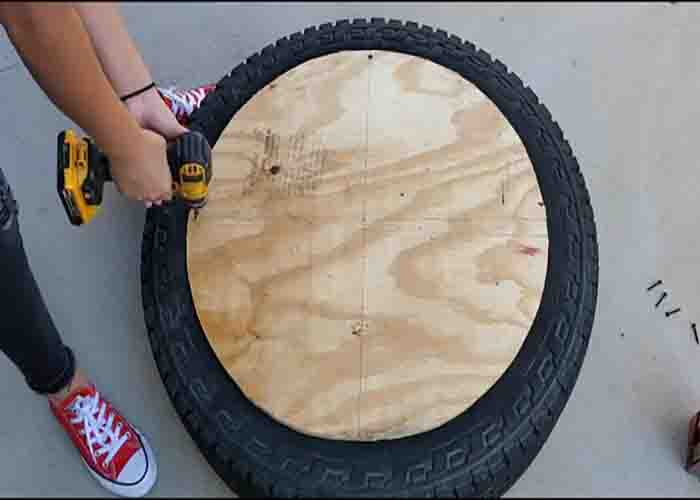 Step 2
After it dries, attach the strip light along the inner edges of the tire, securing it in place with hot glue. Once done, drill a hole in the bottom to let the strip light go through. Now, put the tire on your chosen table stand, and screw it in place. For the tabletop, spray some frosted glass all over the glass, then place it on top. Your DIY light-up table is now finished!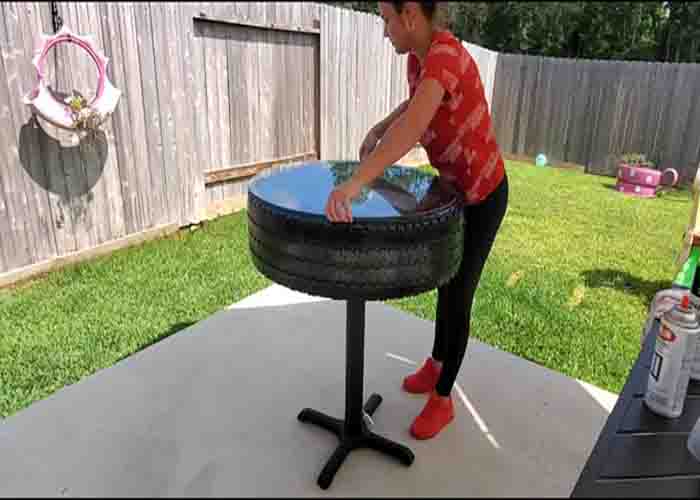 DIY Light-Up Table Made From An Old Tire