Looking for some easy ways to decorate and update your home? If you have not tried making things with tension rods, you have to see these cool and easy DIY ideas. Crafty and practical, too! From adding extra space in a cabinet or drawer to helping organize some items in unexpected places, tension rods work well when nothing else may. Just looking at these ideas is inspiring to start getting more organized at home. How much fun to be able to use something so simple to solve storage issues.
DIY Tension Rod Hacks
1. Window Herb Garden Ikea Hack With Tension Rods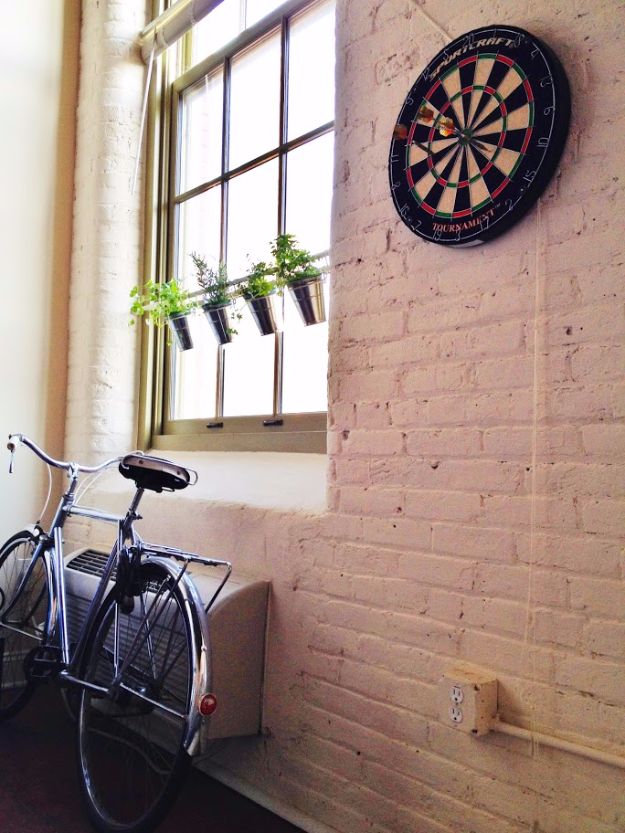 IKEA Hack idea here. Use a tension rod and some S hooks to create a window herb garden in any window frame. For this hack, you won't even need a drill. Get the full how-to from Jillm.
2. Organize Cleaning Supplies Under The Sink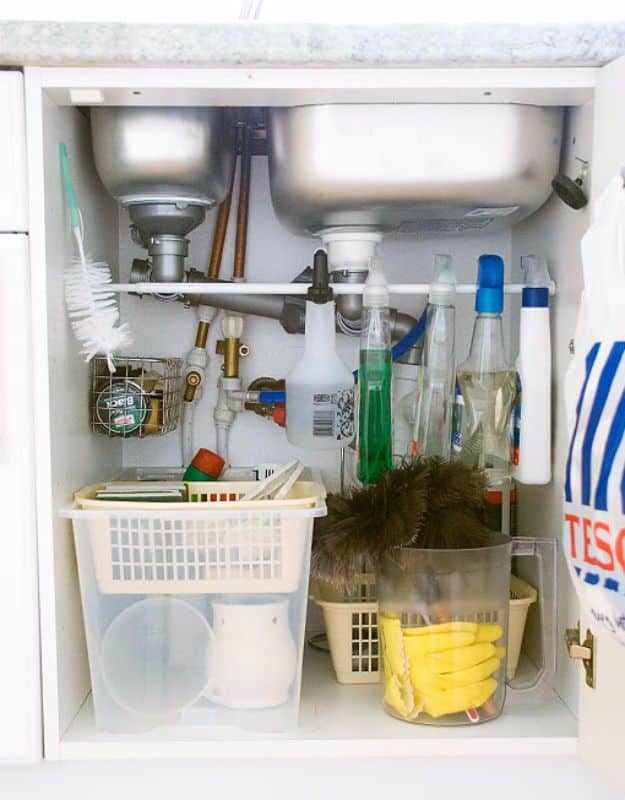 Who knew that just by simply adding a simple tension rod under the sink can practically solve the mess? It shouldn't be hard to stay organized if the system makes sense and meets your needs correctly. And I must these tension rods are perfect for the job.
3. Tension Rods Inside A Cabinet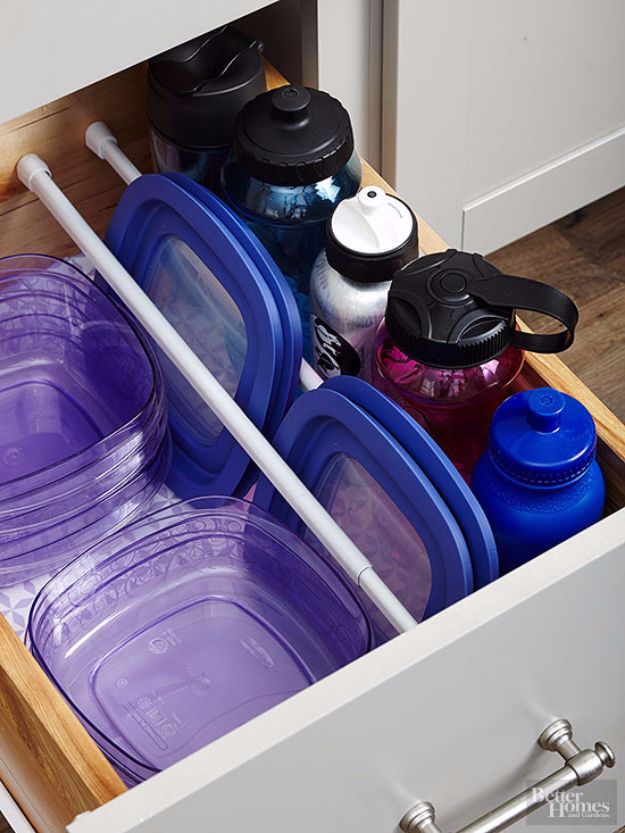 Keep plastic food-container lids, baking sheets, or serving trays upright and organized with a simple solution that is the tension rod inside the cabinet. It's quite the nifty solution to all that cabinet mess of an organization.
4. Small Bathroom Jewelry Storage With Tension Rods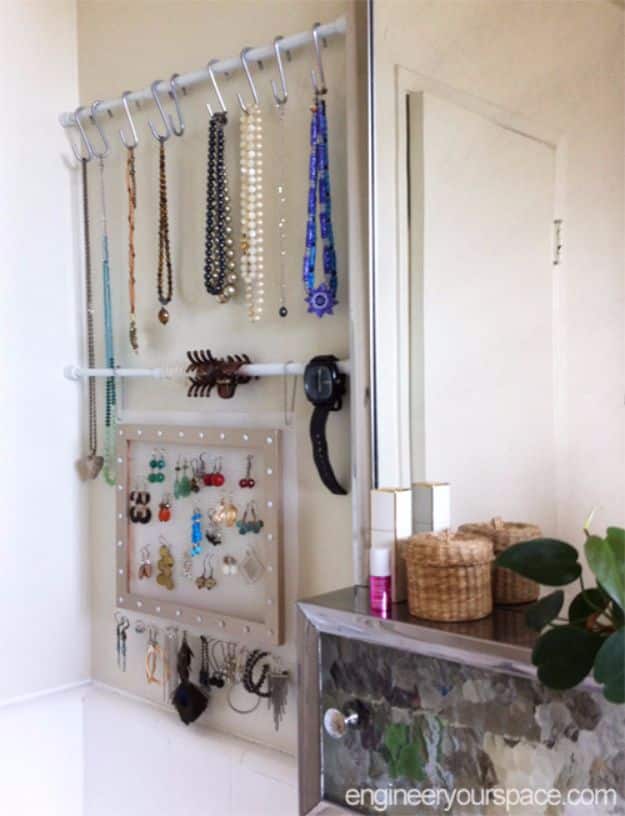 Keep those tension rods for good use not just in the kitchen but also to organize your jewelry. All you have to do is to install them with the S hooks and you can hang your favorite necklaces and bracelets from the top rod.
5. Stack Kitchenware Vertically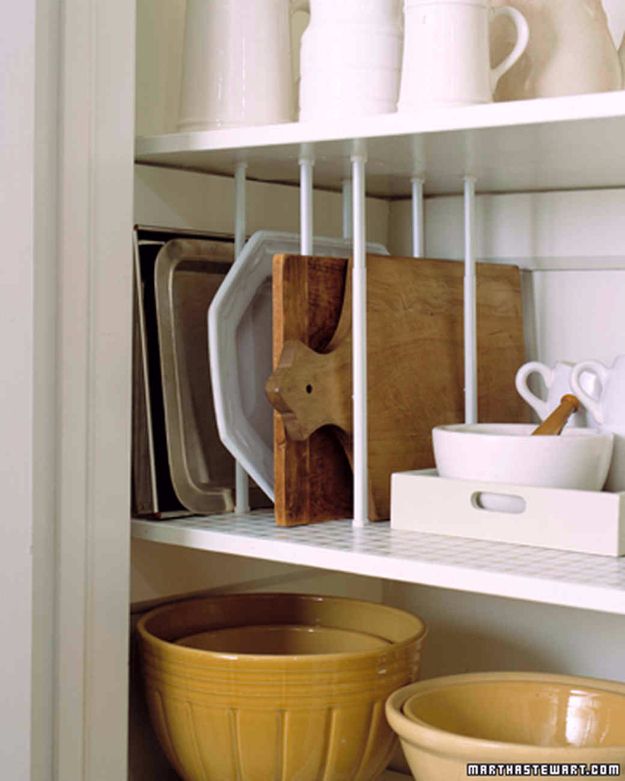 Stack kitchenware and cutting boards vertically with the use of the ever-helpful tension rods. Look at how neatly the kitchenware is stacked up. This is something that I really need right now in my kitchen since mine is looking like a mess.
6. Resolve Your Shoe Problem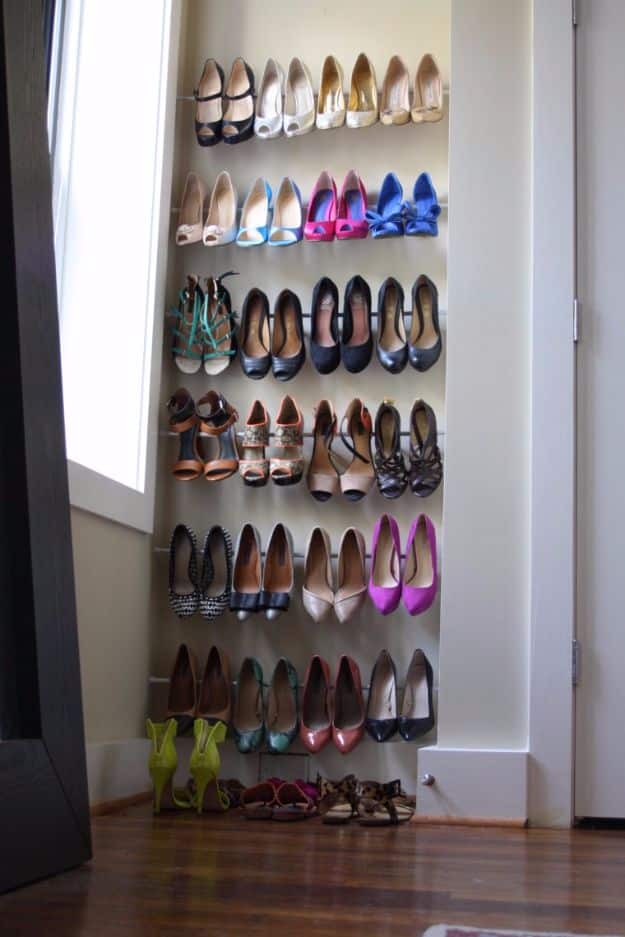 If you're having a bit of a shoe-problem, that is how to store them in an apartment with very little closet space, you need to check out this simple tension rod solution from A Loyal Love. The whole piece took about 30 minutes to install. Impressive, right?
7. Store Baby Clothes Using Tension Rods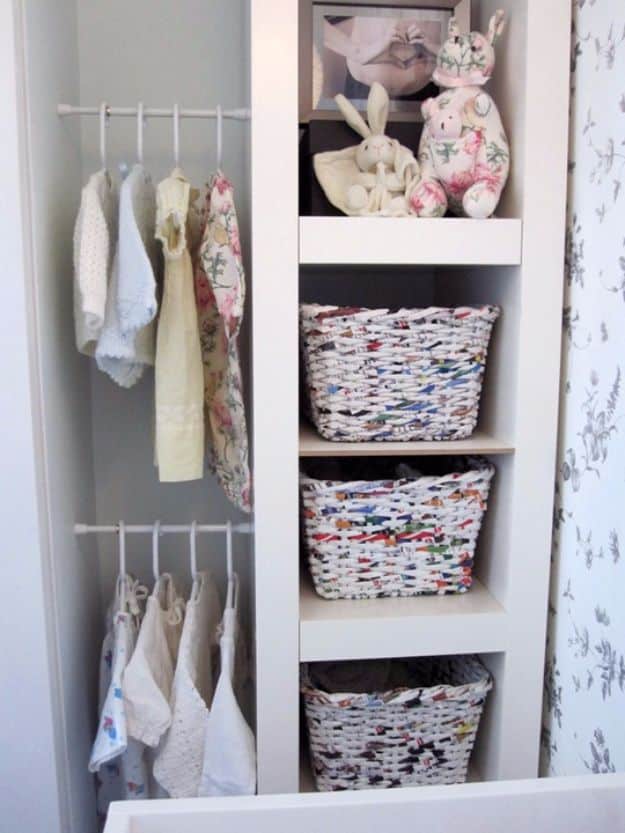 This is another great tip from Apartment Therapy. Organizing baby clothes by using tension rods is such a simple and clever idea to organize your little one's wardrobe.
8. Ribbon Organizer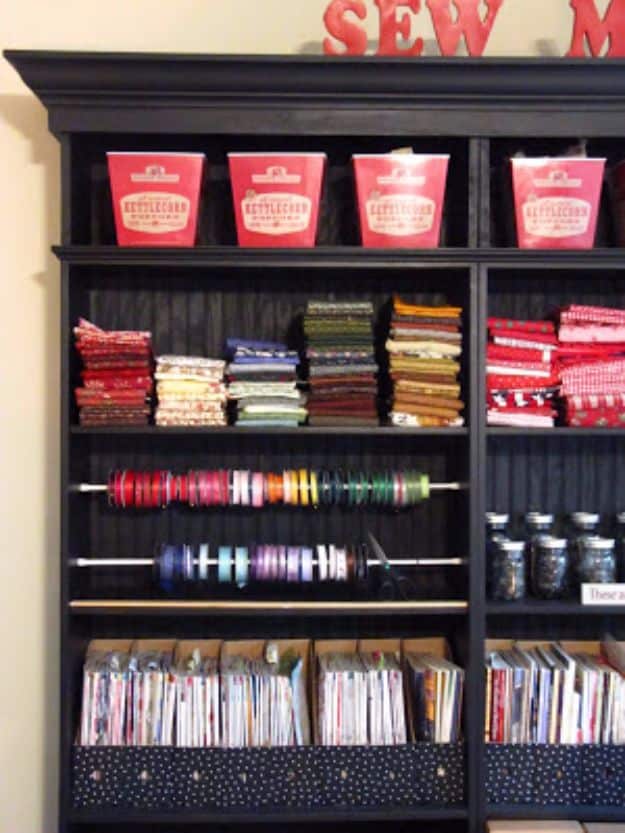 This is such a creative and ingenious idea to use tension rods in storing ribbons. I am totally organizing my ribbons this weekend. I ran across a couple of tension rods in the garage a few weeks ago. Who knew they would end up in my craft room.
9. Cheap Bath Toys Organizer

Transform bathroom organization with a few cheap plastic bins from the Dollar Tree and a shower curtain rod. Ain't it a genius idea? To top it off, this entire project literally took me less than five minutes so head on over to Cleverly Simple to learn the full details.
10. Easy Bookcase Shades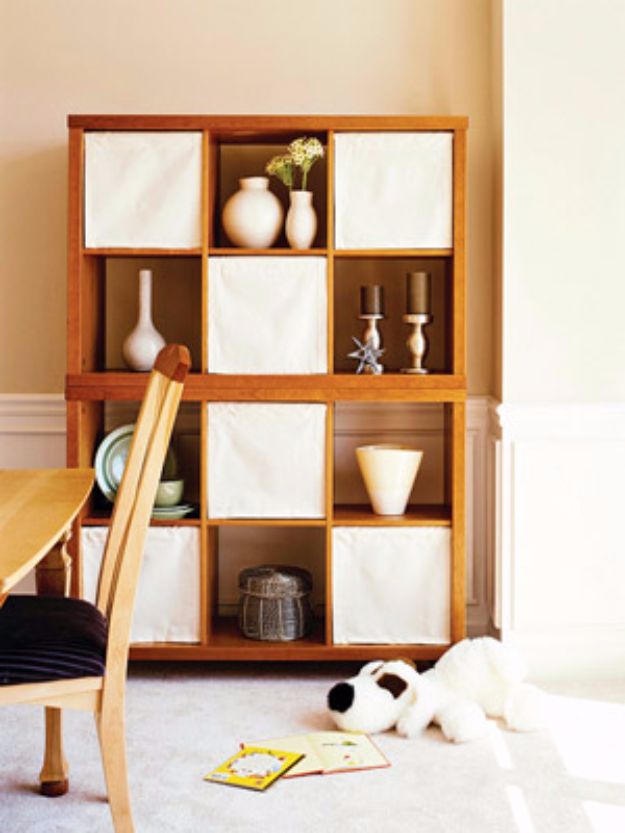 To get this look, first decide where you want the canvas cover on the shelves. Then for each shade, cut the canvas to the length and width of the space you wish to cover, leaving room for hems along three sides and a 1-inch rod pocket at the top. Another great tension rod DIY!
11. Remove Clutter Under The Sink

12. Clever Vertical Produce Storage

13. Window Awning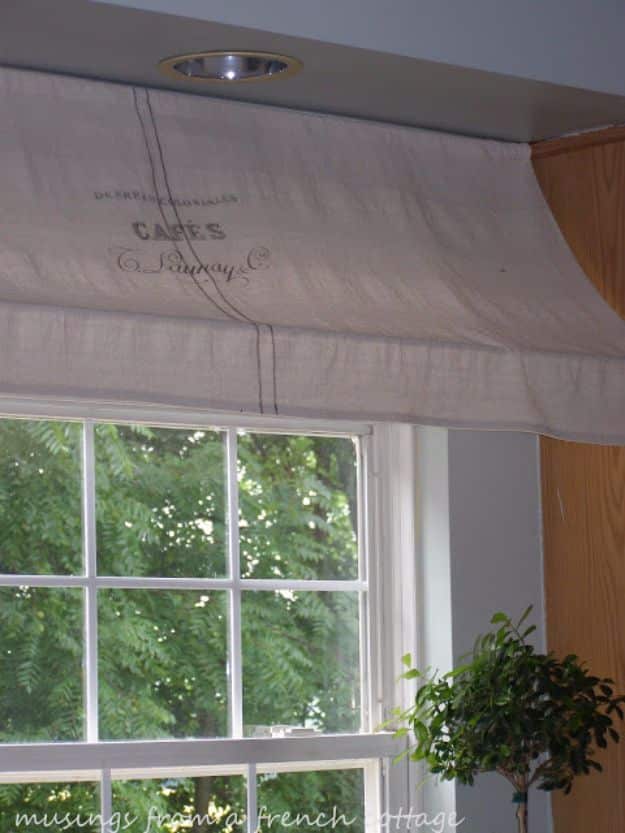 14. Instant File Storage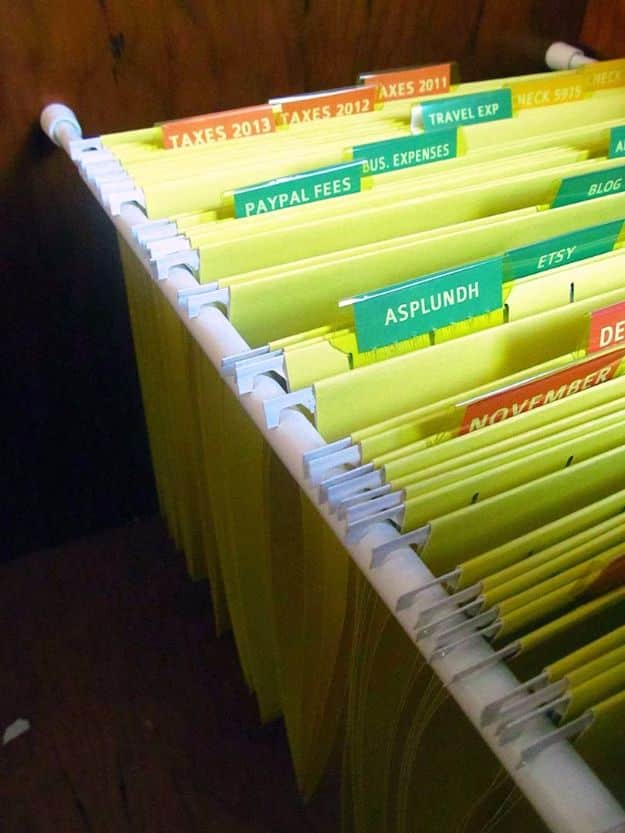 15. DIY Cafe Curtain Rod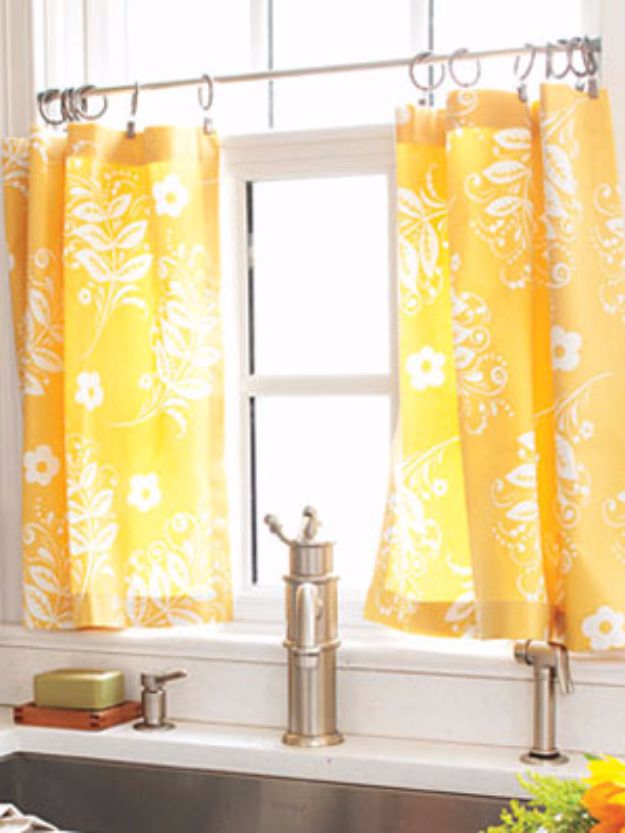 16. Organize Crafting Materials

17. Add A Sink Skirt Using Tension Rod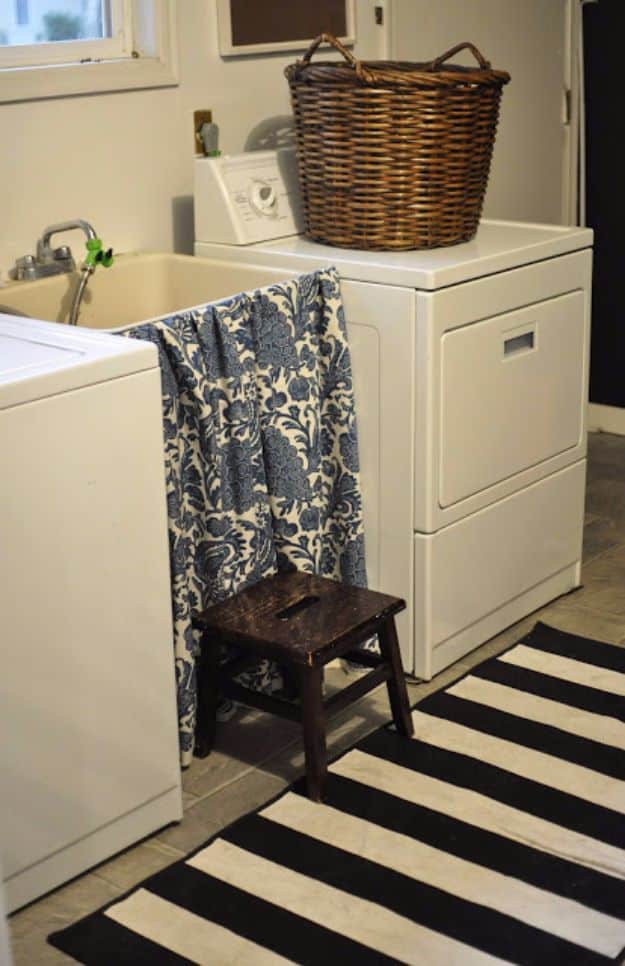 18. DIY Curtain Door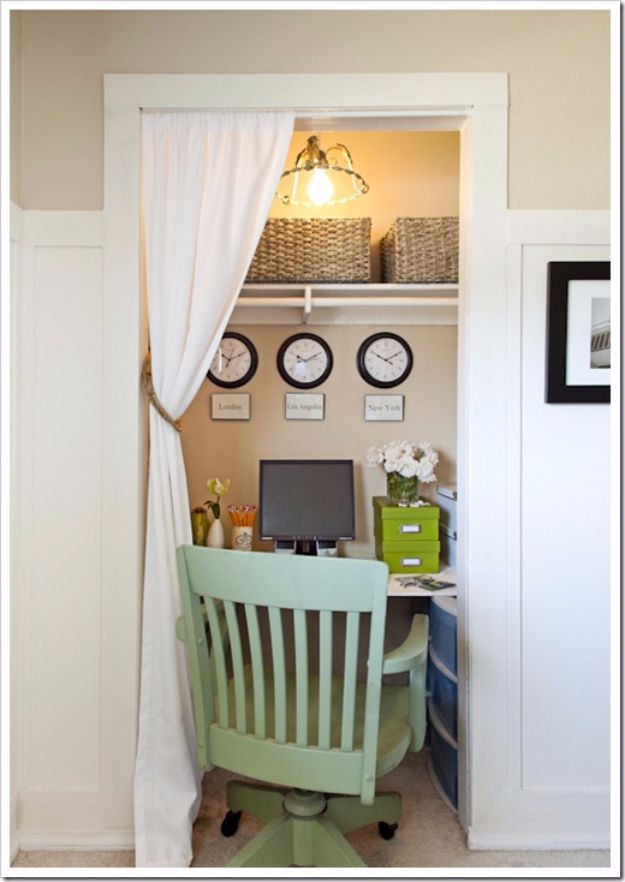 19. No Sew Bottom Bunk Fort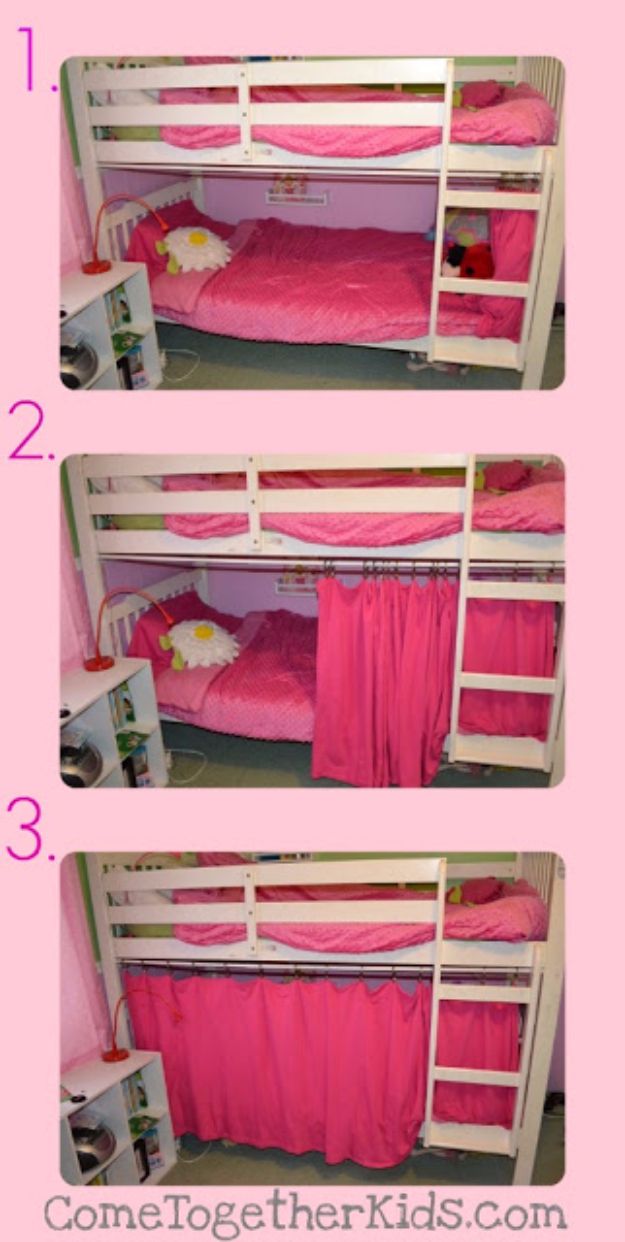 20. Scarf Rack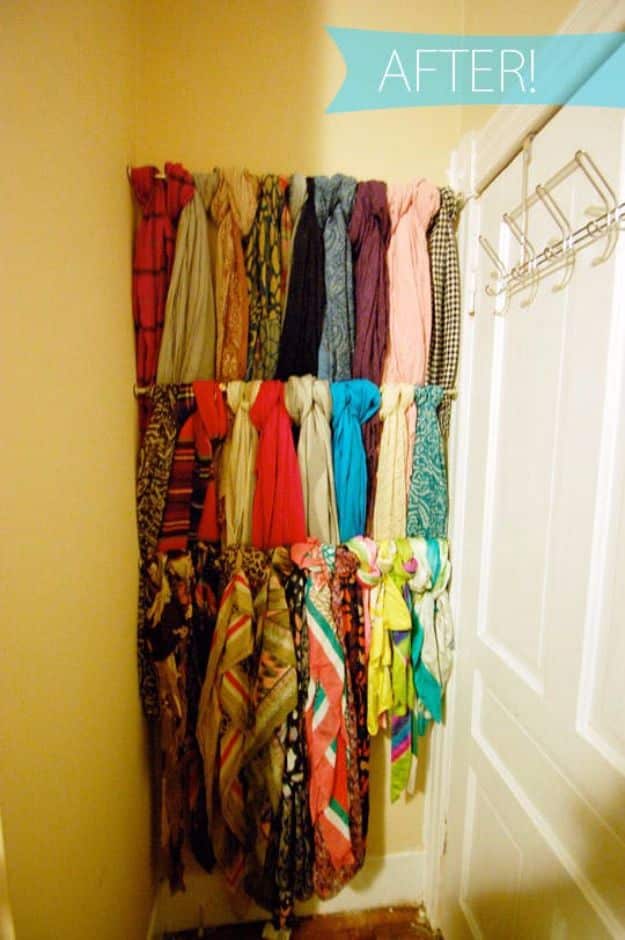 21. Clever Office Organizer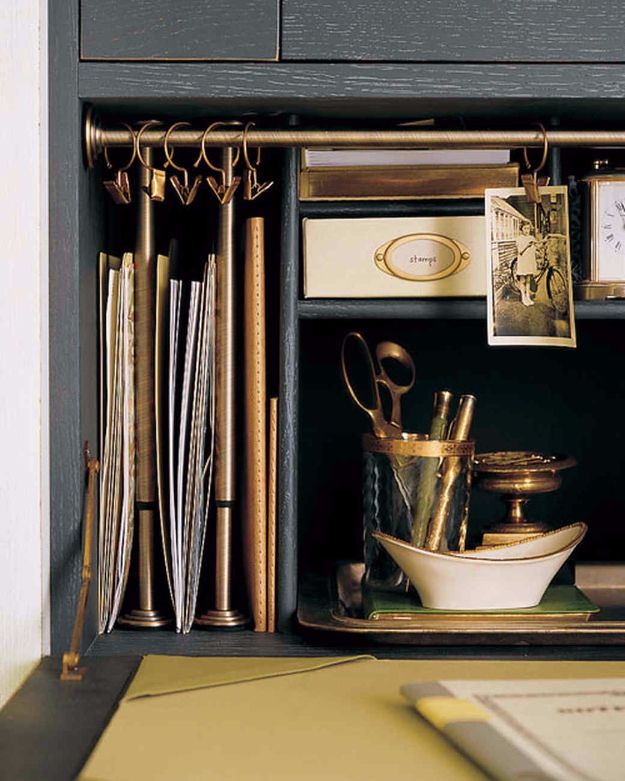 22. Add A Table Skirt With Tension Rods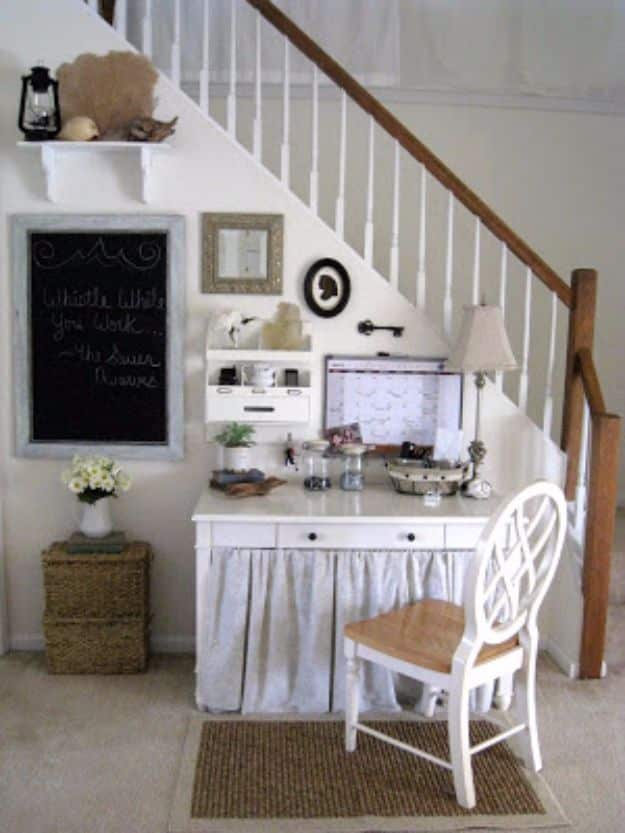 23. Creative Paper Towel Storage

24. Gift Wrap Organization & Storage

25. Hide Litter Box With Curtains And Tension Rods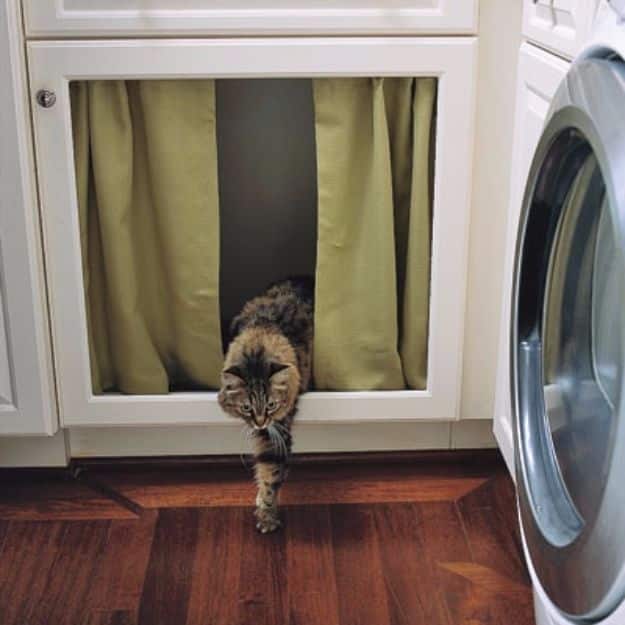 26. No Sew Faux Roman Shades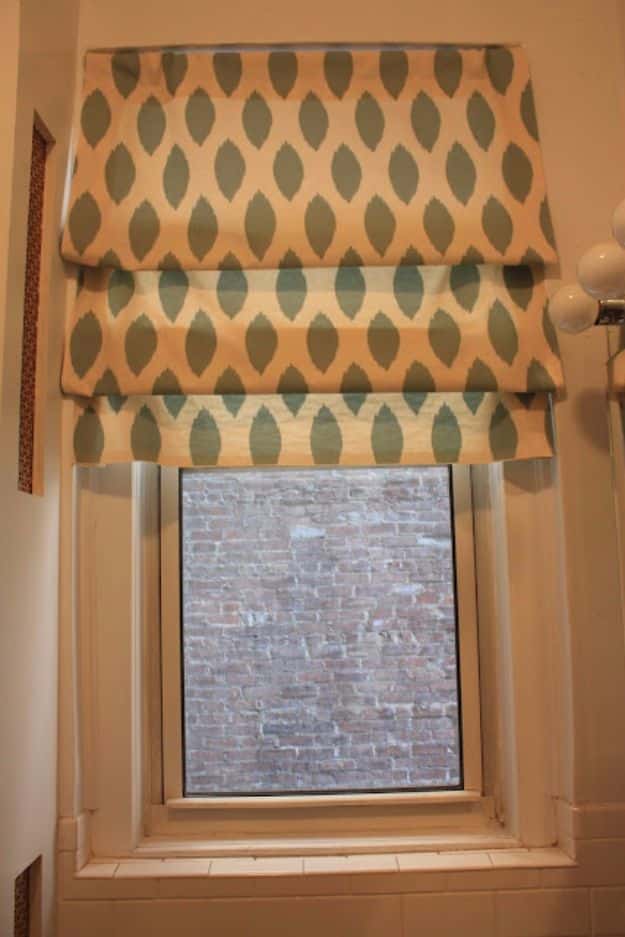 27. Skirted Bed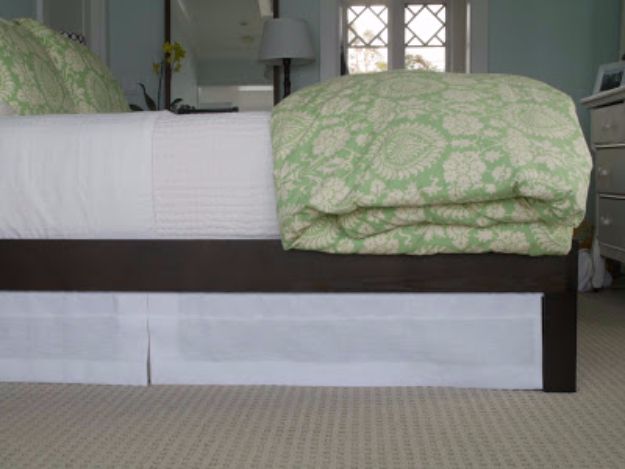 28. Spice Drawer Divider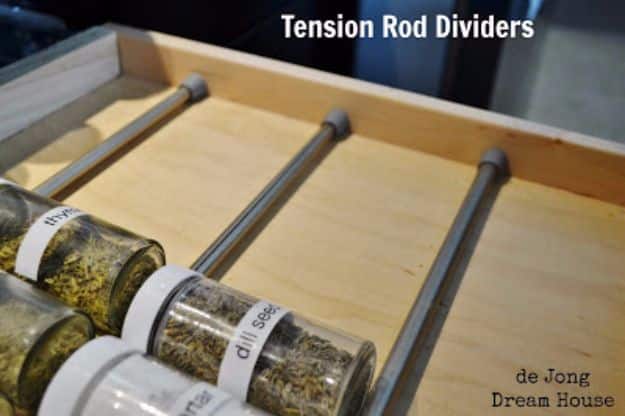 29. Lids Organizer
30. Playroom Stage Curtain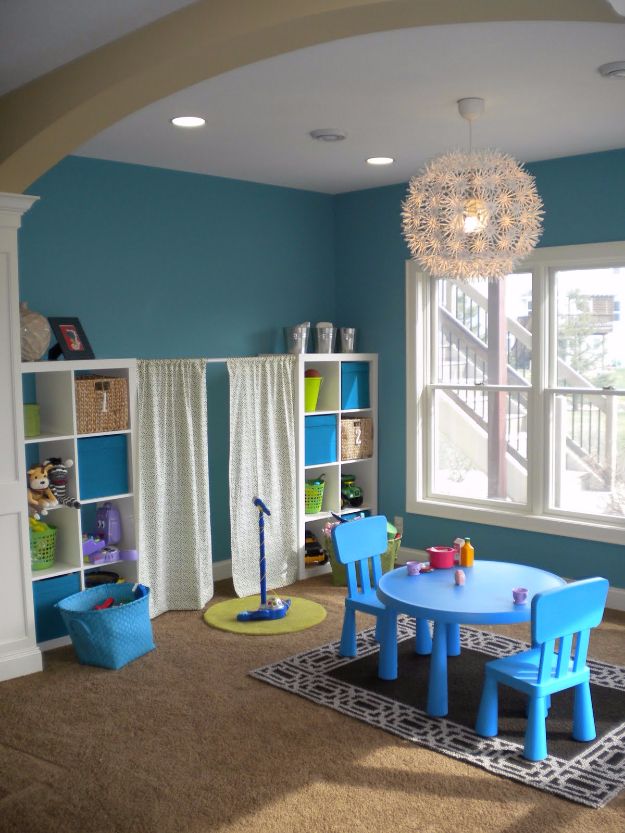 31. Organize Lids Of Pots And Pans