Looking for some cool, new DIY inspiration? We have recently just fallen in love with rose petals, and think that your next project should include them. Last Mother's Day, I went looking for something specifically made with rose petals, since I thought my Mom would love such a thing (she has grown roses since I was a child) I was super surprised to see all the things my favorite DIY bloggers had come up with when it comes to using rose petals. These tutorials will show you how to make some of my favorite new ideas for homemade gifts, room decor and cute wall art, plus some amazingly fragrant bath and beauty products. Check out the easy step by step tutorials to learn how. Make some of these amazing ideas today!
DIY Crafts With Roses
1. DIY Pressed Rose Petal Tray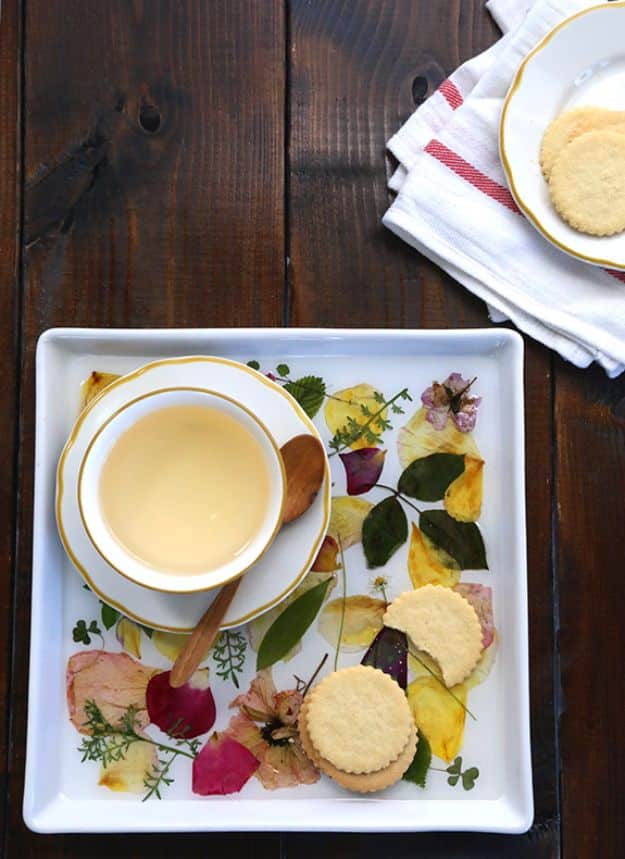 Roses is the most loved flower because of it beauty and elegance, here's another way you can enjoy its beauty. Make your own Pressed Rose Petal Tray and enjoy having coffee in the morning or tea in the afternoon with this beautiful rose tray. Check out how you can easily do it on this step-by-step tutorial from Say Yes. You can also do tis DIY on beautiful fall leaves.
2. Vanilla Rose Petal Bath Salts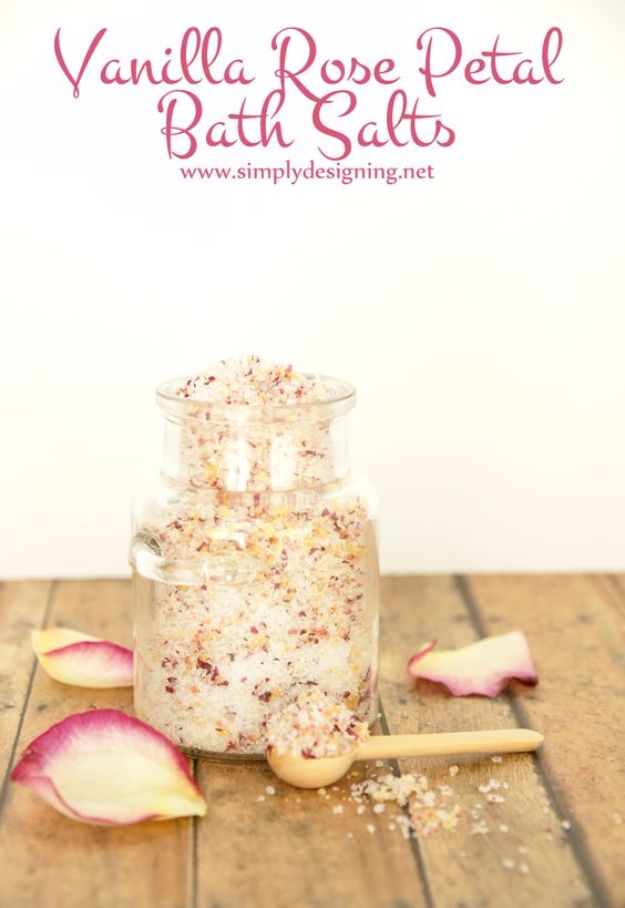 If you love taking a bath, you will definitely love this vanilla rose petal bath salt. We all know that baths is a lot better with salt. Don't you just love the way the salt runs through your body? Because I do. Check out how easily you can make your own Vanilla Rose Petal Bath Salt from this tutorial from Simply Designing. All you need is Epsom Salt, Rose Petals and Vanilla Fragrance Oil.
3. DIY Bridal Shower Decor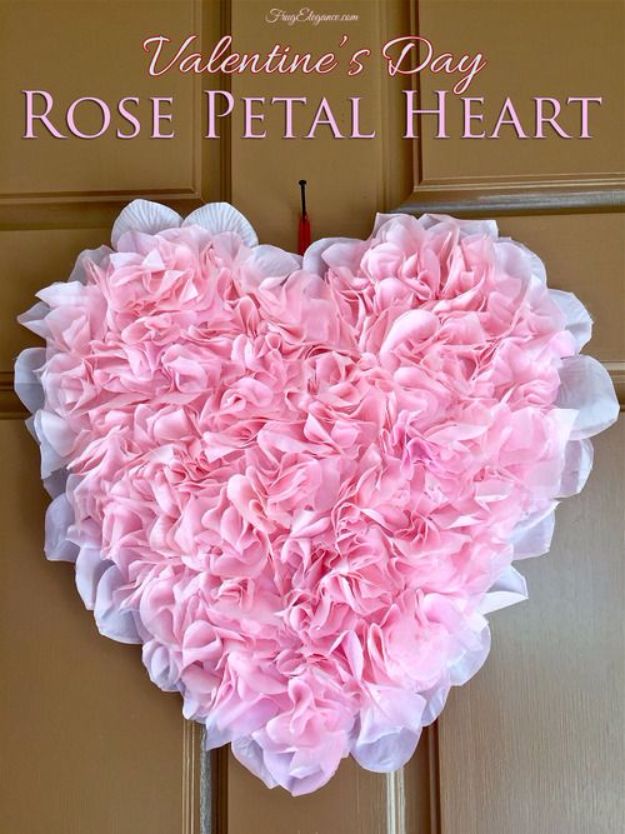 In this Blog from Frug Elegance you will get a lot of ideas especially if your best friend's wedding is coming up and you are trying to plan an amazing bridal shower for her. There are a lot of bridal shower ideas that they have there for you like table decorations, cupcakes, banners and few more. Check out their blog and get a few more ideas. You can use these ideas not only on bridal showers but also other occasions.
4. Homemade Rose Sugar Scrub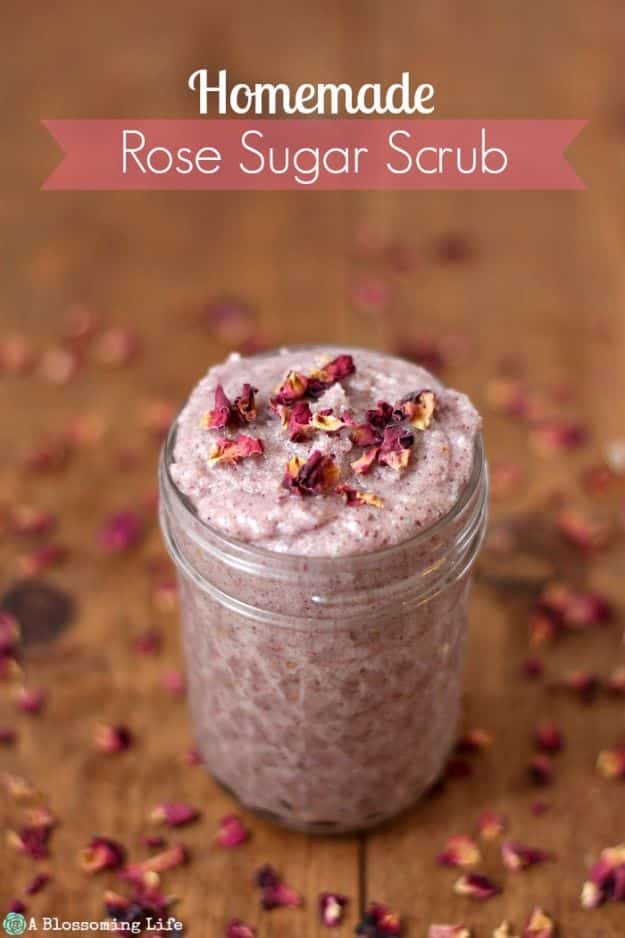 Create something to pamper yourself this Valentine's day, this homemade rose sugar scrub just might do the trick. Enjoy your daily shower with this amazing Homemade Rose Sugar Scrub to make you feel all fresh. It's really easy to make. All you need is Coconut oil, Sugar, Vitamin E oil and dried Rose petals. Check out how you can make it from this step-by-step tutorial from A Blossoming Life.
5. Rose Water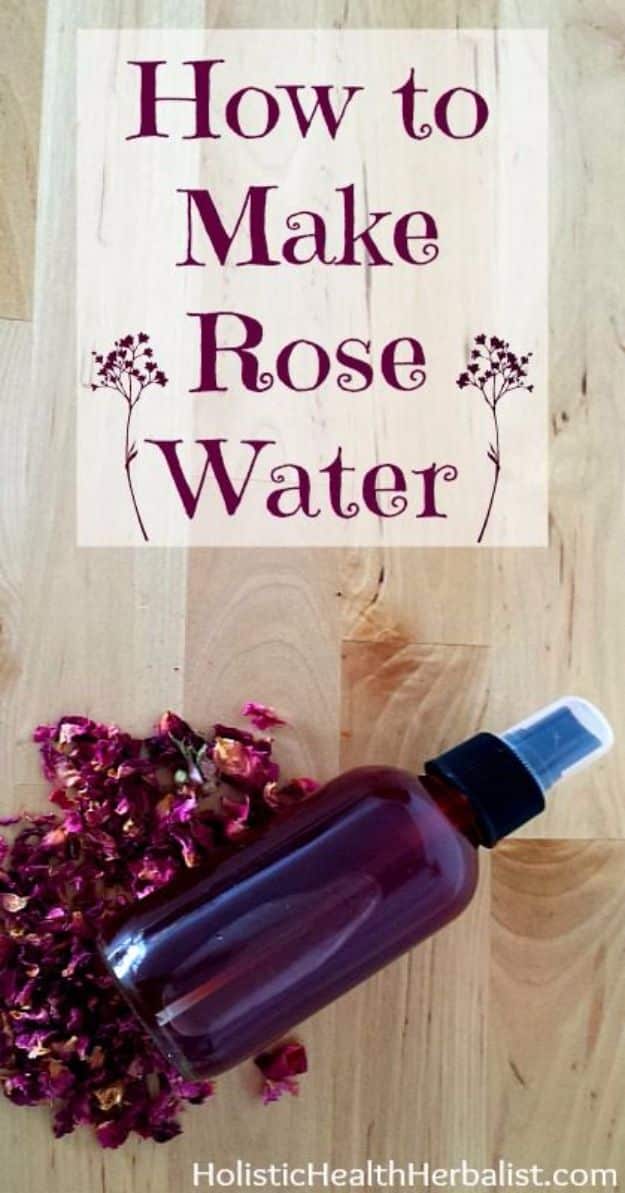 There are plenty of uses for rose water, you can use it as moisturizer to keep your face moist and it also works on skin. It is also very helpful for acne outbreak, smoothing fine lines and wrinkles, and a lot more. Check out how you can easily make your very own Rose Water and all the things you can use it for from this tutorial from Holistic Health Herbalist. You will also find a list of all the ingredients you will be needing in the process.
6. DIY Rose Petal Luminary

If you want to help mother earth and don't want to throw away those disposable plastic spoon you used at your latest party. Here's a do it yourself that you will definitely enjoy making. It's really easy to make and it would make such a beautiful addition to your home decoration and it would definitely brighten your home. Here's a step-by-step tutorial from Purple Hues and Me on how to make your own Rose Petal Luminary.
7. DIY Rose And Milk Bath Bomb

Don't you just love bath bombs? The way it starts to bubble up in the tub when you put it into the water. It's so amazing to look at and they come in different shapes and sizes to. But instead of buying one and spending money did you know that you can actually make one using mostly ingredients that you already have at home? Check out how you can make your own Rose and Milk Bath Bomb from A Pumpkin and a Princess.
8. Ring-o-Roses Fresh Rose Petal Wreath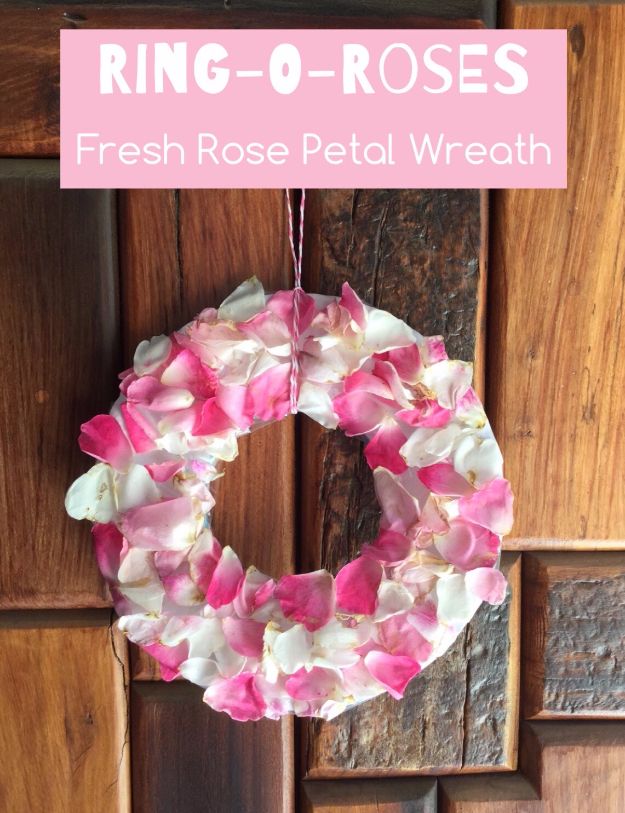 If you just can't get enough of roses, here's another amazing do it yourself that you can make to add another rose decoration to your home. Make your own Ring-O-Rose Fresh Rose Petal Wreath and hang it over your front door of why not make as many as you want and hang it on every door in your house. Here's How you can make one on this step-by-step tutorial from Teach Me Mommy.
9. Rose Petal Vinegar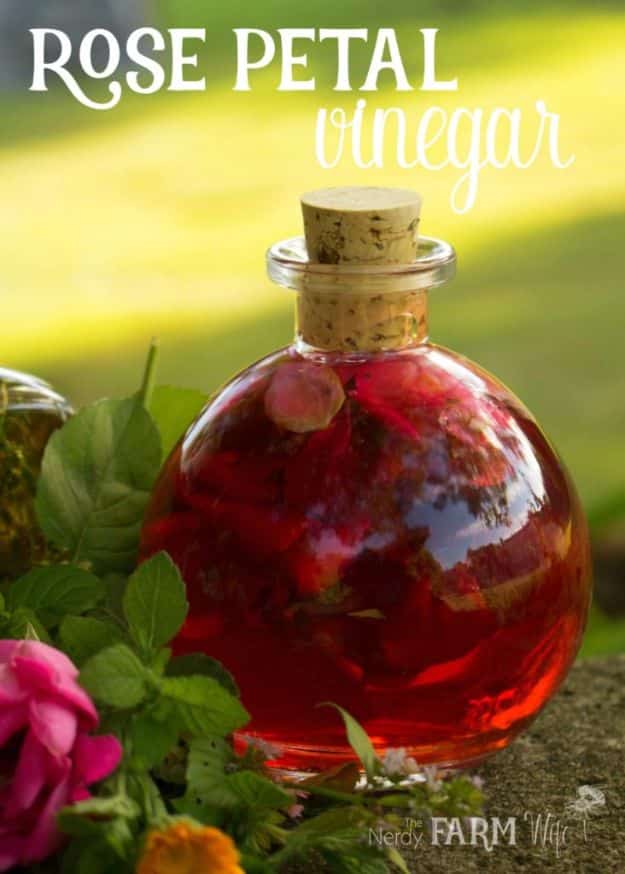 On this next tutorial you will learn to create your very own rose petal vinegar. There are plenty of things you can use rose vinegar with like; things that are inflamed like bug bites or itchy spots, relieves pain from sunburns if you dilute it with water and refrigerate it and a lot more. Check out the step-by-step tutorial that we have for you from The Nerdy Farm Wife.
10. Honey Rose Petal And Oat Face Cleaner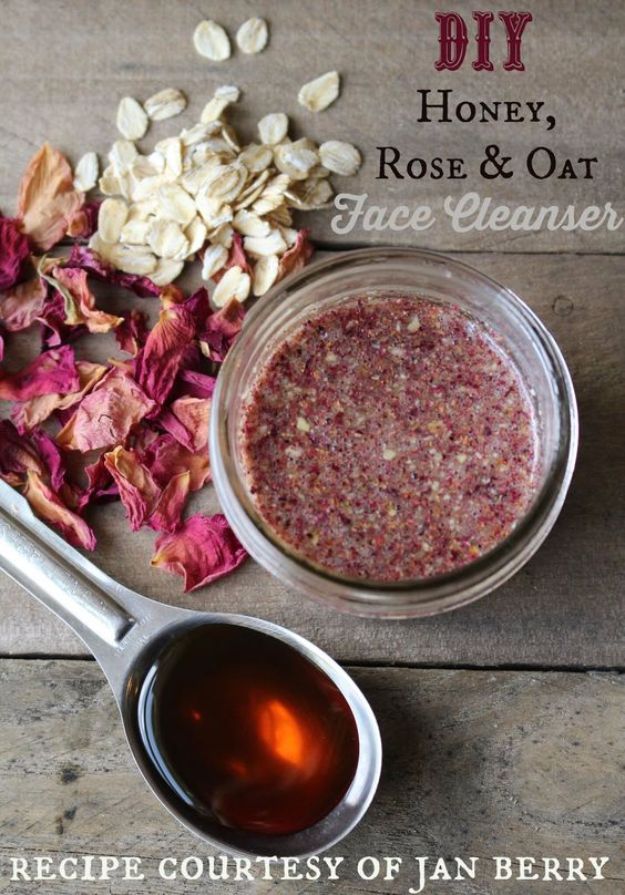 This next tutorial that we have for you is definitely helpful if you care about your skin so much and want to keep it healthy and young looking at all times. It's a soap-free Honey Rose Petal and Oat Face Cleanser. It helps regenerate your ski, fights wrinkles, exfoliates and moisturizes your skin. Here's how you can make your own Honey Rose Petal and Oat Face Cleanser from Strangers and Pilgrims on Earth.