Love maps or perhaps traveling? Both? When I saw a few DIY ideas made with maps, I was sold. When I found this list of the 36 best crafts made with maps, I got busy making some of my favorite projects ever. See for yourself how cool these are.
1. Map Shoes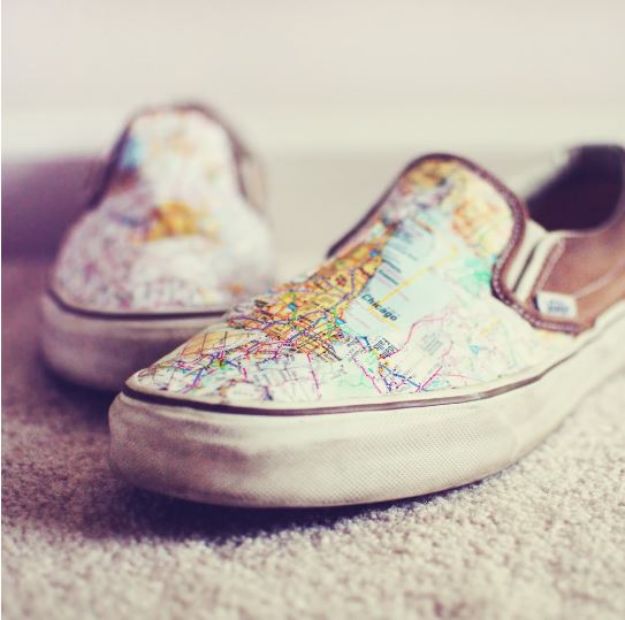 Walk in style with these pair of gorgeous map shoes. These kicks are so stylish it's perfect for long walks and outdoor activities. Learn this simple DIY by following the step-by-step instructions from Something Monumental.
2. DIY Vintage Map Votive Candles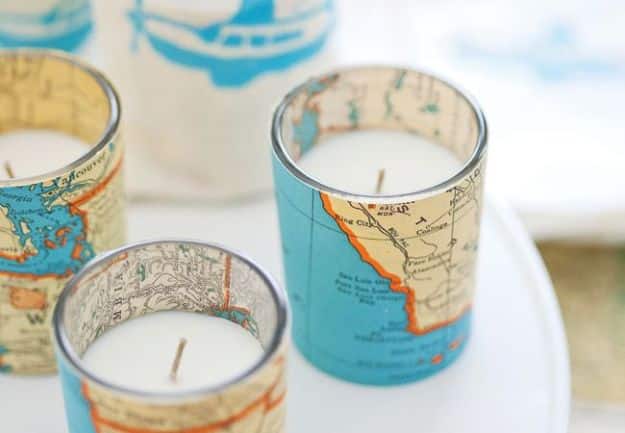 Need an easy-to-make and affordable table decor or maybe a favor idea? Well, look no more because of The Knot's brilliant DIY on map votives. I think this would make an awesome favor for a wedding destination. Unleash your inner crafter and enjoy re-creating these votives.
3. DIY Map Art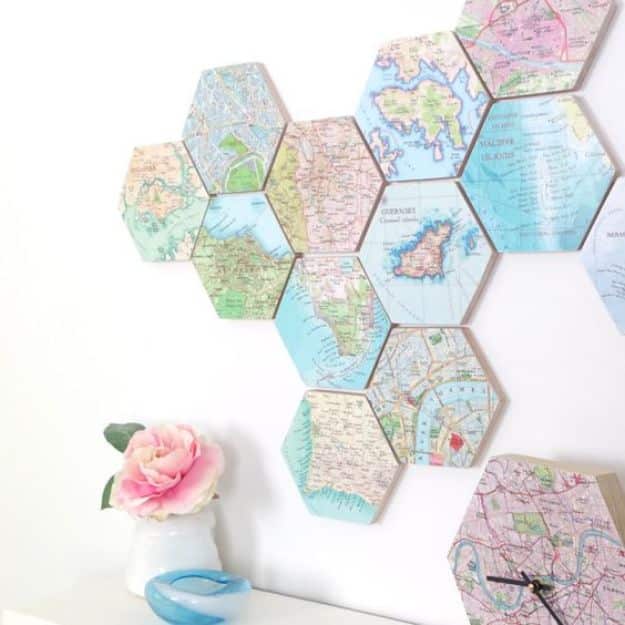 If you are a certified map lover, you would definitely dig this DIY Map Art from Crearft. Refresh the look of your walls by hanging these gorgeous inspiration pieces. It would really look beautiful in any hallway or bedroom. Read the full tutorial to learn more.
4. DIY Map Mason Jar Bank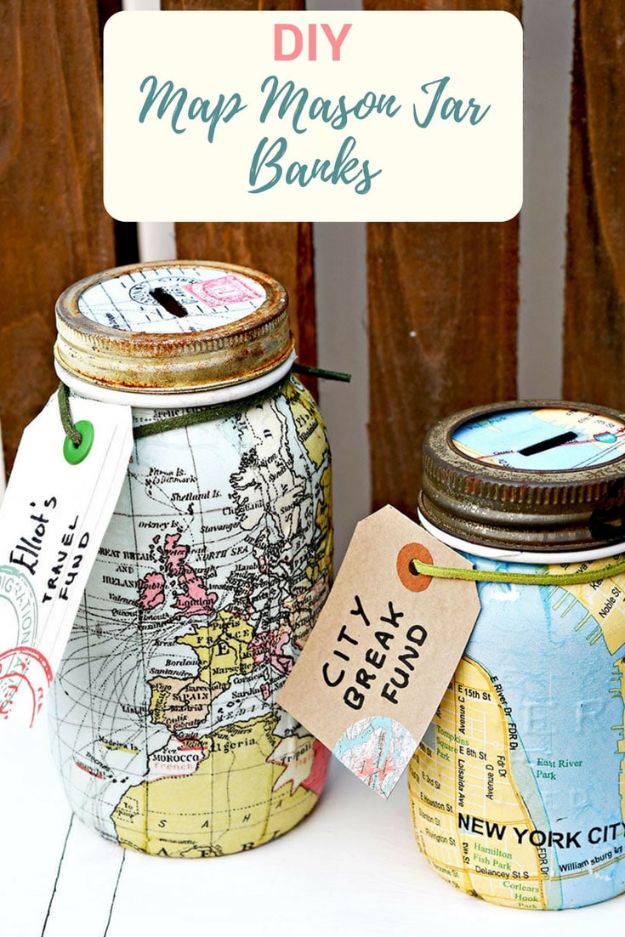 I love how clever and sweet this idea is and kids and adults can both do and use this cute craft project! I use mason jars for all sorts of storage but never really thought it can be upcycled to a money-saving jar. What a brilliant idea! Definitely trying this one out soon.
5. Map Photo Frame Background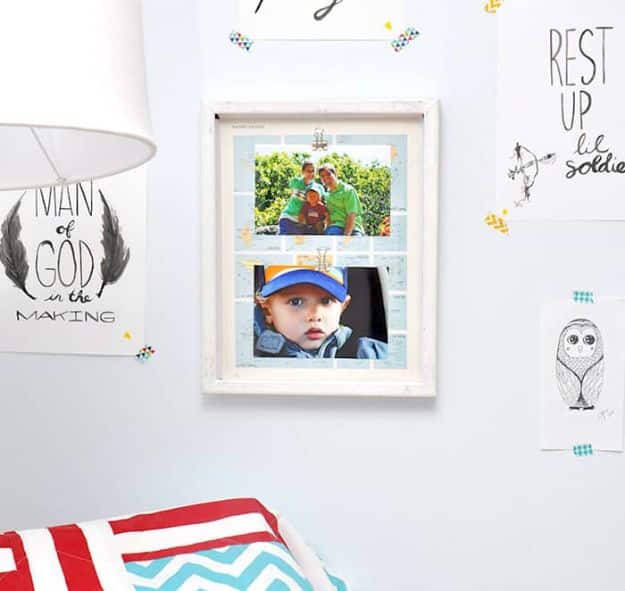 Who doesn't love a cute photo frame to hang photos of our loved ones? And if you are like who like designs that are vintage looking, you're going to love this map craft idea. Follow the easy tutorial from Mod Podge Rocks Blog to learn how to create this super easy map photo frame background.
6. DIY Map Coasters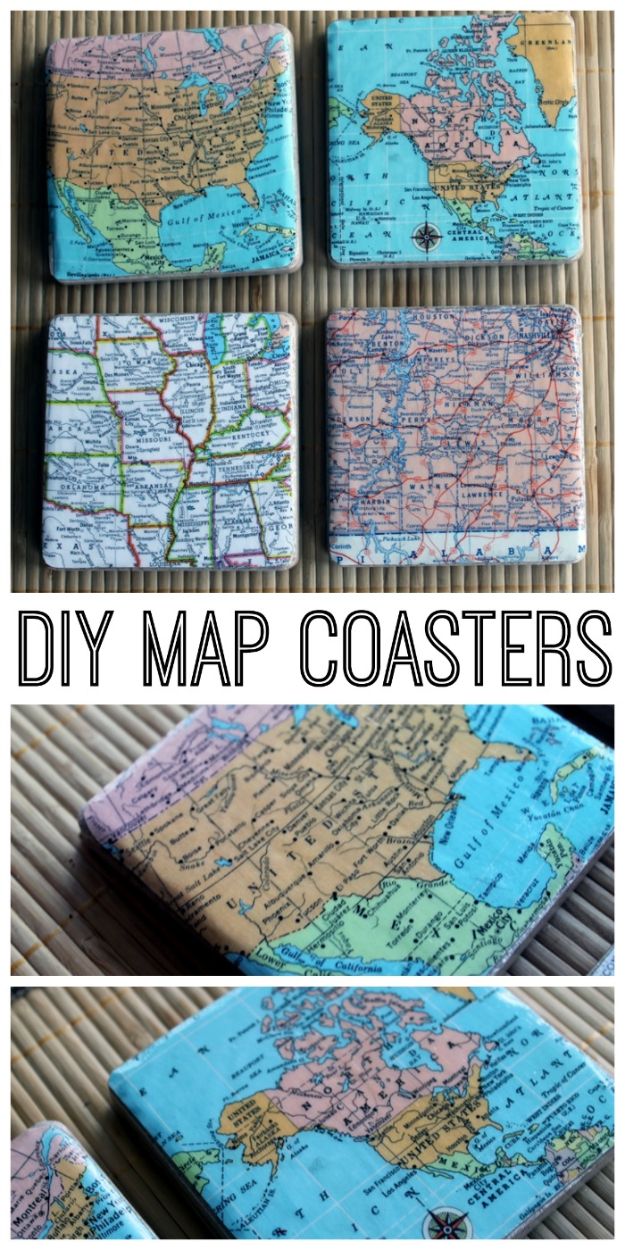 I totally love this project idea! Can't wait to try this especially I have some old coasters that I want to re-invent. Putting maps on them, especially vintage ones is such a cool idea. Not only will it do great at home but it can also make for a wonderful gift idea.
7. Simple but Beautiful Map Roses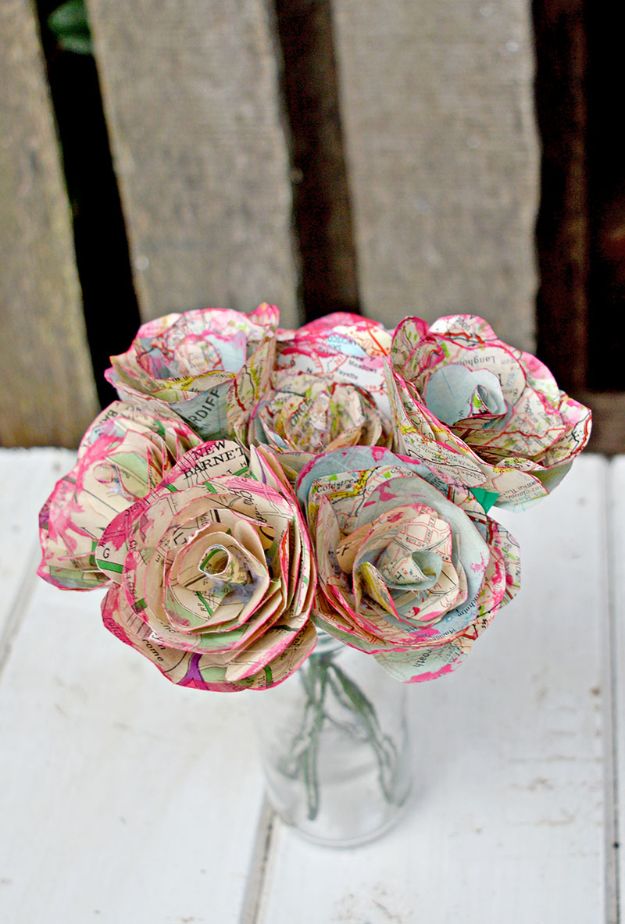 Wow, these map paper flowers are too pretty! I can think of a thousand ways to use them. It would look great as table decor, a gift topper or even an alternative Valentine's gift. Display them individually in small bottles or together in a bunch. So, if you are getting rid of old maps, try this tutorial and make them into beautiful faux flowers.
8. DIY Map Letters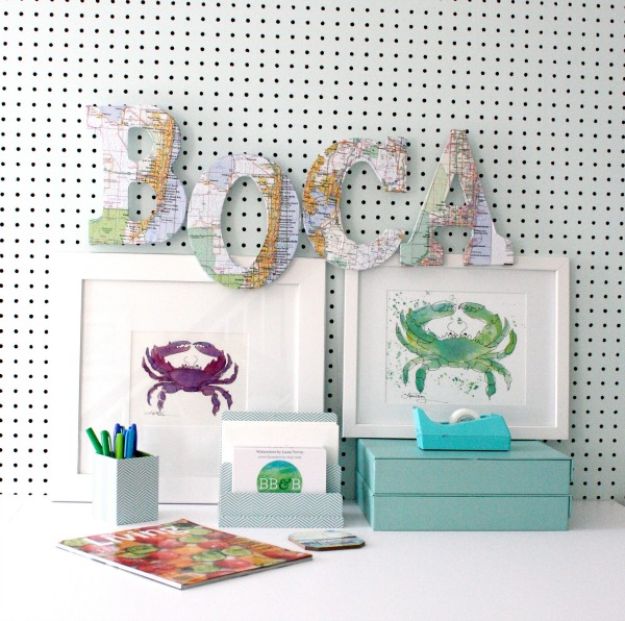 Aren't these map letters adorable? You and your family can take part in this fun craft DIY from Laura Trevey. All you need is some old maps and wooden letters and you'll be all set. They would really look great on display as wall art.
9. Personalized Photo Map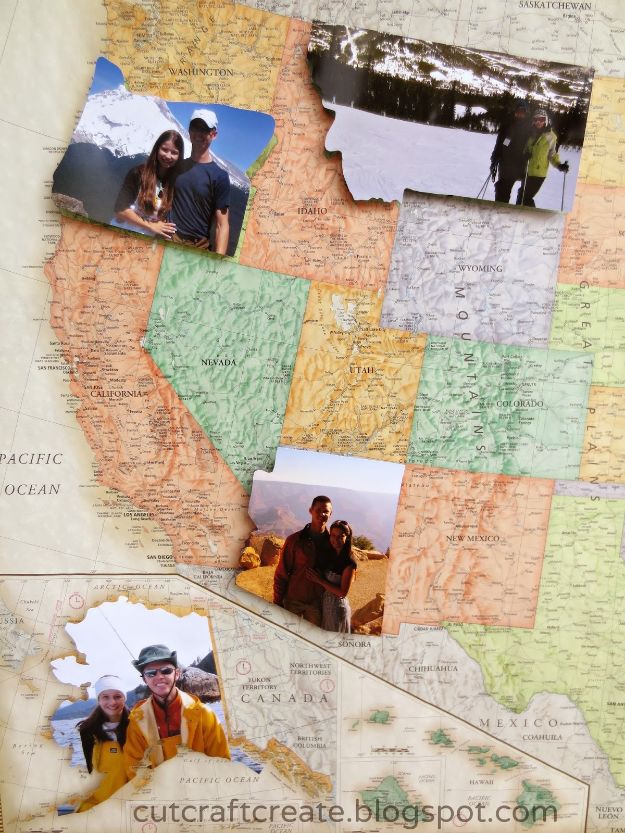 Here's a wonderful gift idea that your significant other will surely cherish. These photo collages look beautiful on vintage maps and would be perfect as an anniversary gift. It's such a fabulous idea I can't wait to get my hands on a map and get started on this project.
10. Miniature Map Magnets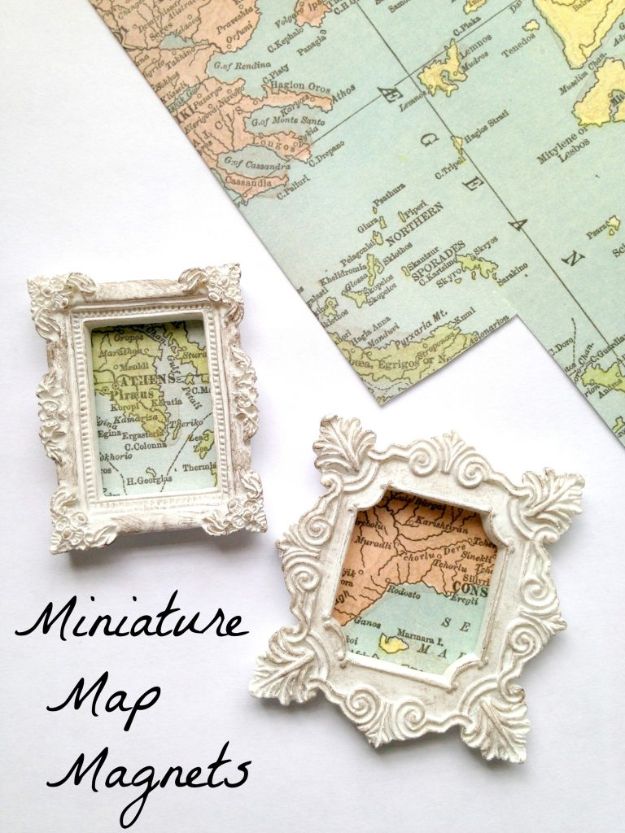 Make this super cute miniature map magnets in just minutes and you can even customize them in your heart's desire. If you are travel-obsessed, this is the perfect craft for you to commemorate your adventures. Follow along with the simple instructions from Surviving Teacher's Salary for full details.
11. Decoupaged Map Table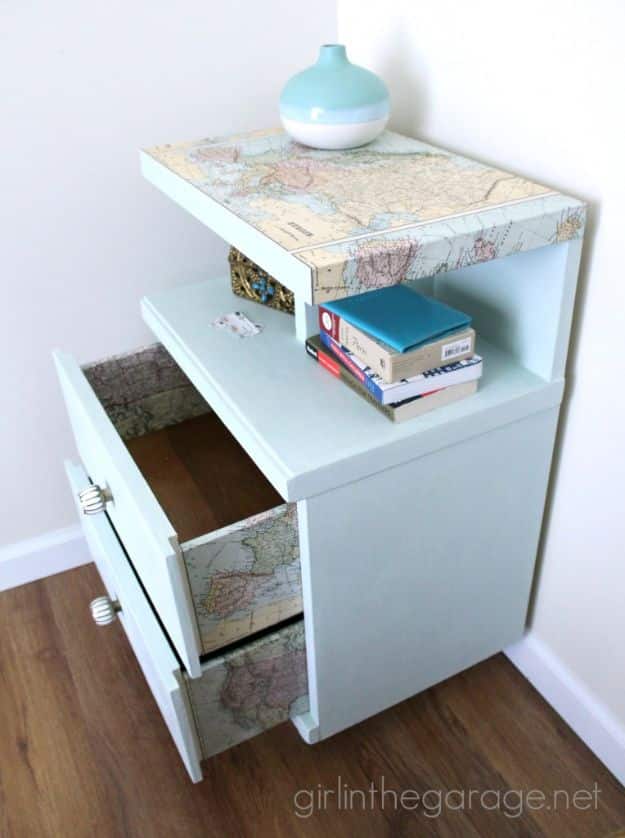 12. DIY Map Clock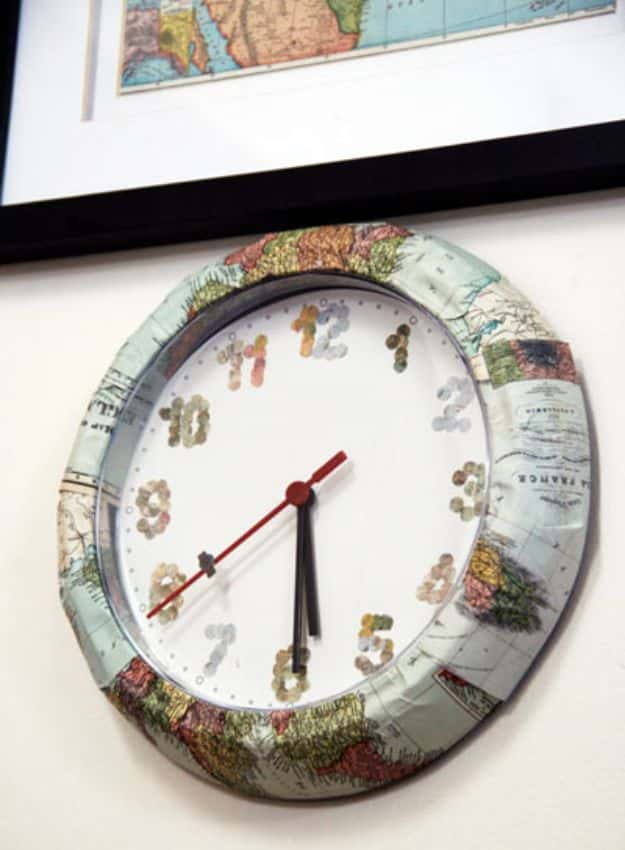 13. Tags From Old Maps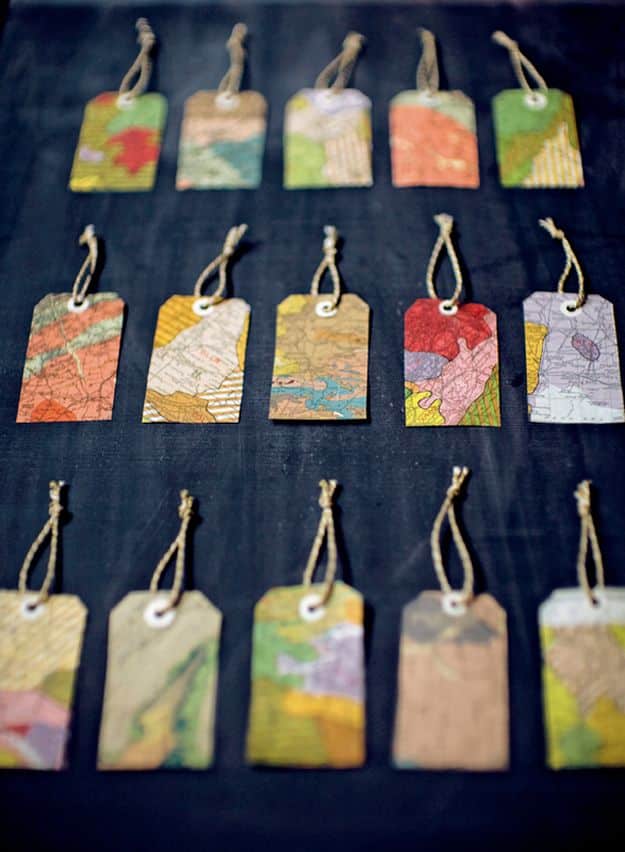 14. Bookshelf Makeover With Maps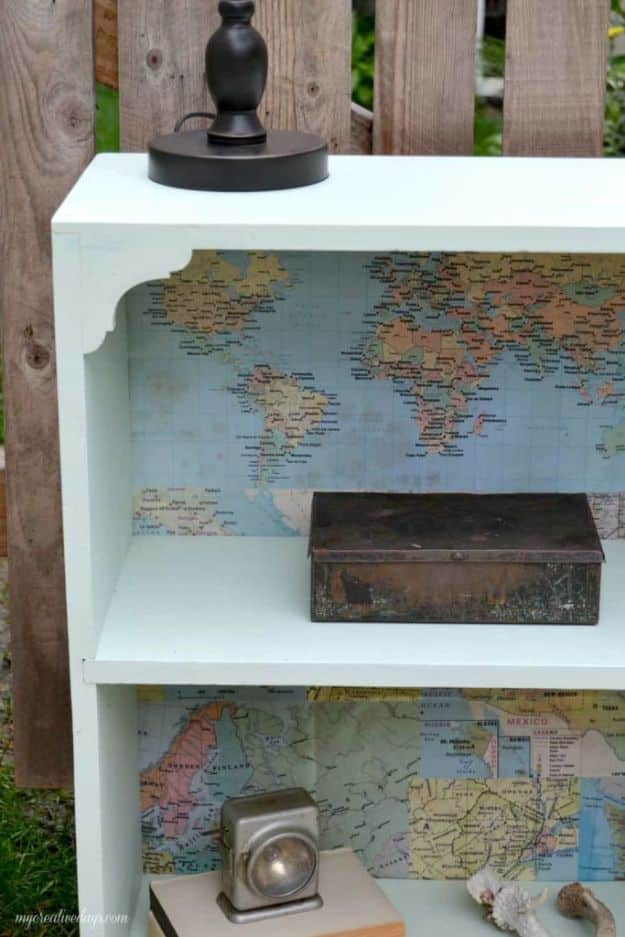 15. Map Mirror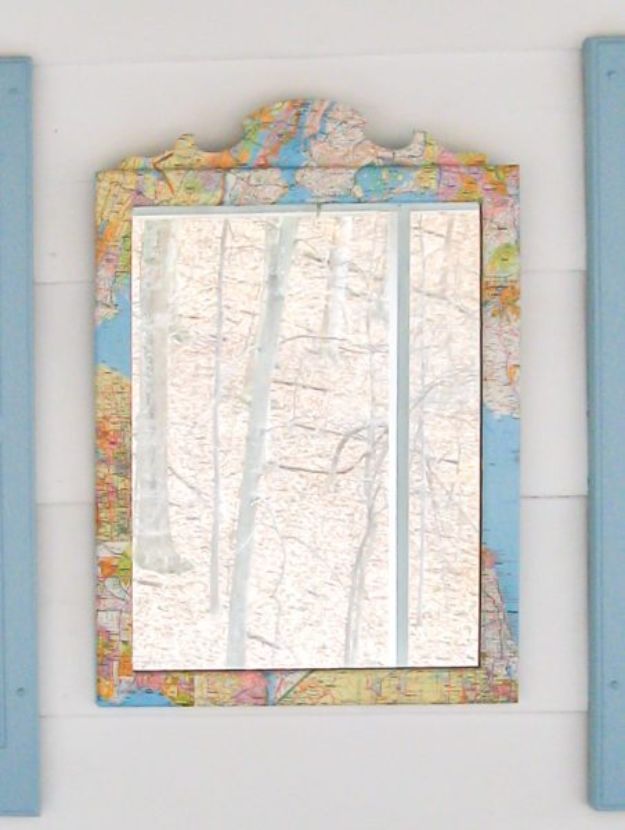 16. Lamp Revamp Using Maps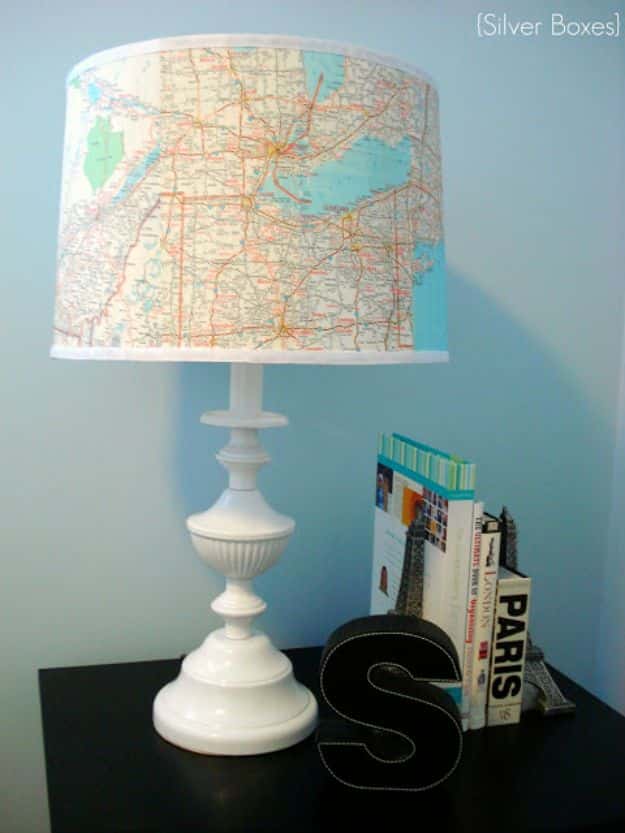 17. DIY World Map With Lights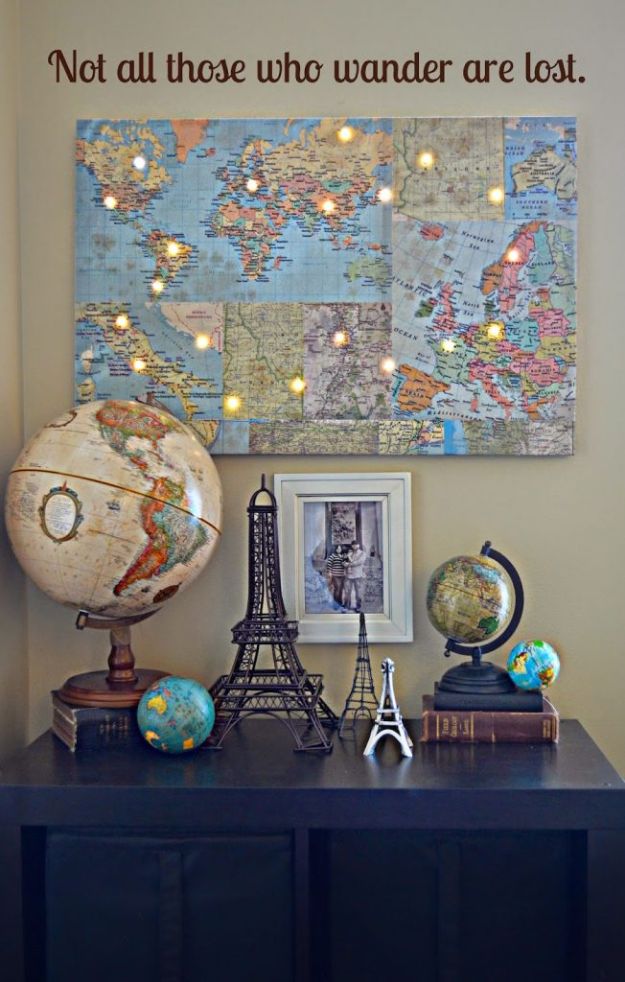 18. DIY Cork Board Map

19. Map Lined Envelopes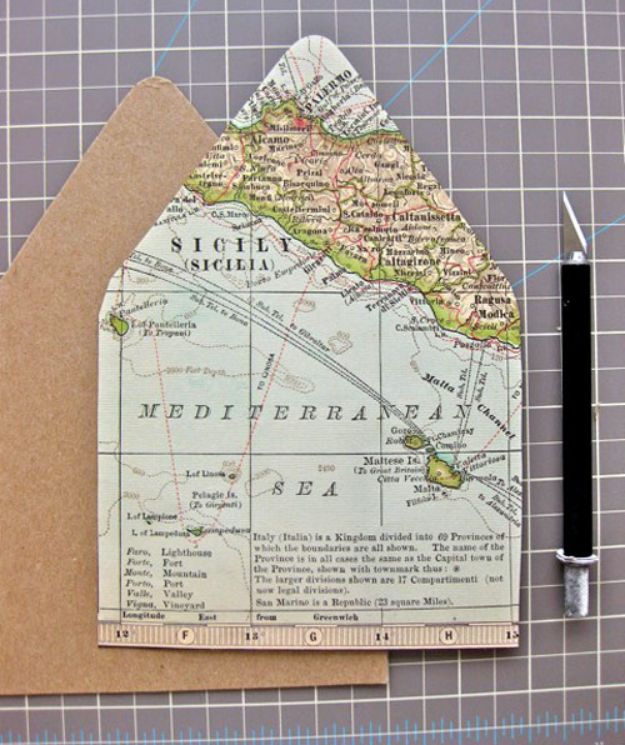 20. Cool Gift Wrap DIY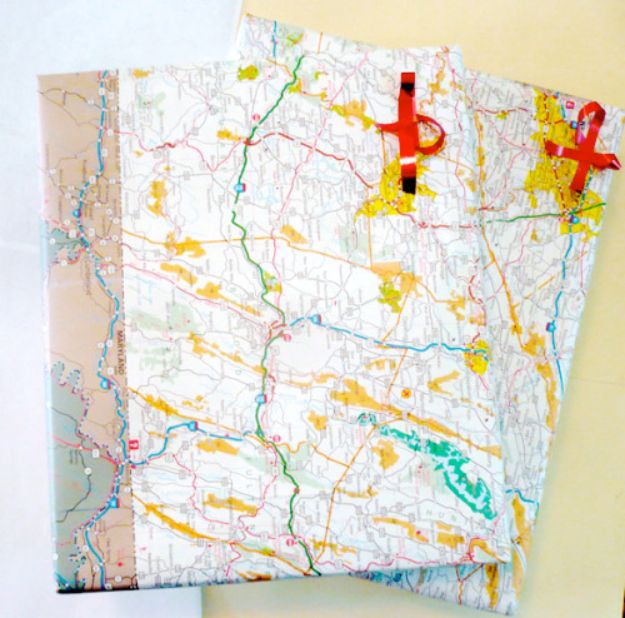 21. Road Map Birdhouses

22. Vintage Map Bangle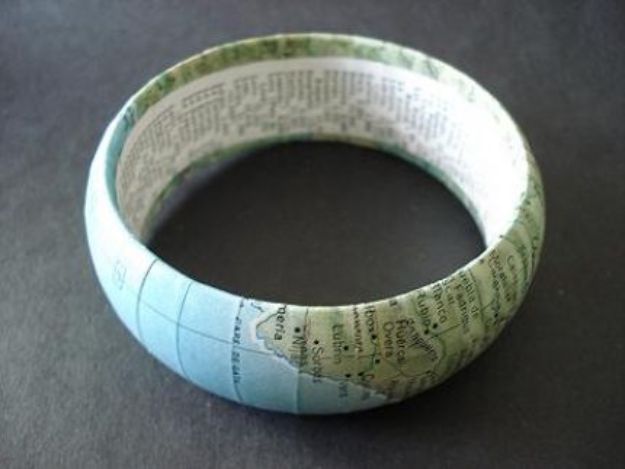 23. DIY Map Pendant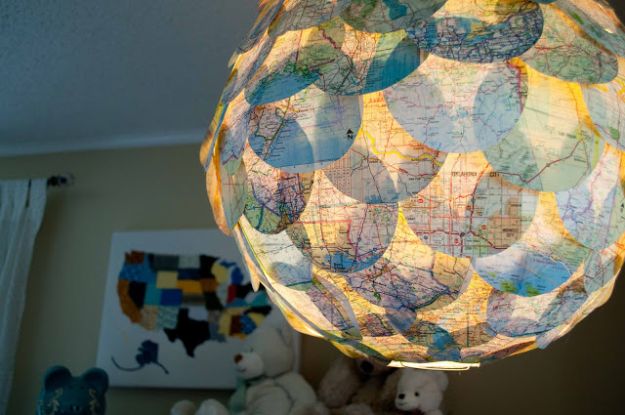 24. Map Lined Tray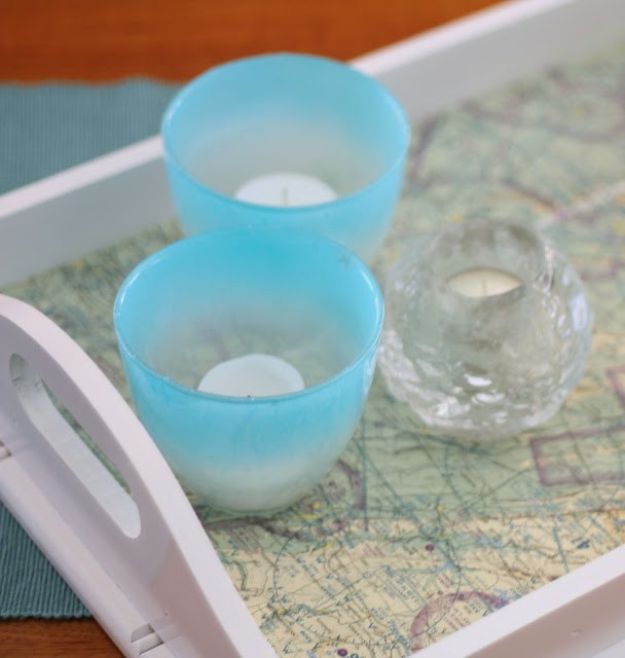 25. Octopus Frame Print for a Pirate Room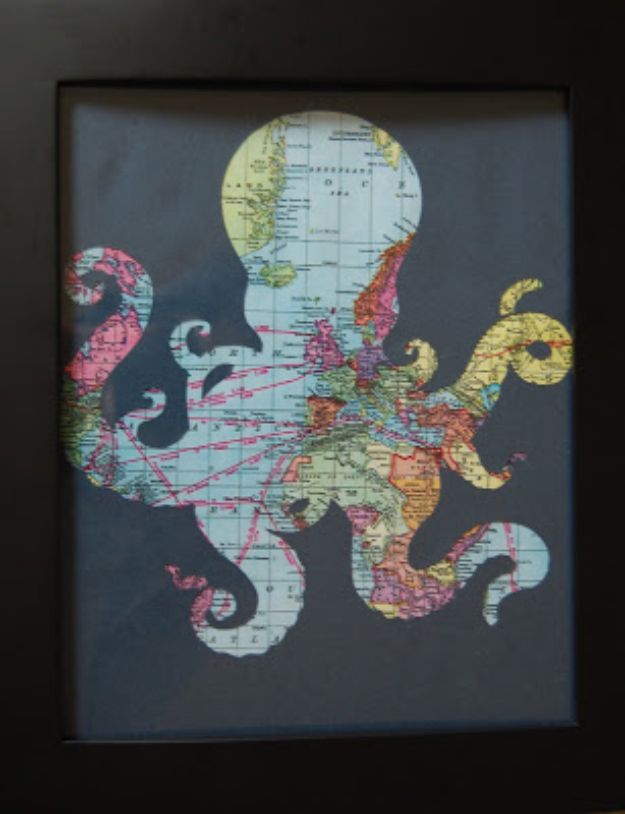 26. DIY Map Hearts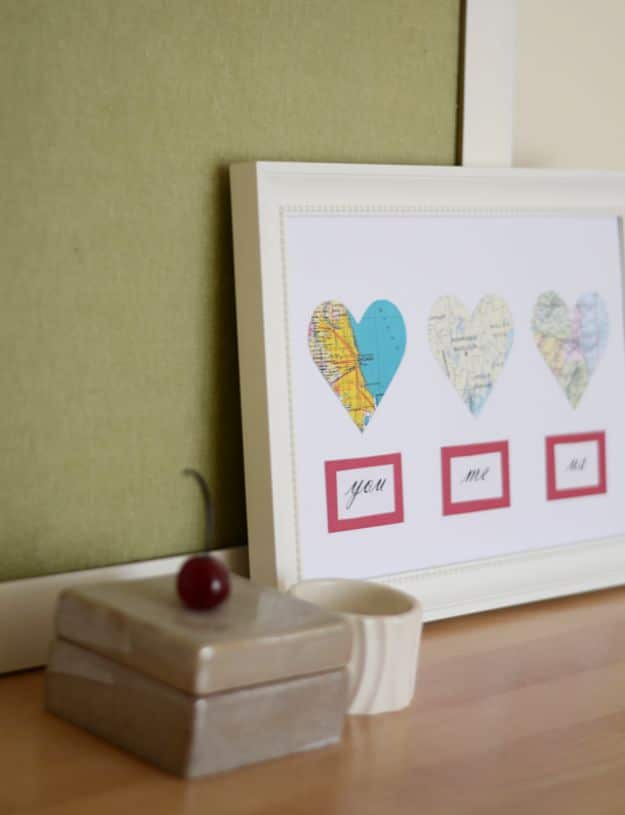 27. DIY Push Pin Map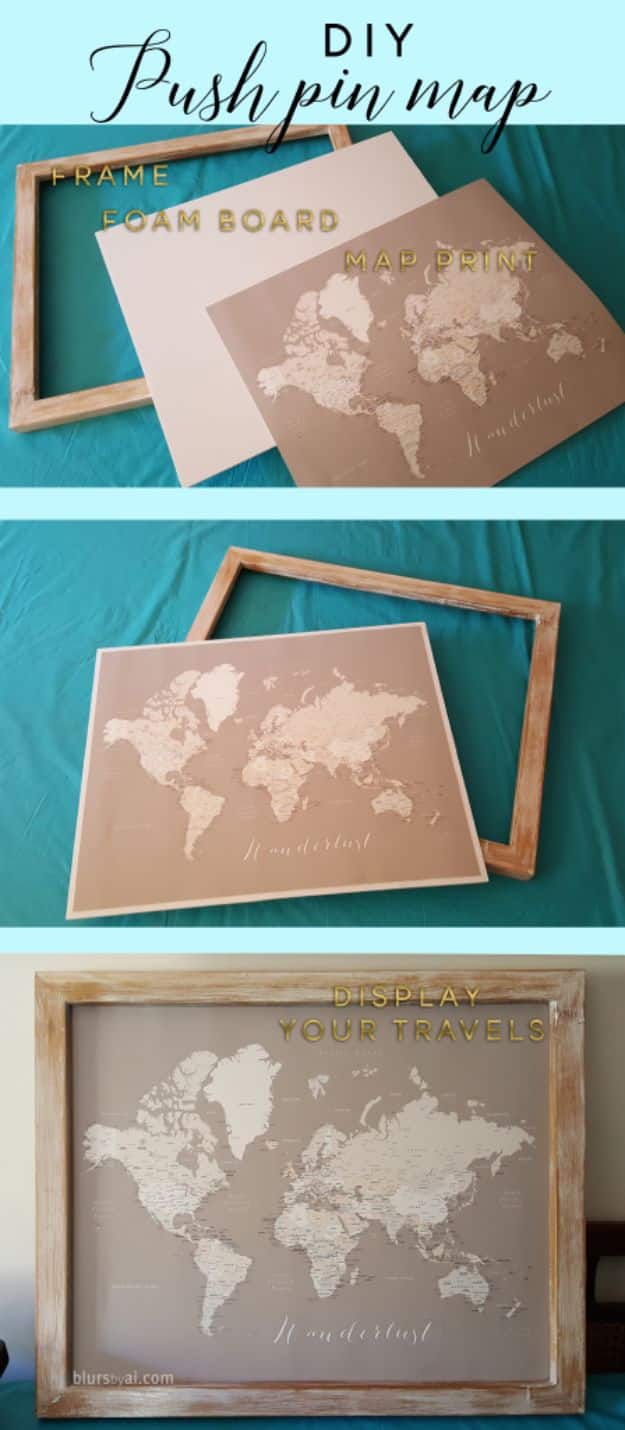 28. Travel Memory Map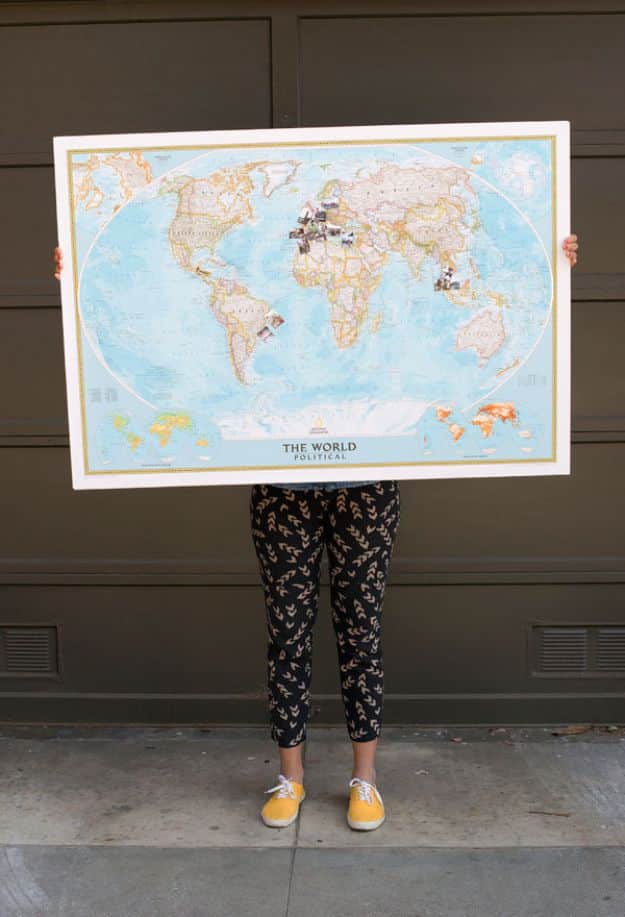 29. The World is Your Oyster Globe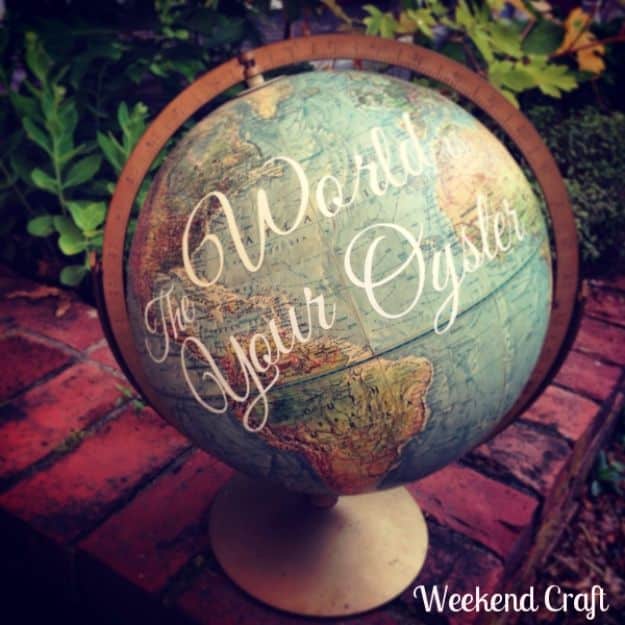 30. DIY Wood Shim Frame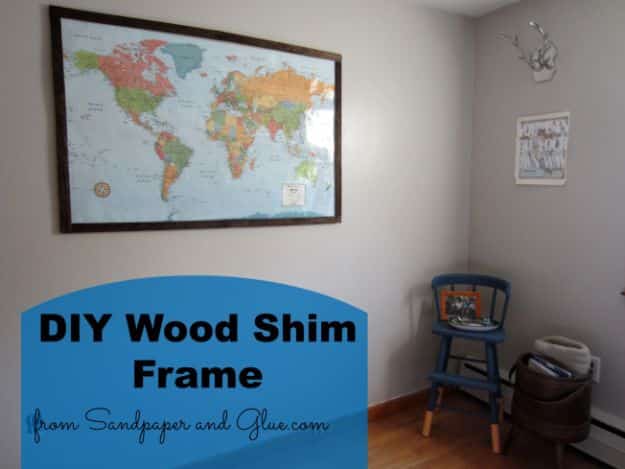 31. DIY Map Boxes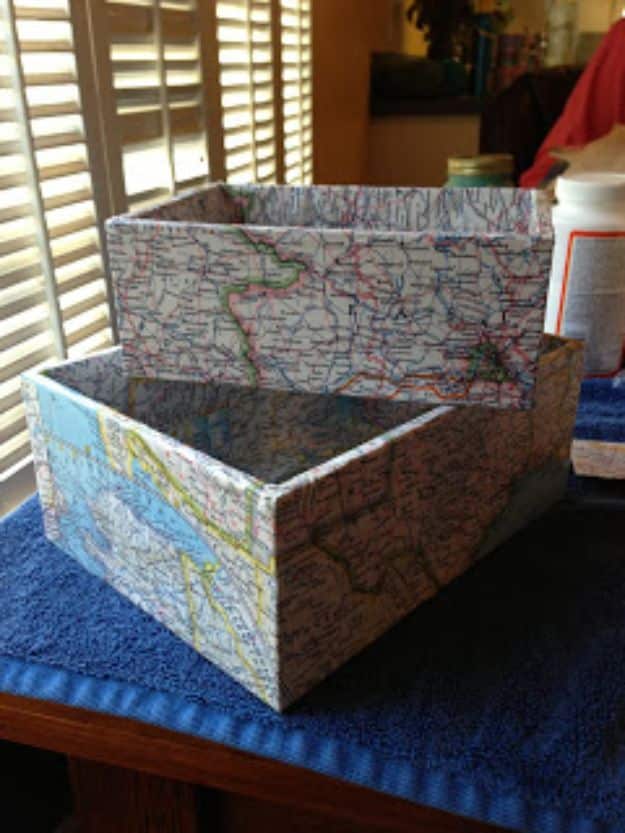 32. Map Frame With Quote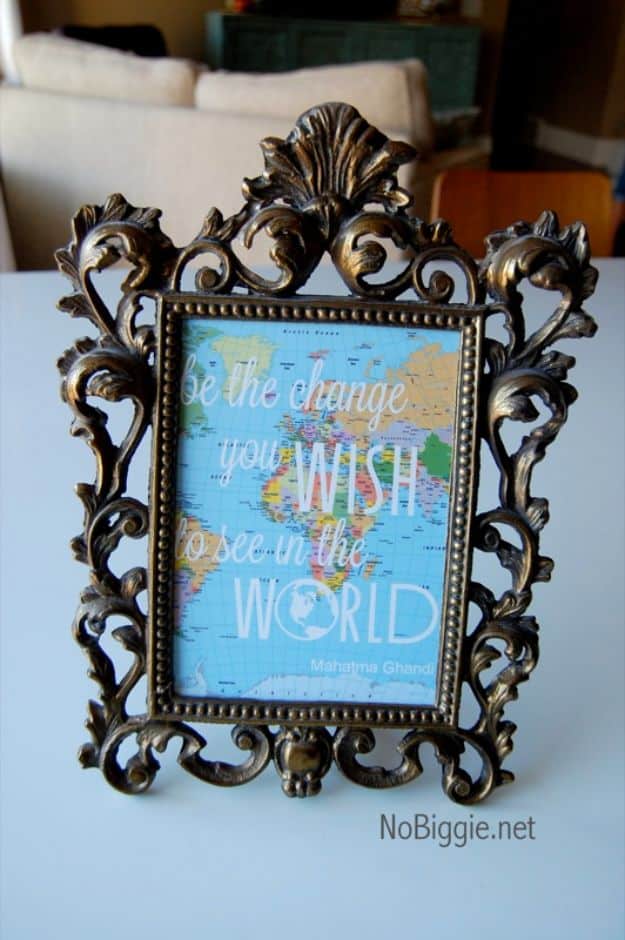 33. Antique Oval Framed Vintage Road Maps

34. Vintage Map Decoupaged Pots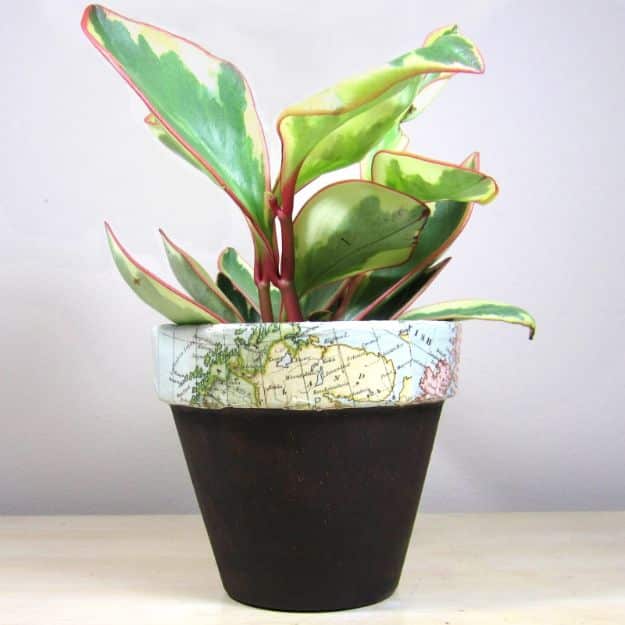 35. Vintage Map Placemats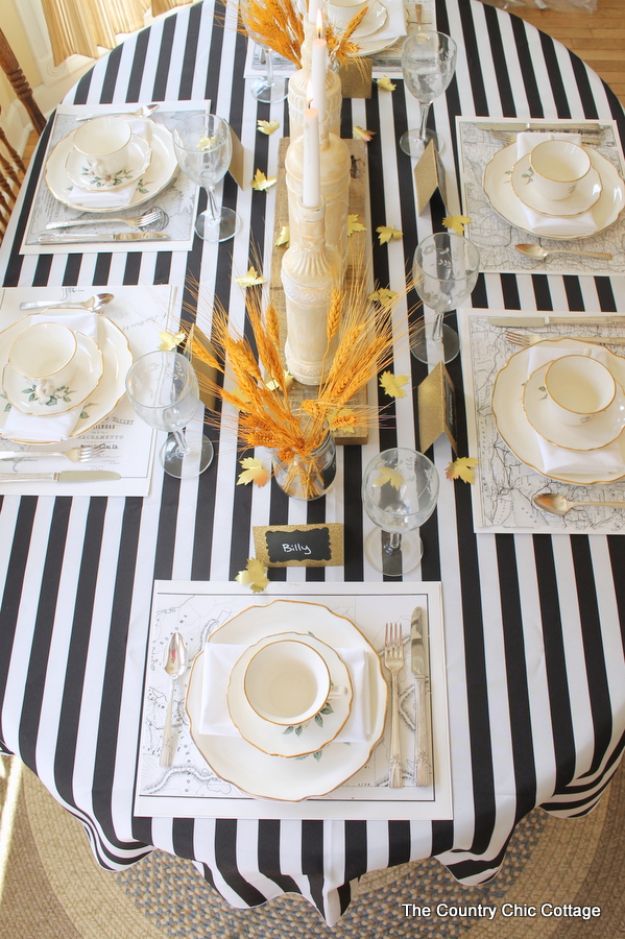 36. Map Journal