Bet you don't know what one of the most versatile, free and accessible craft supplies is, and you probably have it sitting at home right now…Well, maybe you know if you read the title of this post, but I sure did not realize how cool cardboard was for crafting until very recently when I started seeing all the cool cardboard crafts and even furniture!
DIY Ideas With Cardboard
1. DIY Cardboard Cacti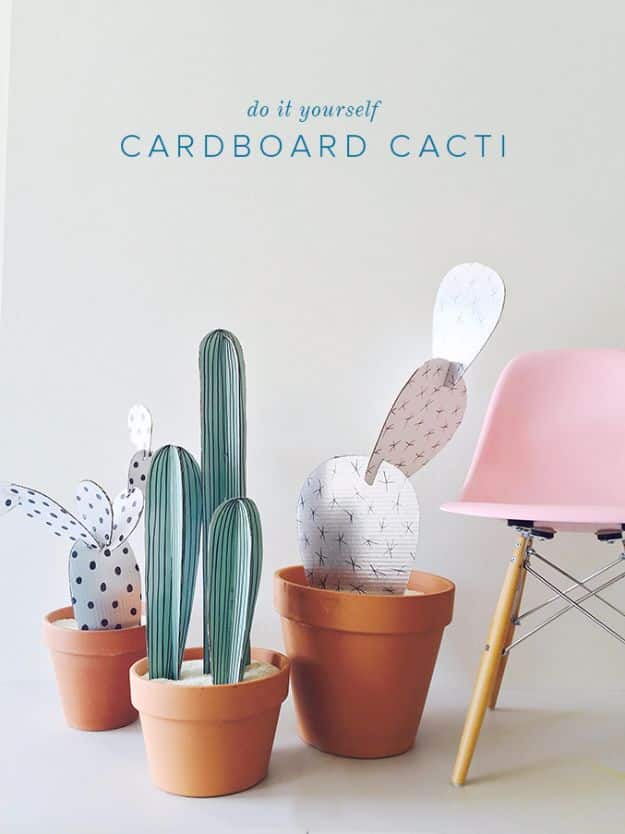 Wow, who knew that cardboard can be so cute? One of the best things about this craft is that you can use something that we throw away almost every single day. We always have cardboard laying around the house from Amazon packages to cereal boxes, diaper boxes, and more. That means you already have some of the supplies, which also makes this a pretty inexpensive craft to make, too. It doesn't get much better than that!
2. Easy Cardboard Circle Weaving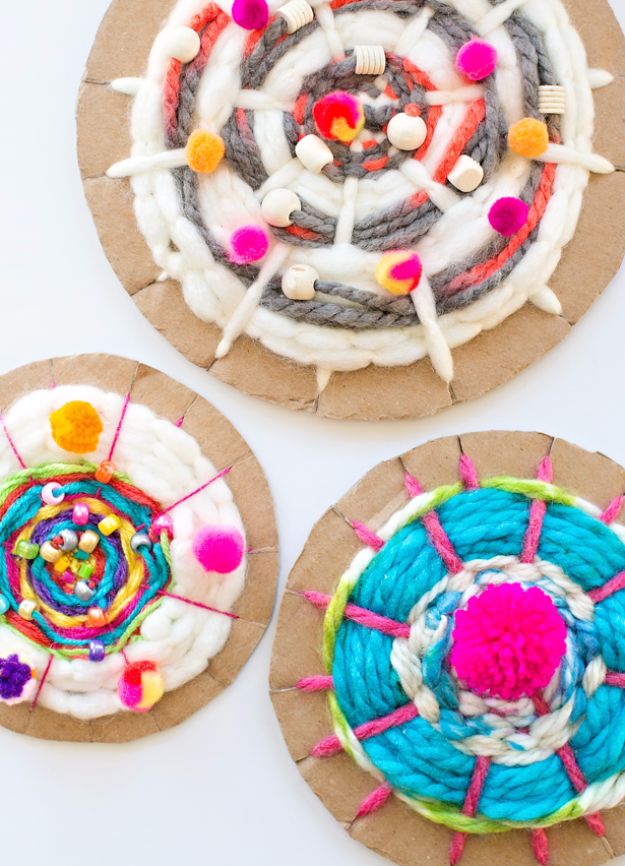 This is an easy kid-friendly way to circle weave that's also enjoyable for adults to do side by side with kids. I love how this project requires simple materials you probably have on hand. And it's a great way to recycle cardboard. This would look perfect as a wall hanging, don't you think?
3. DIY Triangle Bookends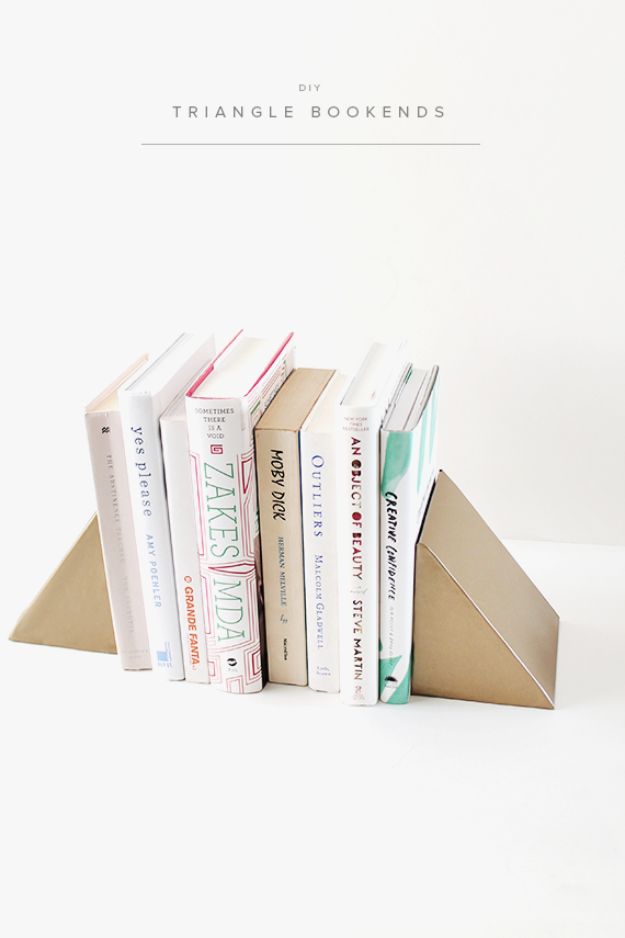 What an inspiring idea to use cardboard as bookends! I swear this is so clever. I've been in need of some bookends for my new shelf and have been stewing over making some myself but haven't had the time really to conjure up some ideas. So this has definitely helped inspire me. Almost Perfect Sense has the complete step-by-step instructions and I'm putting this on my weekend to-do list.
4. DIY Decoupage Cardboard Trays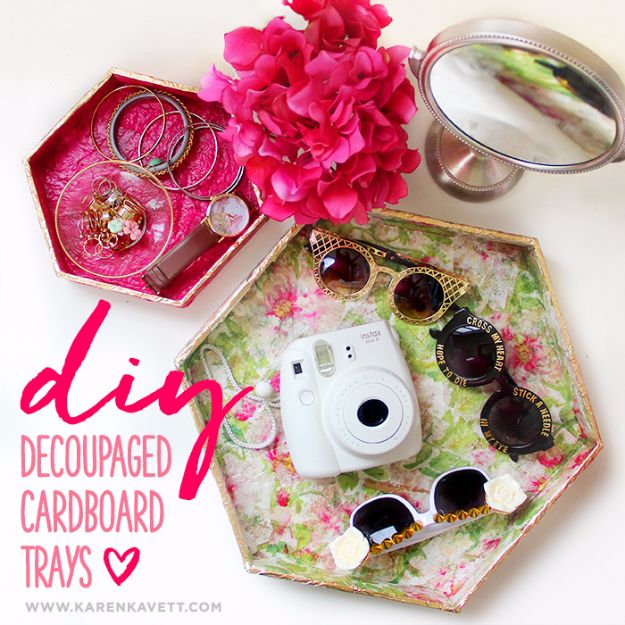 Looking up for new ways to recycle cardboard boxes into DIY craft projects? With this tutorial from Karen Kavett, you will learn how to use cardboard to make hexagon trays, that are decoupaged with napkins to give them a beautiful design. They turned out super pretty and would also make for the perfect handmade gift idea.
5. Cute Storage Boxes From Old Boxes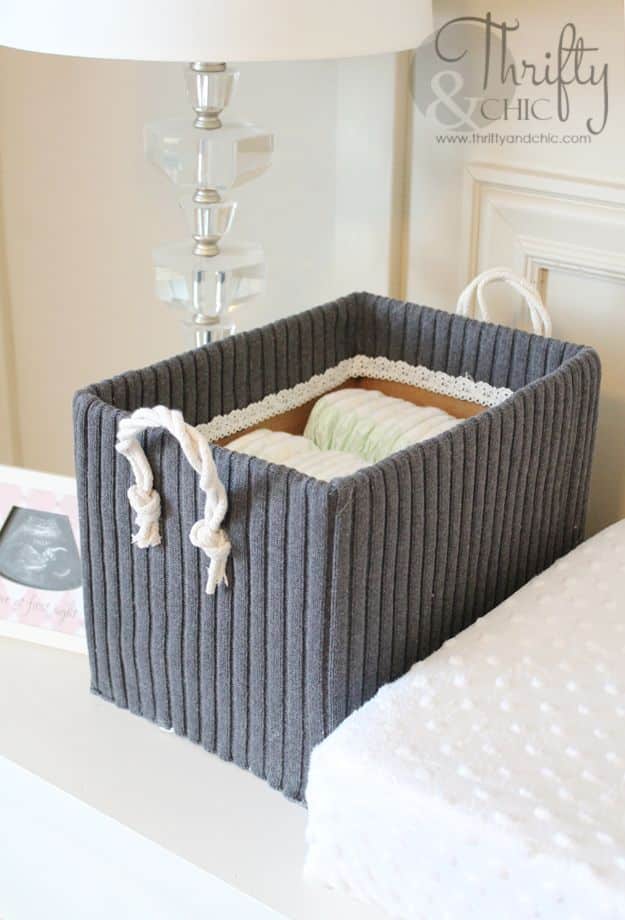 This is such a cute and imaginative way to recycle diaper boxes. If you have a ton of sweaters, you can save a little bit of money and reuse and recycle what you already have into some super cute storage! With this DIY idea, you will definitely bring out the organization junkie in you.
6. DIY Cat Scratching Post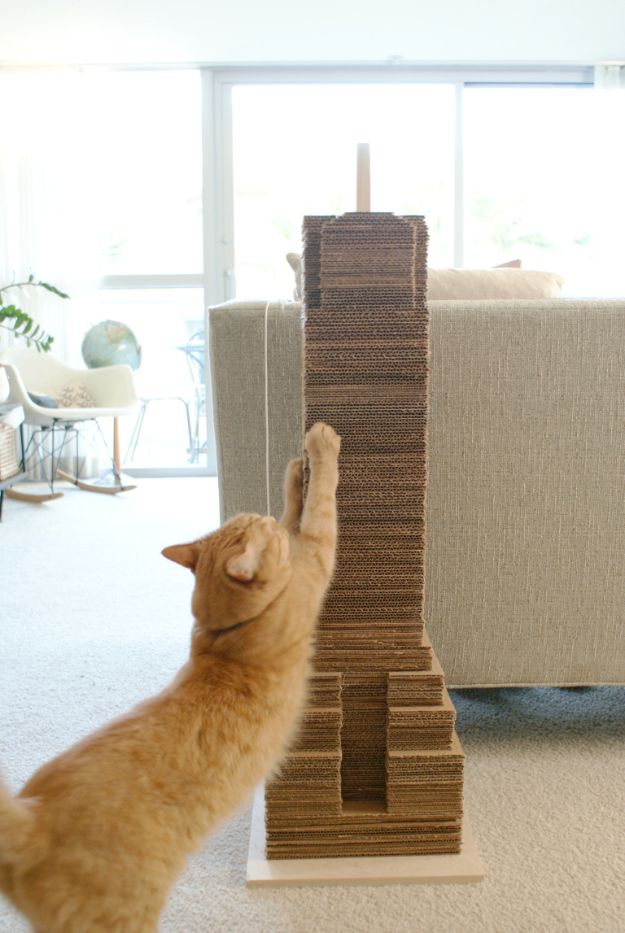 Having three cats in the house, a scratch post is definitely a must-have for me. But they often cost a lot so when I found out this DIY Cat Scratching Post from cardboard tutorial from Maison Kuotidien, I was really ecstatic. Now, it's on my craft list!
7. Faux Metal Letters From Cardboard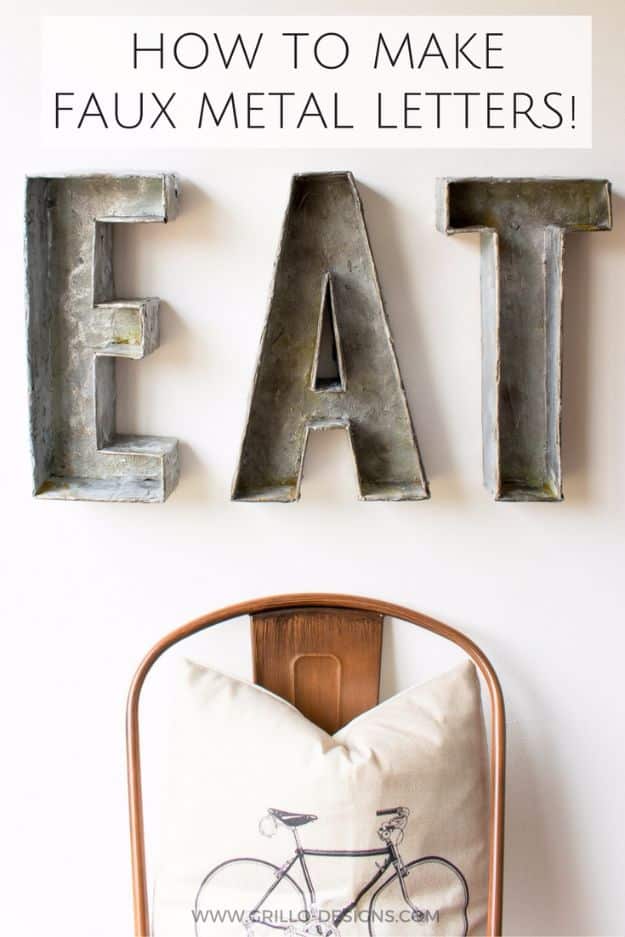 These metal letters are really beautiful and attractive home decor. I would never have guessed that these started off life as cardboard boxes. What a clever way of painting them to look like metal. They look real and I can't believe how incredibly easy they are to make.
8. DIY Cardboard Pie Box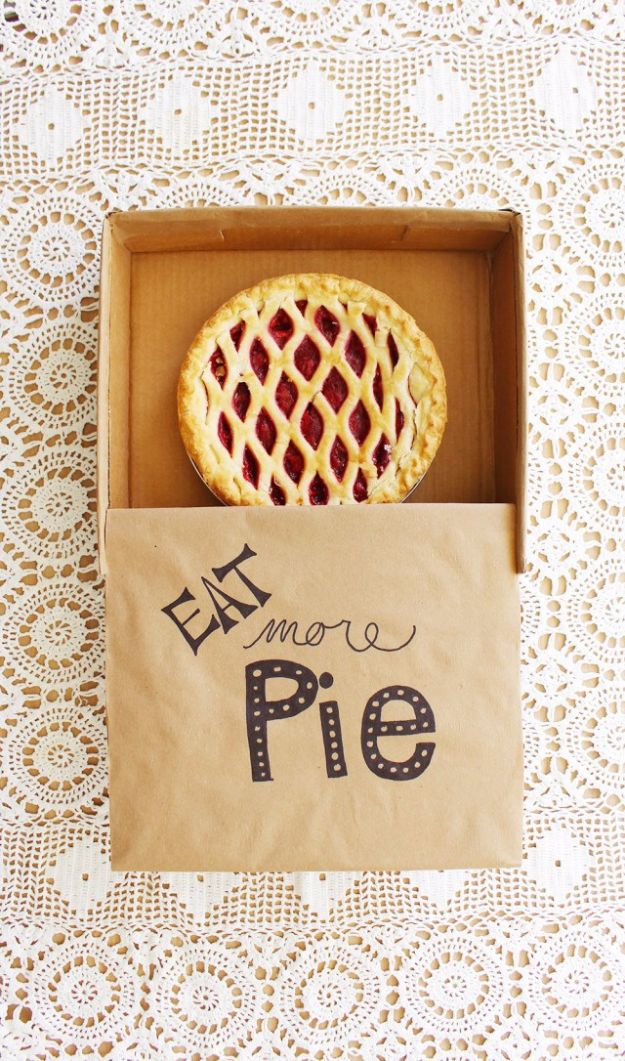 This DIY Cardboard Pie Box is such a unique way to store pie. It would be perfect for bringing your pies to your dinner plans or for sending your guests off with leftovers. The instruction are easy enough to follow so you can start recycling your cardboard boxes in no time.
9. DIY Cardboard Box Lap Tray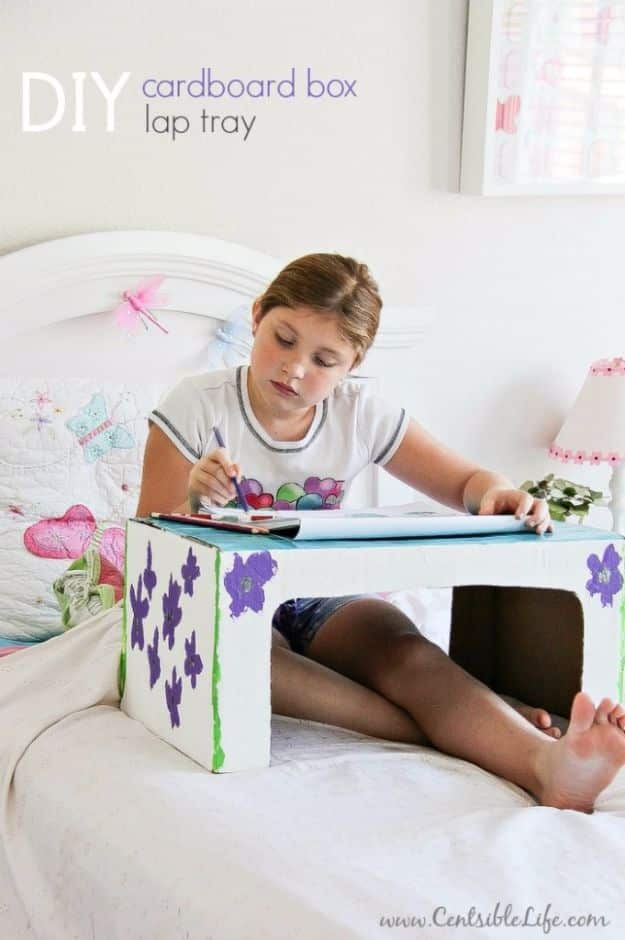 DIY Cardboard Box Lap Tray from A Centsible Life is a perfect craft for summer break. With this ingenious idea, you can easily transform a medium sized box into a cute lap desk for use on the bed or floor. Follow along with the complete instructions and start crafting this DIY together with your kids.
10. DIY Cardboard Owls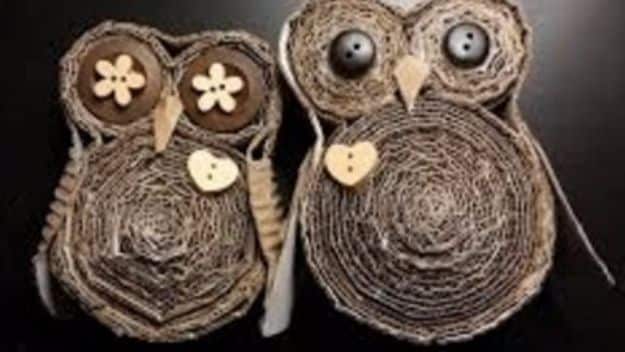 these crafts can be made with items that you already have in your home, and they'll leave you feeling proud of the incredible decorations you've created with stuff that may otherwise just be wasting space or be dumped in the garbage. Watch how Stephanie Bergeron, with Deliberately Creative, makes these little darlings in her step by step tutorial!