Looking for rustic DIY home decor ideas and vintage country crafts projects? The Do It Yourself shabby chic look is certainly one of the most charming and popular looks around, and for good reason. Vintage decor is warm, romantic and unique. Plus, country crafts and furnishings need not be terribly expensive, and if you follow our DIY tips, you should be able to decorate your whole house these creative rustic decor tutorials. We have done our best to make sure to include all the major staples of rustic country living decor, too – chalk paint, twigs and sticks, repurposed wood and pallets, upcycled items, burlap, yarn and twine, thrift store items, old windows and doors, plus an assortment of other country craft type odds and ends. I think we left out chicken wire. Maybe next time…

Love these ideas? Let us know. Have more cool rustic DIYs you would like to share? Let us know. Tried one of these at home? Let us know in the comments below.
DIY Home Decor Ideas
1. Marbled Terra Cotta Pots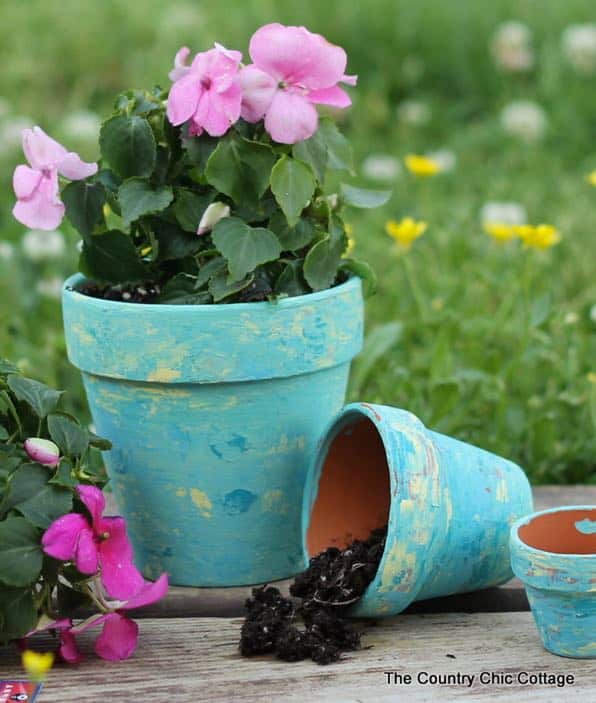 I just love this tutorial, if only because it gives me an excuse to mix up all kinds of colors of paint and feel like a little kid again. Pretty incredible effect for what is really a very simple paint job where you dot on different colors of paint, then blend away for rustic DIY garden decor. One of my favorite new DIY ideas for my patio, which I have enjoyed all summer. My plants are beautiful in my colorfully painted pots.
Check out the full tutorial here to learn how >
2. Cross Stitch Pegboard Heart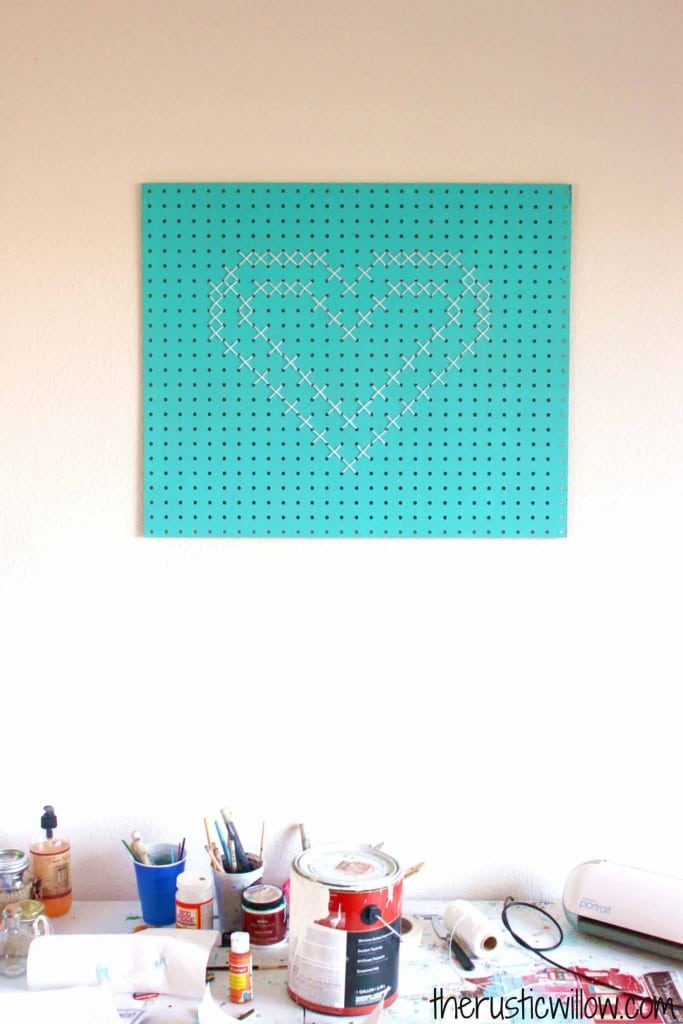 Check out the full tutorial here at The Rustic Willow>
3. Upcycled Utensil Caddy
This upcycled silverware caddy is really very simple to make and one of the cutest things I have ever seen made from old tin cans. (I especially love the paint color here, and am so excited to see that major spray paint brands are coming out with colors like this. I like mixing paint, but simple and mess free is better!) This serving idea is a perfect DIY gift for hostess ideas, housewarming gifts, presents for family and parents.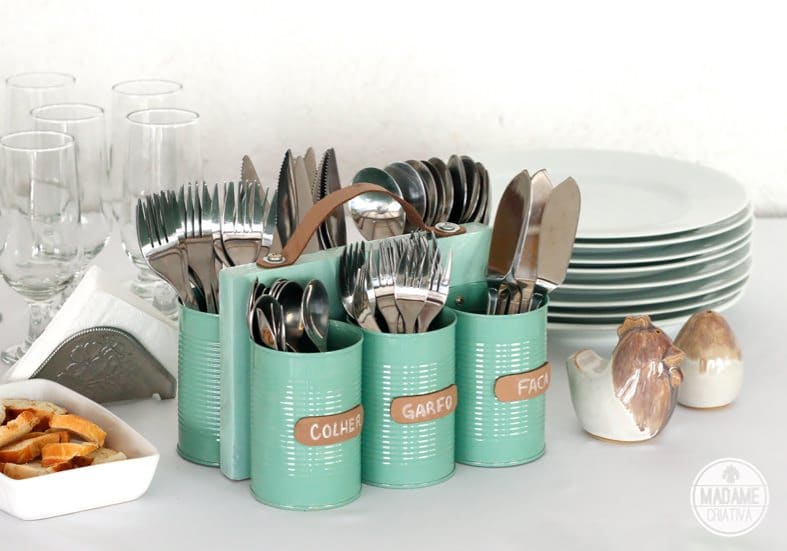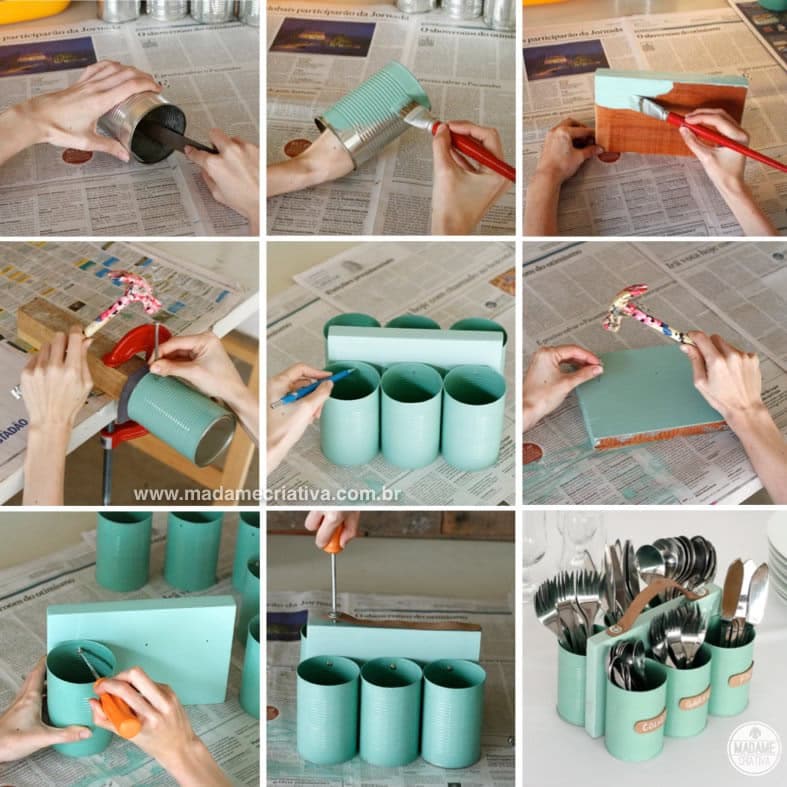 Check out the full tutorial here >
(the site is in Portugese, but Google translate does a fine job converting to English)
http://www.madamecriativa.com.br/posts-recentes/porta-talheres-com-ala-feito-com-latas-madeira-e-couro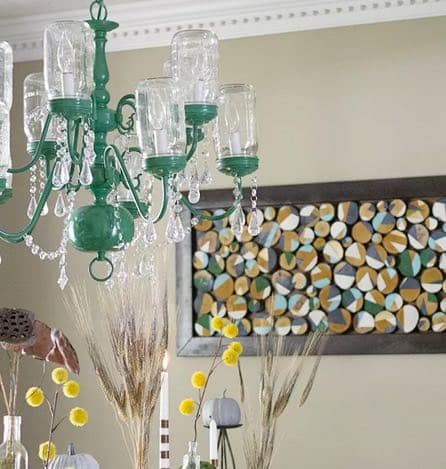 This guy is my hero. I had always wondered if there were a good way to transform a cheap gold chandelier into something DIY and cool looking. (Sadly, I was too afraid to ruin my tacky gold chandelier with an attempt on this one!) Incredible, absolutely incredible DIY vintage lighting. Wow.
If you check out the whole tutorial, you will see they added the mason jars over the bulbs, then decided it looked better without. Looks great either way.
Who is not to love this mason jar chandelier? In my opinion, a perfect blend of rustic with a modern country flair when you add a colorful paint.
Check out the full tutorial here >
5. Do It Yourself Wood Slice Picture Frame
Check out the original tutorial here>
This DIY picture frame idea is both fun and simple to make. In case you don't already know, I am a fan of DIY projects that are "no fail," basically ones that are hard to mess up. This one definitely falls into that class. No matter how you place your wood slices, this picture frame is sure to turn out looking great, plus it is a super way to showcase both your creativity and call attention to your best photos with an out of the ordinary black frame like you see everywhere. I put two of these on my bedside table in my bedroom and it is amazing the difference it made in adding to the warmth of my bedroom decor.