Are you looking for some inspiration to upgrade the overall look of your garden? Then these DIY hanging planters using bottles from TG THE GARDENER on Youtube will surely make you fall in love. You only need a handful of materials easily found around your house to make these cute hanging planters. Not only that, but you can also repurpose those empty bottles in your storage room. Start making these DIY hanging planters today by watching the video tutorial below.
Materials:
empty bottles
macrame thread (or any thread available)
scissors
glue
Directions:
Step 1
Make a simple knot around the neck of the bottle, then cut the excess thread. Next, grab the thread again and measure a length that is four times longer than the bottle. Divide it into 4 pieces then cut it. After this, tie these threads to the neck thread. (You should end up with 8 dangling threads around the bottle.) Start knitting by grabbing two threads and knotting them two times. Do this to the remaining 6 threads by knotting them in pairs. Repeat the process until you finish knitting the threads to the bottom. After this, tie all the threads together at the bottom of the bottle and secure it using some glue.
Step 2
For added look, separate each strand of the thread on the bottom. Next, grab two threads long enough to act as a hanger, then make a simple knot. Attach this to the bottle (tip part), make sure to tighten it, then secure using some glue. Add some water to the bottles and put some plants. Finally, hang these in your garden.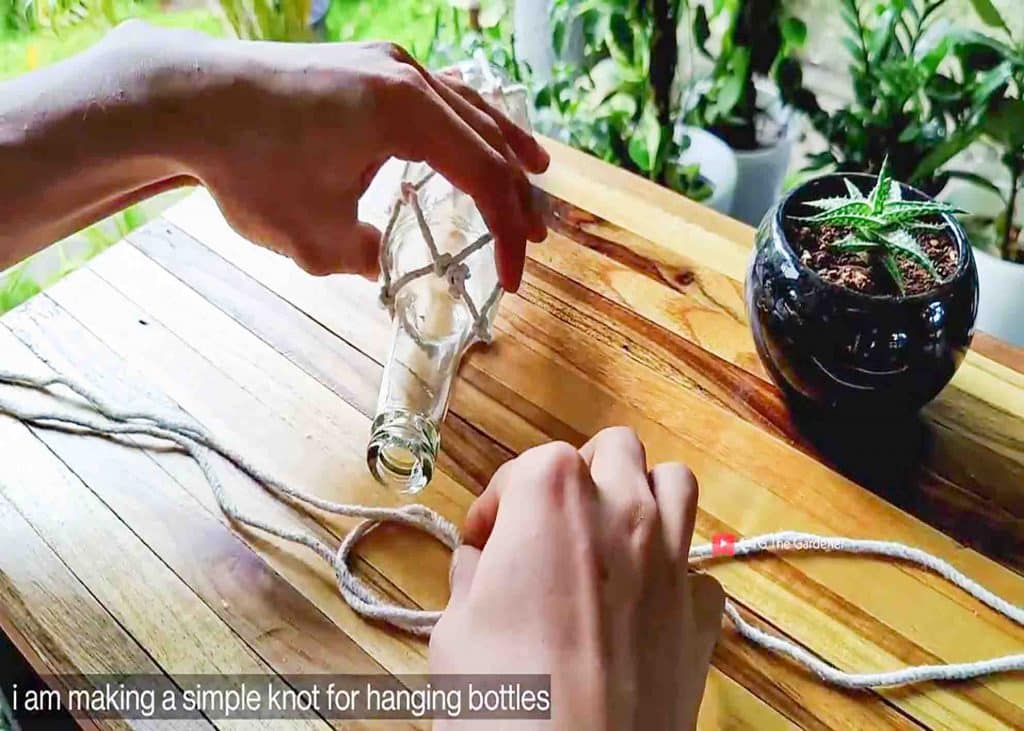 DIY Hanging Planters Using Bottles