Warmer weather is almost here, and it's time to enjoy the sun! An outdoor space where I could just relax sounds fun, so I looked for projects I could do this weekend. Luckily, I found this DIY hanging outdoor chair by HGTV Handmade! It's perfect for my backyard. I can't wait to finish it so I can sit on it while drinking my coffee in the morning. If you want to make this for your home, keep on reading or watch the video below.
Materials:
3 pieces of 1.25″ oak dowels
2 pieces of 5/8″ oak dowels (36″ long)
20 ft of 1/2″ nylon rope (should hold at least 300 lbs)
100″ by 23″ outdoor fabric
drill and 1/2″ bit
#10 x 1 brass screws
sewing machine
scissors
masking tape
measuring tape
screwdriver
safety goggles
Instructions:
Step 1:
Cut each of the 1.25″ dowels down to 30″ long.
Step 2:
On the two 1.25″ dowels (seat portion) measure 2″ and 3.5″ from each end and make a mark.
Step 3:
Drill 5/8″ holes through the 2″ marks on each of the dowels. Repeat on the 3.5″ marks but change them into 1/2″ holes.
Step 4:
On the third 1.25″ dowel, measure out and drill only the 3.5″ holes.
Step 5:
Get the outdoor fabric and cut a 48″ by 23″ rectangle. Fold 1/2″ of fabric along the long sides and iron in place. Fold again and iron. Repeat it for the other side. Straight stitch twice along both of the folds.
Step 6:
Fold the top and bottom down 3 1/8″ and straight stitch across the bottom fold.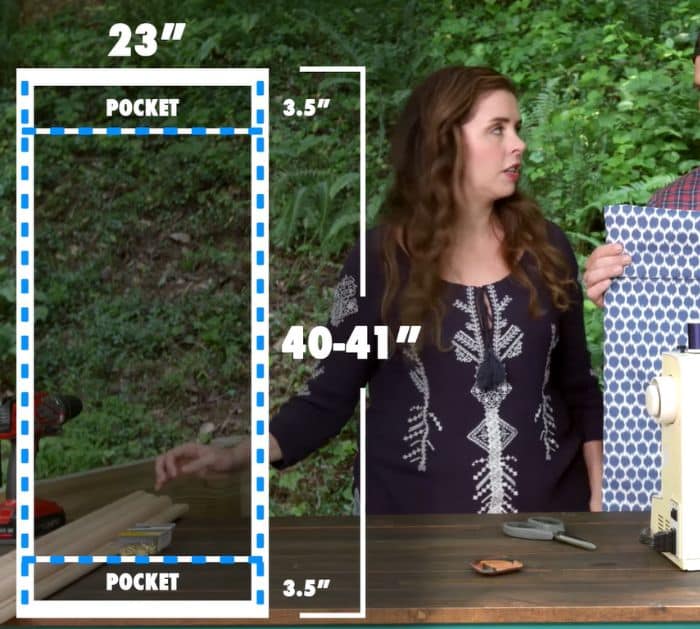 Step 7:
Slide in the 1.25″ dowels with 4 holes through each end of the canvas seat. Next, put the 5/8″ dowels into the holes.
Step 8:
Drill a pilot hole where the dowels come together and screw them.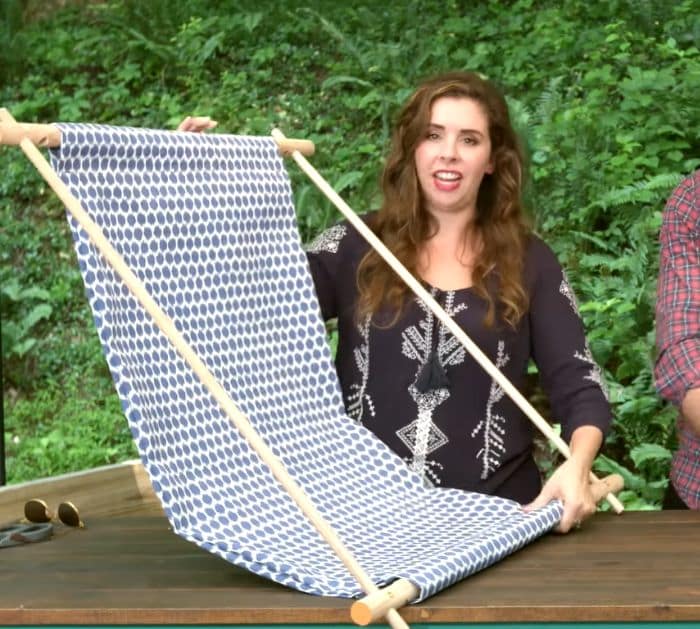 Step 9:
Tie a double knot in your rope leaving about 4′ on one side. Feed the other long side up through the other 1.25″ dowel. Next, feed it through the hole on the other end. Make another knot under the dowel. Leave enough rope on top to make a loop. Tie a loop into the rope and measure so it's directly above the center of the dowel.
Step 10:
Feed both ends of the rope down through the top rung of the seat and tie a knot below the dowel. Trim excess rope.
Step 11:
Get the leftover rope and cut it into two equal sizes.
Step 12:
Make a knot in one end of both ropes and feed up through the bottom rung of the seat.
Step 13:
Bring these ropes up to the top dowel and tie them around the dowel just inside of the rope from the upper rung. Trim excess rope. Fray the ends then hang on a hook that supports at least 300 lbs.
DIY Hanging Outdoor Chairs